Peggy-Sue and Jr. Mac's January 9th 2018 litter
Newest pictures are at the top of the page, the further down you look, the younger the pups.
--------------------------------------------------------------
03-16-2018
This litter is now ready to go home. Here are the final pictures for this group.
First I will introduce each puppy by name and let you know where he or she will go to live,
Below that you will find a couple of group pictures and some blooper shots.
Enjoy!
The Girls
Girl #1
Meet Mazy
Mazy will travel to Bristolville, Ohio to live with Scott and Penny
Girl #2
Her new name is McKenzie.
She and her brother (also from this litter) are going to go live with Douglass and his family in Washington, PA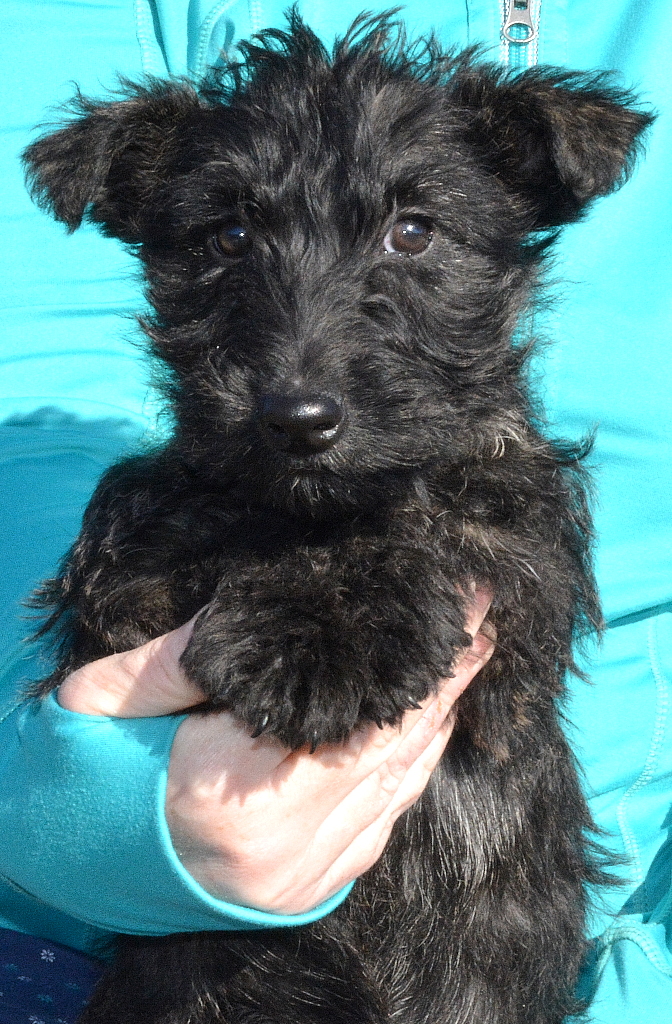 Girl #3
Darcy is her new name.
She is going to go live with Laura in Parkersburg, West Virginia
The Boys
Boy #1
Meet Fitz
Fitz is going to Liberty Center, Ohio to live with Nichole
Boy #2
Hotch is this guys cool new name.
Nick in Defiance Ohio will welcome Hotch home.
Boy #3
Say hi to Cooper
He and his sister, McKenzie, are going to go live with Douglass and his family in Washington, PA
Boy #4
Last but never least, meet Finn.
Finn is going to be living with his Mom, Peggy-Sue in her new forever home in Englewood Ohio with Anthony and Kenneth.
Peggy-Sue and Jr. Mac's January 9th, 2018 litter of 7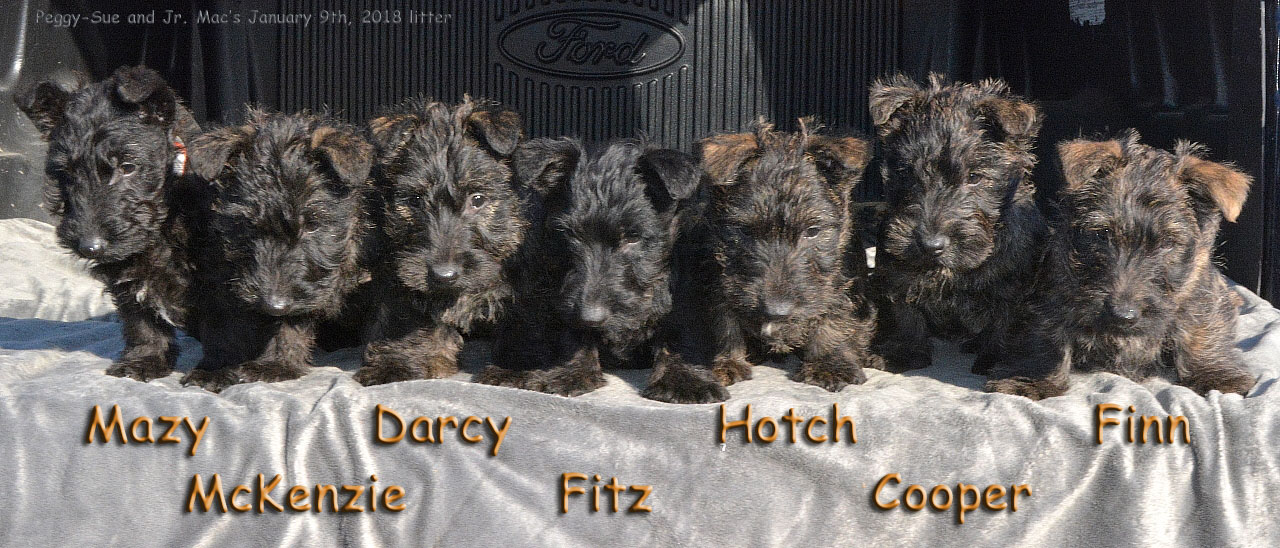 Same picture without the text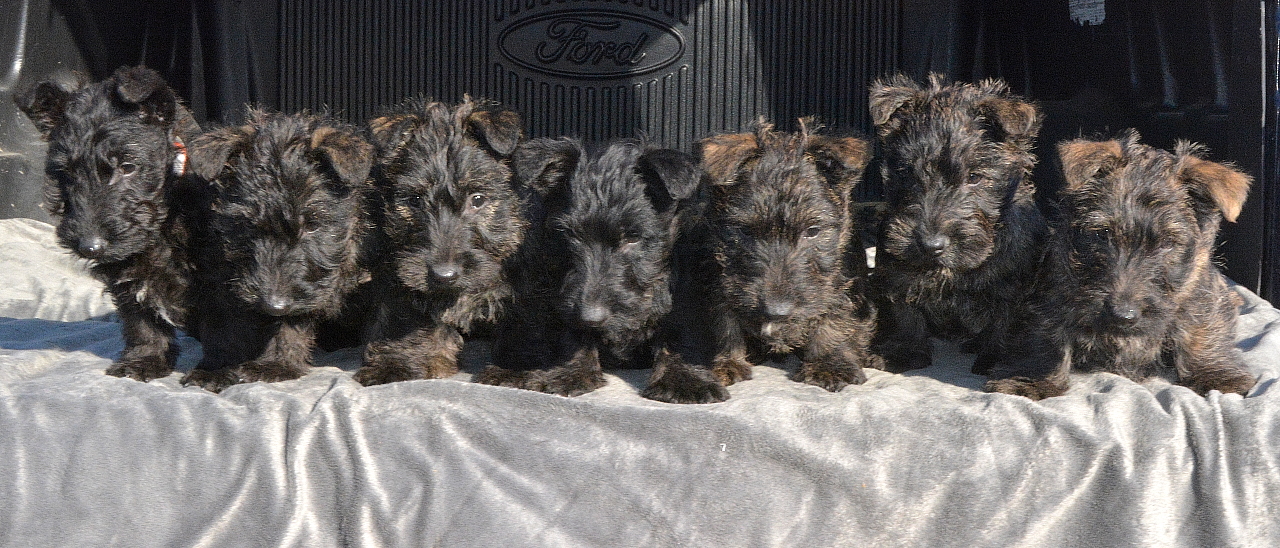 Here are a few "Bloopers", these are shots that weren't quite good enough.


Thank you everyone, The End.
02-26-2018
WARNING, HUGE UPDATE, PLEASE LET ALL PICTURES LOAD!
Introducing Peggy-Sue and Jr. Mac's January 9th 2018 litter of 7.
This is Peggy's last litter, she is now retired.
In this litter we have 4 black-brindle or brindle boys and 3 black-brindle or brindle girls.
I am placing these pups to folks on my waiting list.
If you would like to be added to my waiting list (no obligation) Please Click HERE
Prices, terms, email address and phone number are located here.
This litter can go home on SATURDAY MARCH 17th, 2018.
They are 47 days old in these pictures.
All pups have had 1st shots, worming and vet check, they are all weaned away from Mama.
Each puppy has a new ID collar.
This collar will stay with your puppy until the day you come to take him or her home.
FOR THIS LITTER: The GIRLS are in ORANGE, the BOYS are in GREEN.
The wee lasses.
Girl #1.
She's almost black but I think I will have to classify her as black-brindle.
She is the most playful and ornery pup in this litter. Scott-a-tude aplenty here.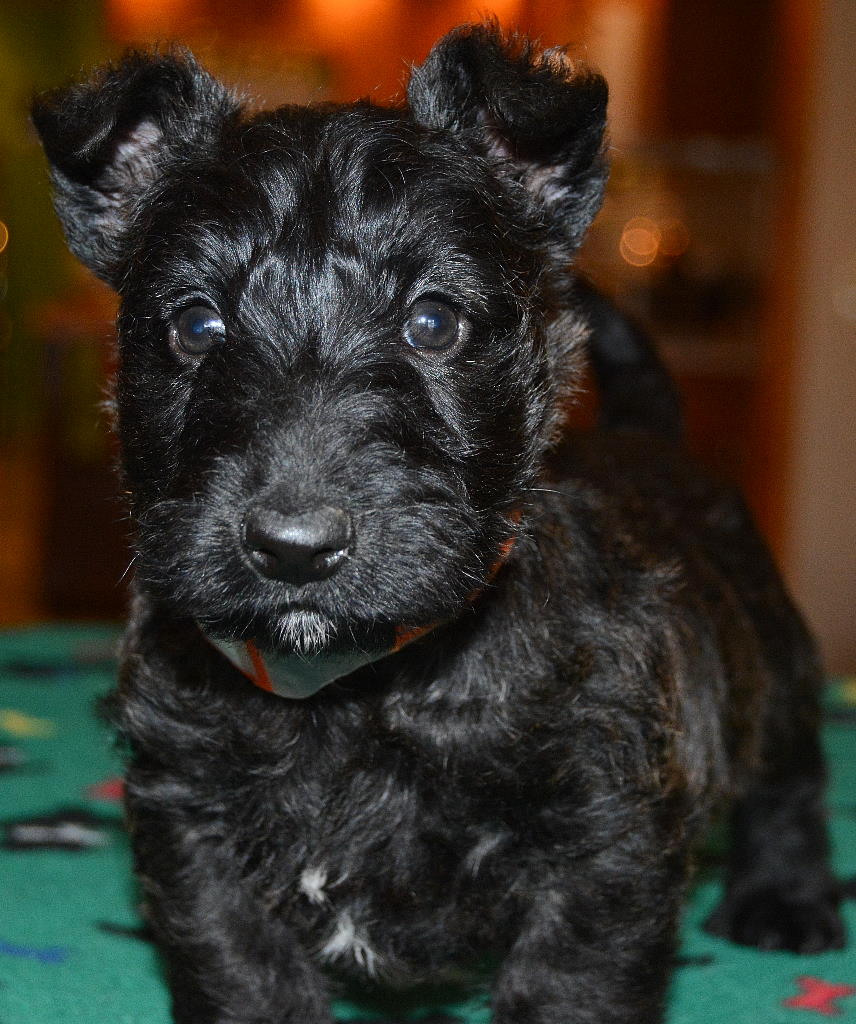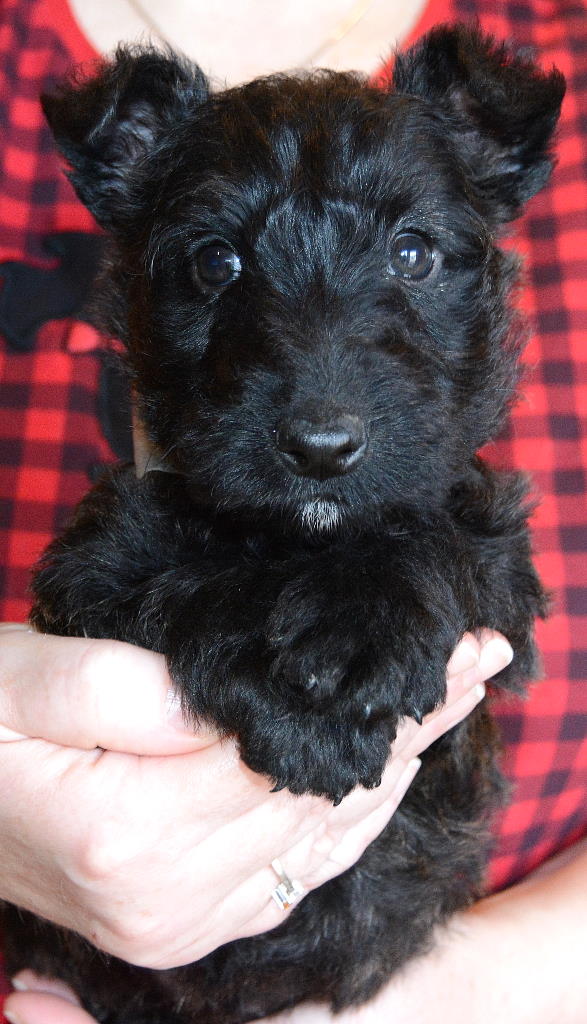 Girl #2.
She is as brindle as she is playful. She's not quite the party girls as her sister above is but she knows how to have a good time.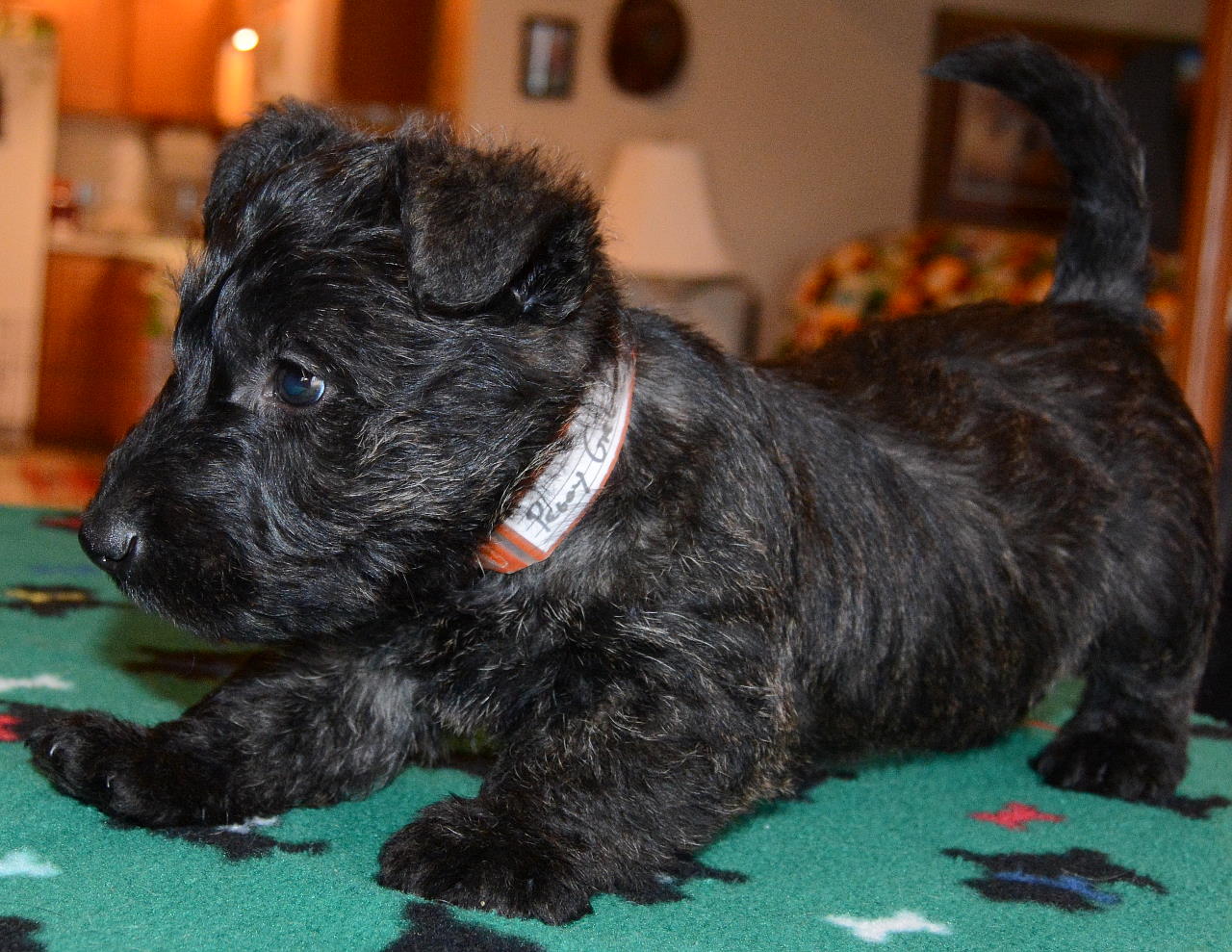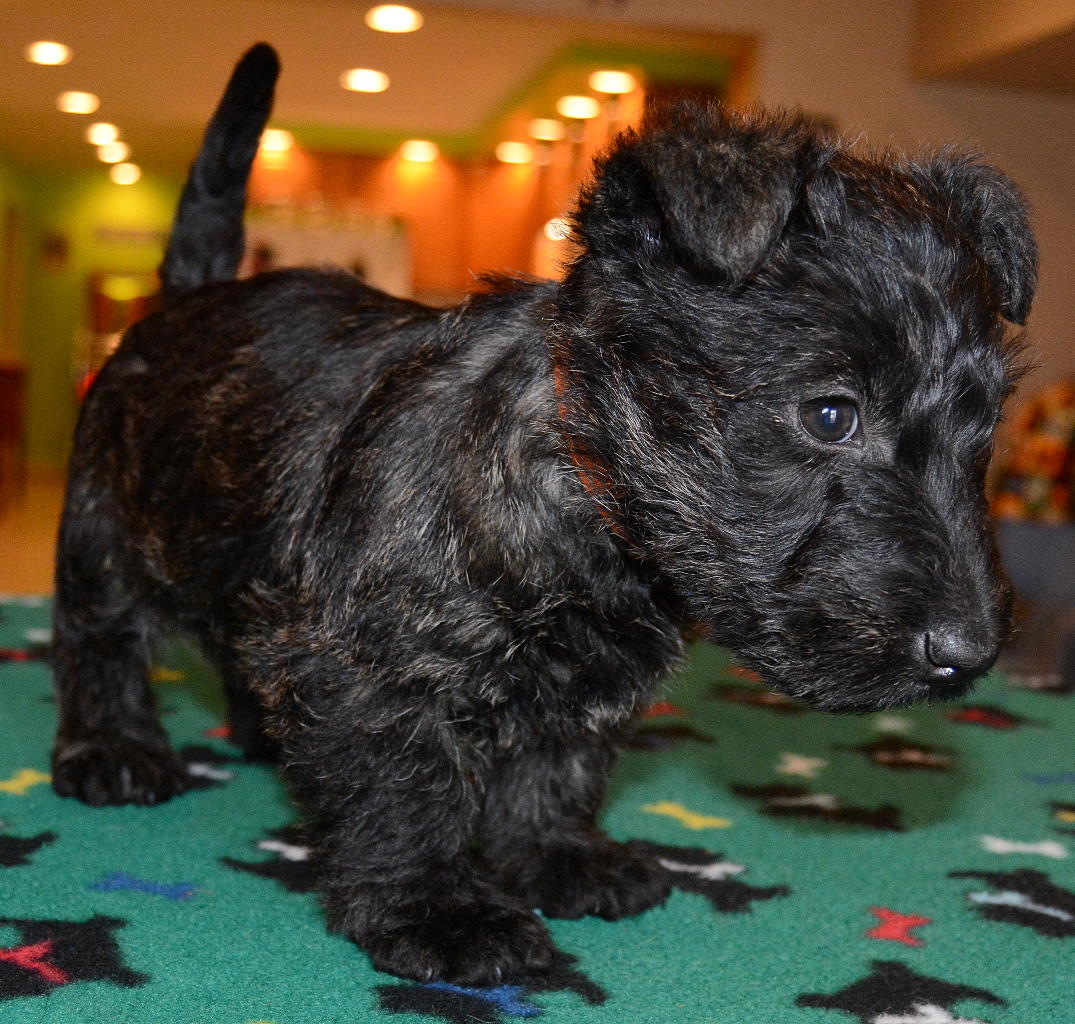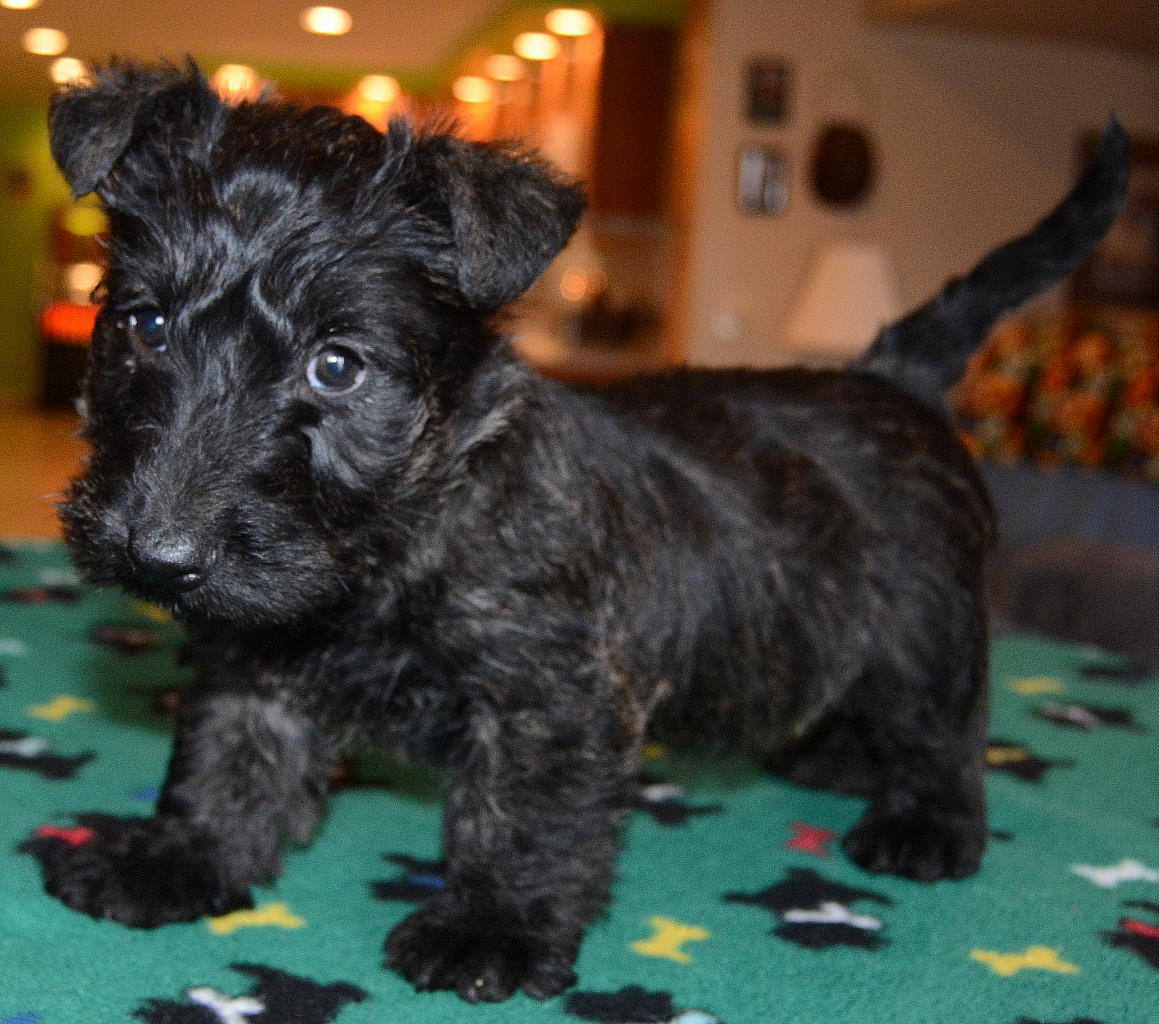 Girl #3.
The most brindle girl is also the most easy going.
She seems happy to play with me or to entertain herself....whichever way the wind blows.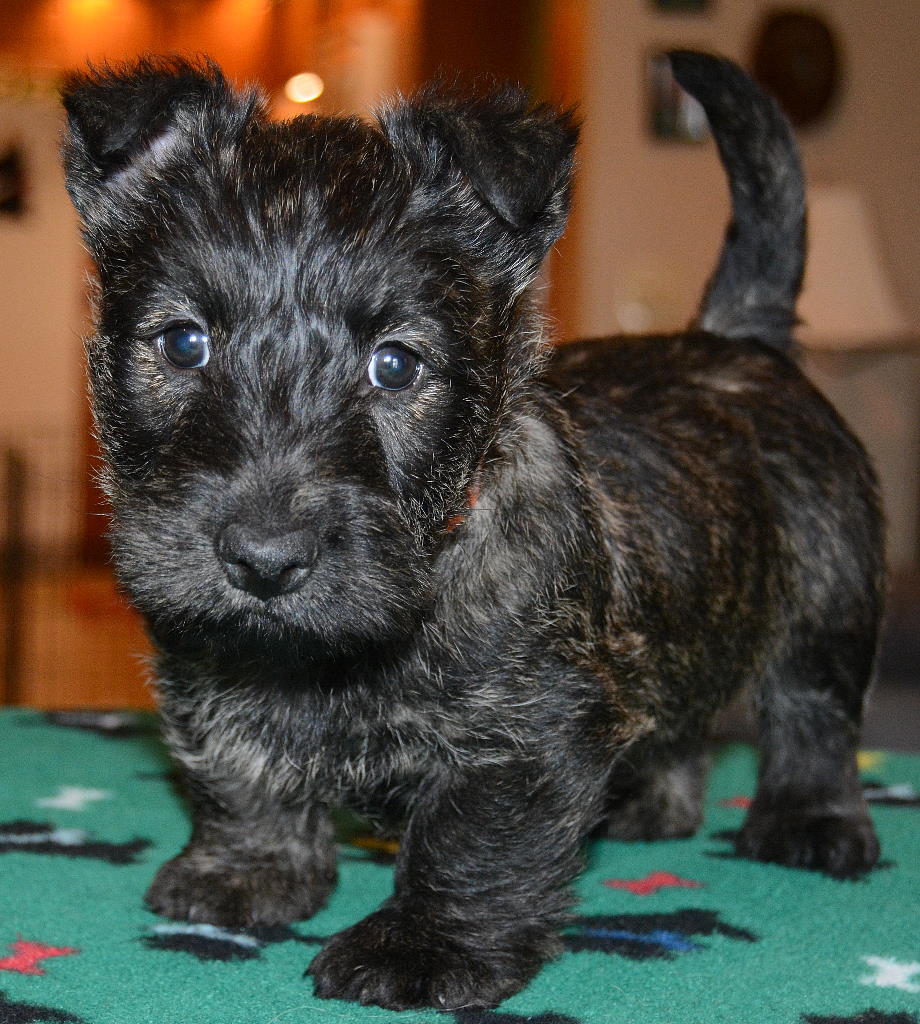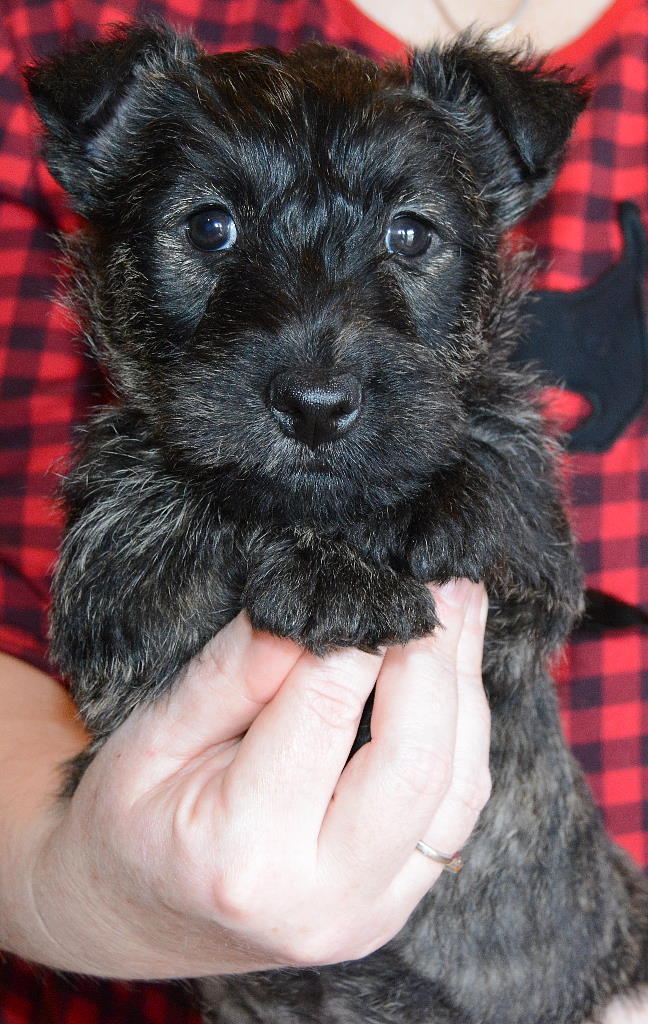 The wee ladds.
Boy #1.
He's black-brindle, the blackest of the boys.
He likes to explore and play.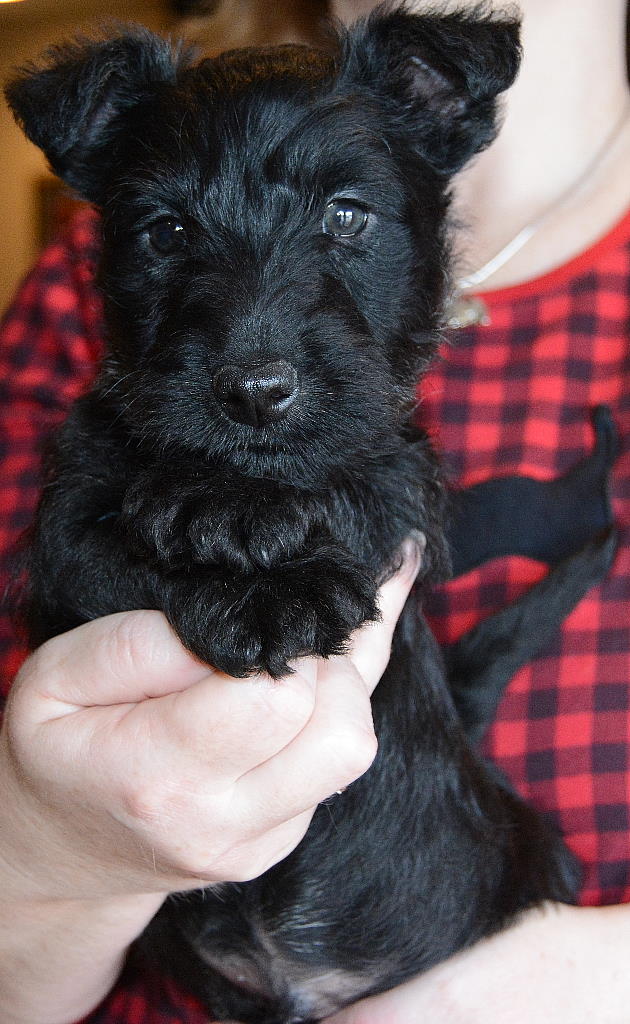 Boy #2.
He's brindle.
Very laid back and calm. He's not shy and likes to play but he isn't needy.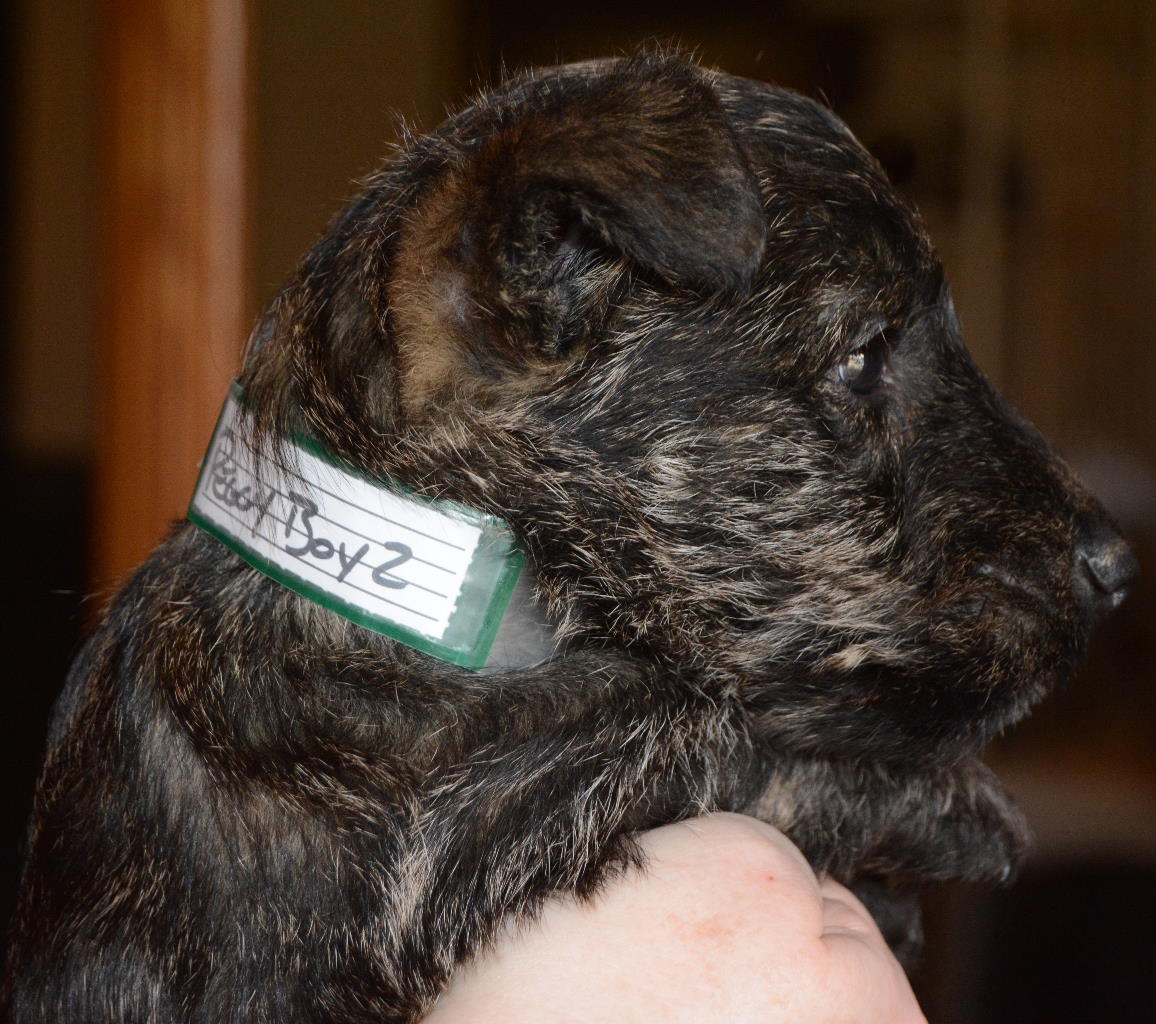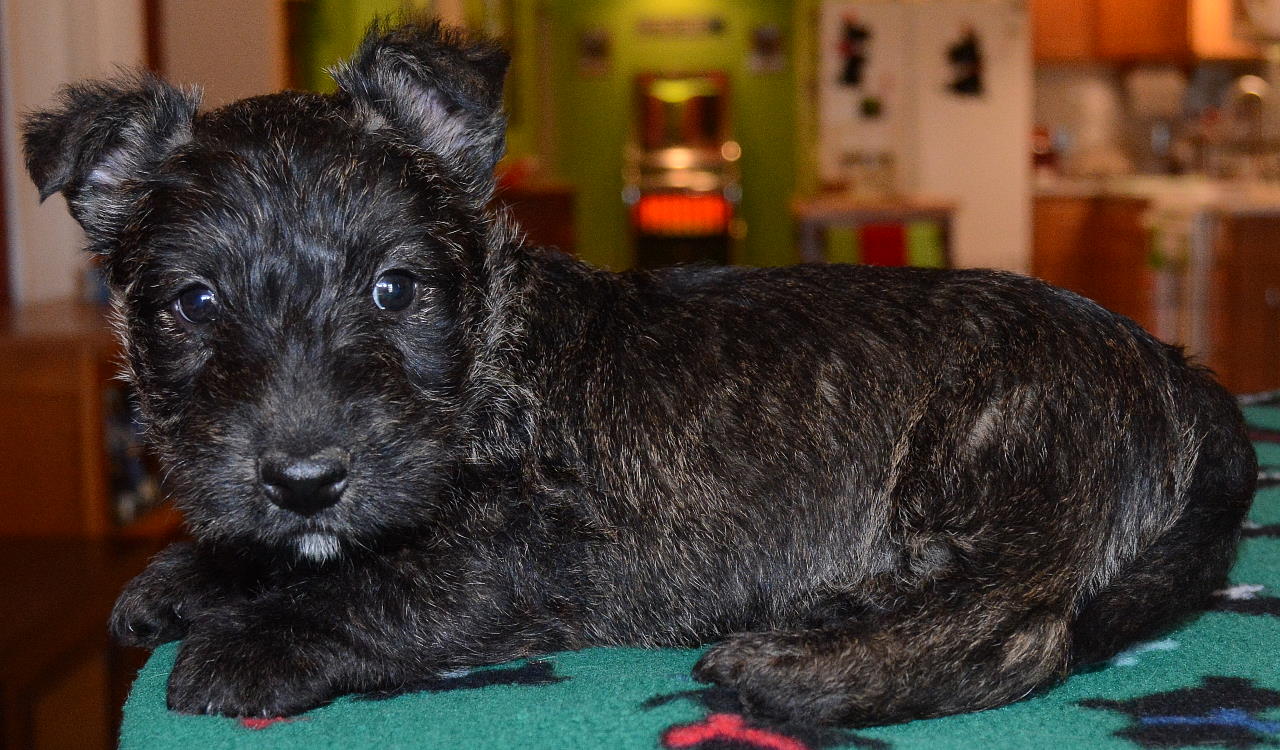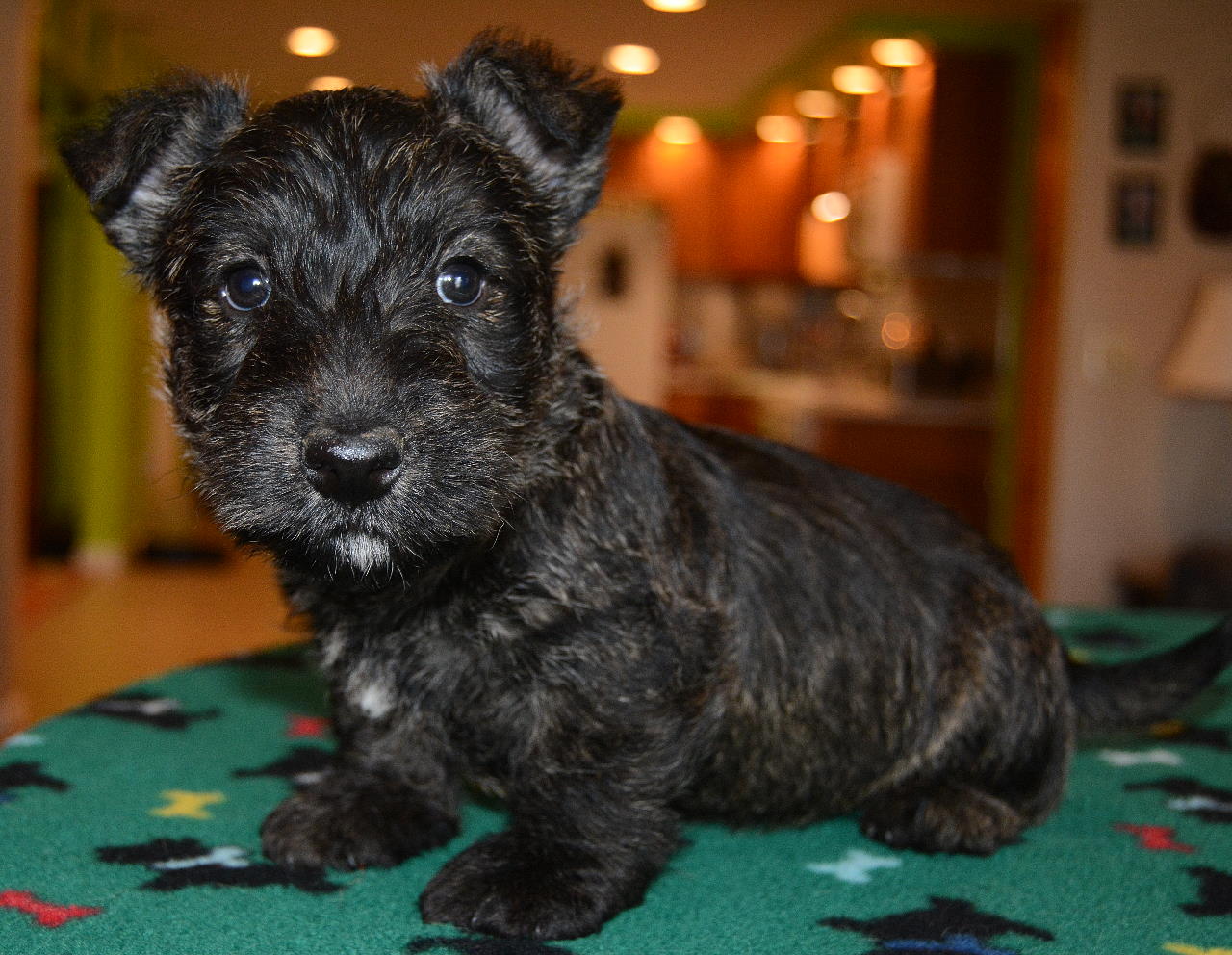 Boy #3.
He's brindle.
He's darn charming and will do whatever it takes to win you over.
Just like almost everyone else in this litter, he's outgoing and playful but not over the top.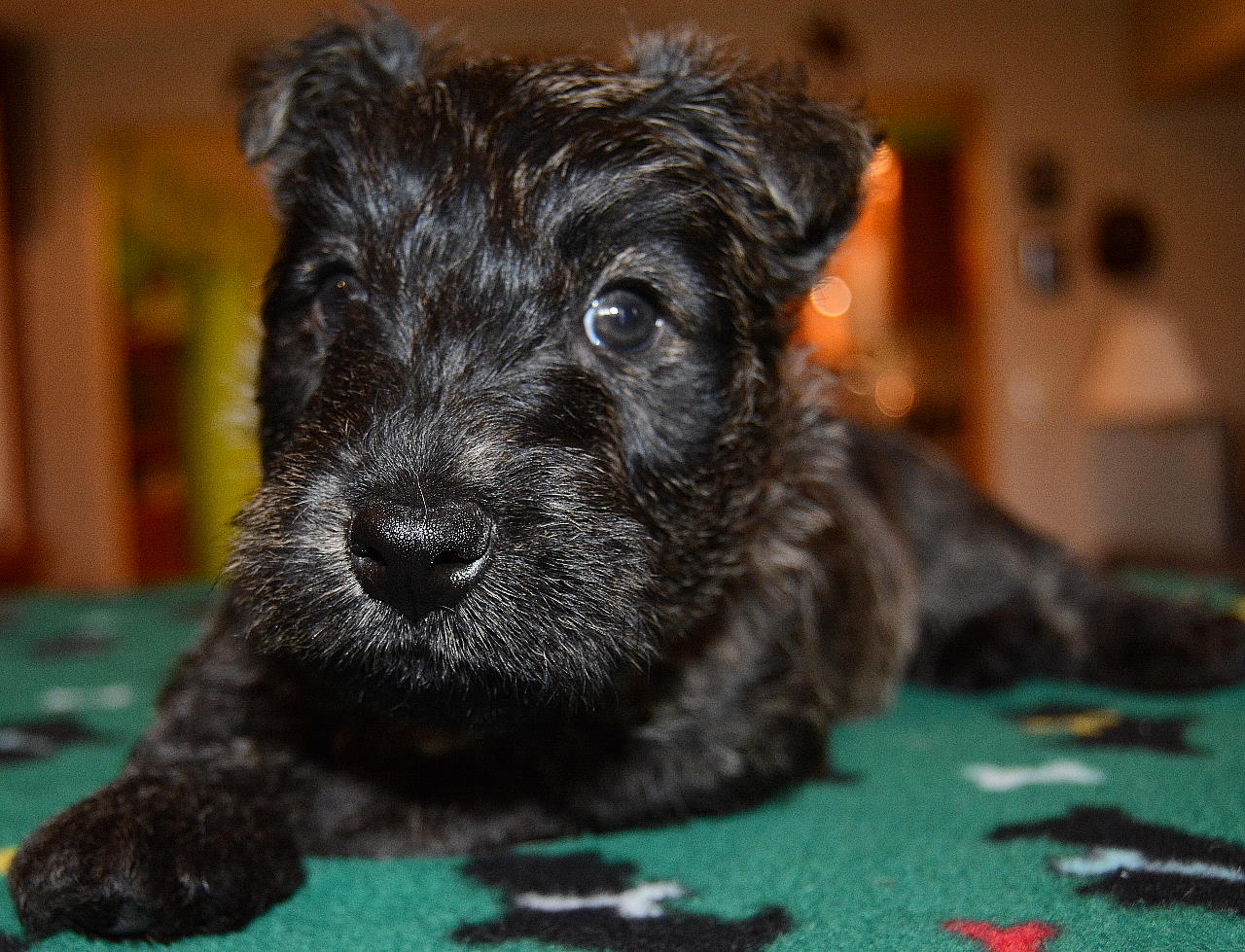 Boy #4.
He's brindle.
Very affectionate, he explores, plays and then explores some more.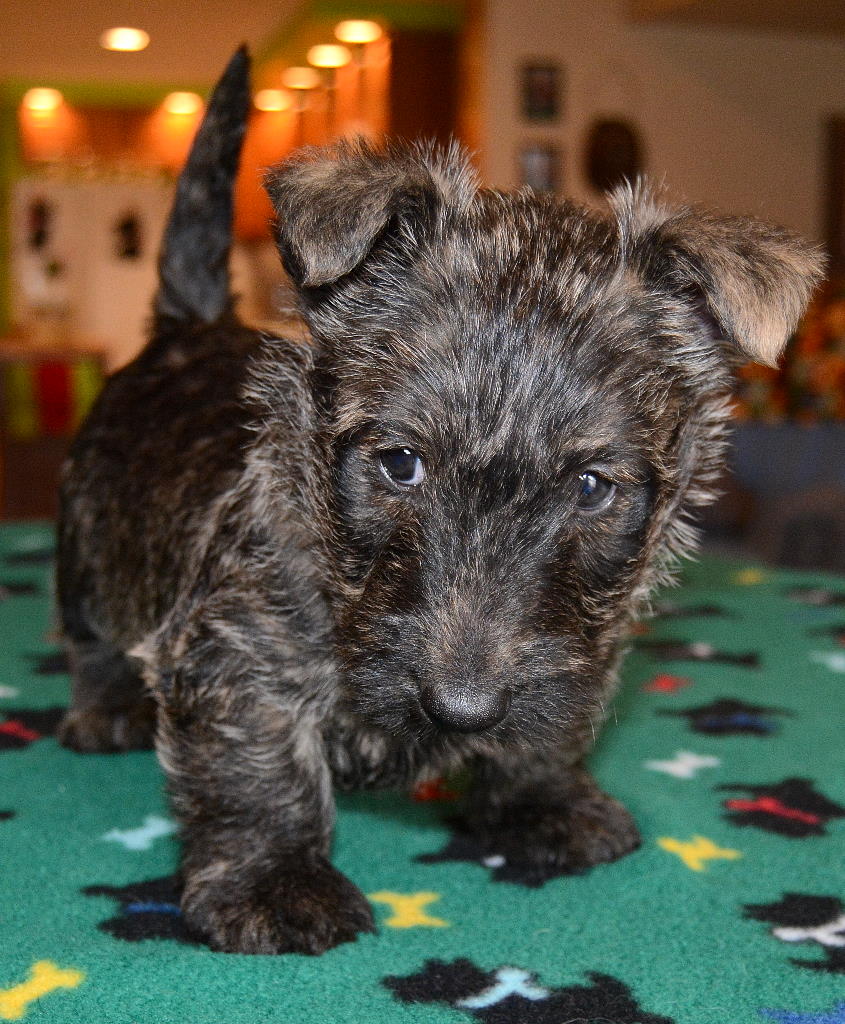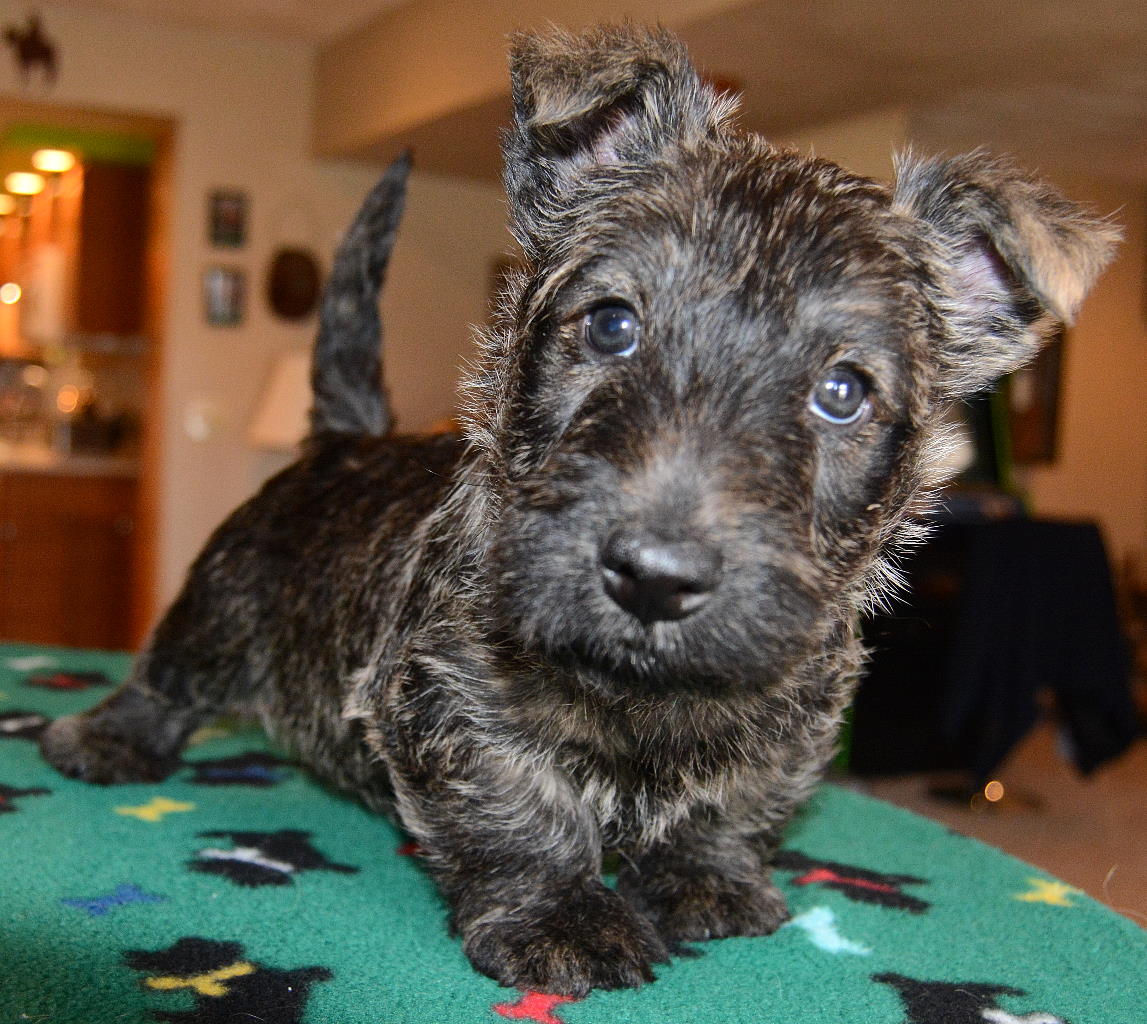 Please check us out on Facebook for some BONUS pictures of these puppies!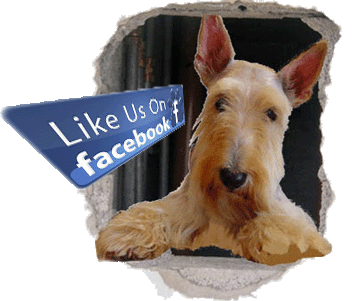 Please check back in about 3 weeks for a final update.