Suzy-Q and Yankee's January 18th 2018 litter
Newest pictures are at the top of the page, the further down you look, the younger the pups.
--------------------------------------------------------------
03-23-2018
This litter is now ready to go home. Here are the final pictures for this group.
First I will introduce each puppy by name and let you know where he will go to live,
Below that you will find a couple of group pictures and some blooper shots.
Enjoy!
Boy #1
Meet Winston.
Robert and family in Hudson, Ohio will welcome Winston home.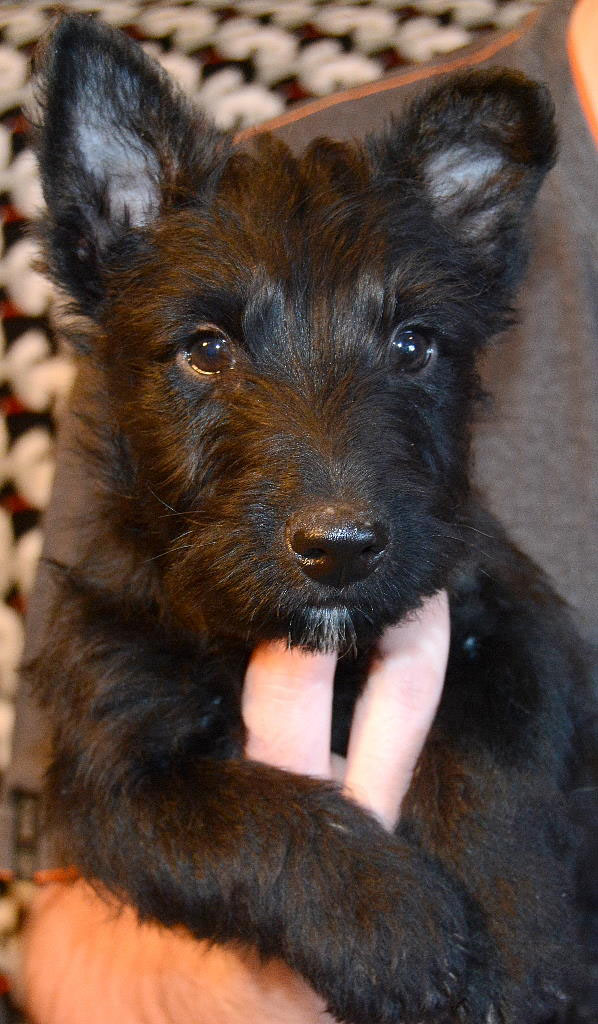 Boy #2
Magnus is his new name.
Magnus is going to go live in Burlington, KY with Linda and her surprised husband.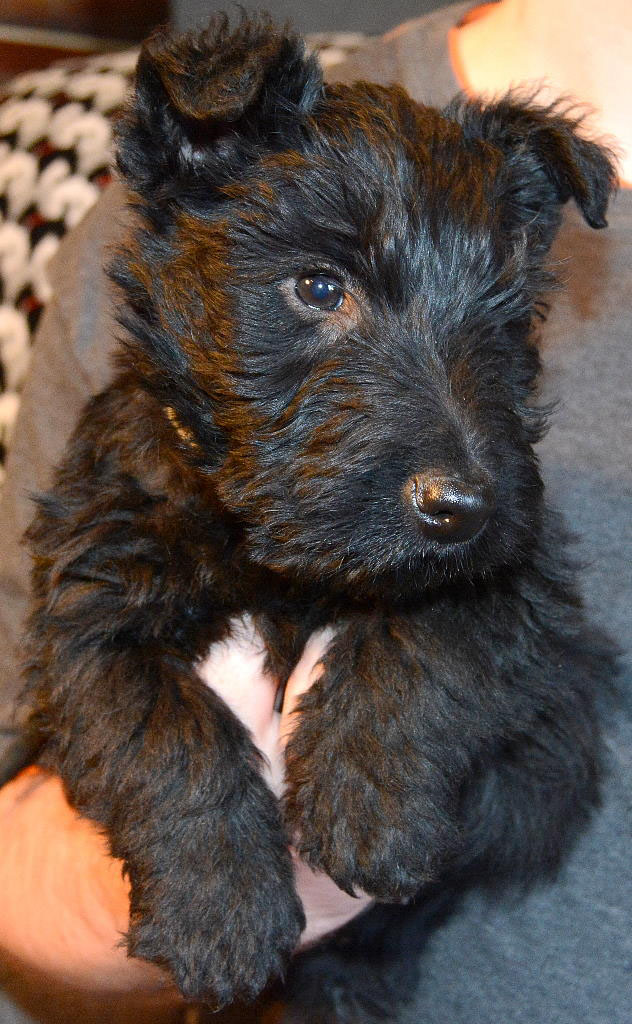 Boy #3
His new name is "Jake Conner"
Jake is traveling to Greensburg, Indiana to live with Caleb and family.
Boy #4
Bringing up the rear is "Dugal"
Dugal is going to live with Bobby and her family in New Richmond, Ohio
Suzy-Q's January 18th 2018 litter of 4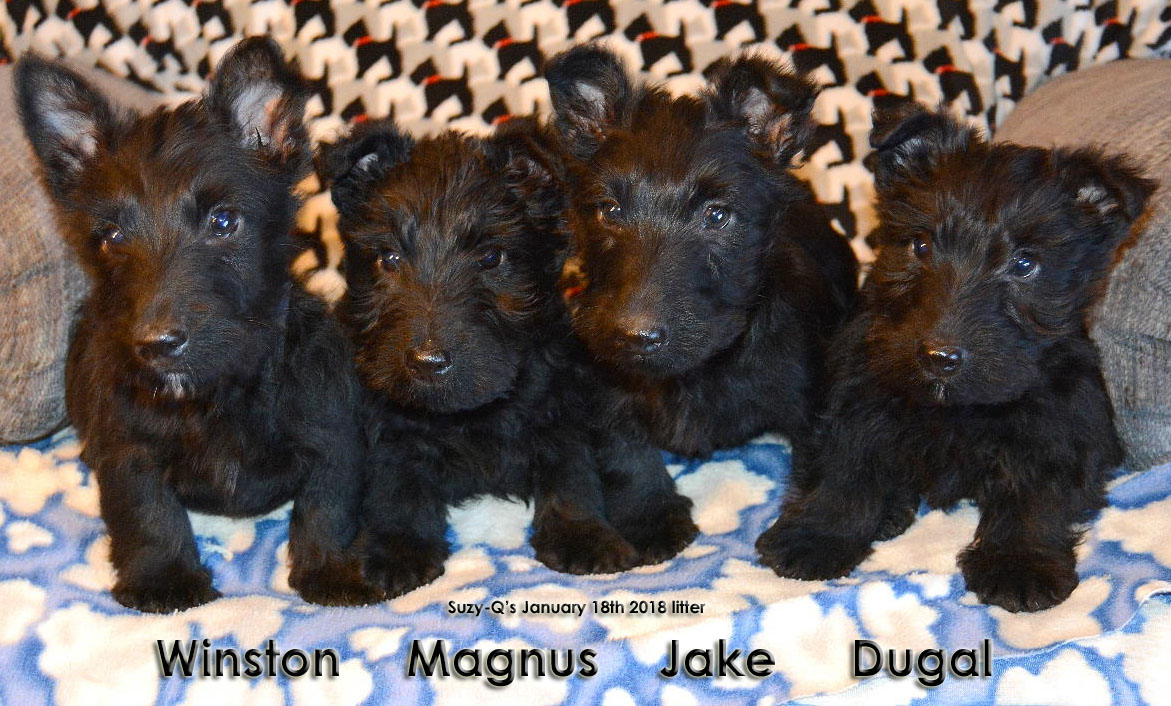 Same picture without the text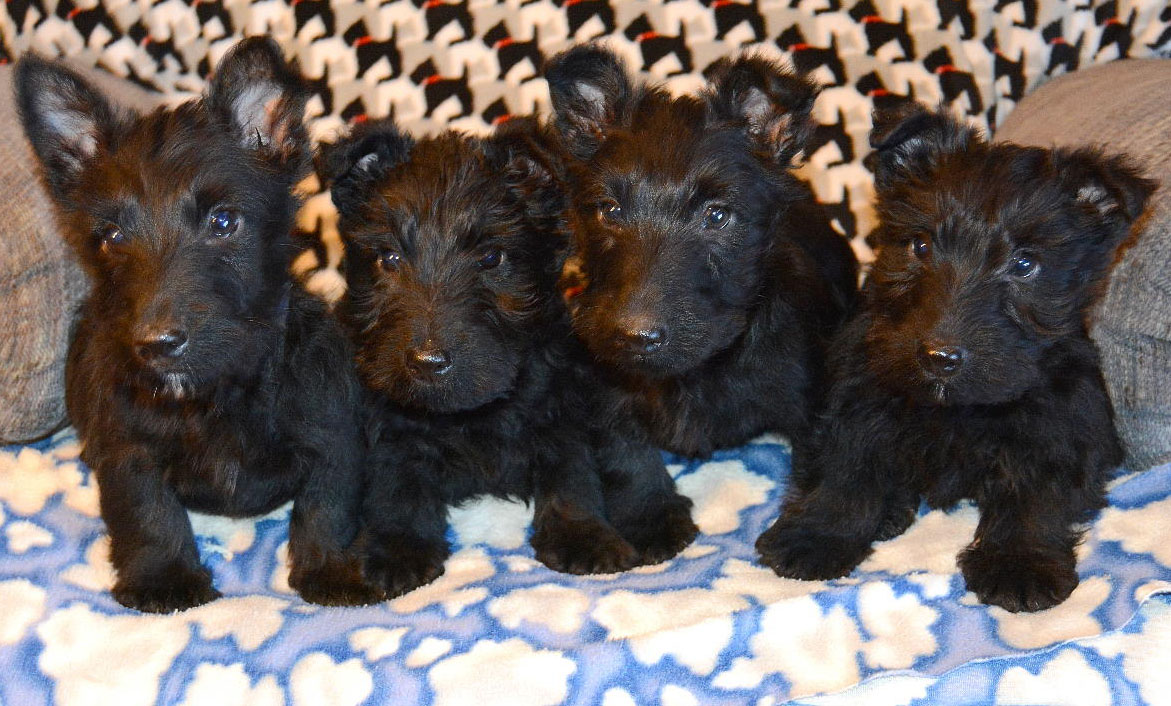 There is no bad picture of a puppy but here are a couple that didn't make the cut.
The Bloopers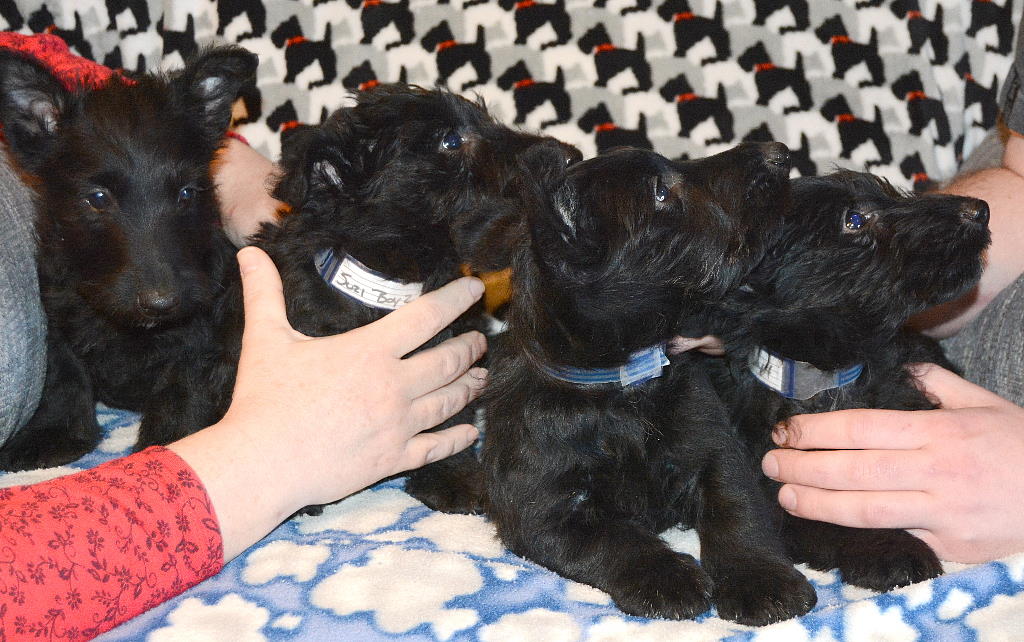 Thank you everyone, The End.
03-05-2018
On January 18th 2018, Suzy-Q and Yankee had a handsome litter of 4.
All black boys!
This will be Suzy-Q's last litter, she is now retired.
I am placing these pups to folks on my waiting list.
If you would like to be added to my waiting list (no obligation) Please Click HERE
Prices, terms, email address and phone number are located here.
These pups will be ready to go home on Saturday, March 24th 2018
All pups have now had 1st inoculations and two wormings.
Each puppy is sporting a new blue ID collar.
THE BOYS
Boy #1
This handsome fellow is almost all black, he has a small milk-chin/soul-patch. He has some brindle highlights around the edges of his ears and feet.
He is inquisitive and confident.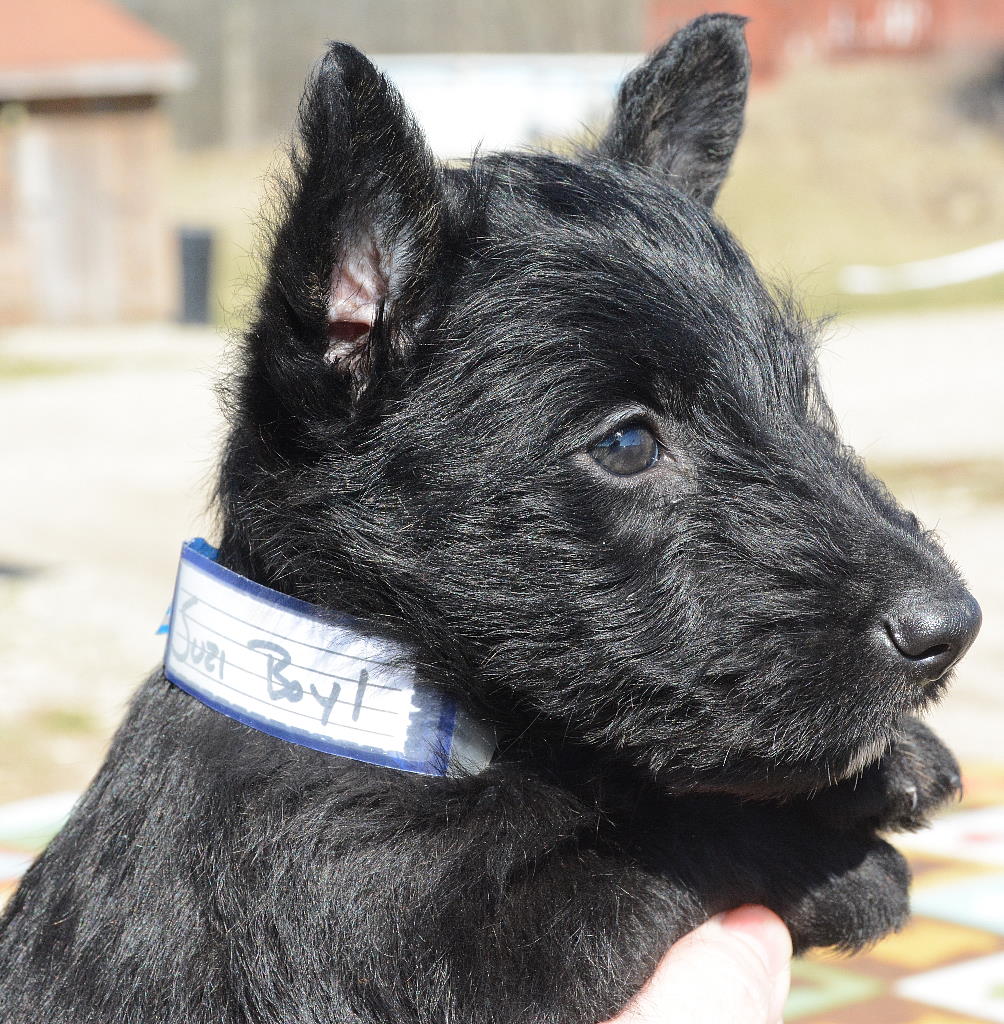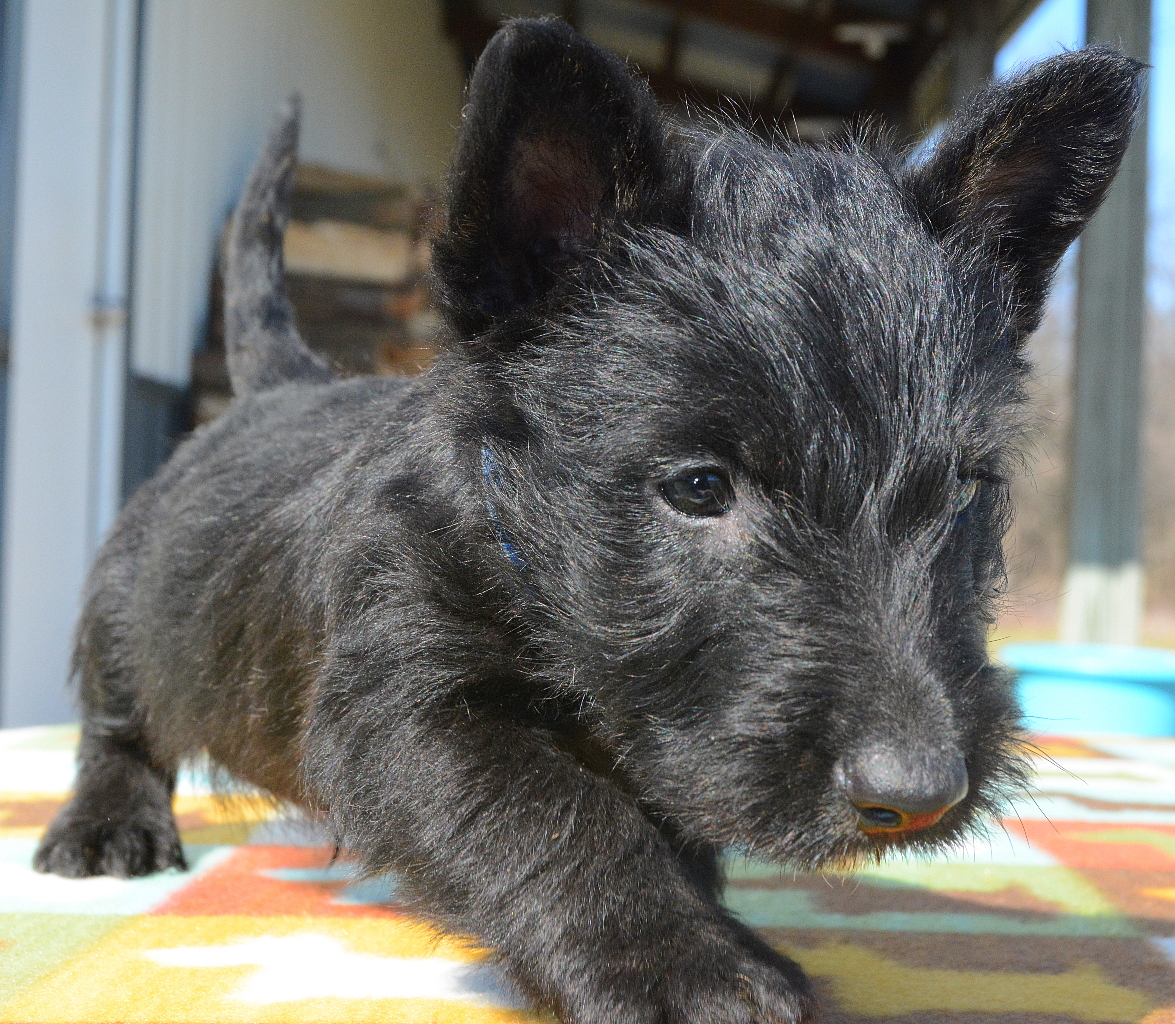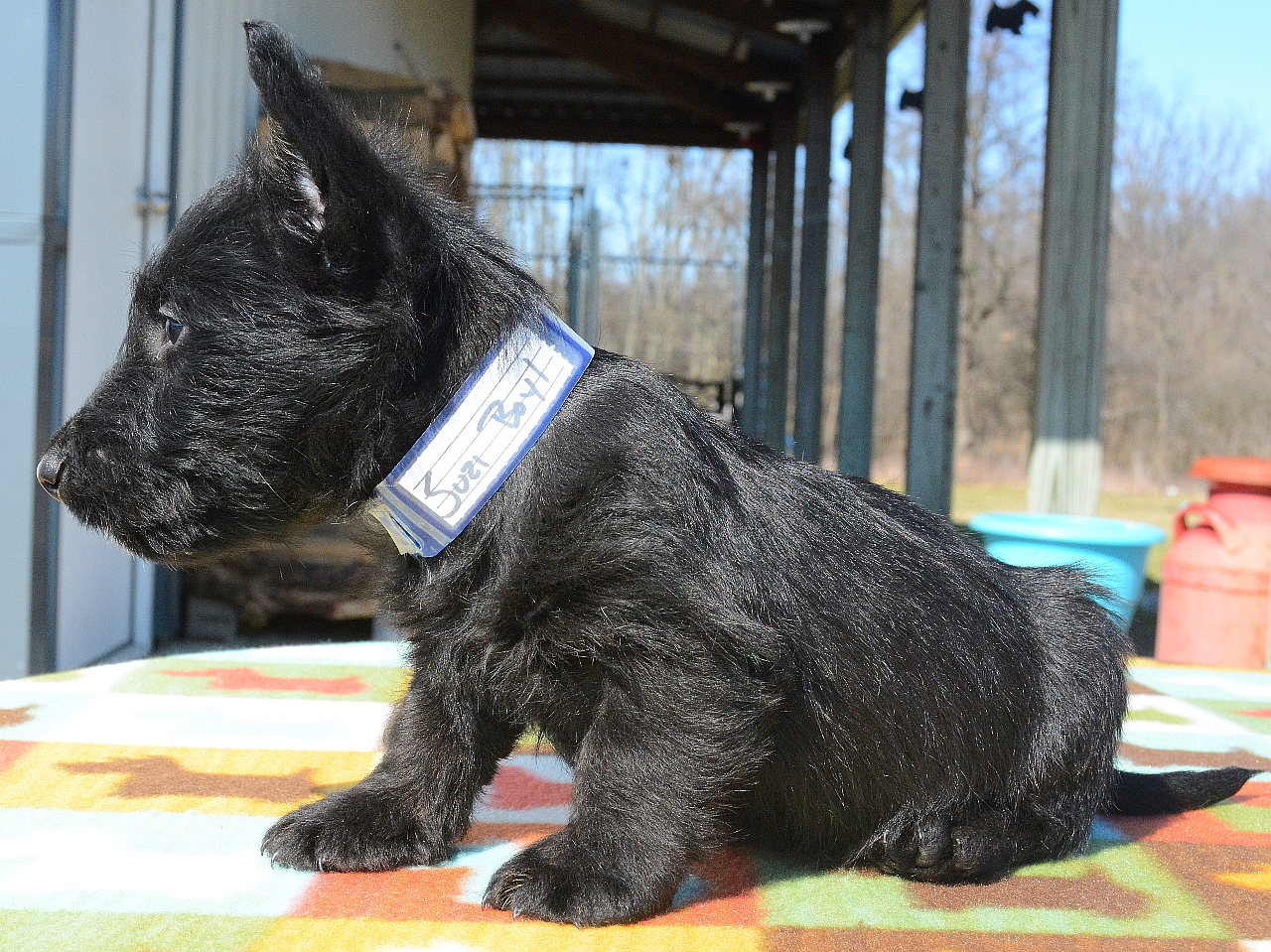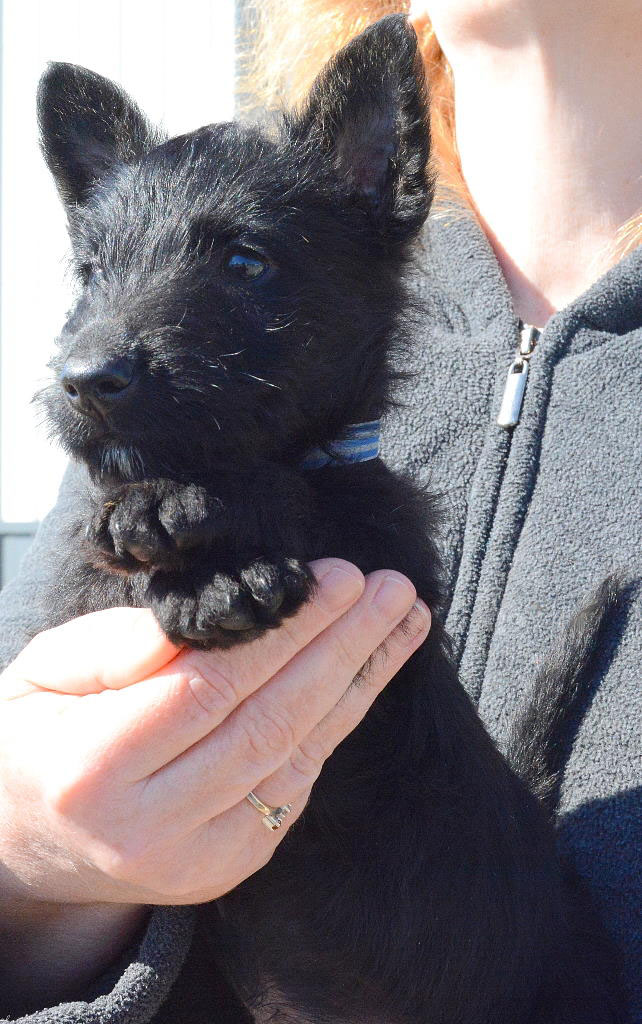 Boy #2
He seems to be all black but don't be surprised if one day he gets a little brindle.
He prefers to make sure everything is safe before he jumps to action.
Once he feels safe he likes to play.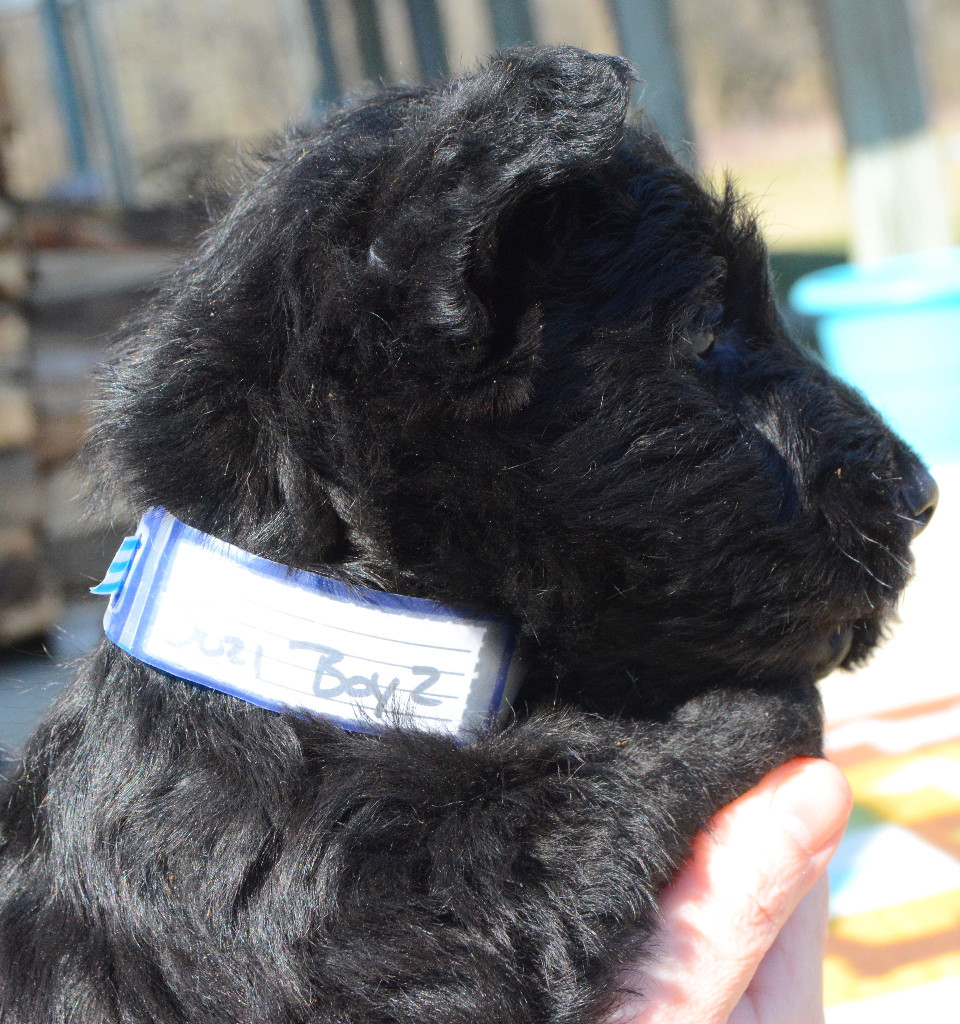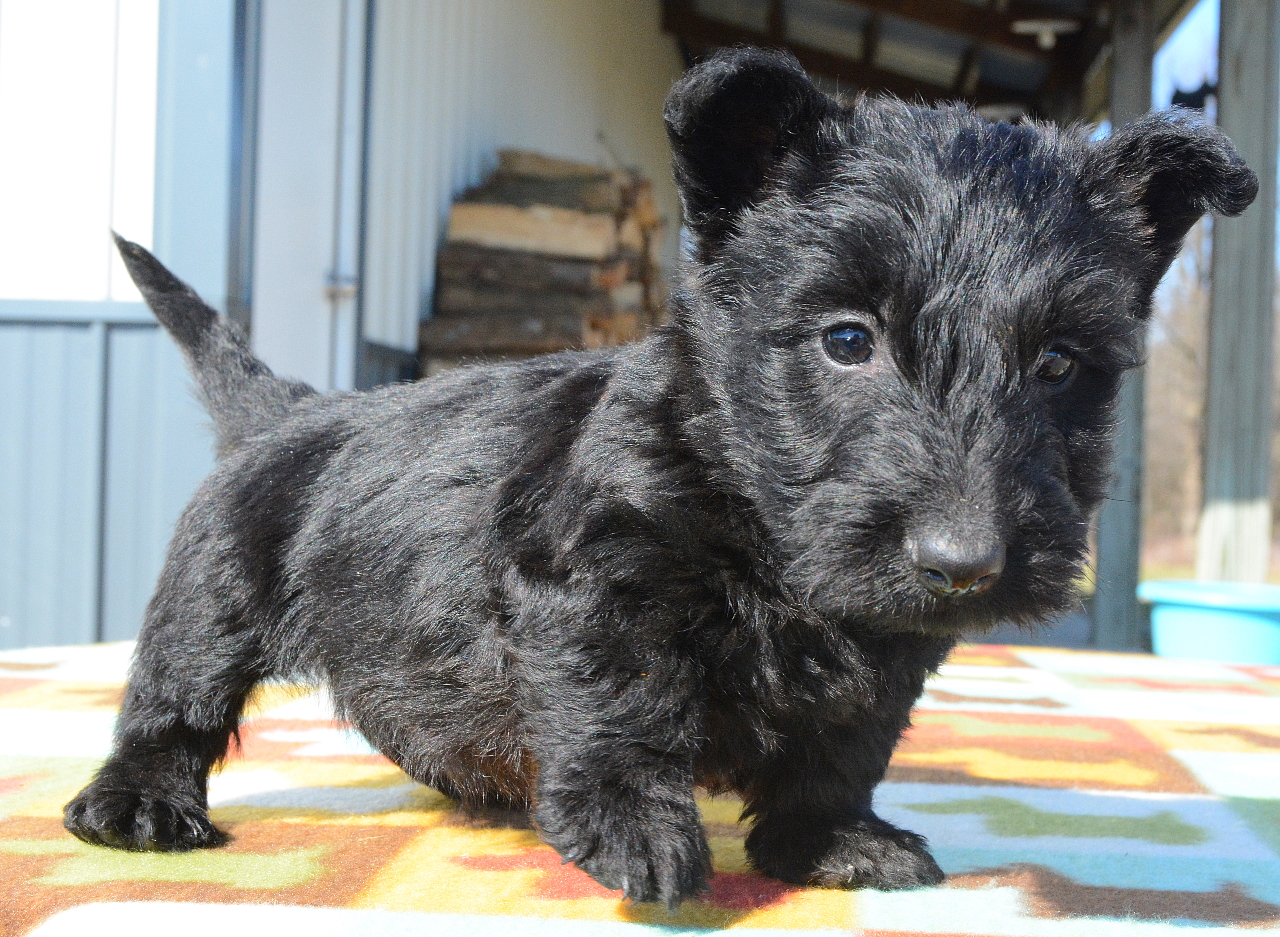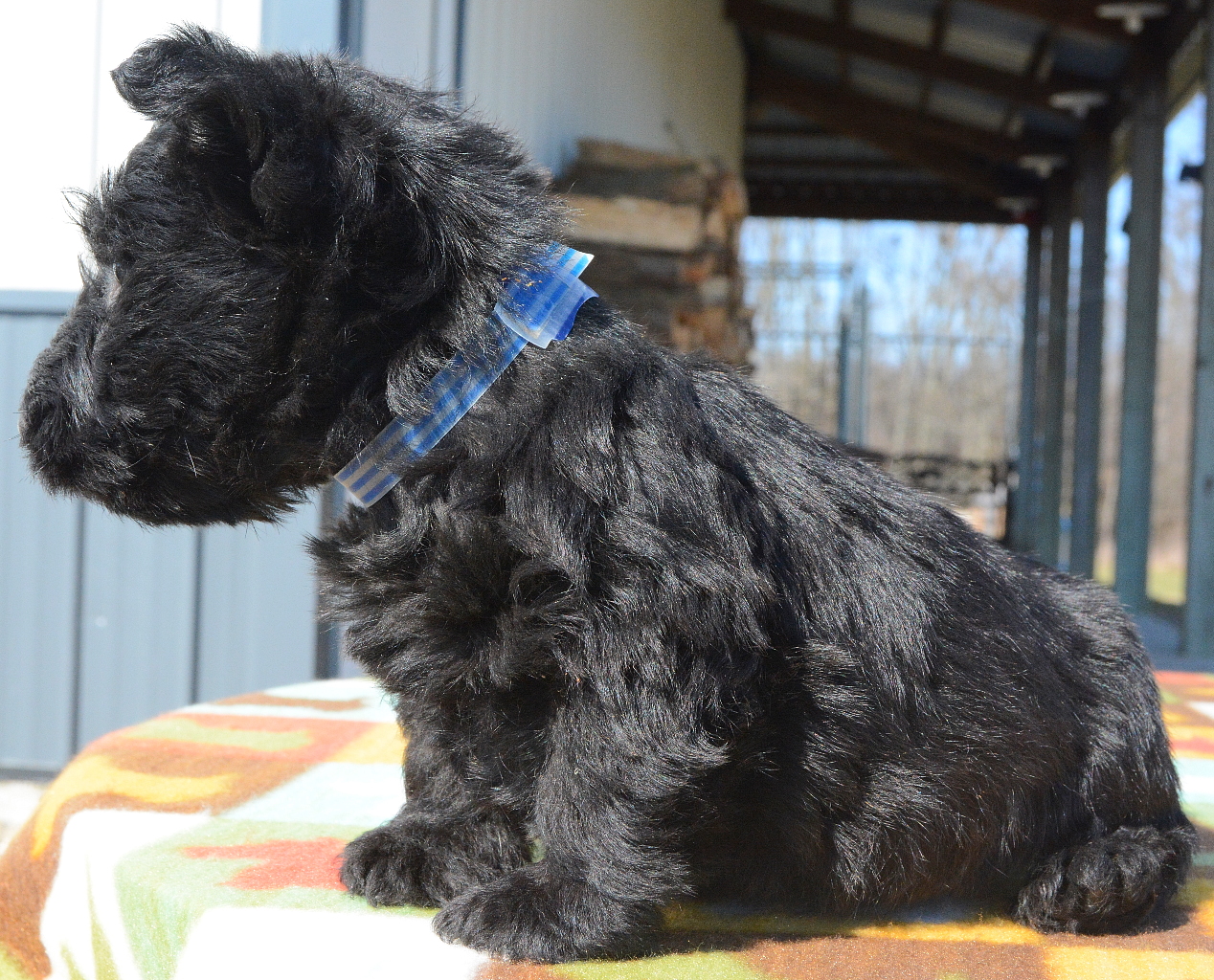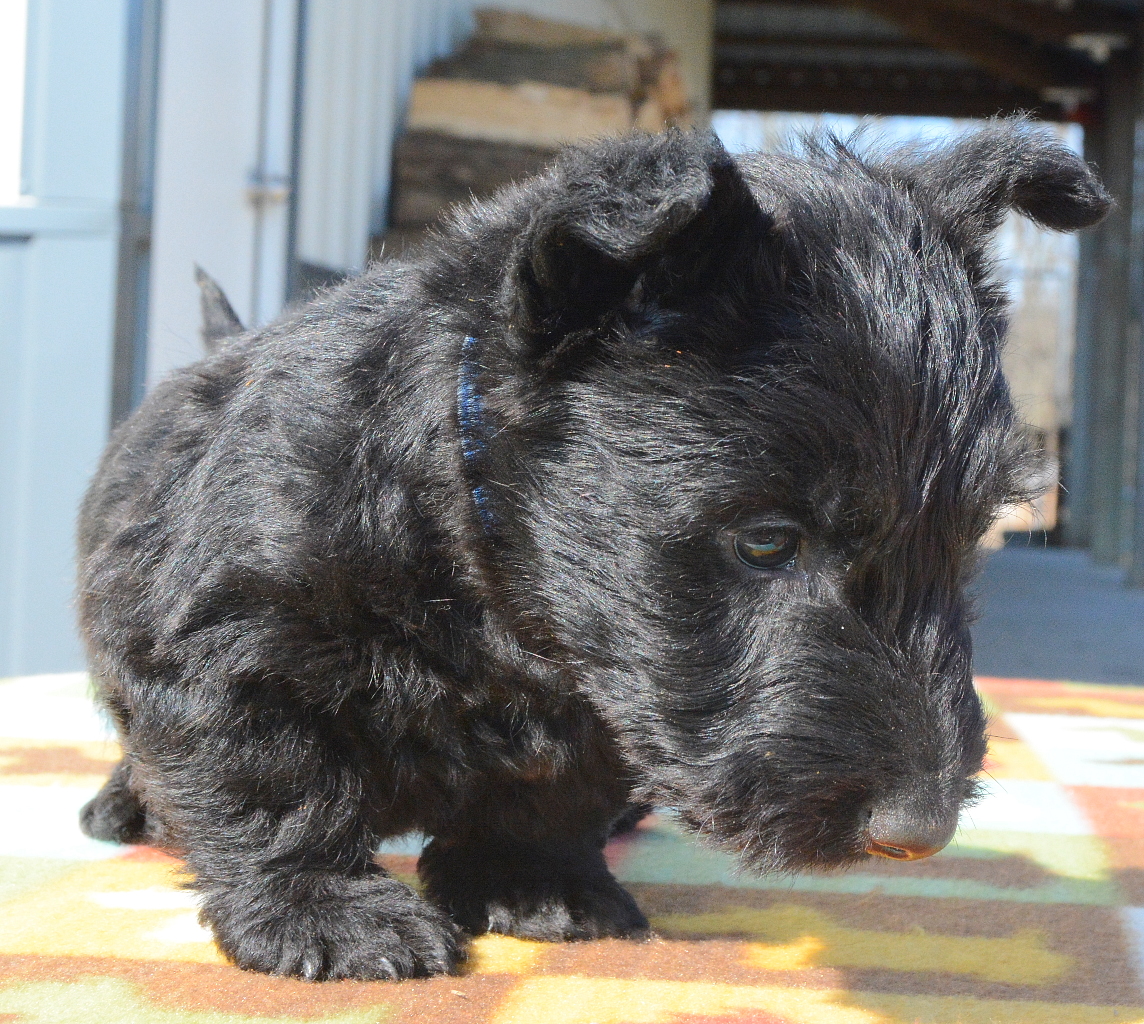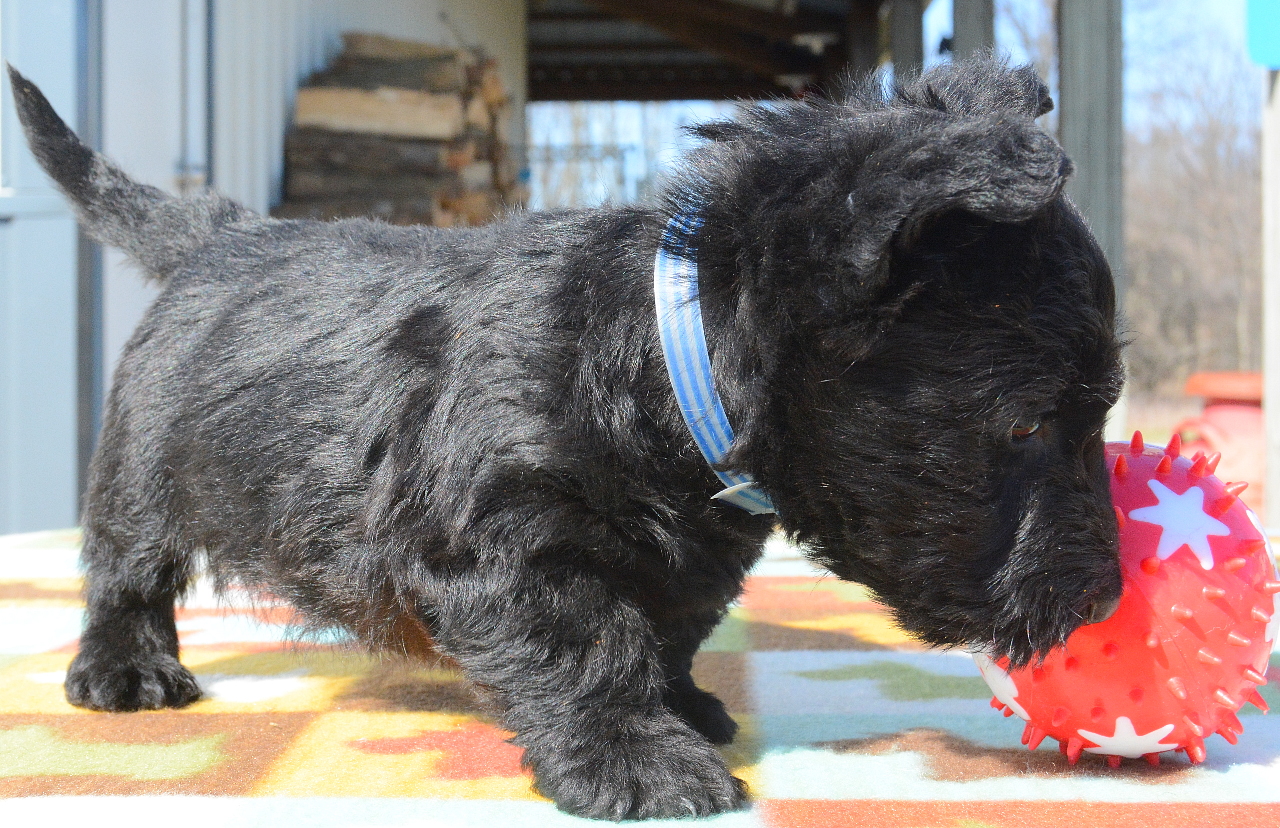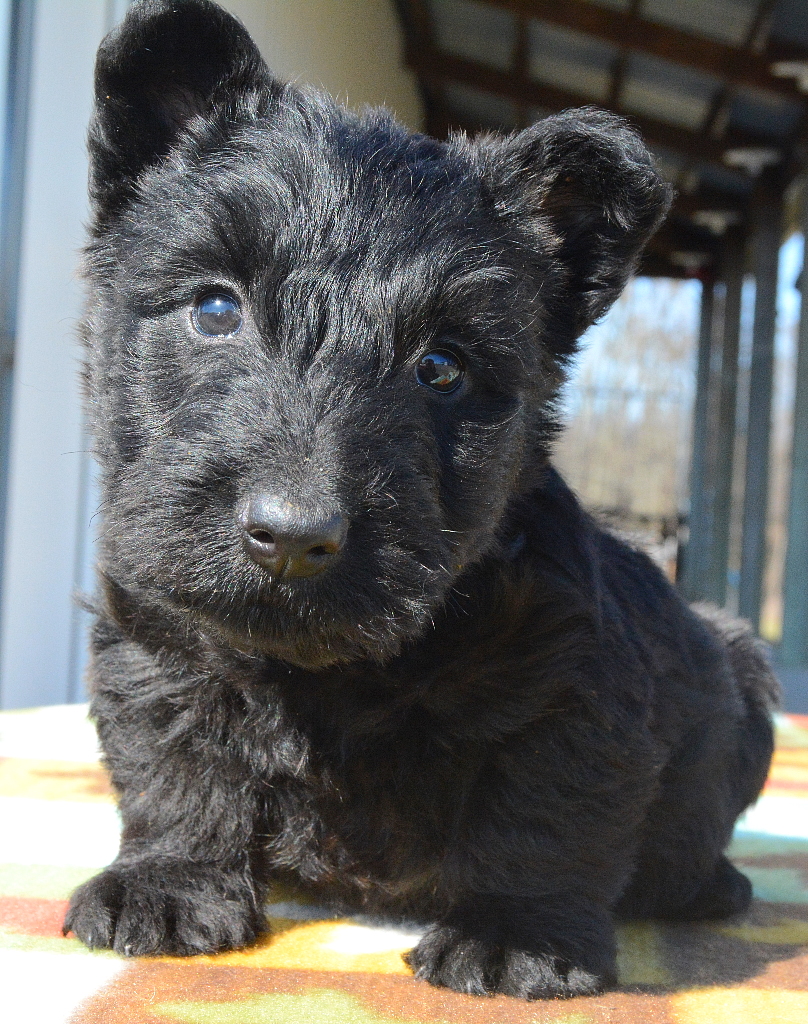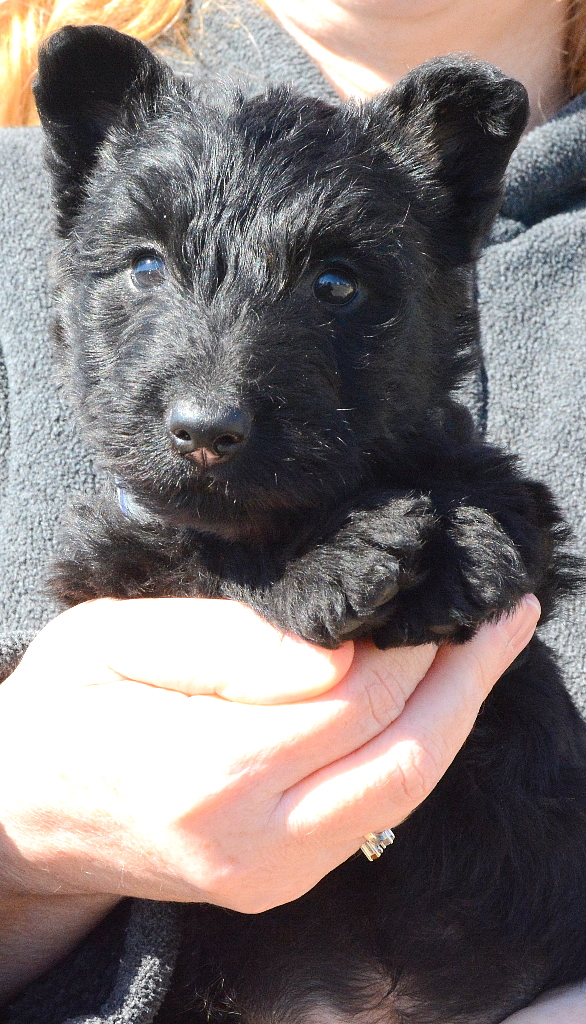 Boy #3
He is black with very faint brindle around his beard and feet.
He's very similar in personality to boy #2 above.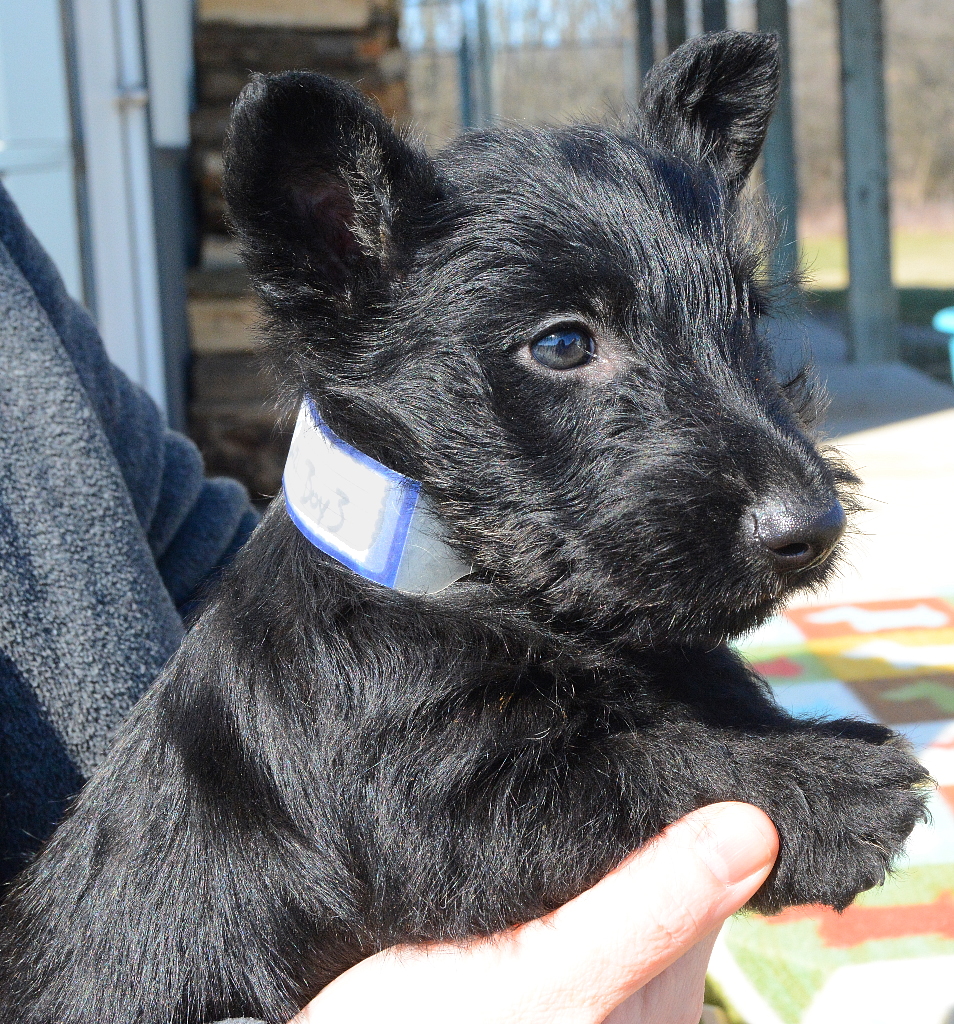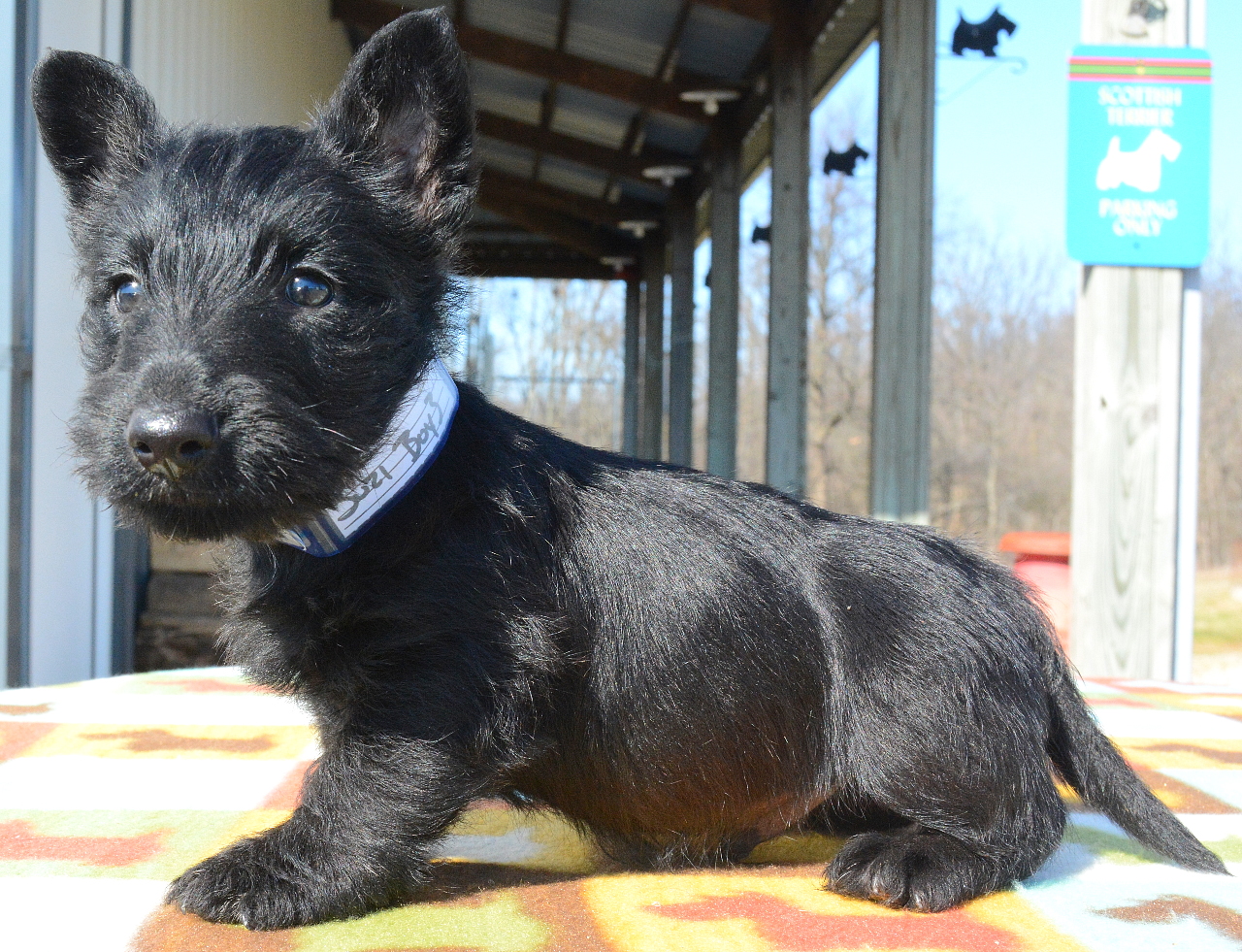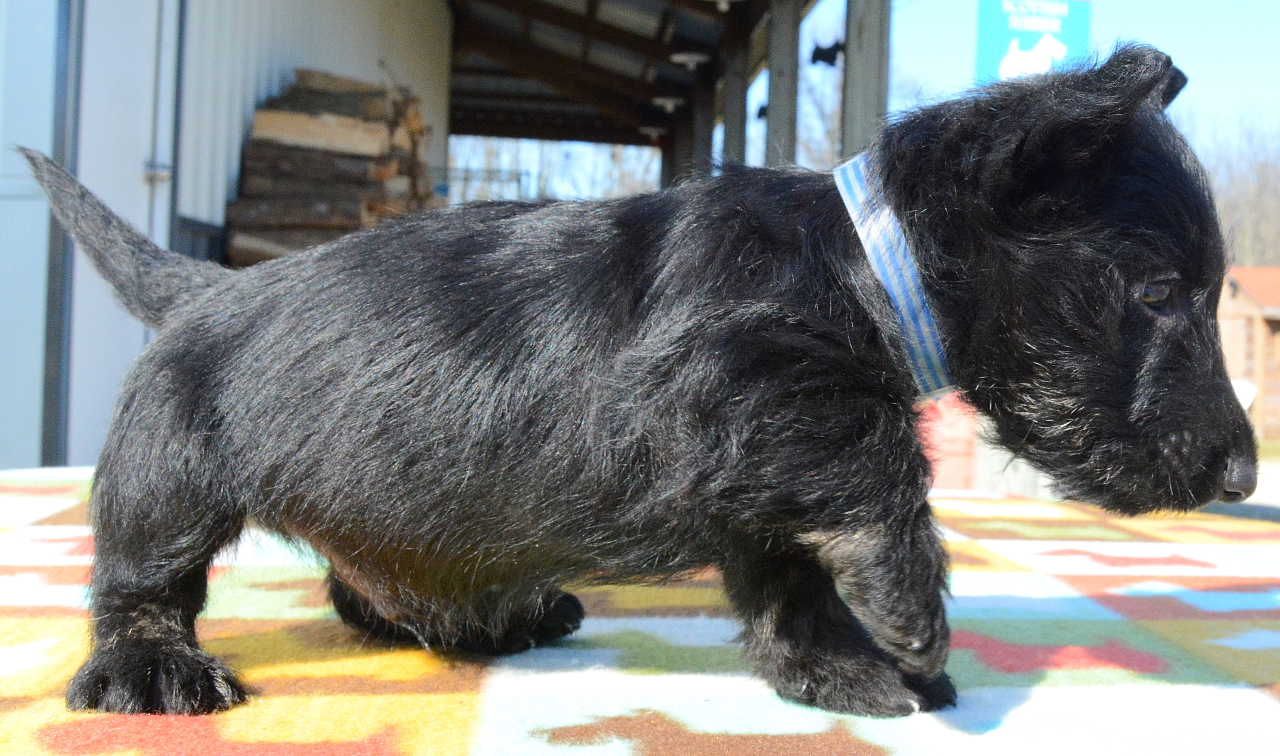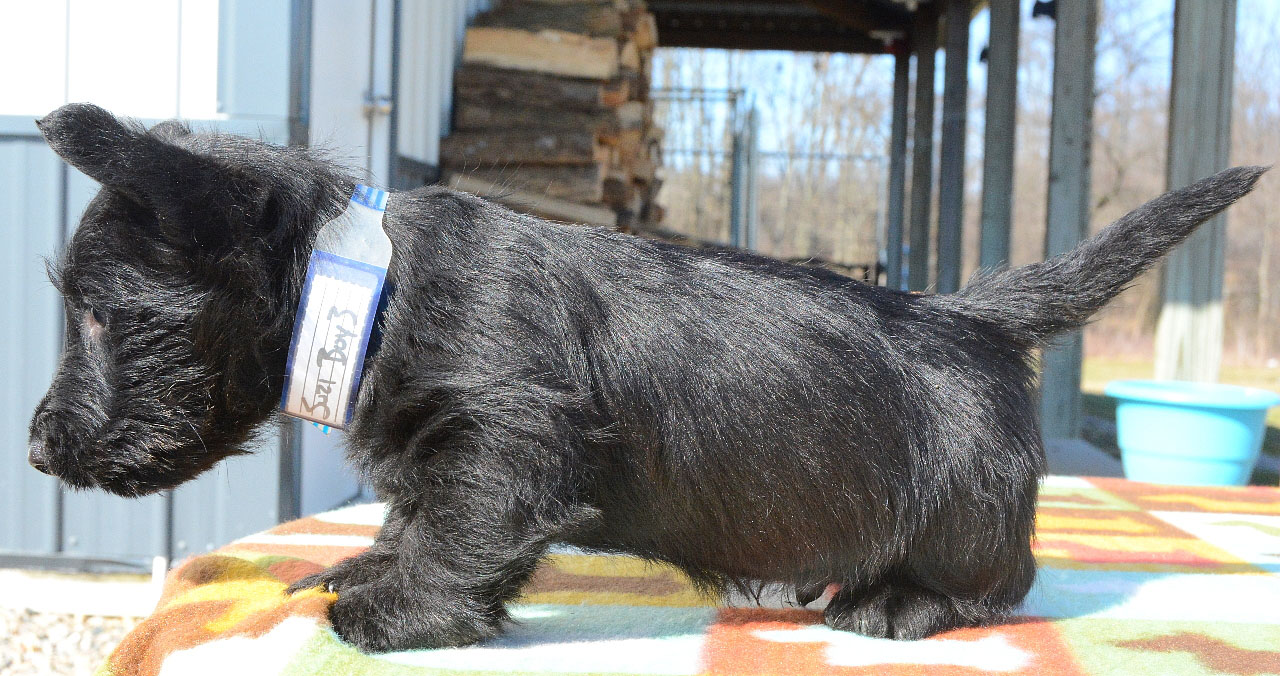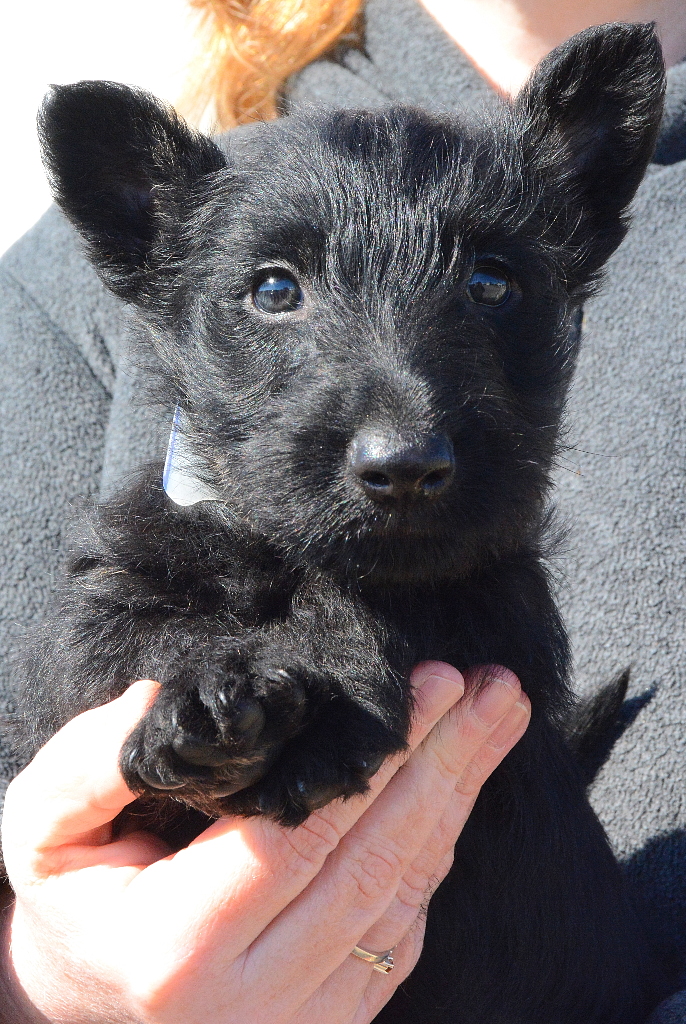 Boy #4
He's black but if the sun catches him just right you can see maybe the faintest of brindle highlights on his ear edges and legs...maybe. He's otherwise very black.
He is cautious at first but once he trusts you he is your buddy for life. He likes people a lot.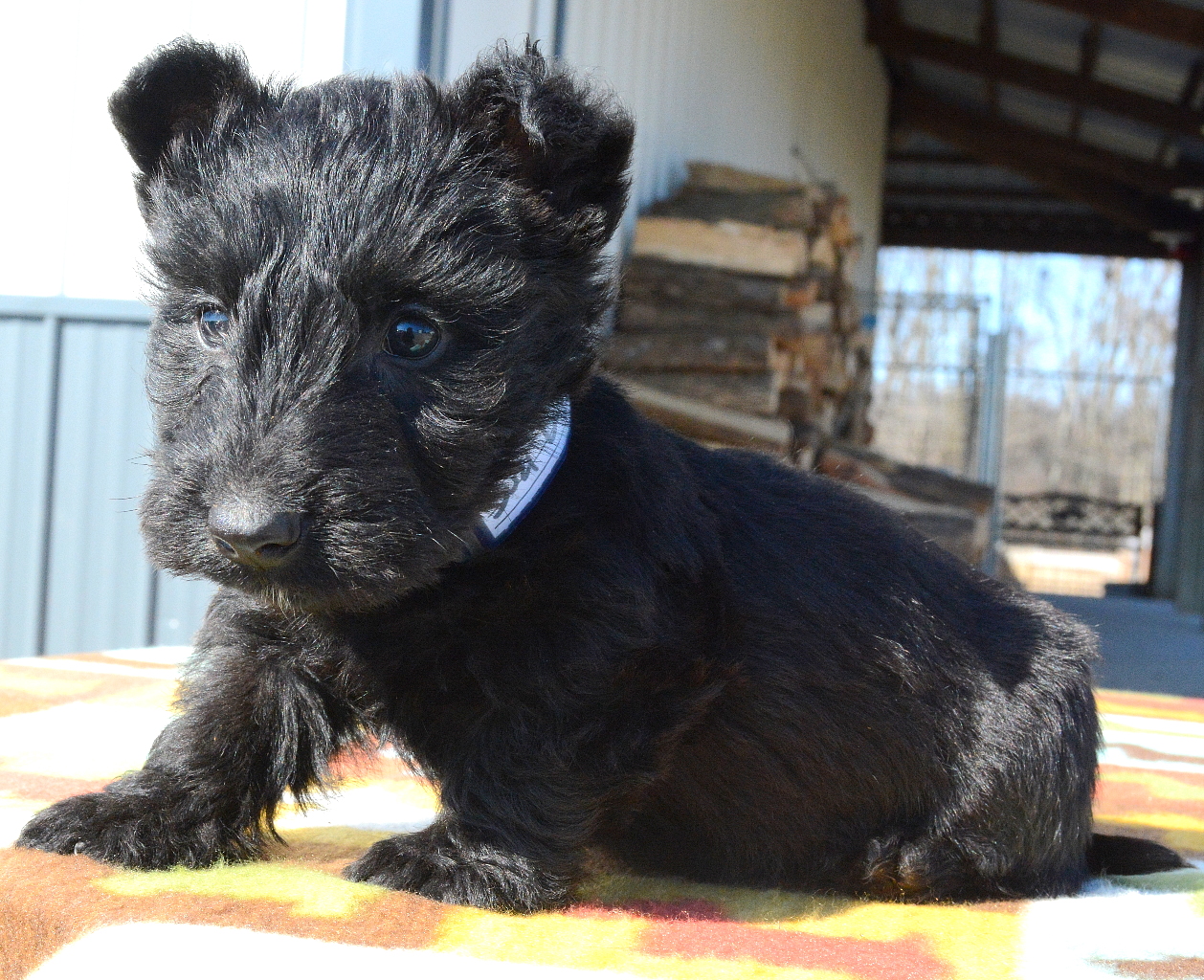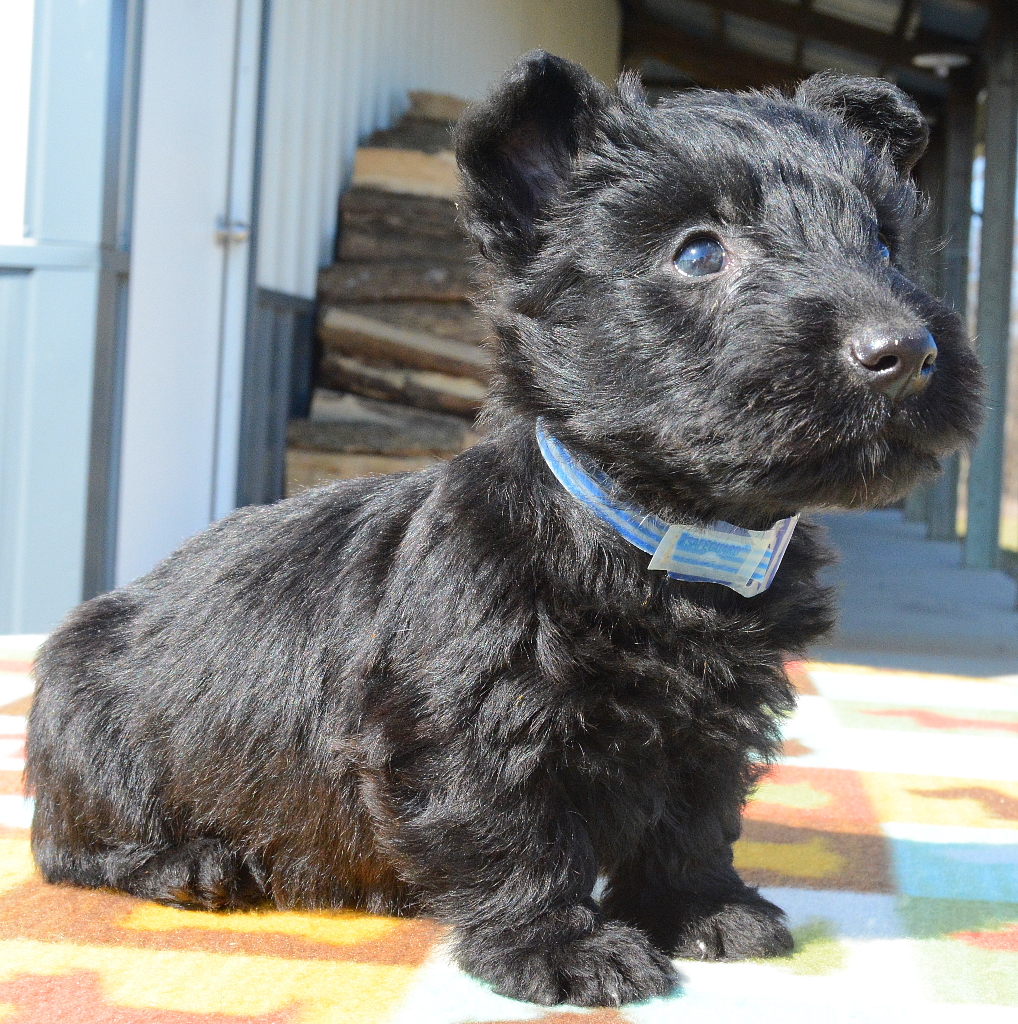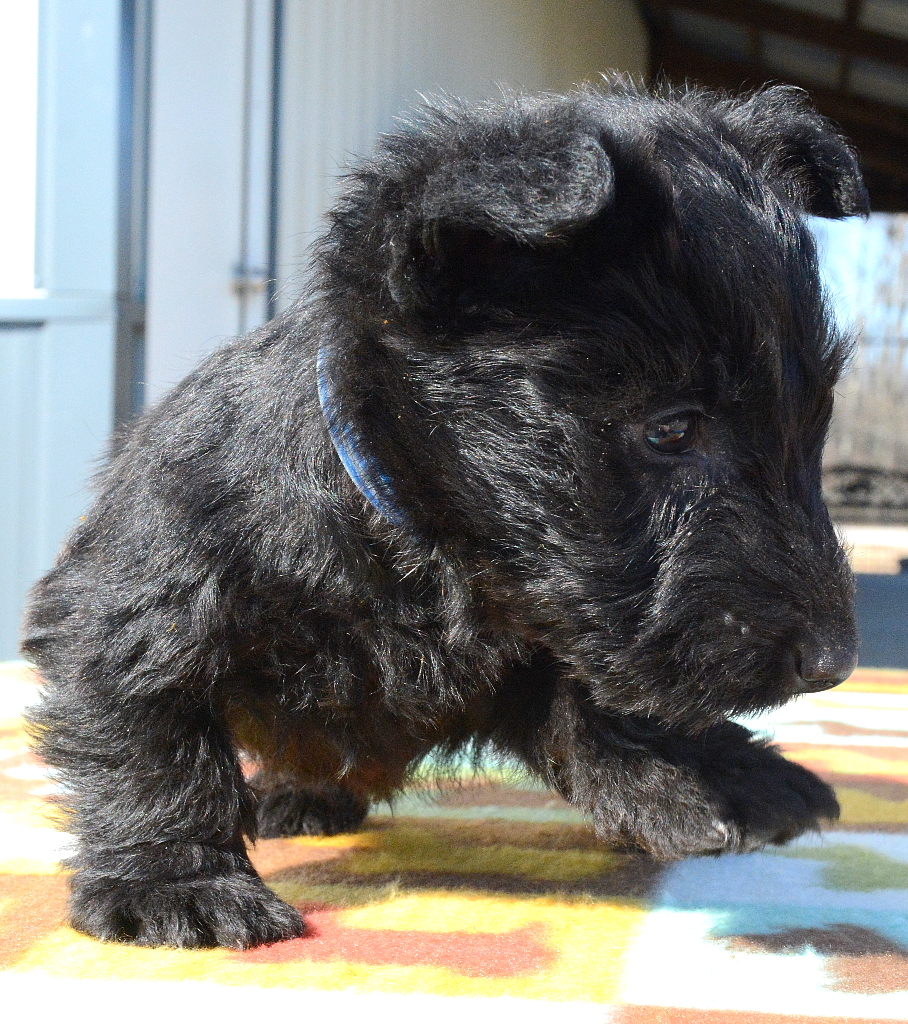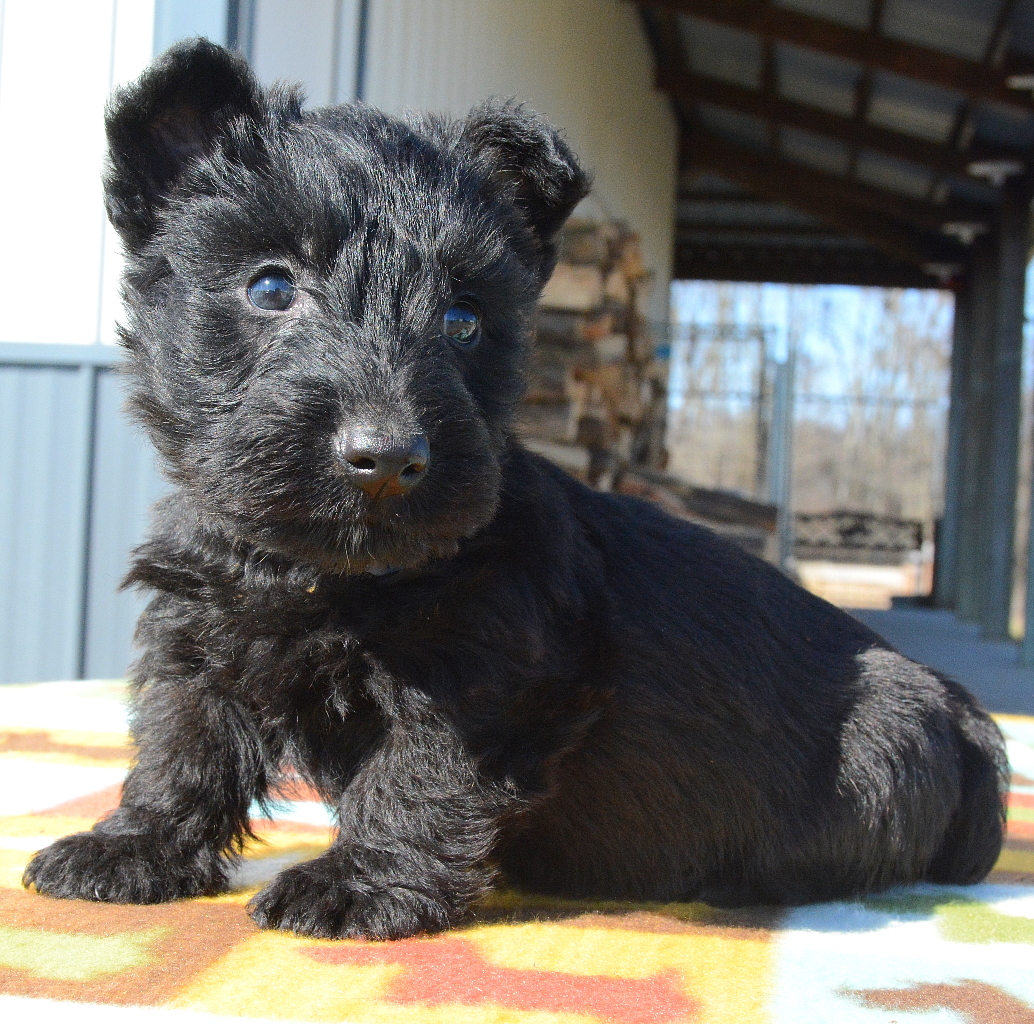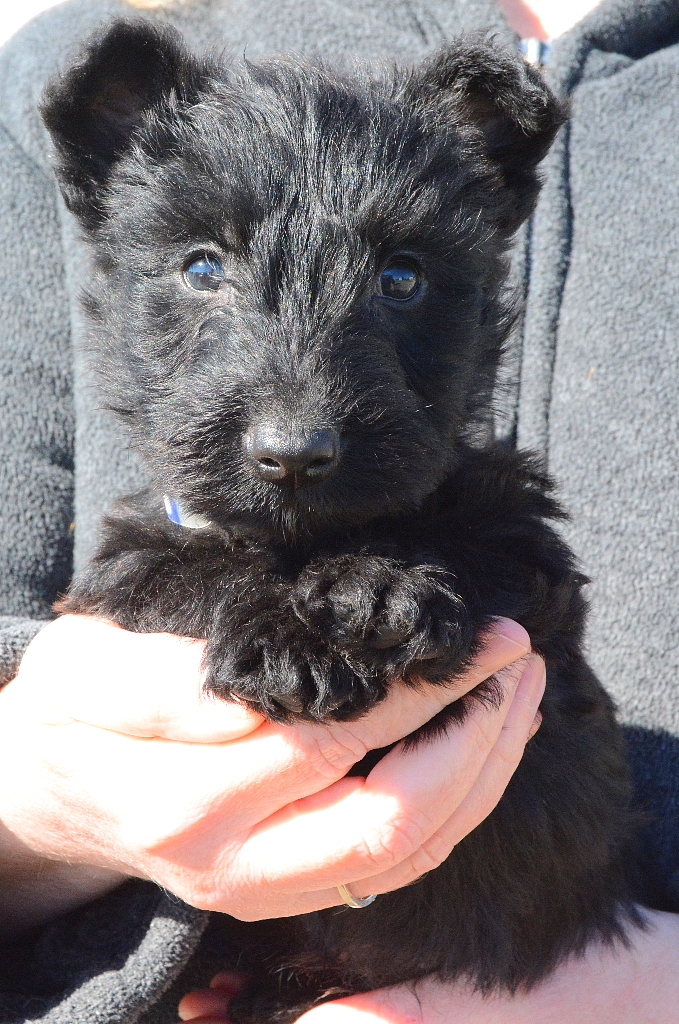 Please check us out on Facebook for some BONUS pictures of these puppies!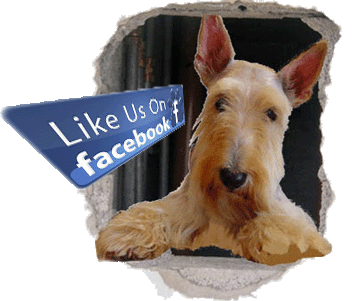 Please check back in a few weeks for a final update.