Peggy and Louie's May 9th 2017 litter
Newest pictures are at the top of the page, the further down you look, the younger the pups.
--------------------------------------------------------------
07-17-2017
This litter is 9 weeks old so it's time to go home. Here are the final pictures.
First I will introduce each puppy by name and let you know where he or she will go to live,
Below that you will find a couple of group pictures and some blooper shots.
Enjoy!
The Lad
The wheaten boy.
Say hello to Jack.
Jack will travel to North Hollywood, California to live with Gary and family.
The Lasses
The Black-Brindle girl.
Meet Gracee.
She will go to live with Kim in Ballston Lake, New York
Wheaten girl #1.
JoJo is her new name.
She is traveling to Orient, Ohio to live with Gloria.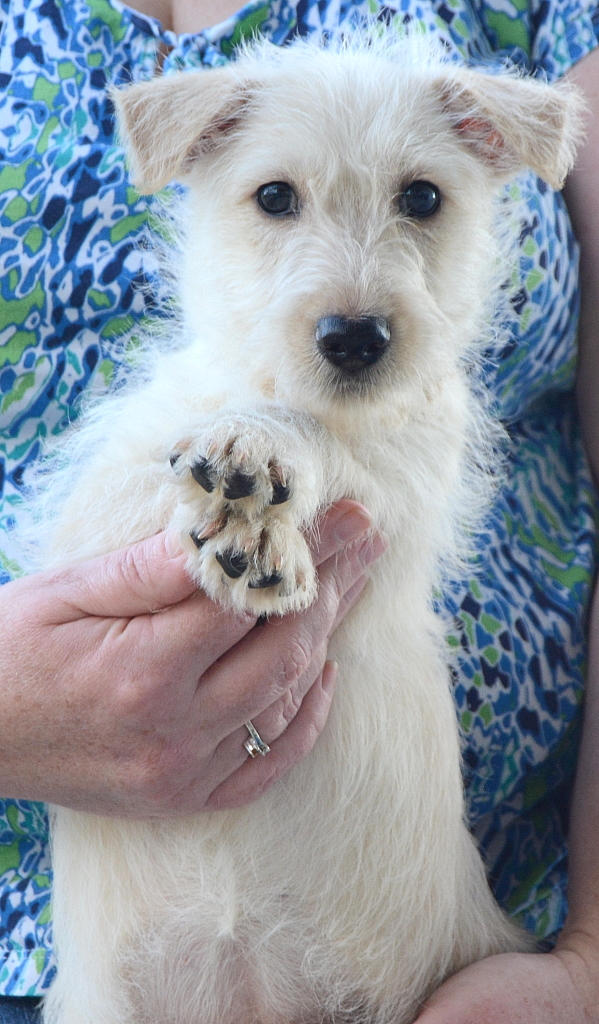 Wheaten girl #2.
Say hello to Fiona.
She is going to live with Douglas and family in Sarasota, Florida.
Wheaten girl #3.
Her new name is Flossie Mae.
She will go to live with Jane in Gallipolis, Ohio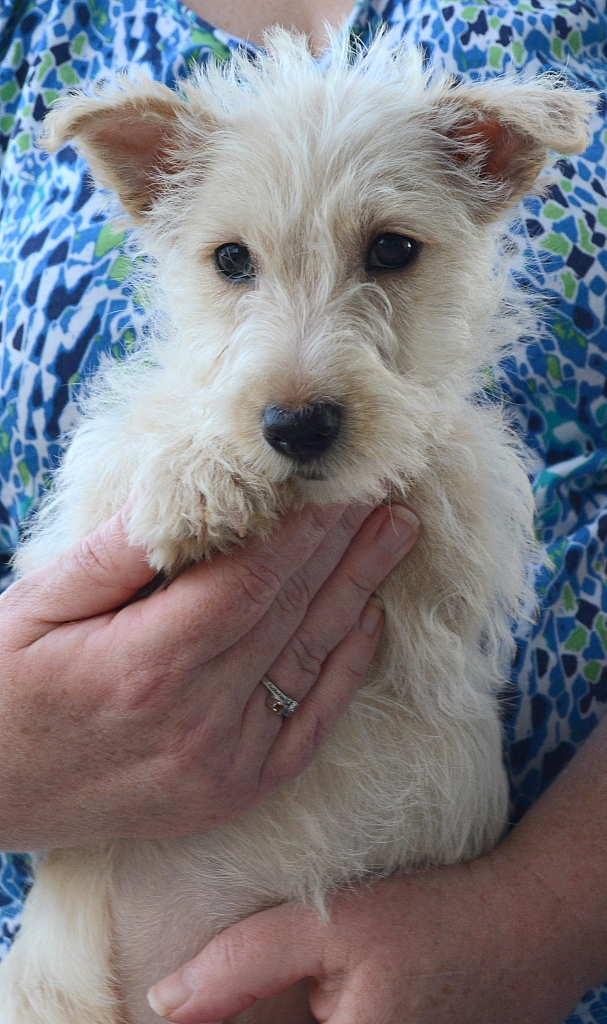 Wheaten girl #4.
This is Clover
She will go to live in Plymouth, Michigan with Maribeth, Patrick, Matthew, Kiltie and Duff.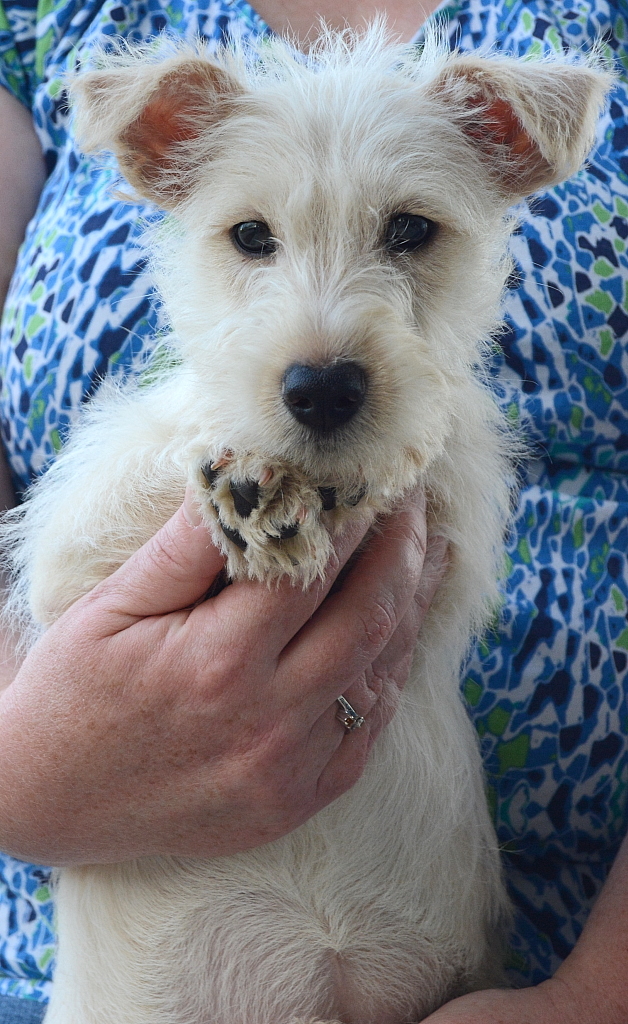 Wheaten girl #5
Pearlie Mae is her new name.
She is going to live in Hamilton, Ohio with Kenzil and family.
Wheaten girl #6
Last but not least, meet Daisy.
We have been calling her Daisy but her NEW name is Lorna Doone.
She went to go live with Kathy in Oberlin, Ohio
Peggy's May 9th 2017 litter of 8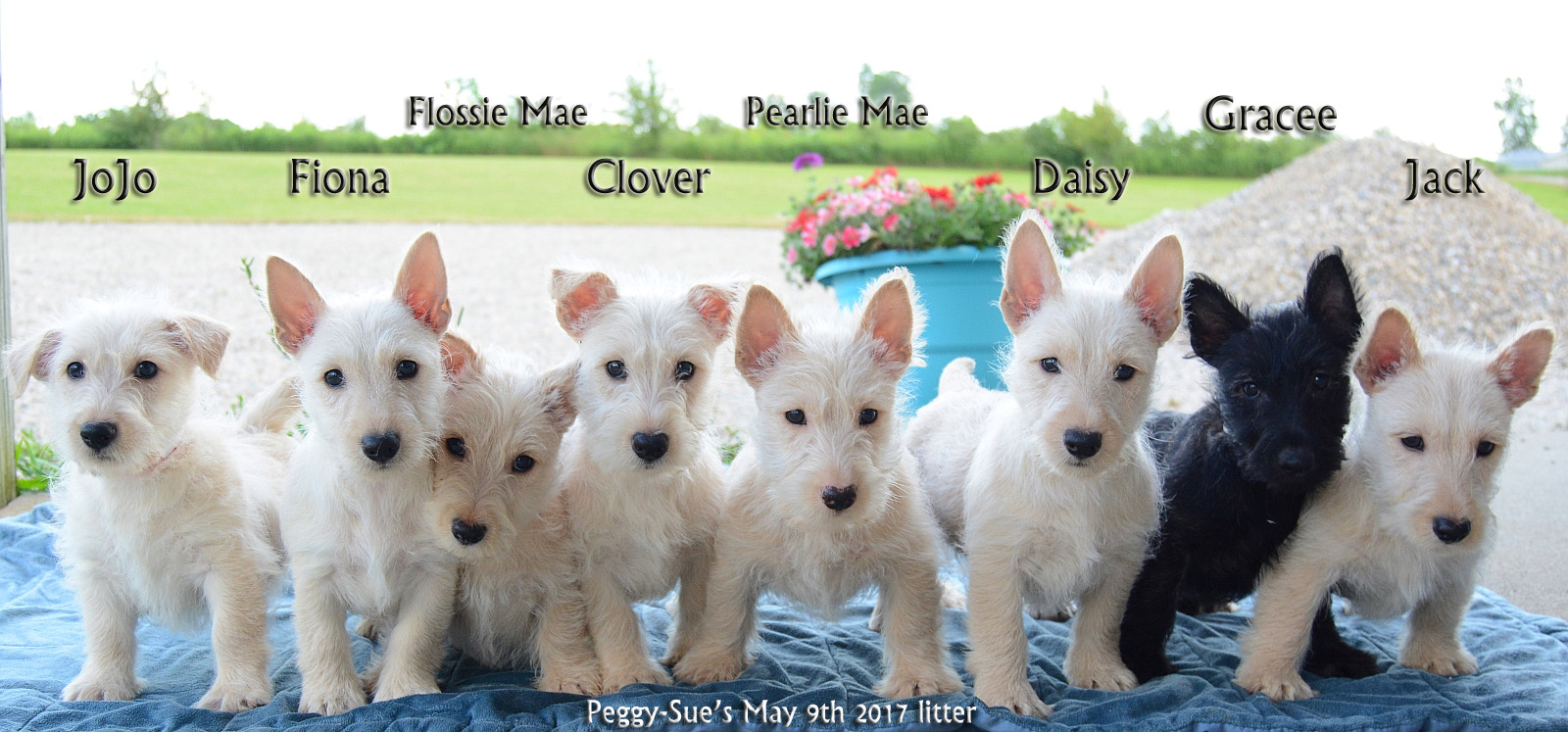 Same picture, no text.
A couple bloopers.
Thank you everyone!
The End.
06-26-2017
On May 9th 2017 Peggy-Sue and Louie had a beautiful litter of 8.
6 wheaty Girls, 1 wheaty boy and a black-brindle girl.
This is Louie's last litter.
I am placing these pups to folks on my waiting list.
If you would like to be added to my waiting list (no obligation) Please Click HERE
Prices, terms, email address and phone number are located here.
These pups will be ready to go home on Saturday, July 15th 2017
They are weaned, have 1st vet check and are ready to get picked!
Each puppy is sporting an ID collar. Red for girls and Green for the boy.
The Wheaten Boy
He's already learned to give his 7 sisters the right-of-way.
He's a little more reserved than his sisters. He's friendly and happy but he is not the leader.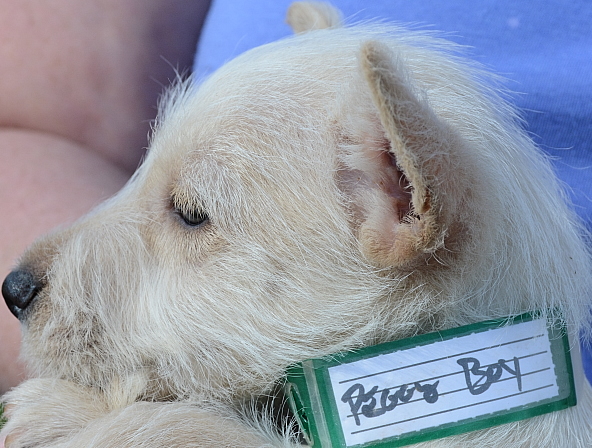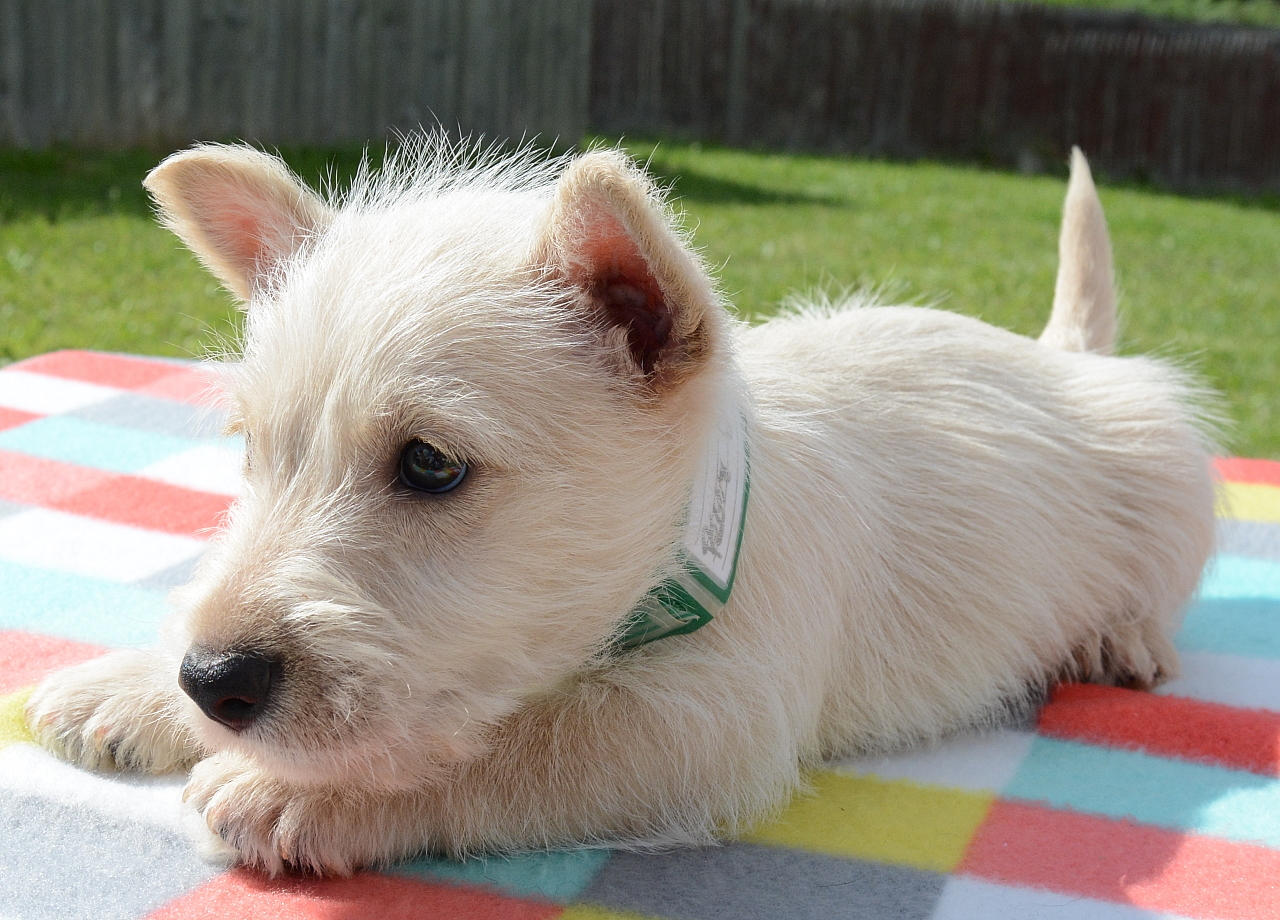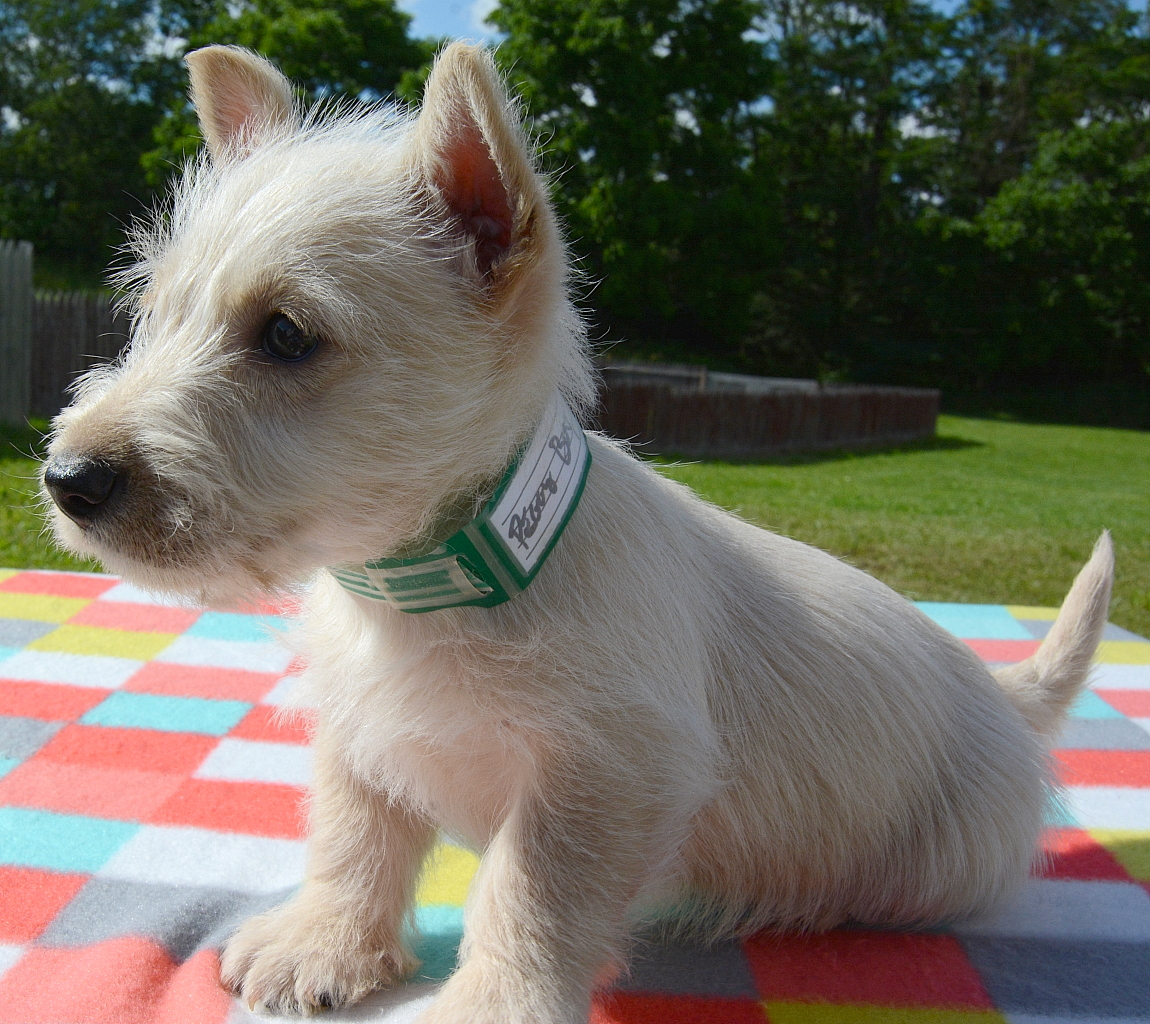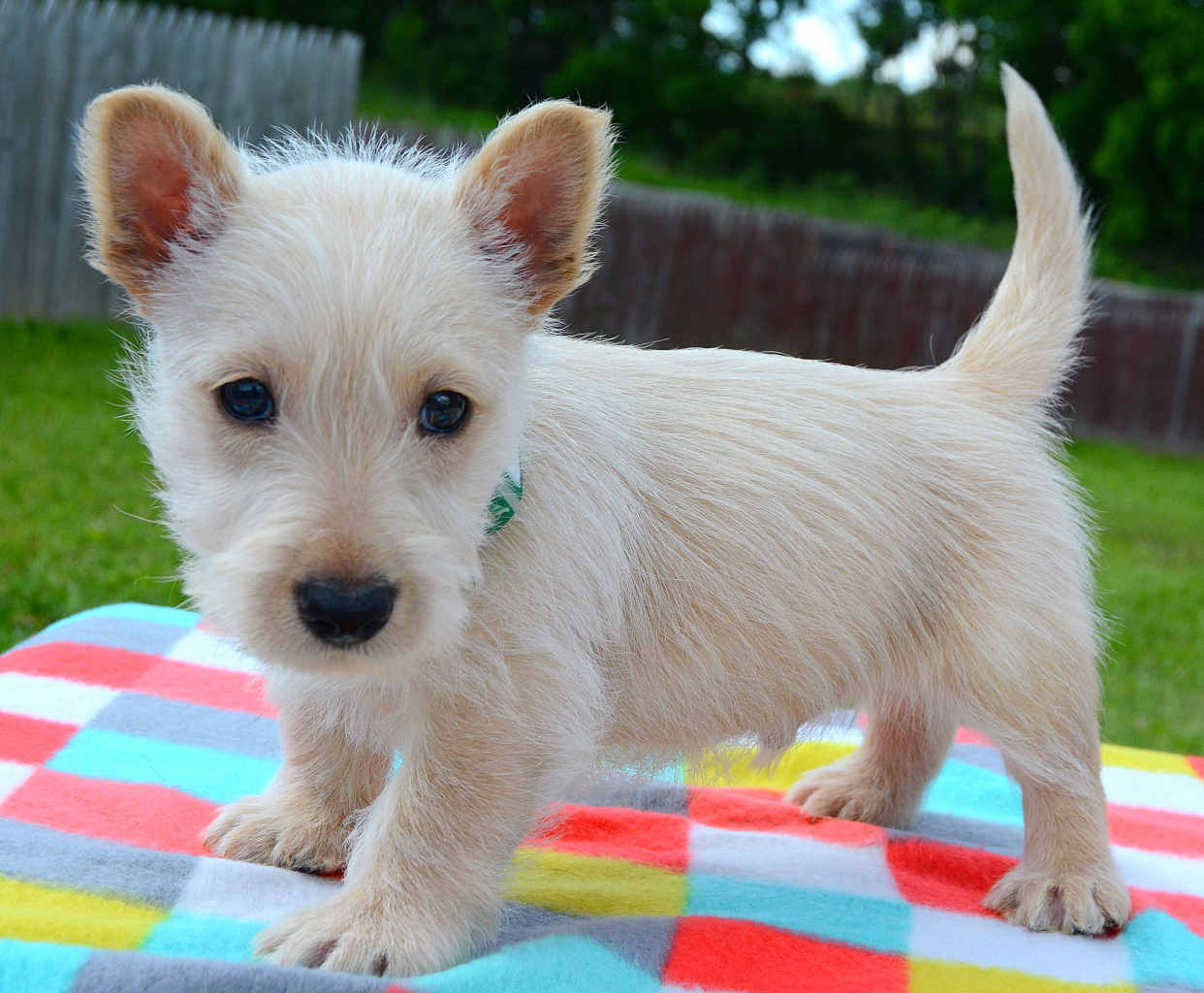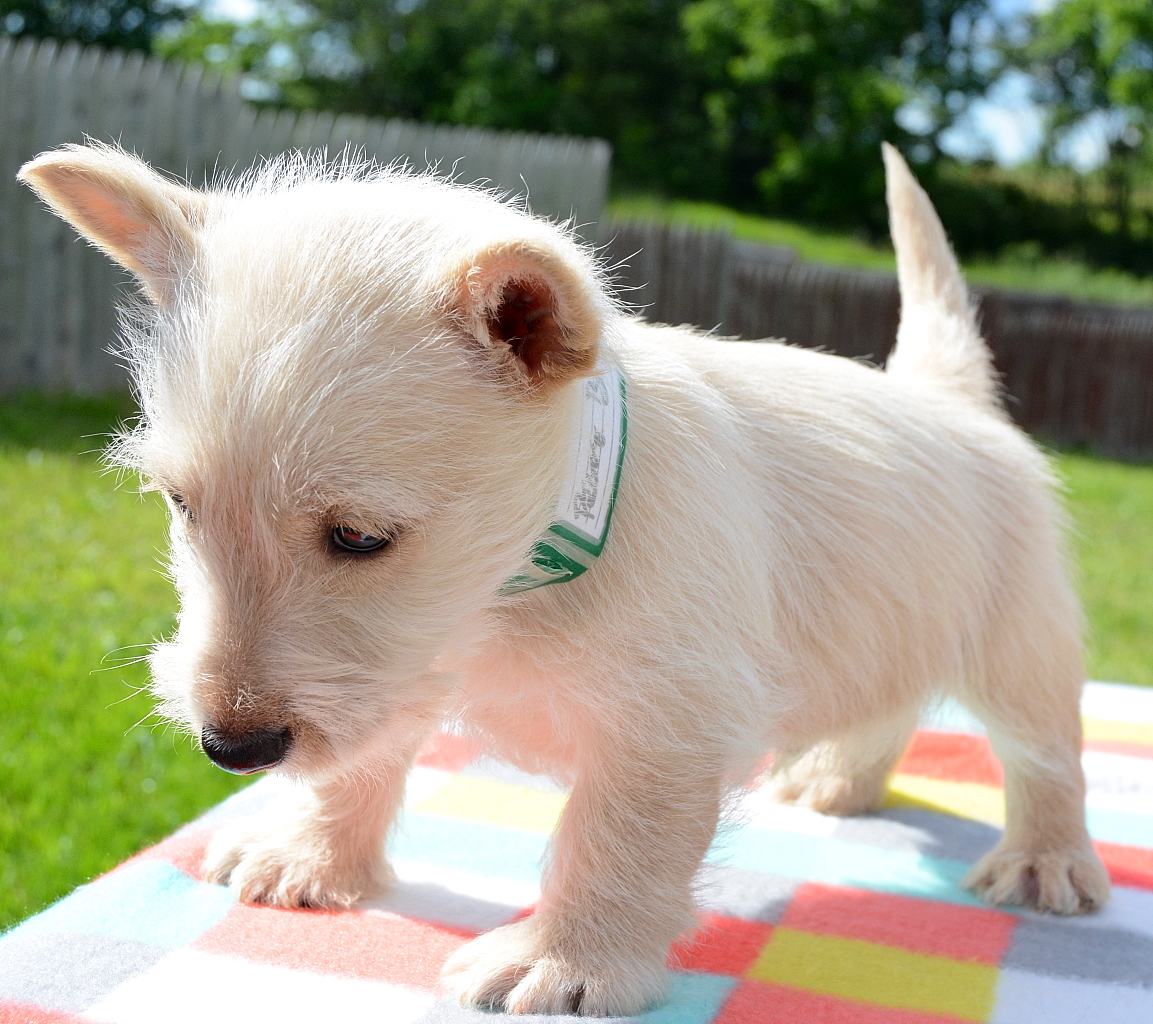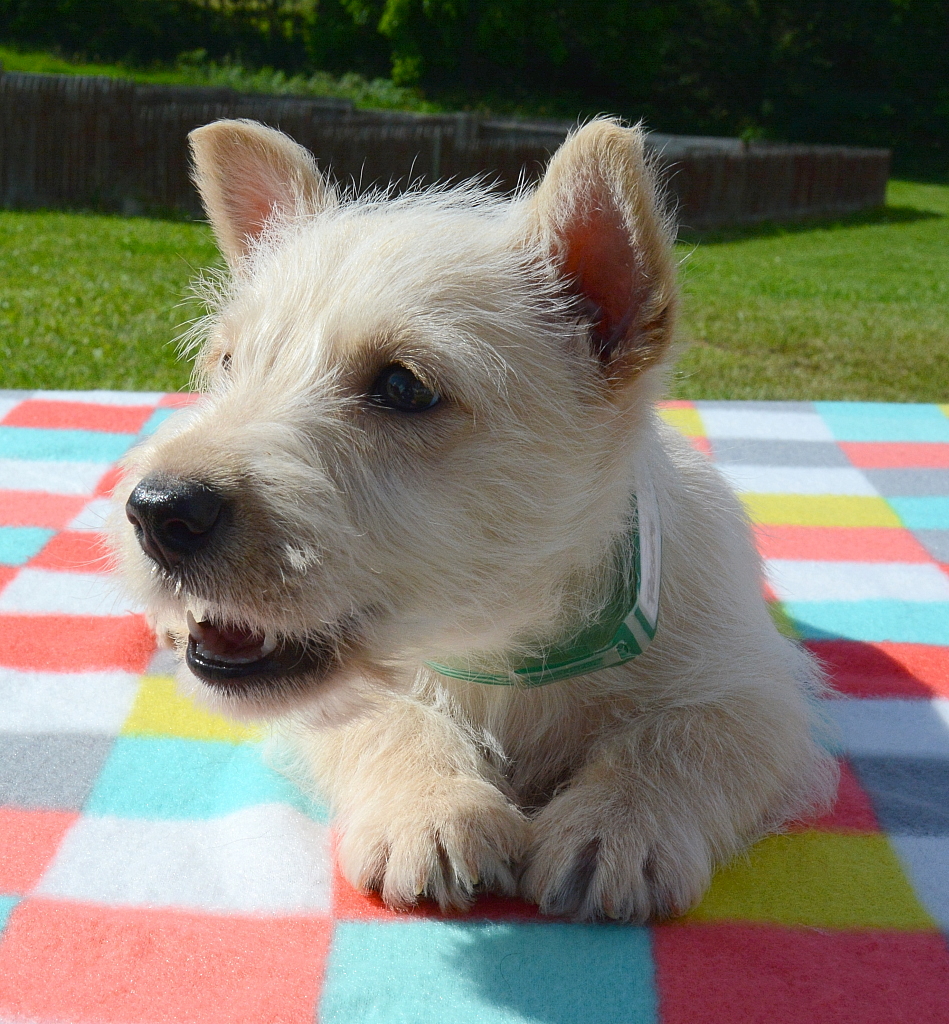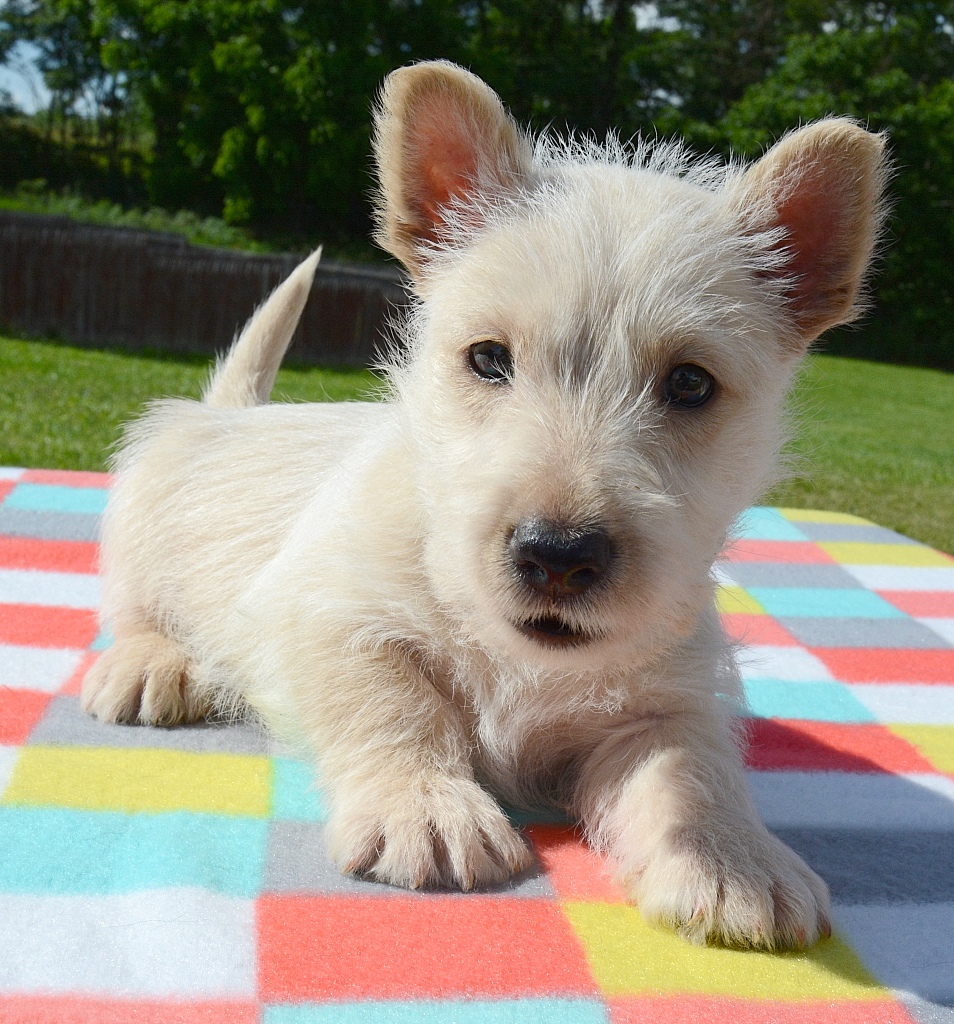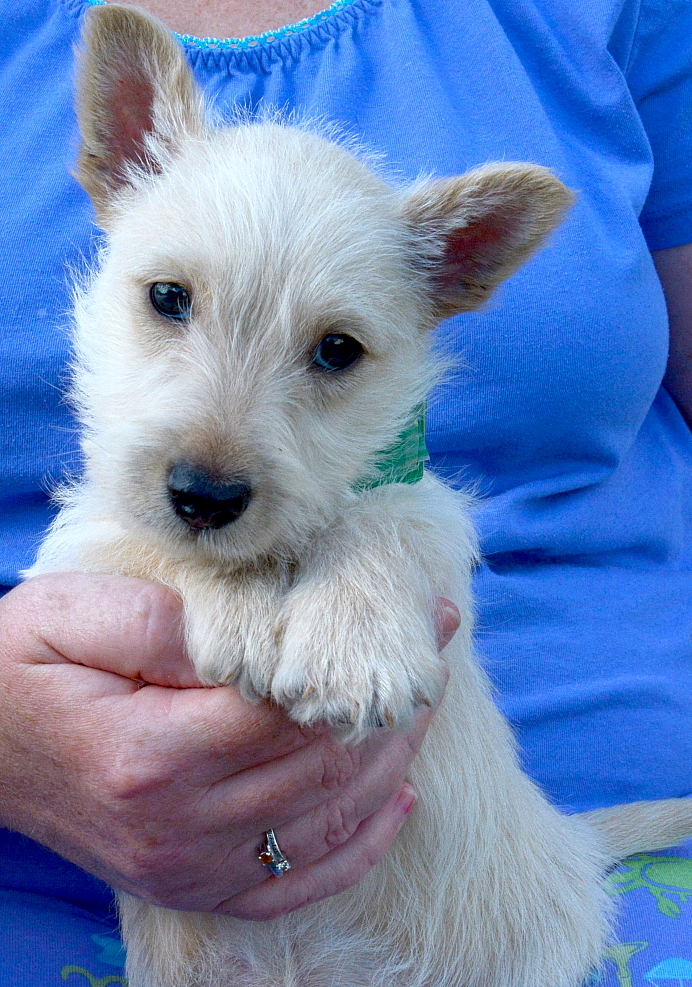 The Wheaten Girls
Girl #1
Attentive is the best way to sum her up.
She seems to pay attention and likes being with people.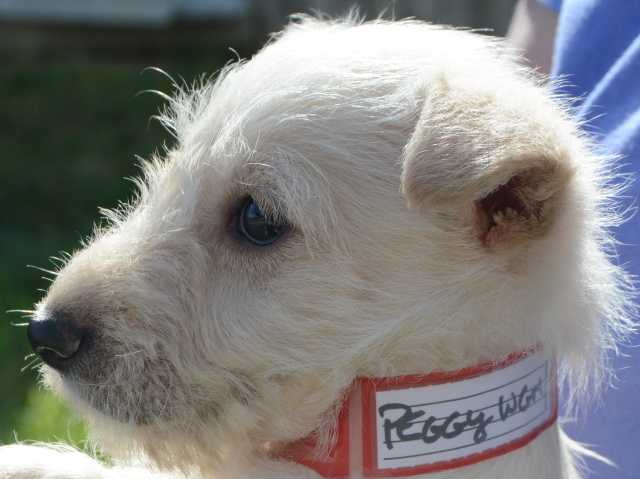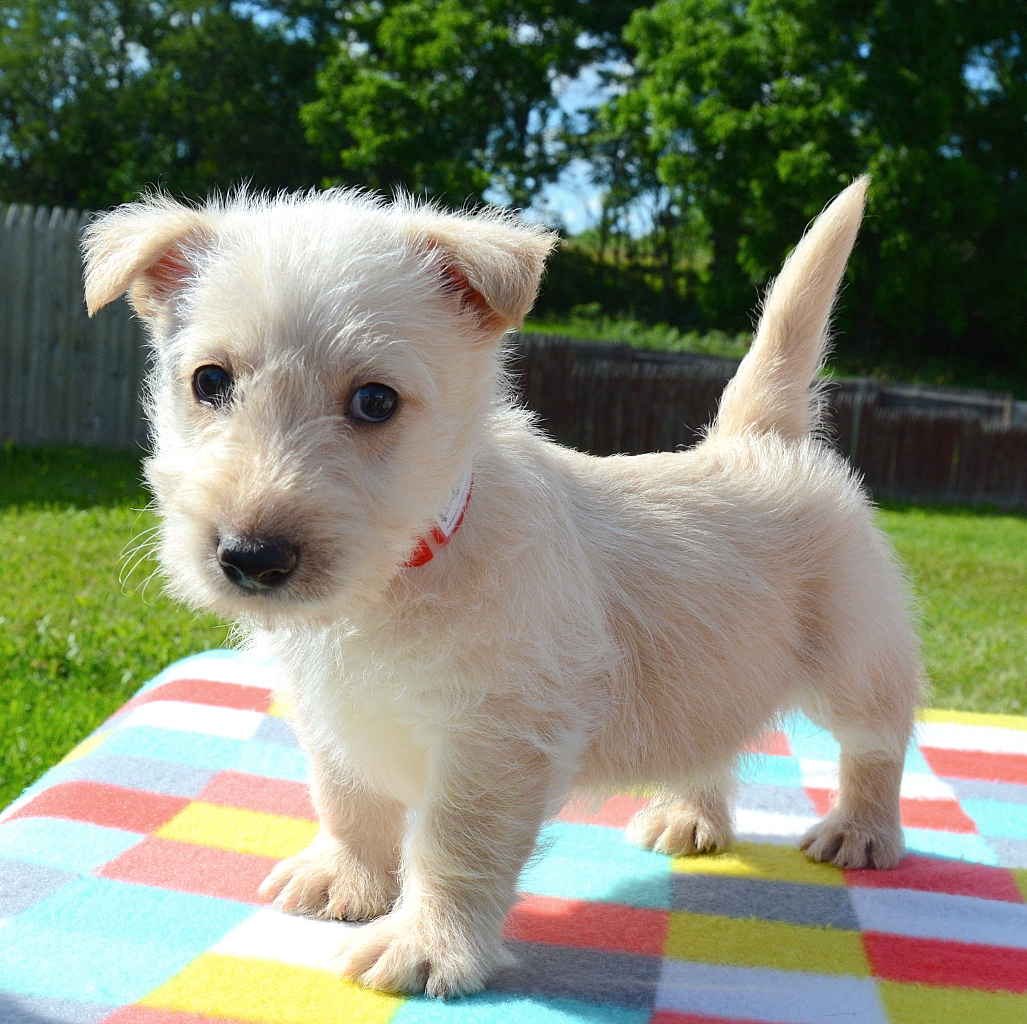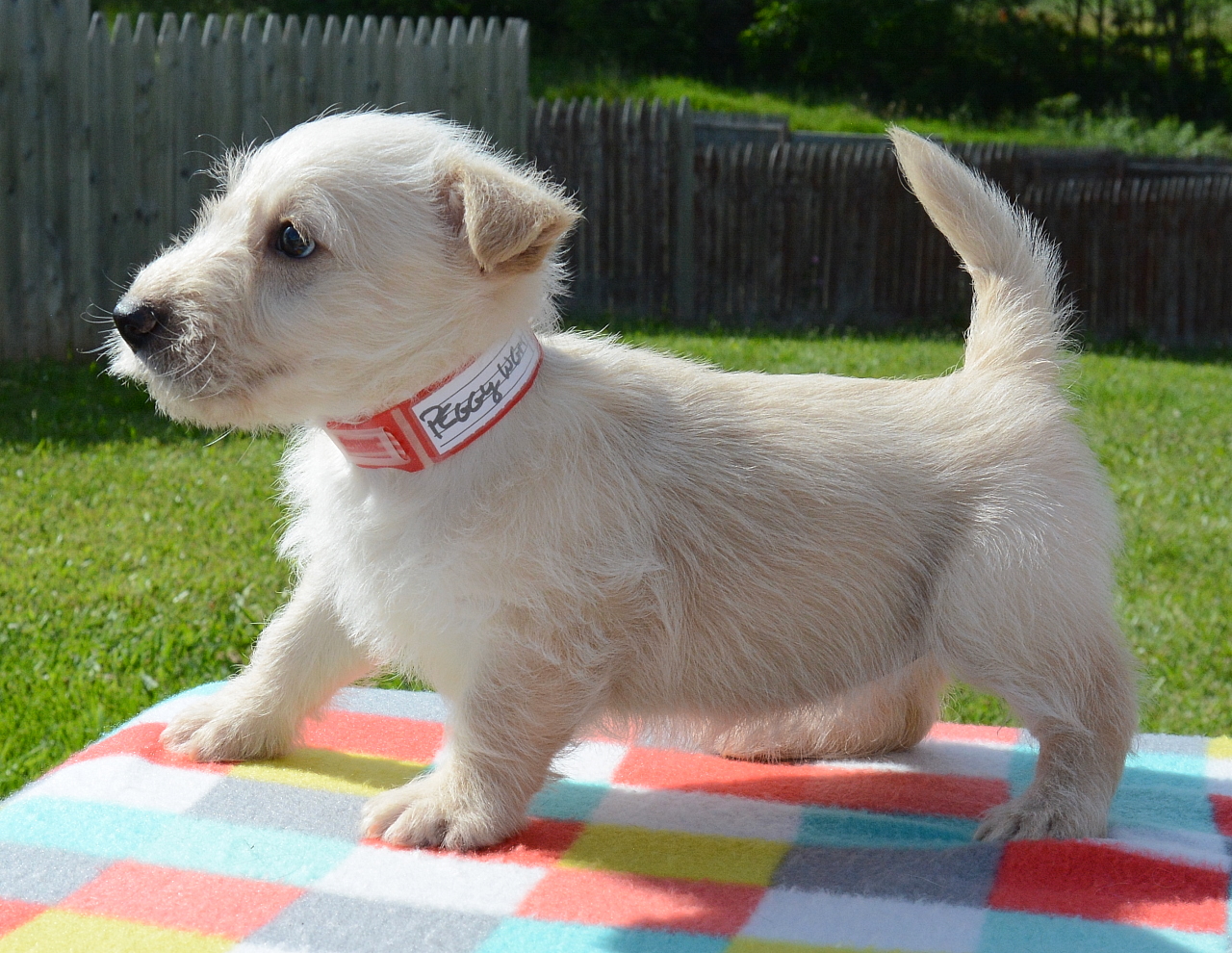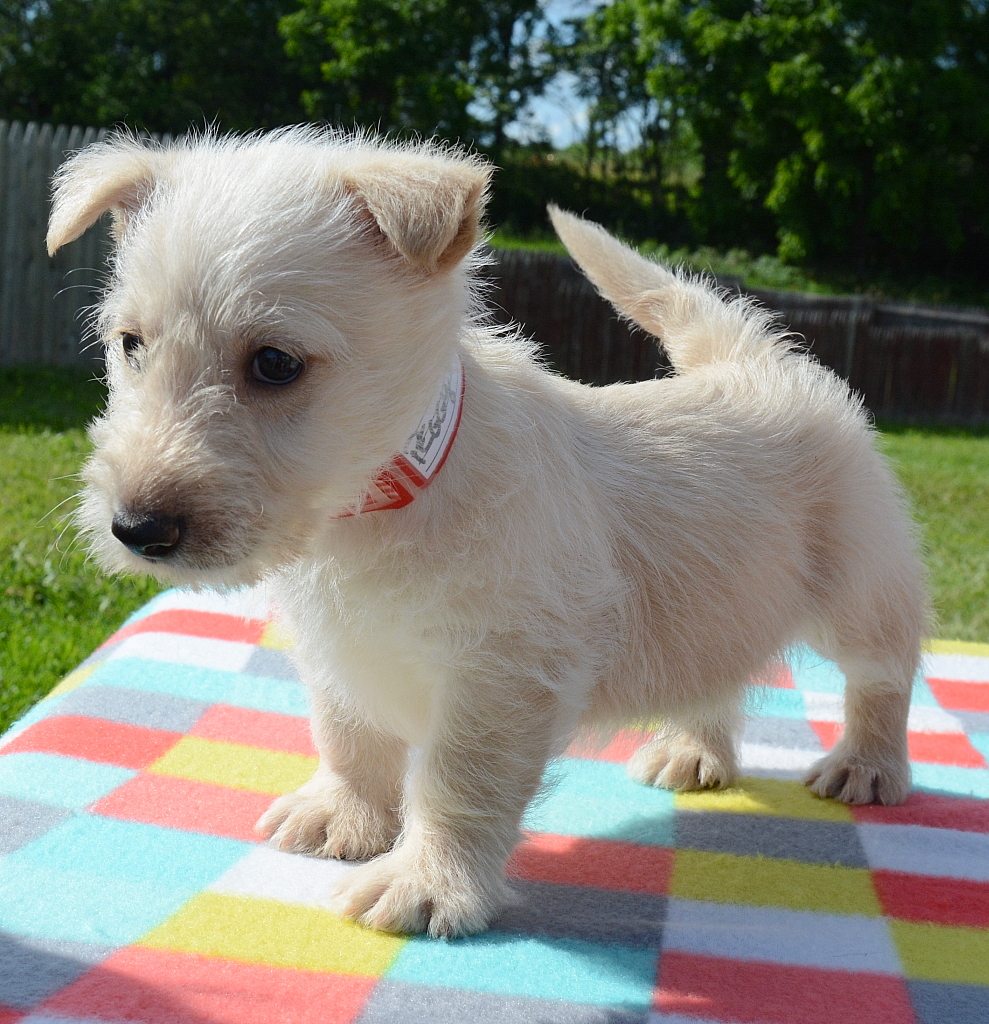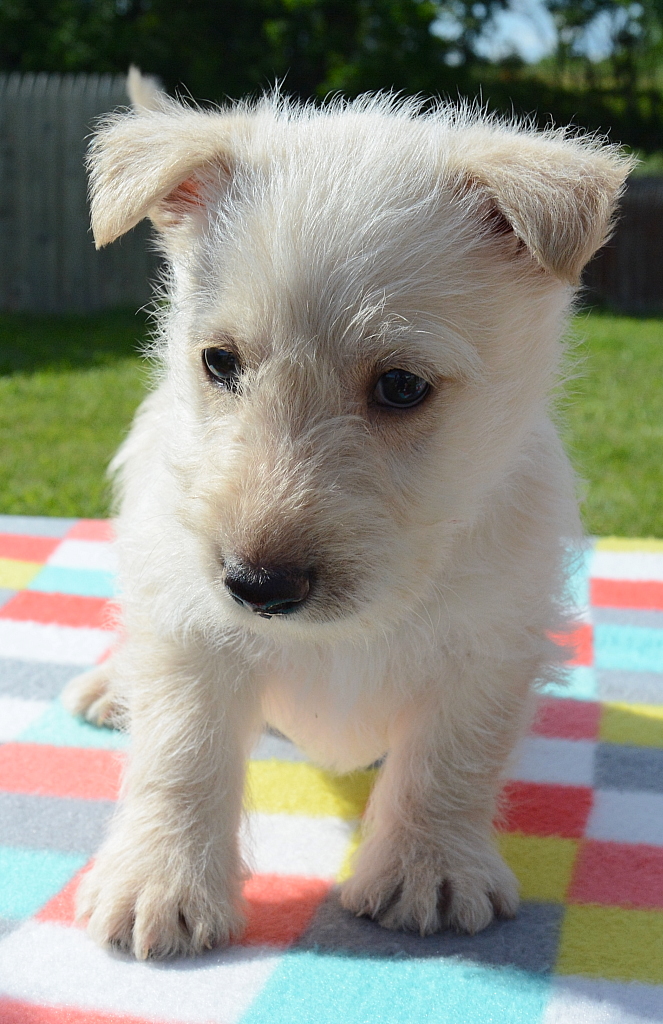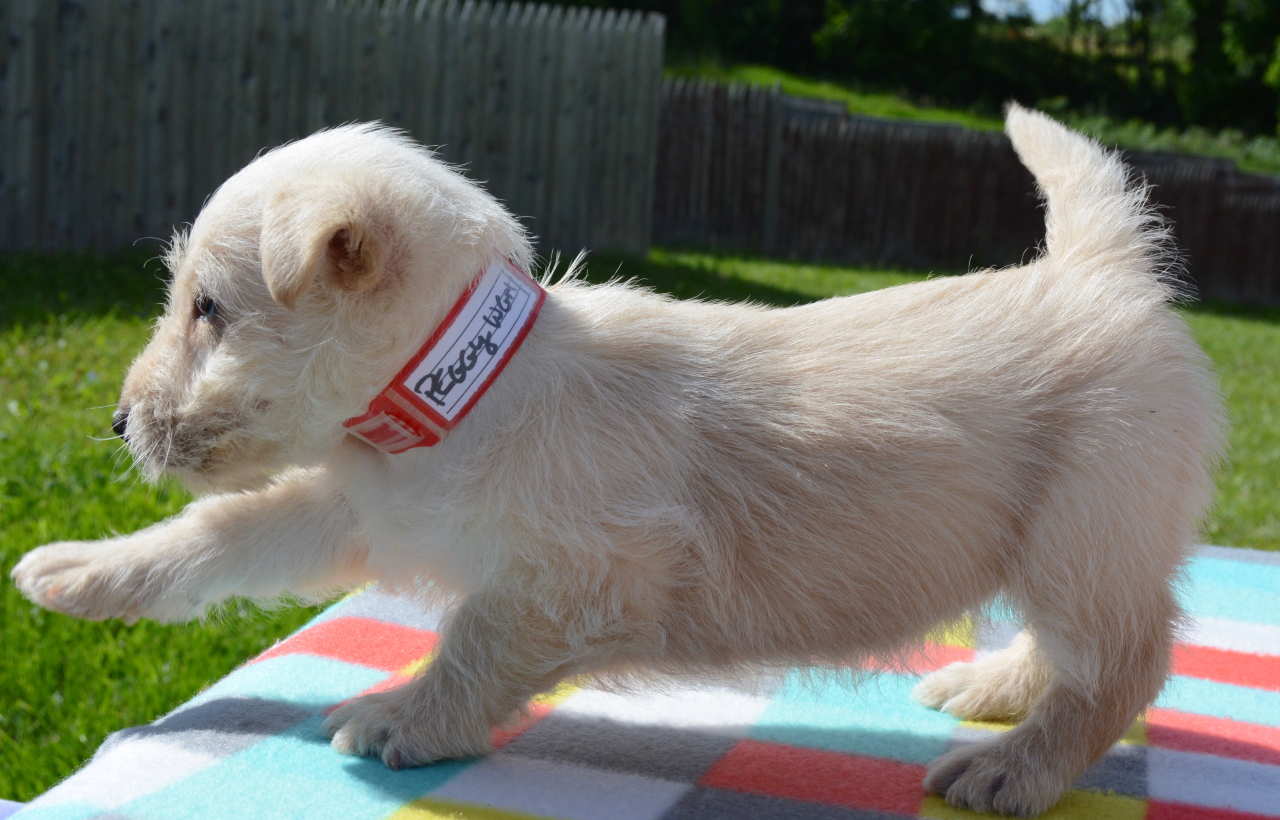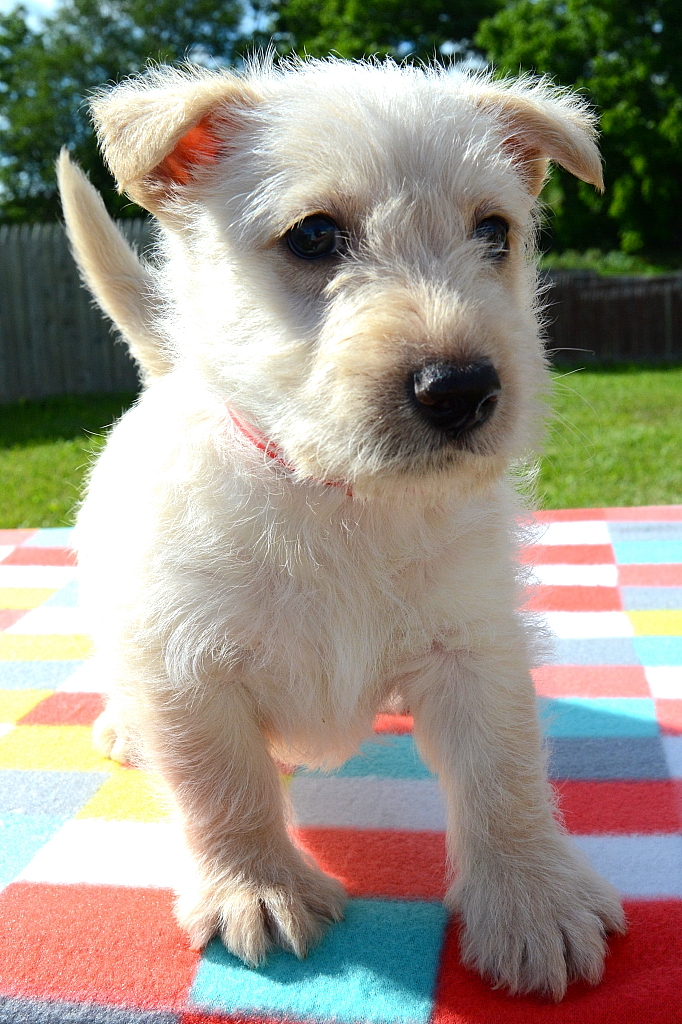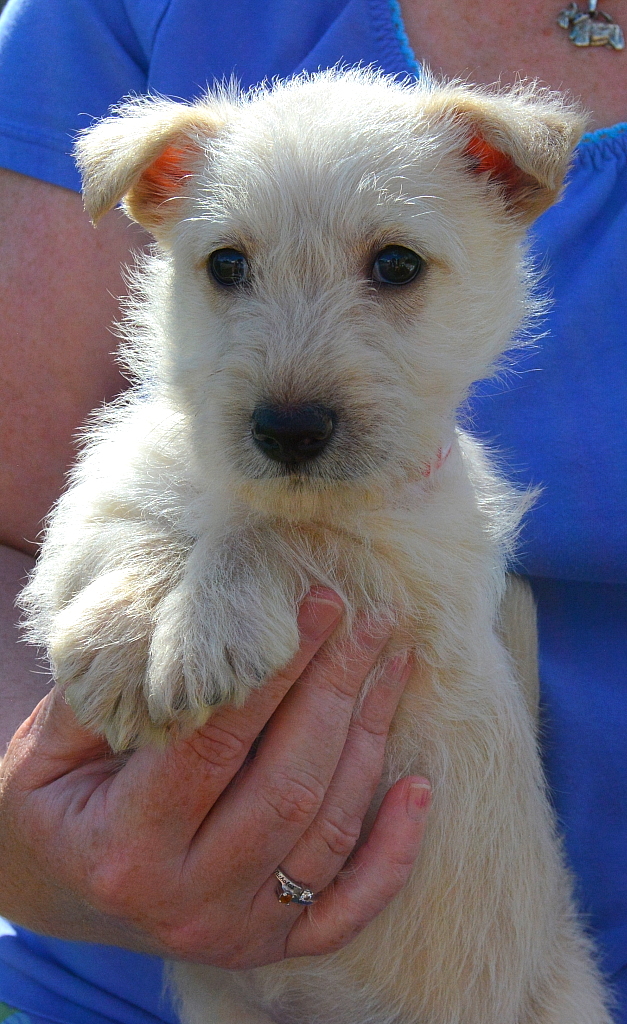 Girl #2
She's a Diva, and she knows it.
Outgoing and playful....not alpha but loves attention.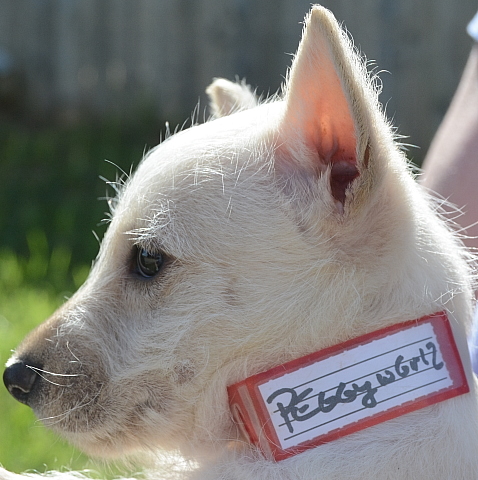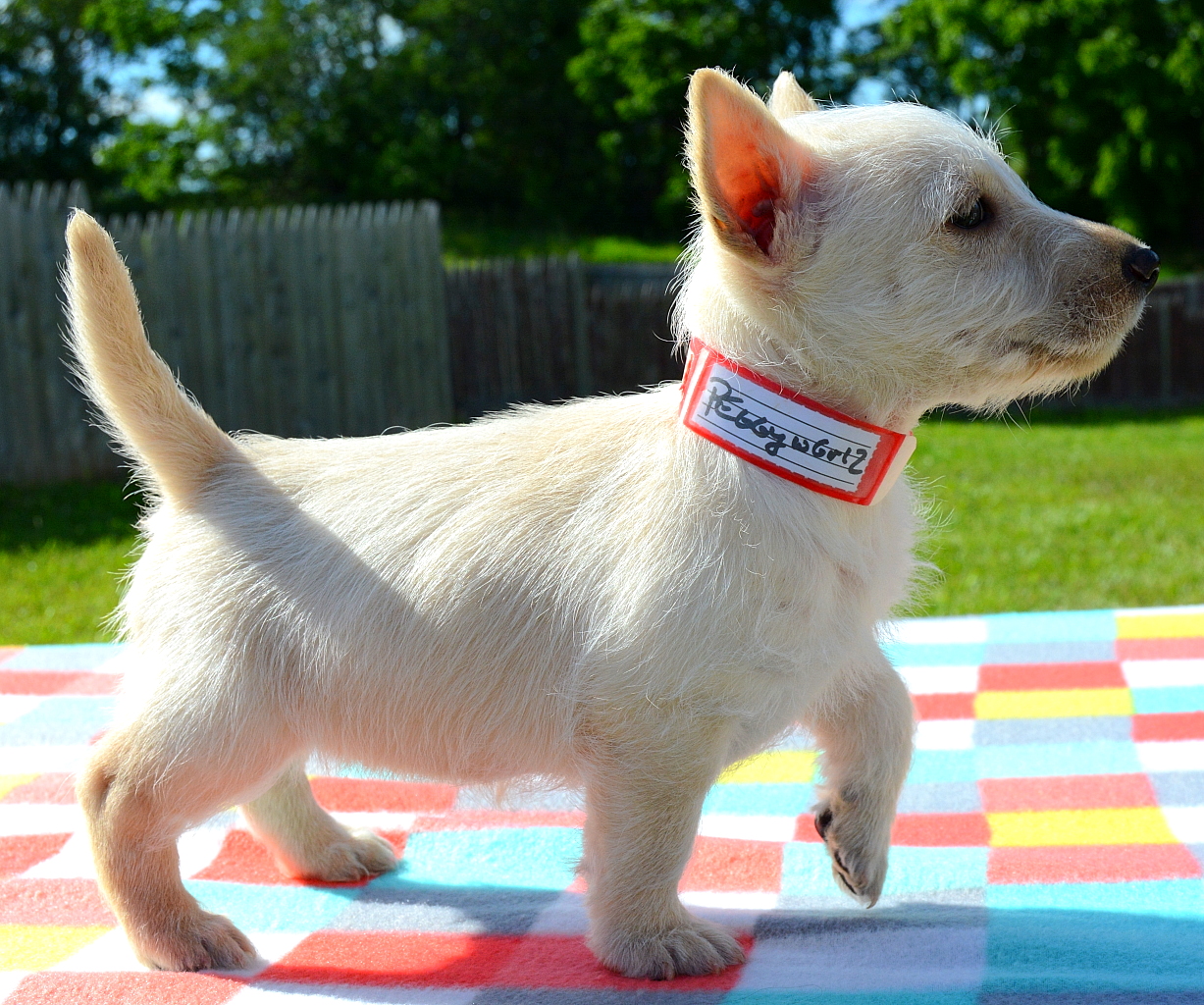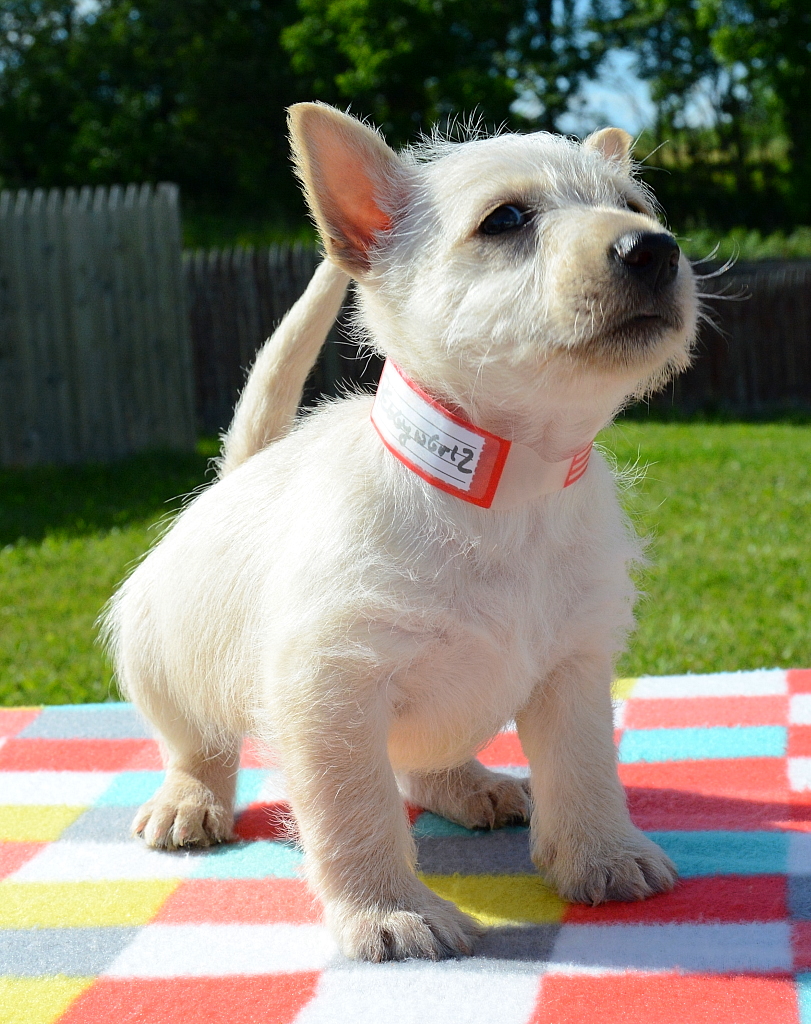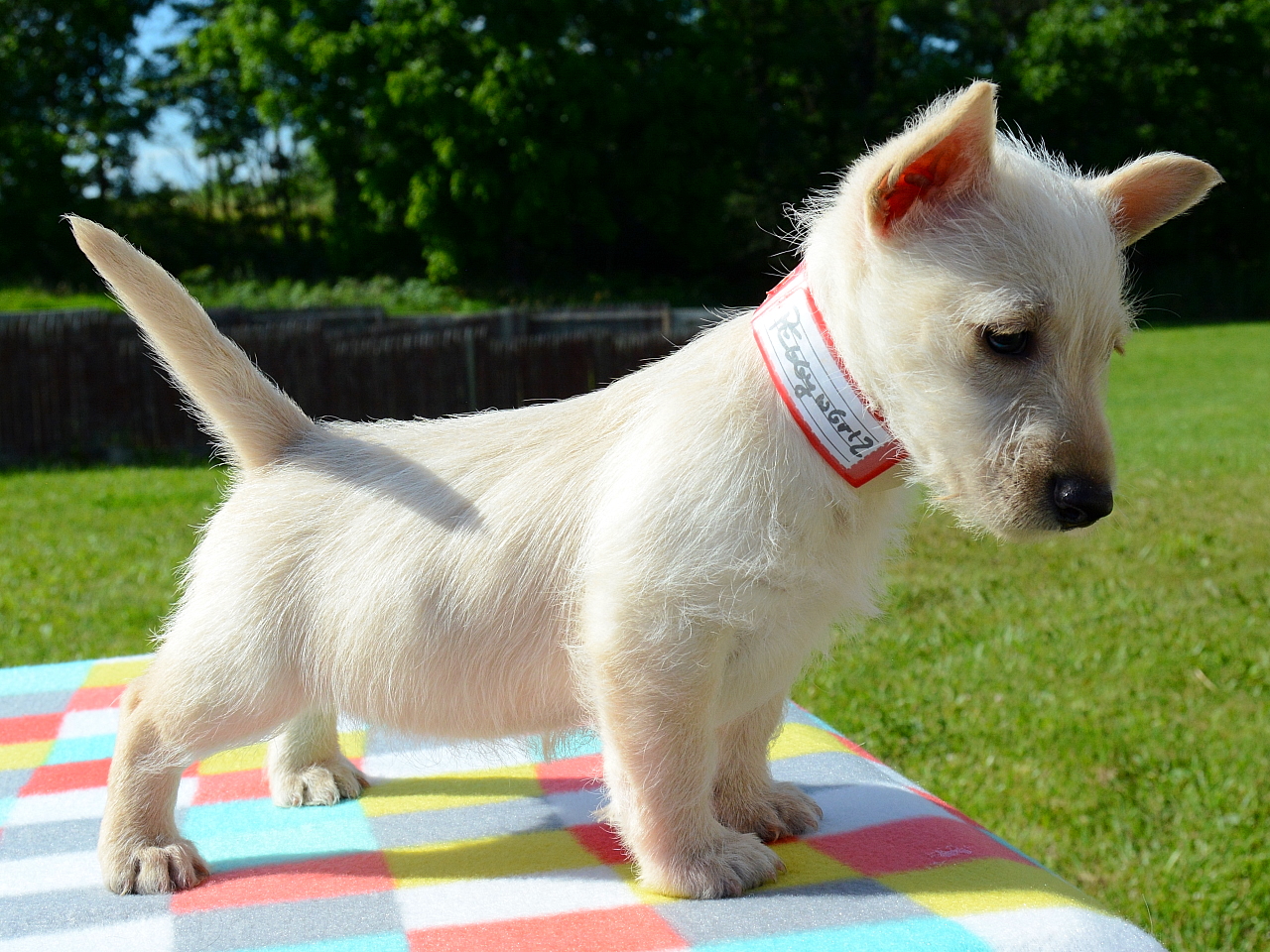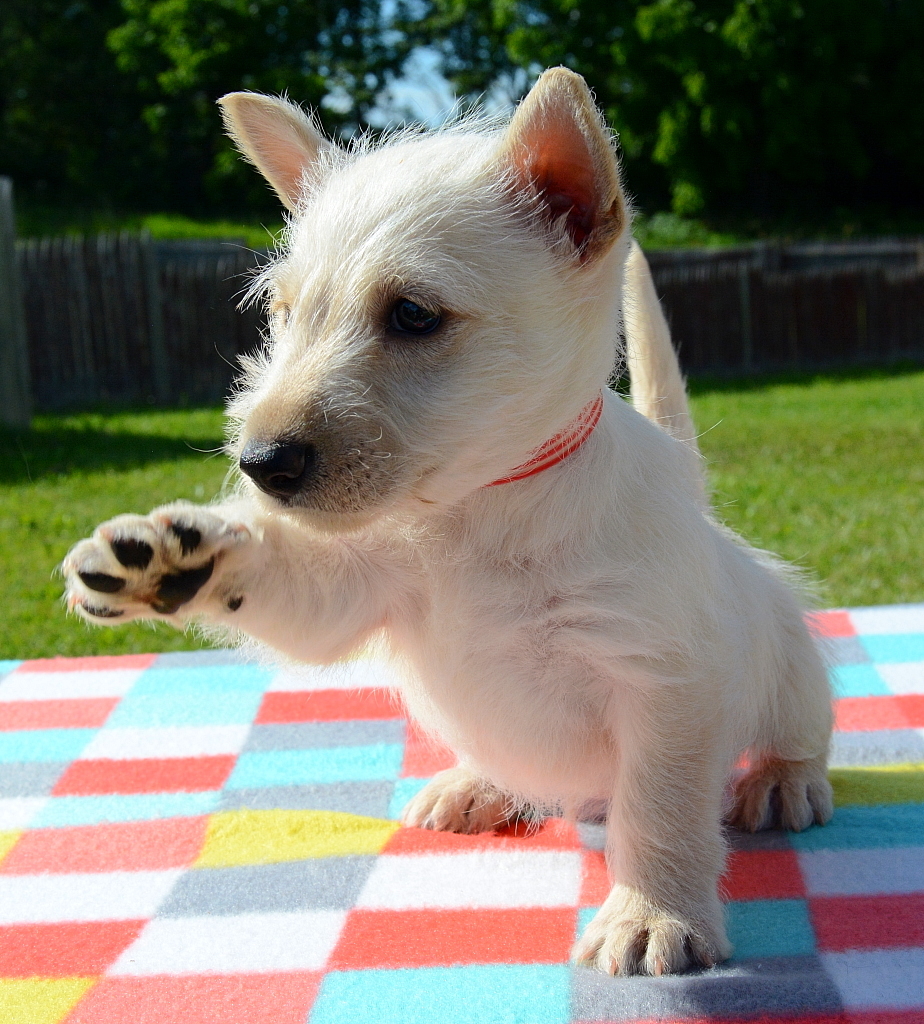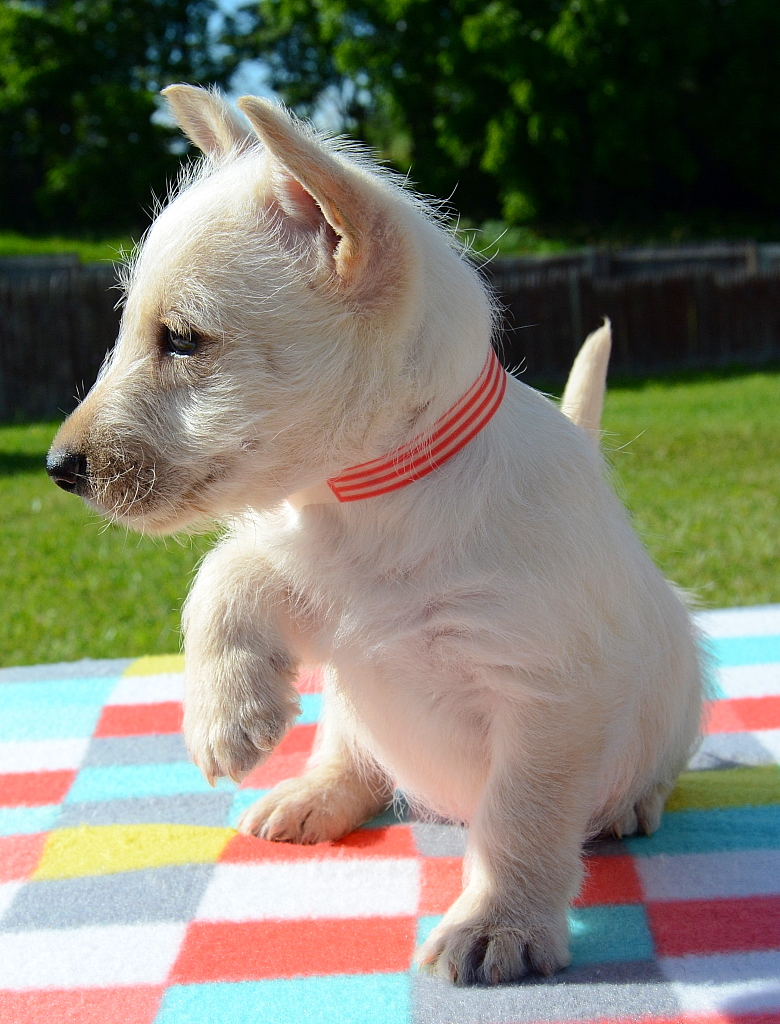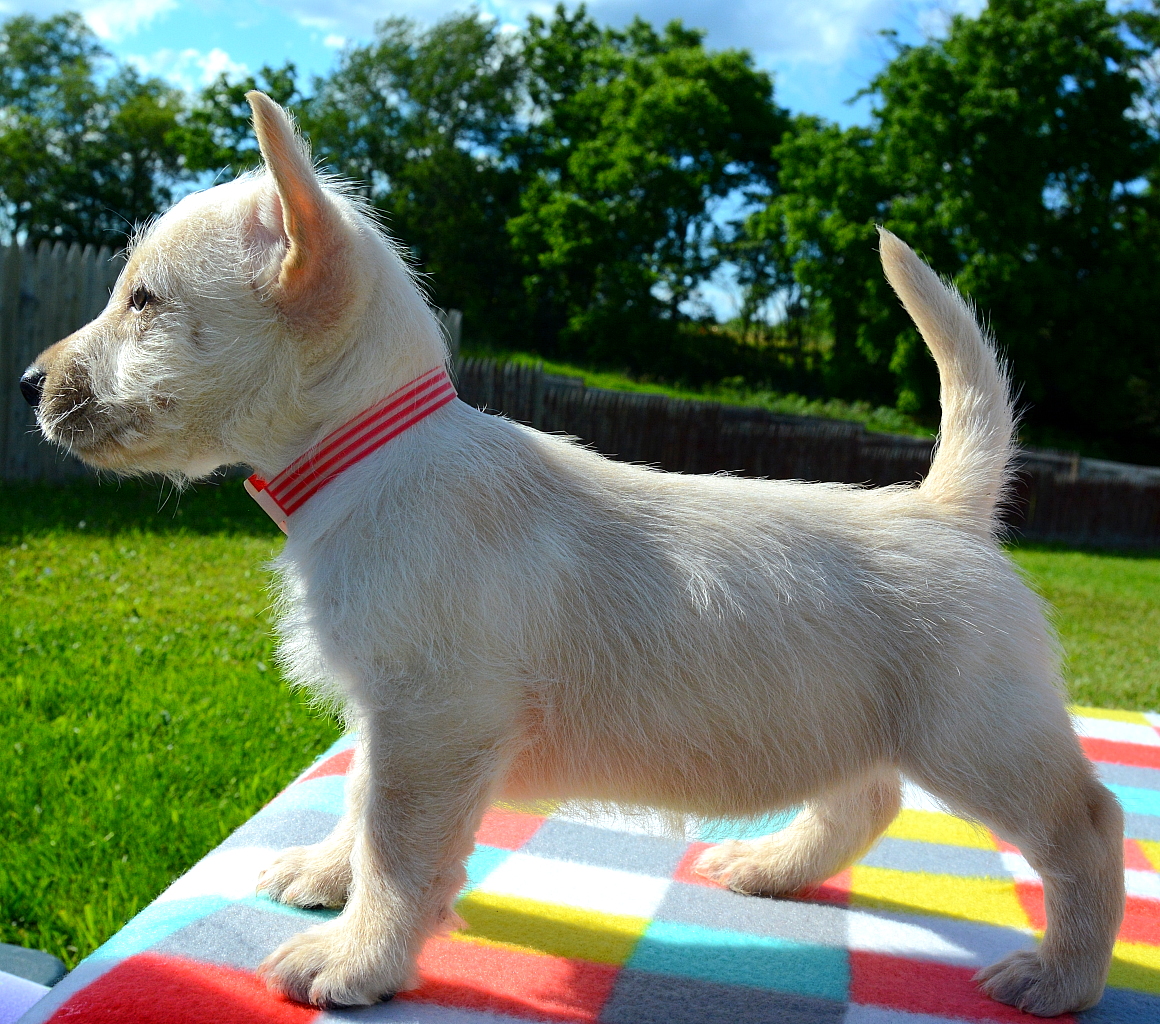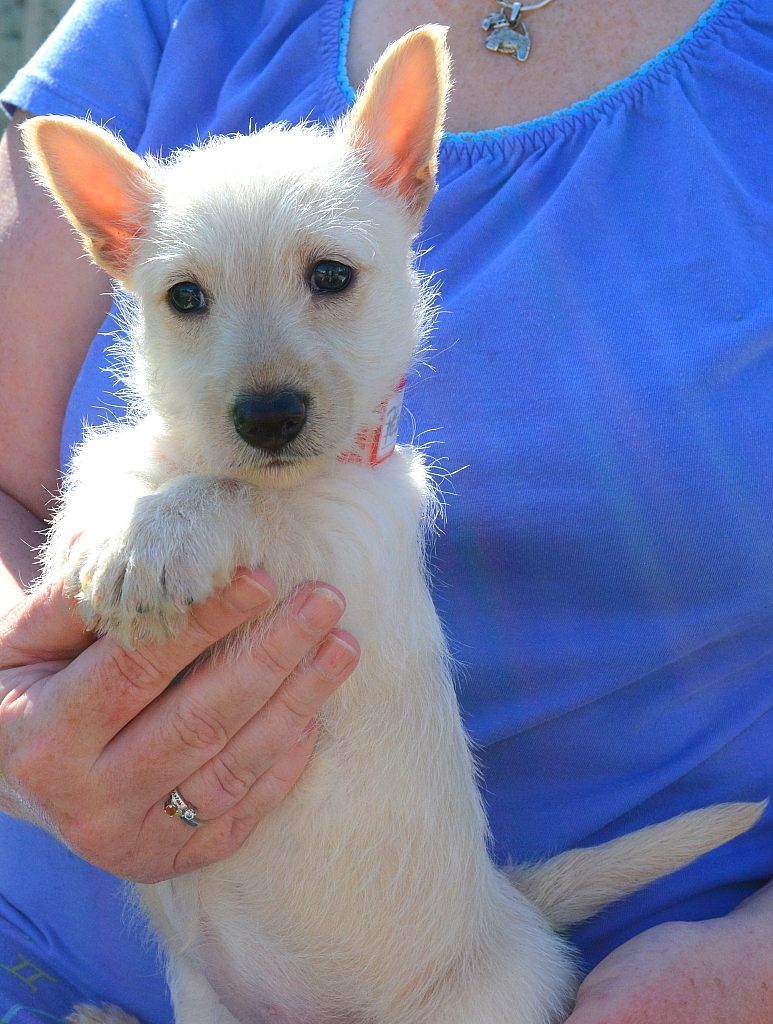 Girl #3
She's a bit more on the cautious side.
When she is certain the coast is clear she springs to action.
Not shy just careful.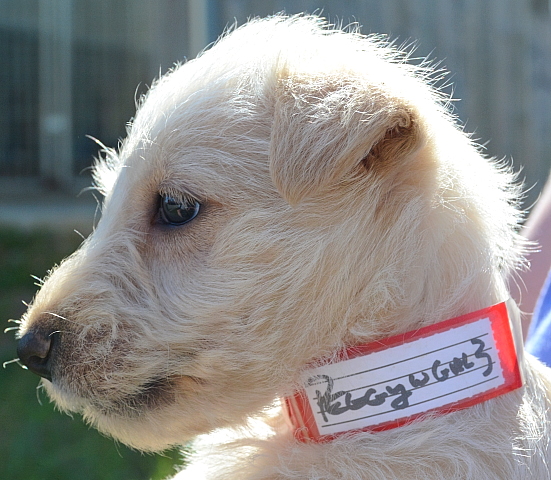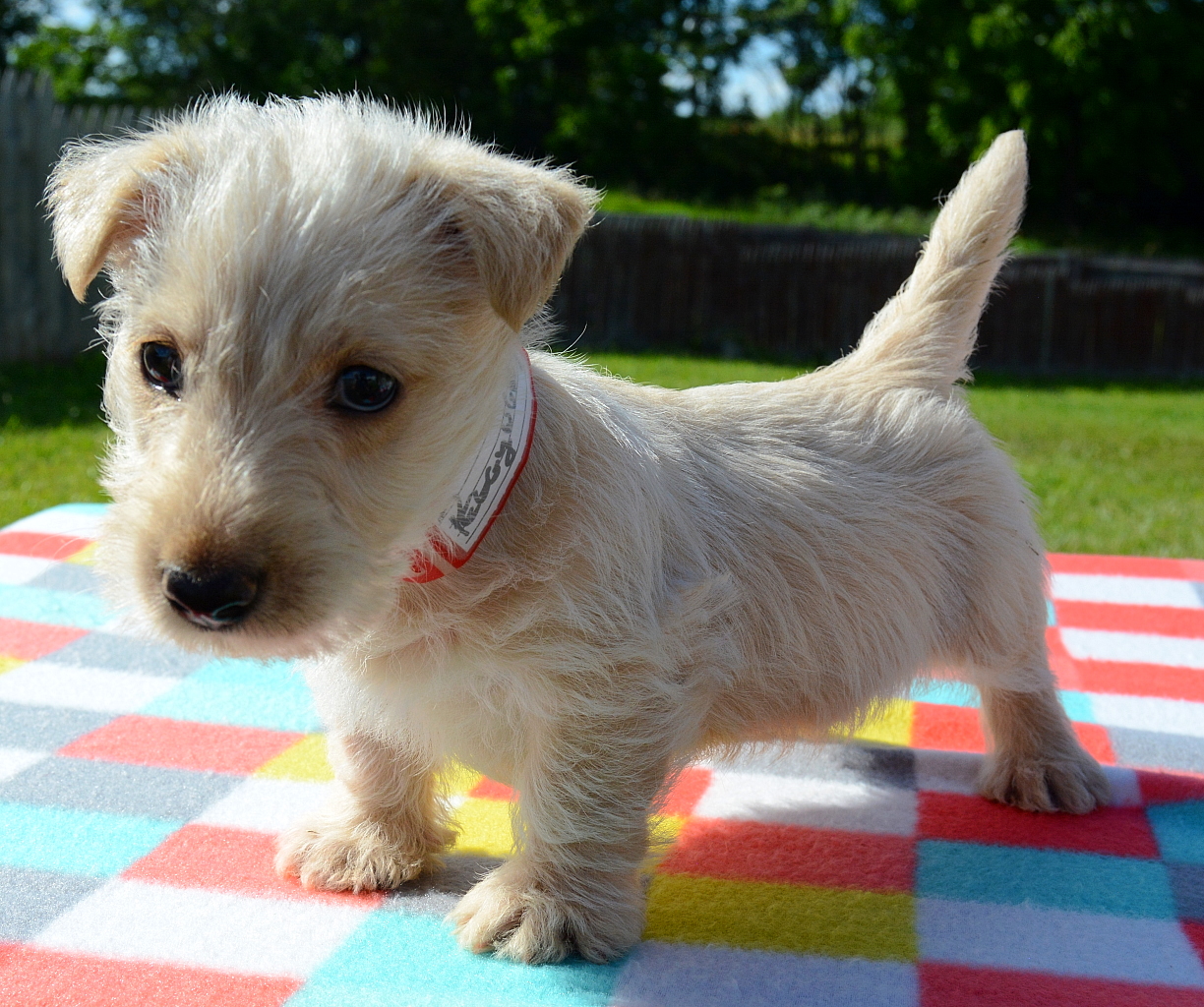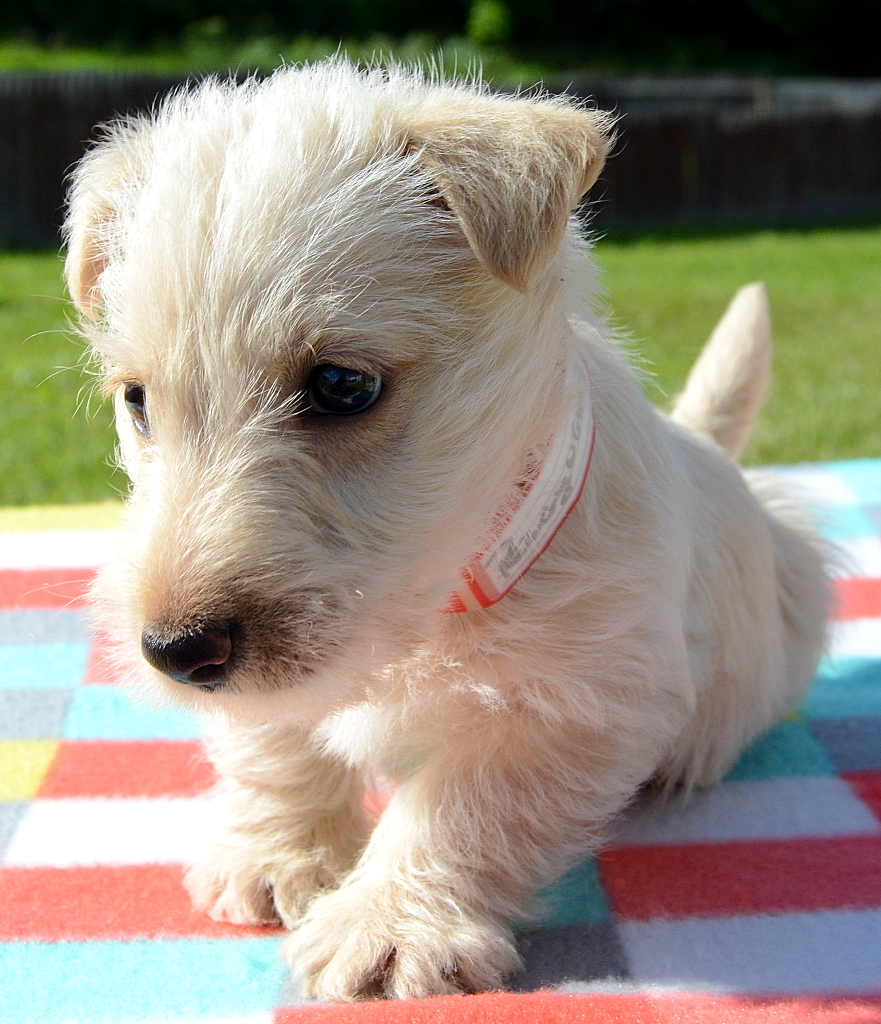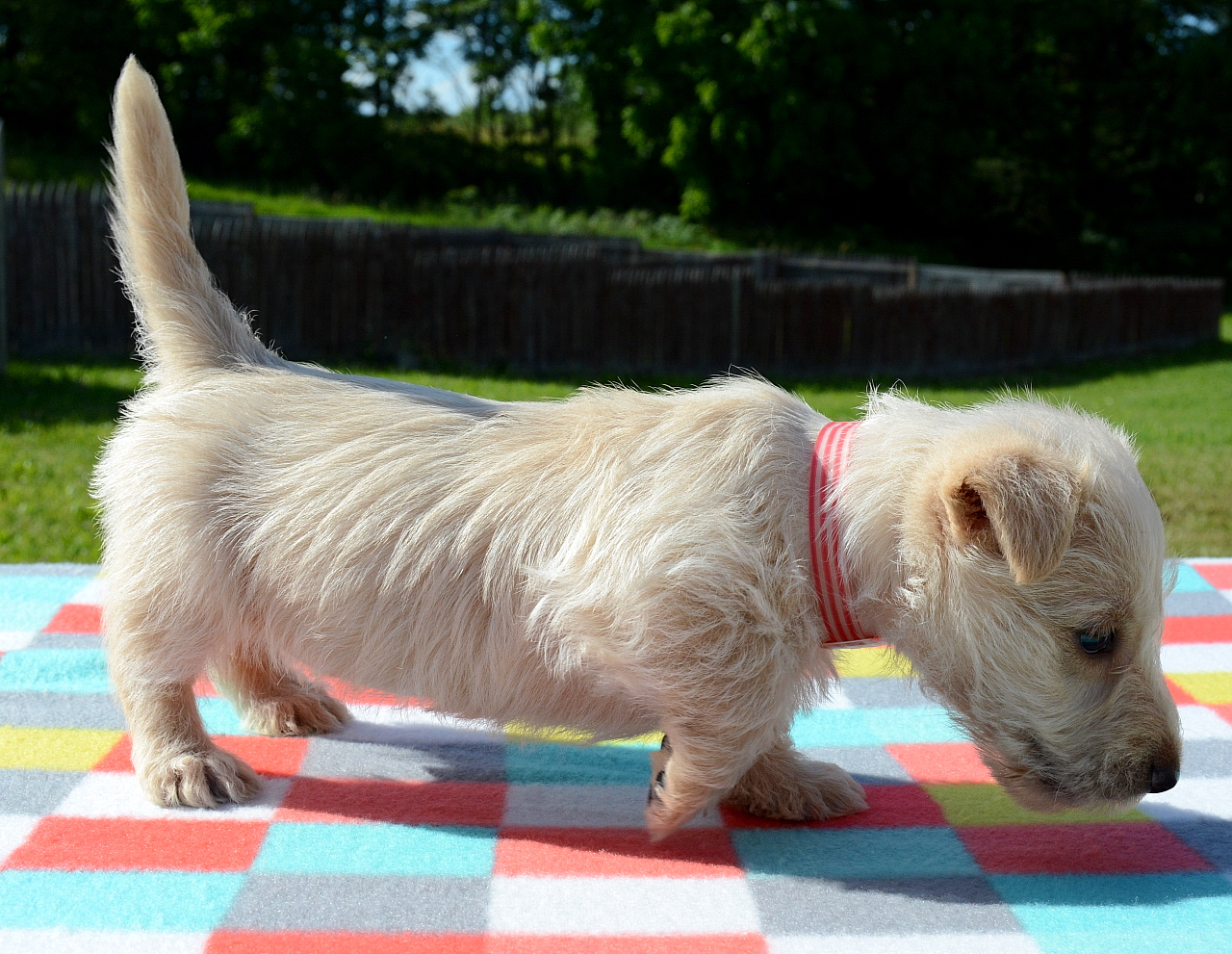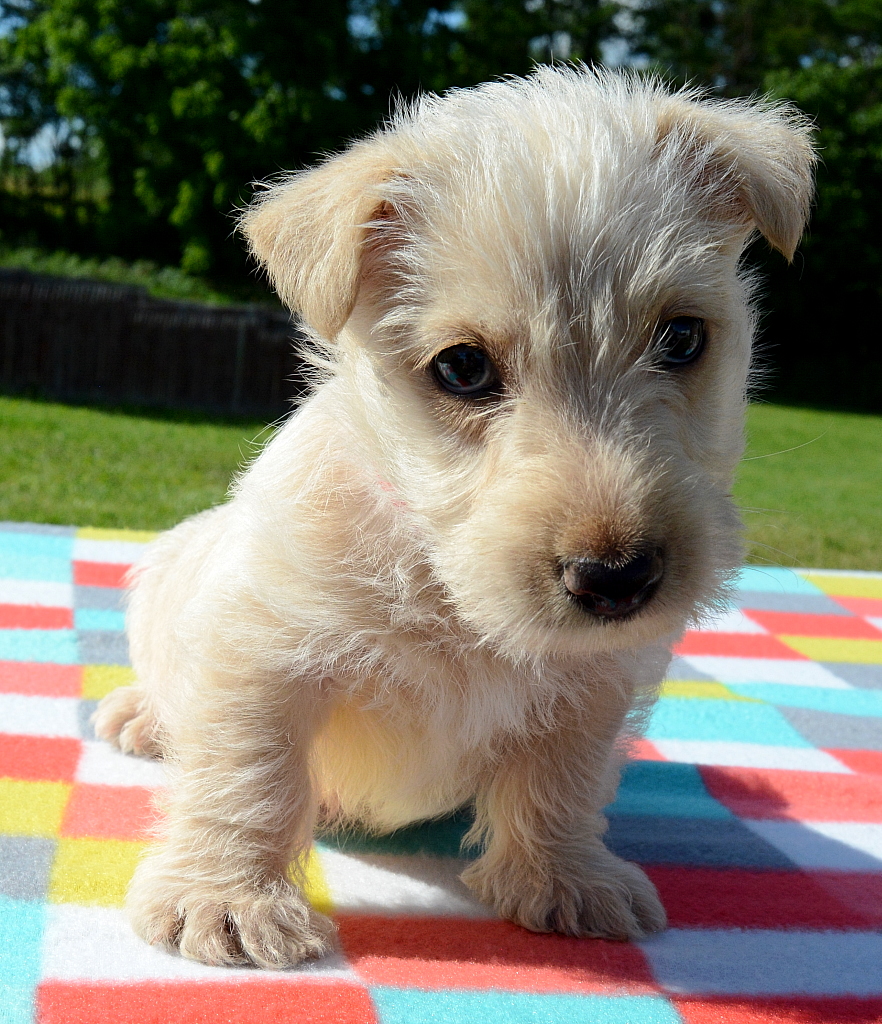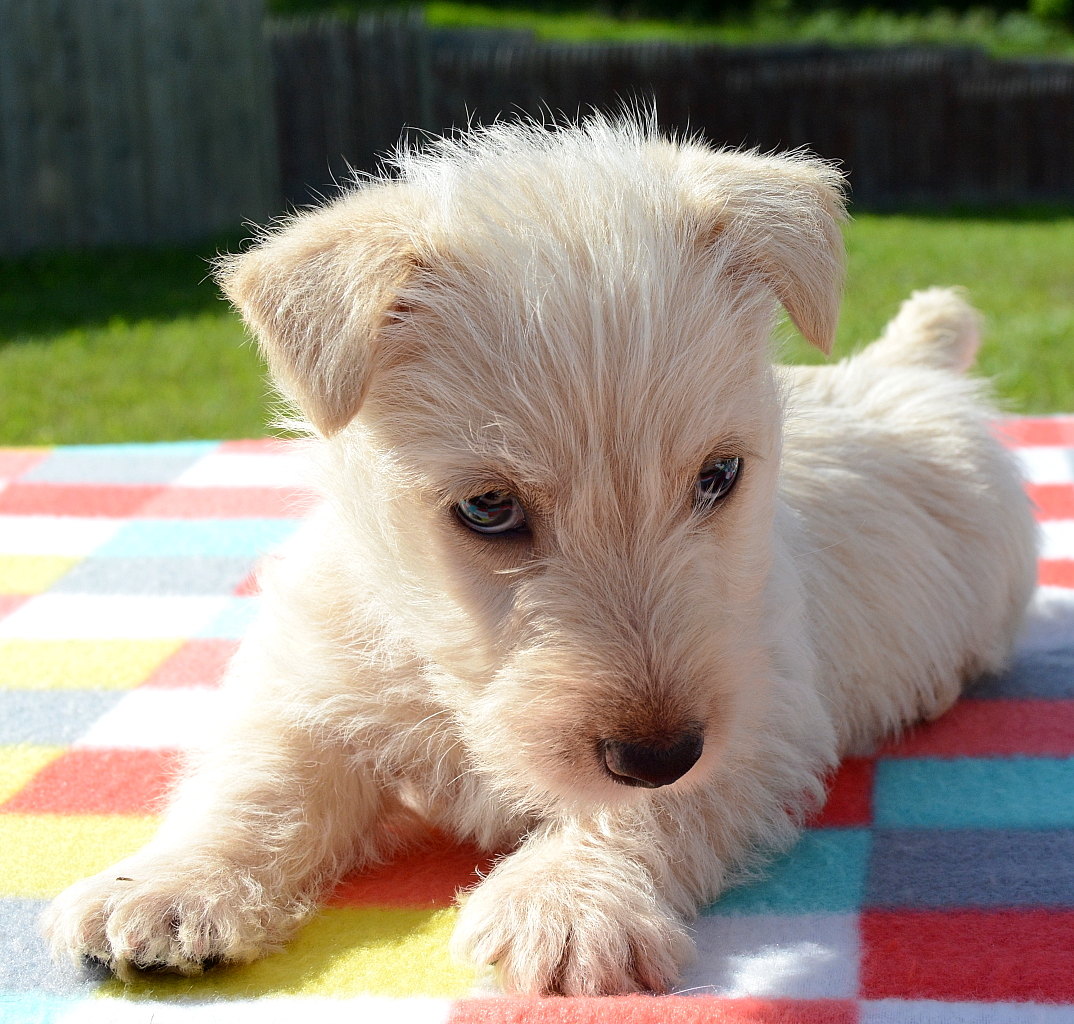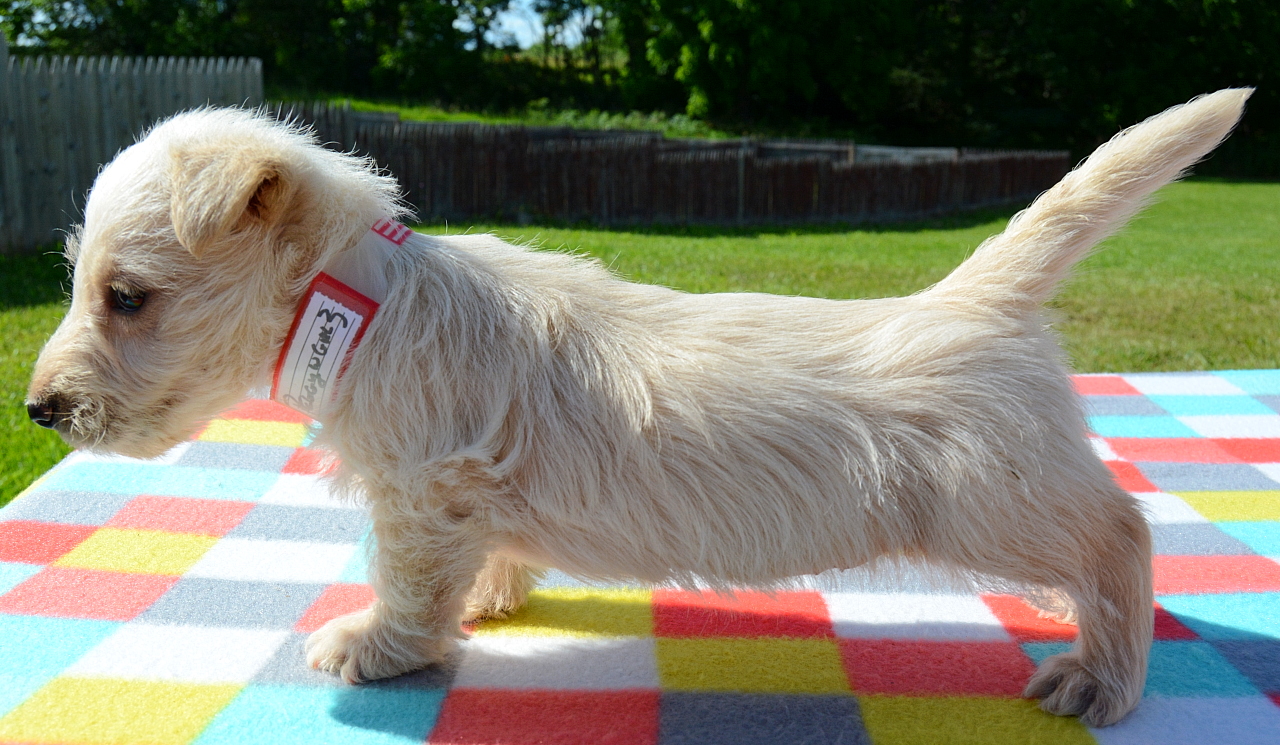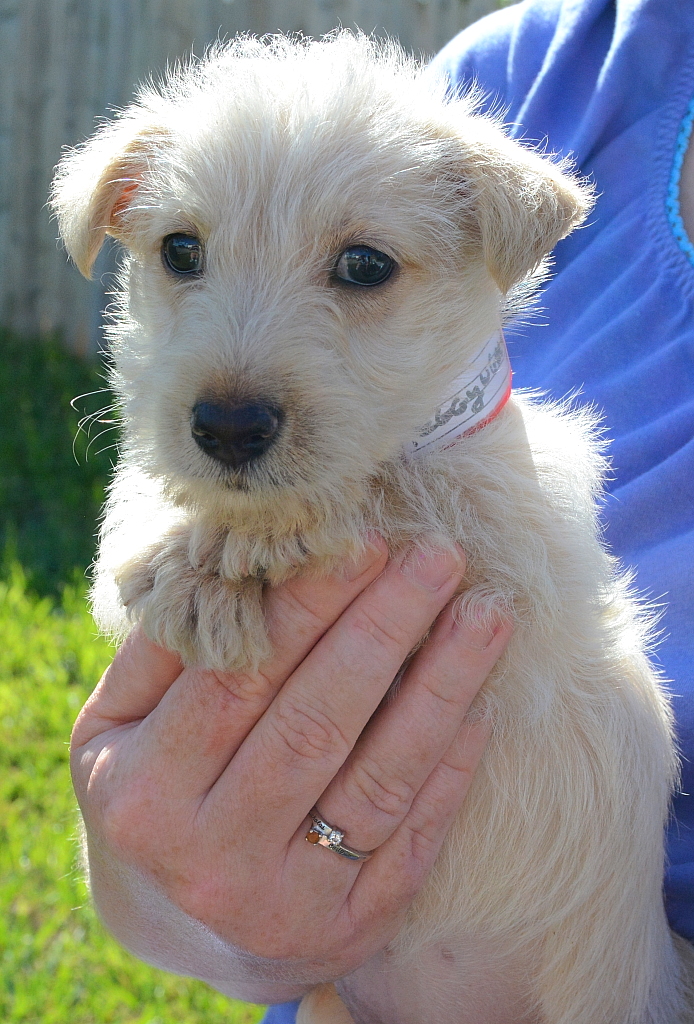 Girl #4
Very playful, full of "Scott-a-tude"
No fear.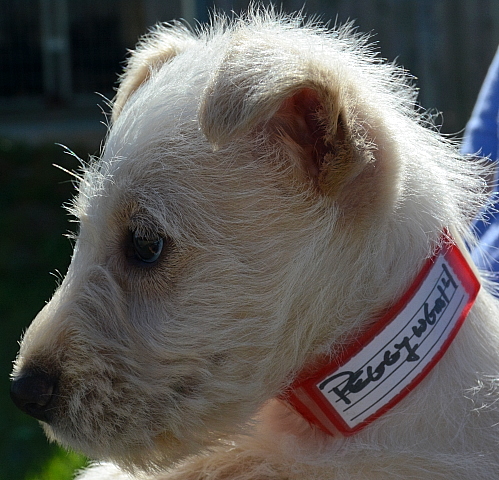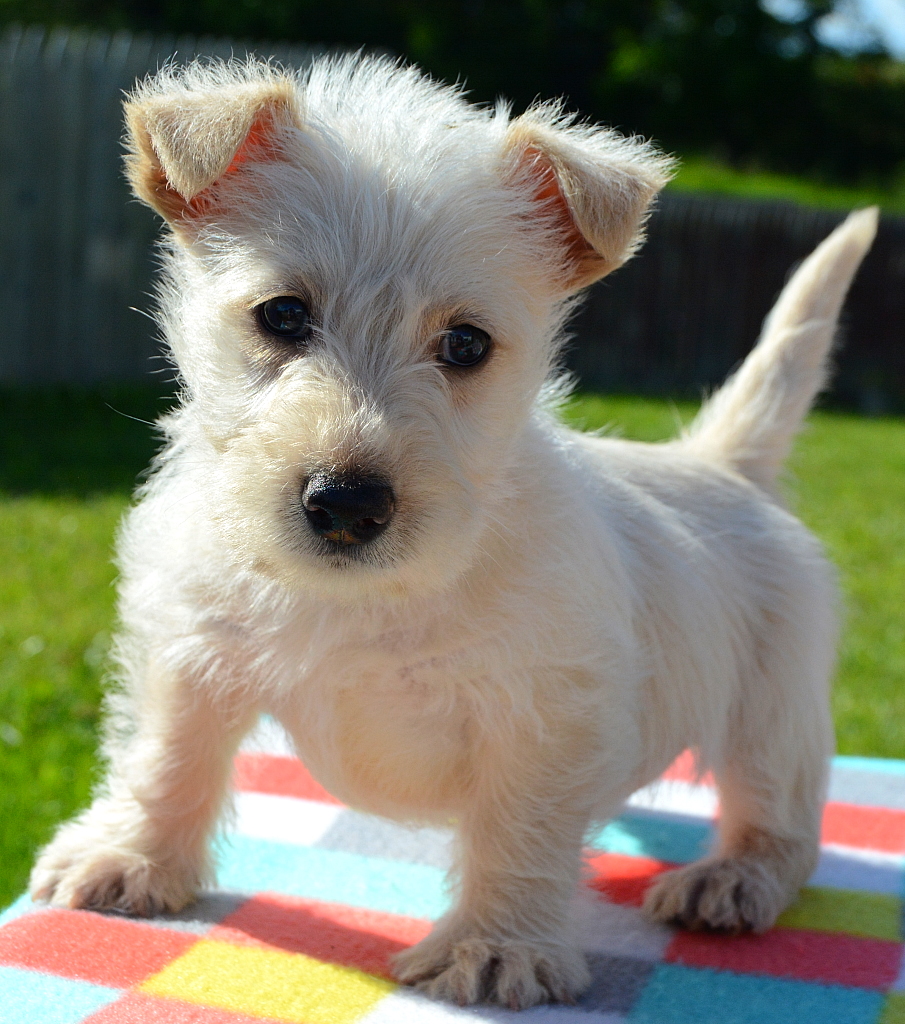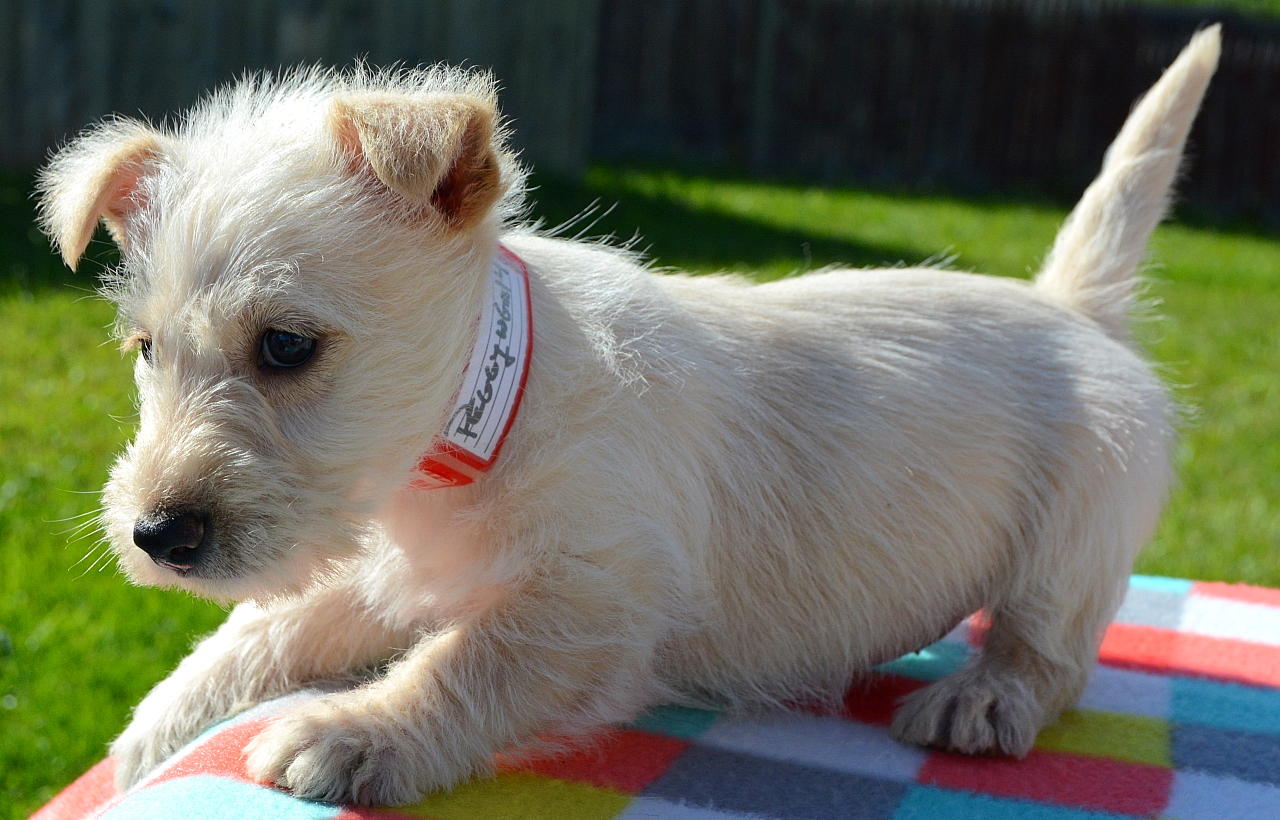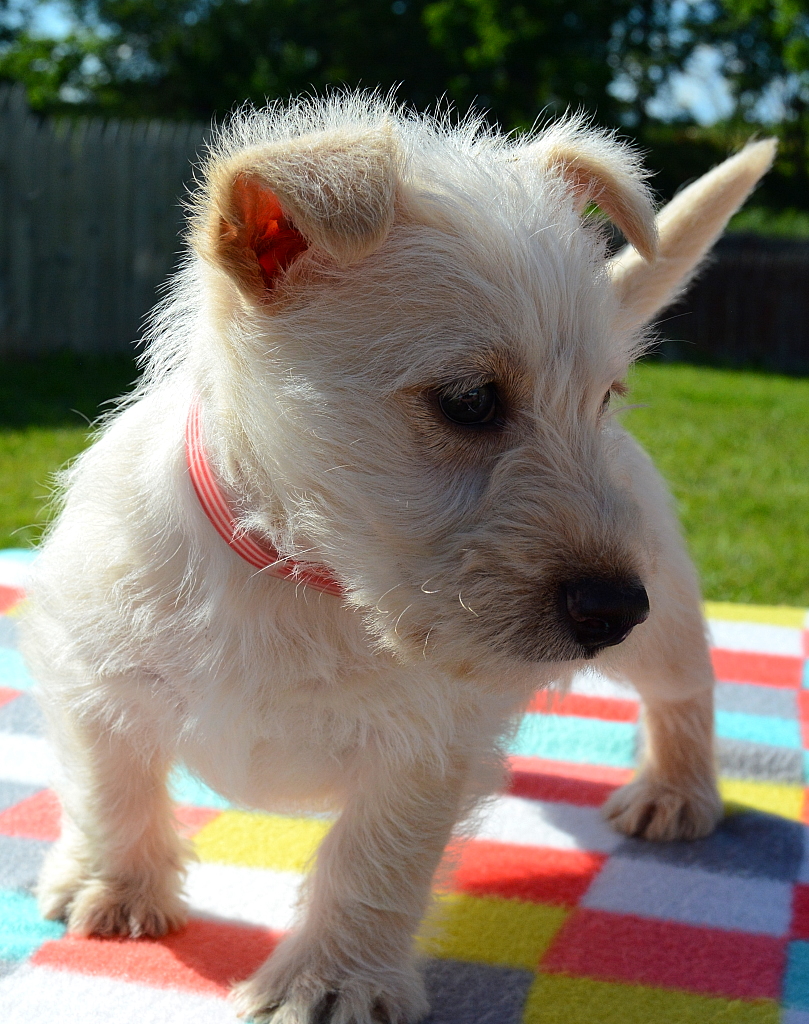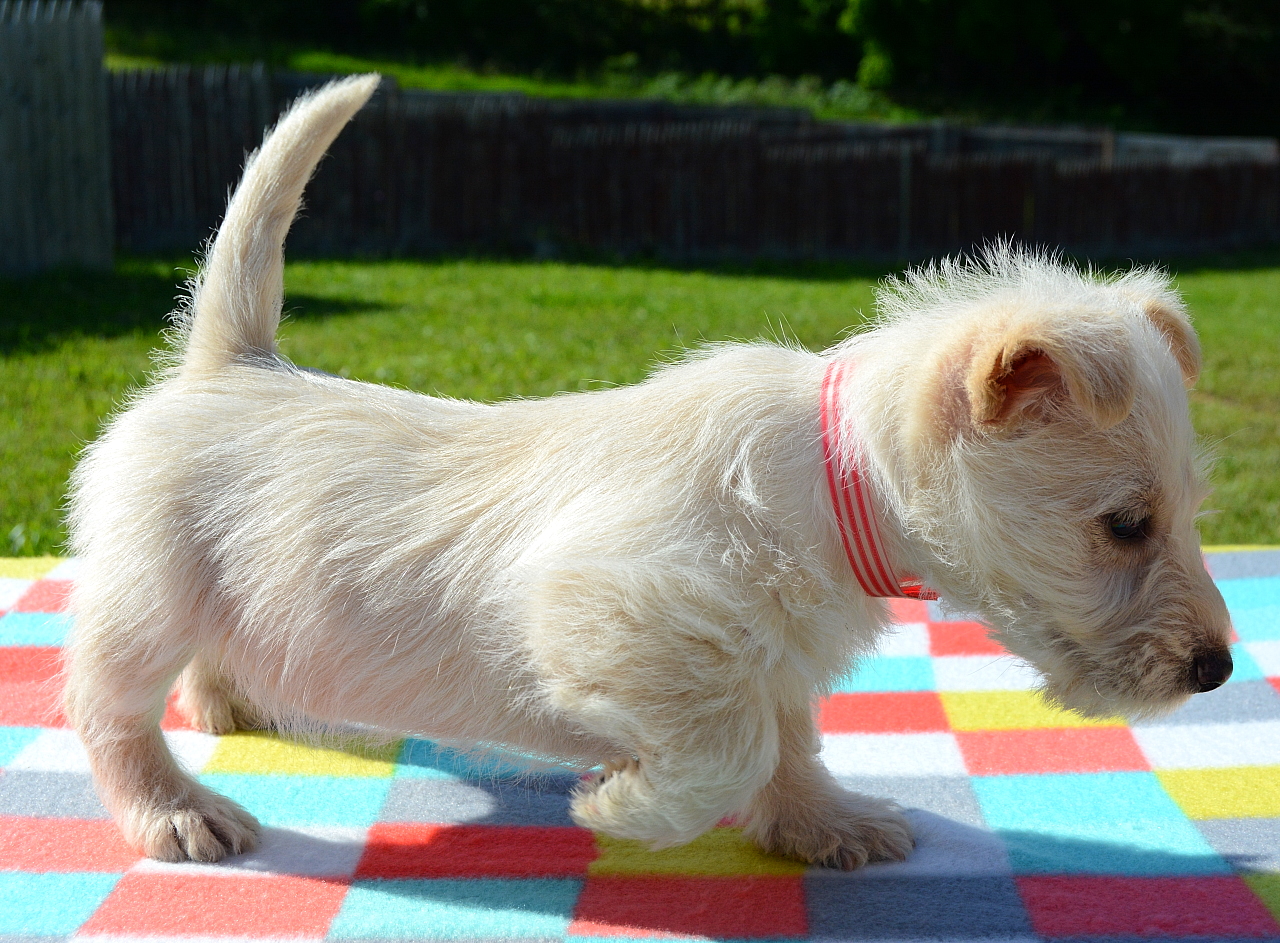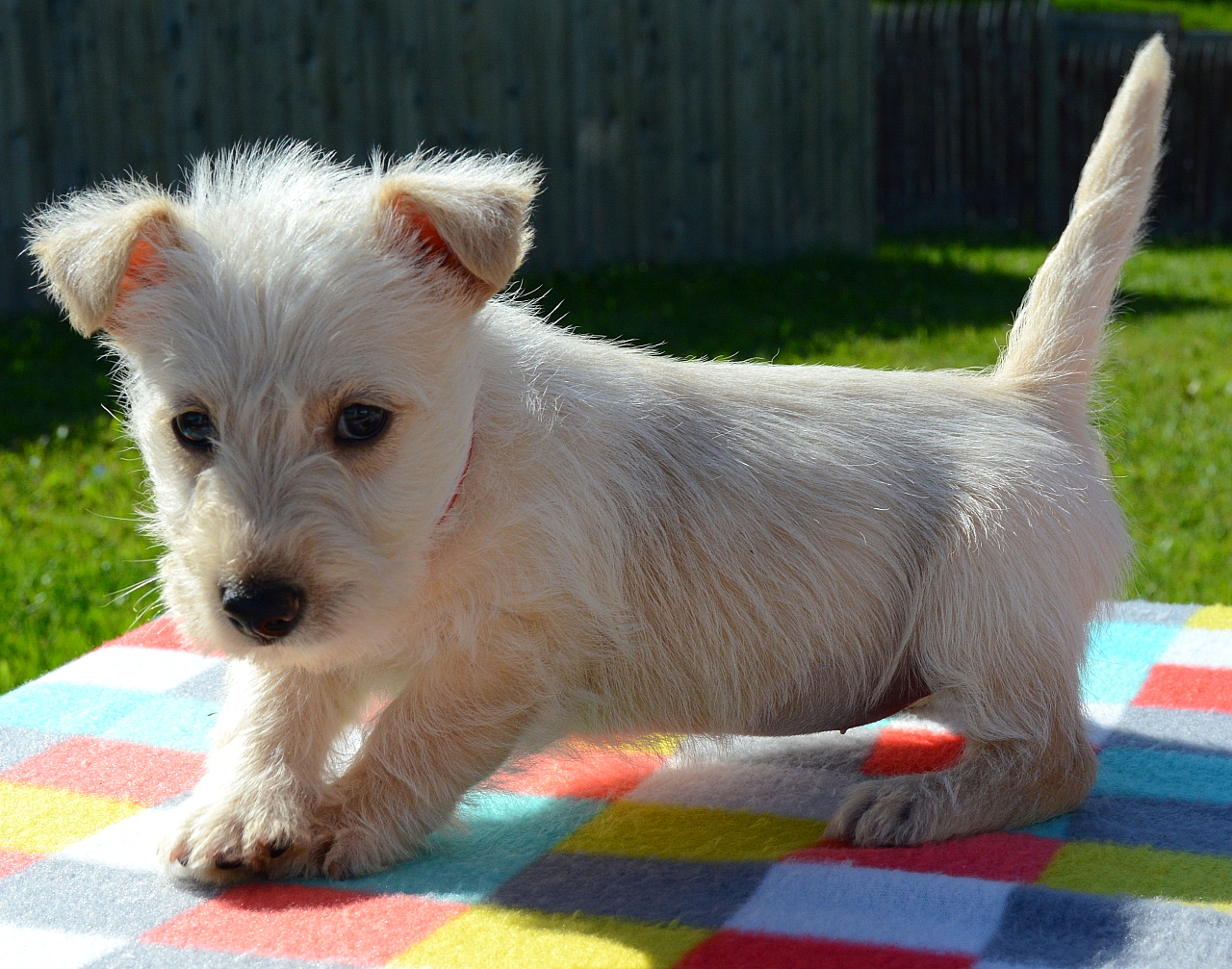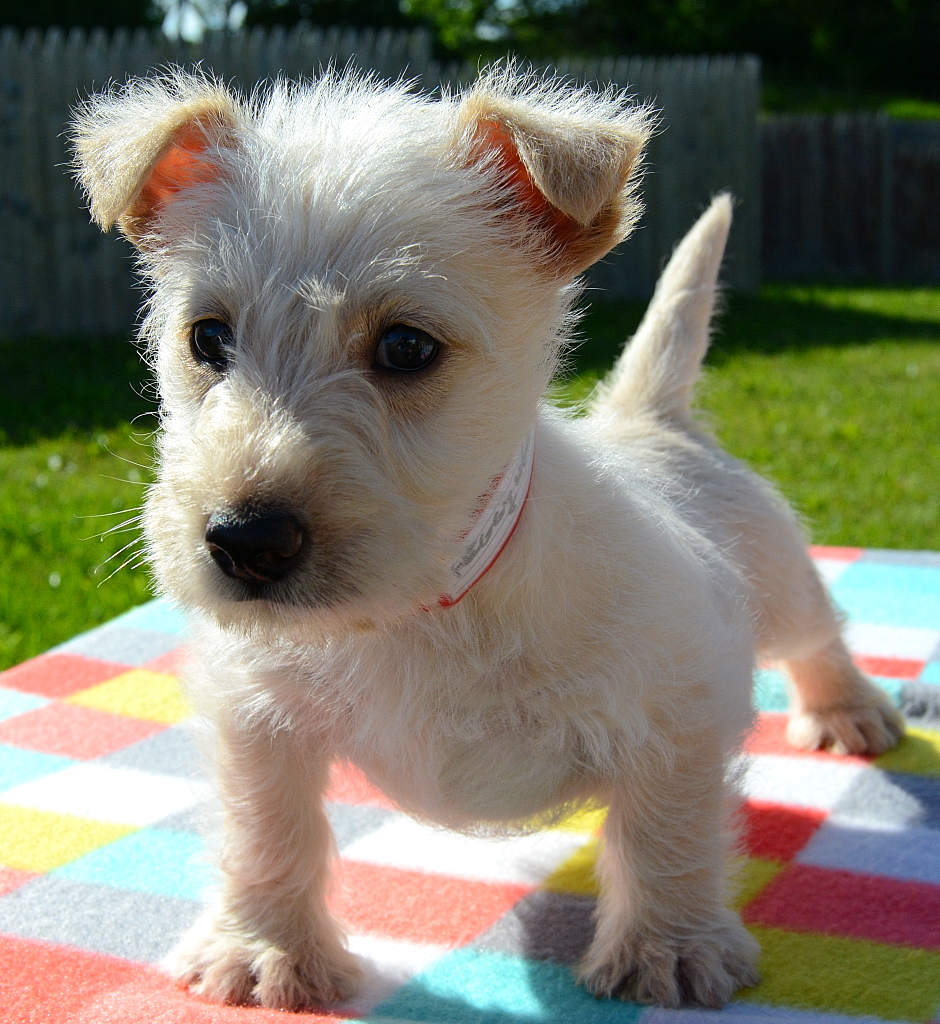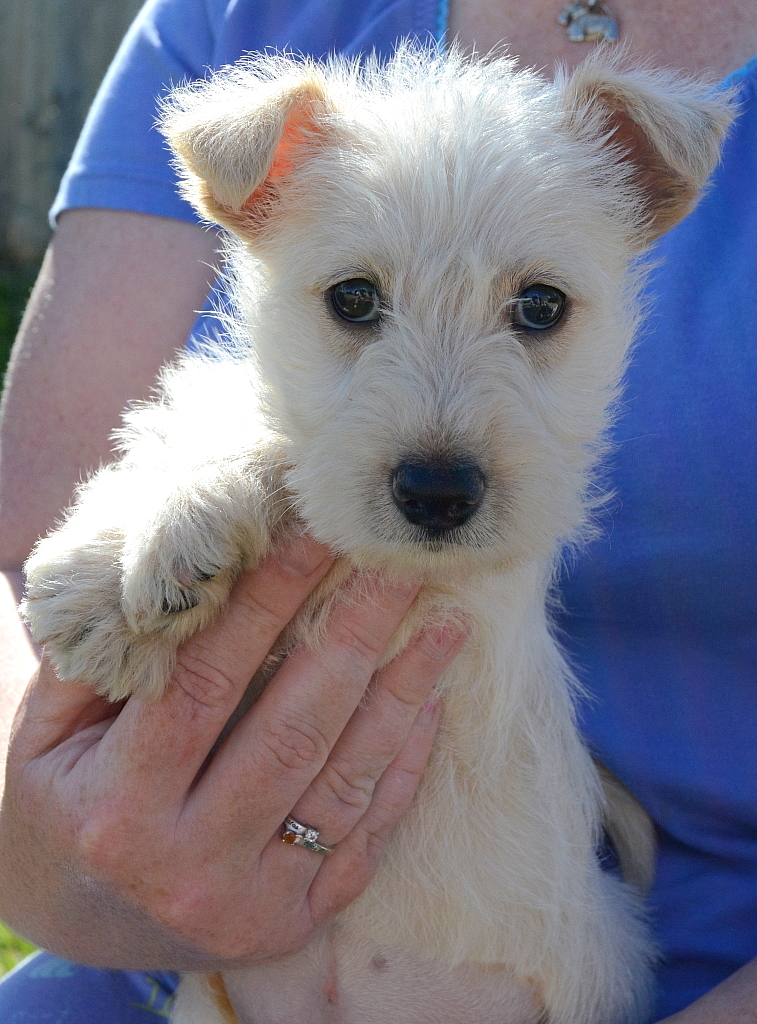 Girl #5
Spunky and smart (I think)
She likes to play but also likes to explore.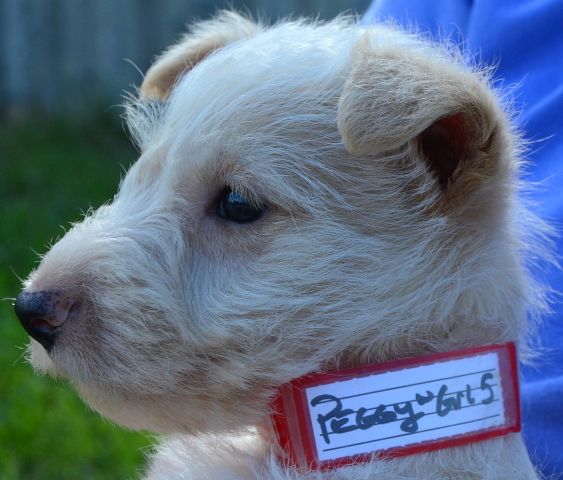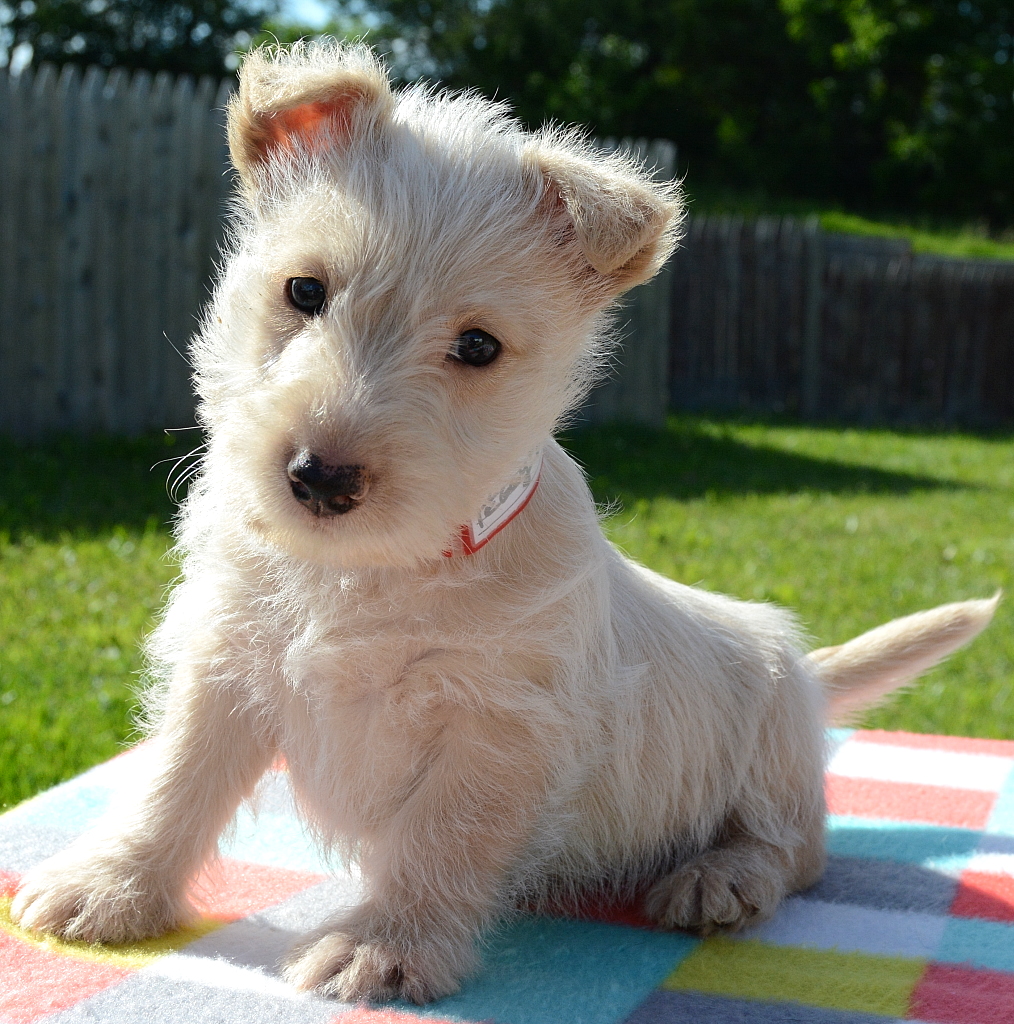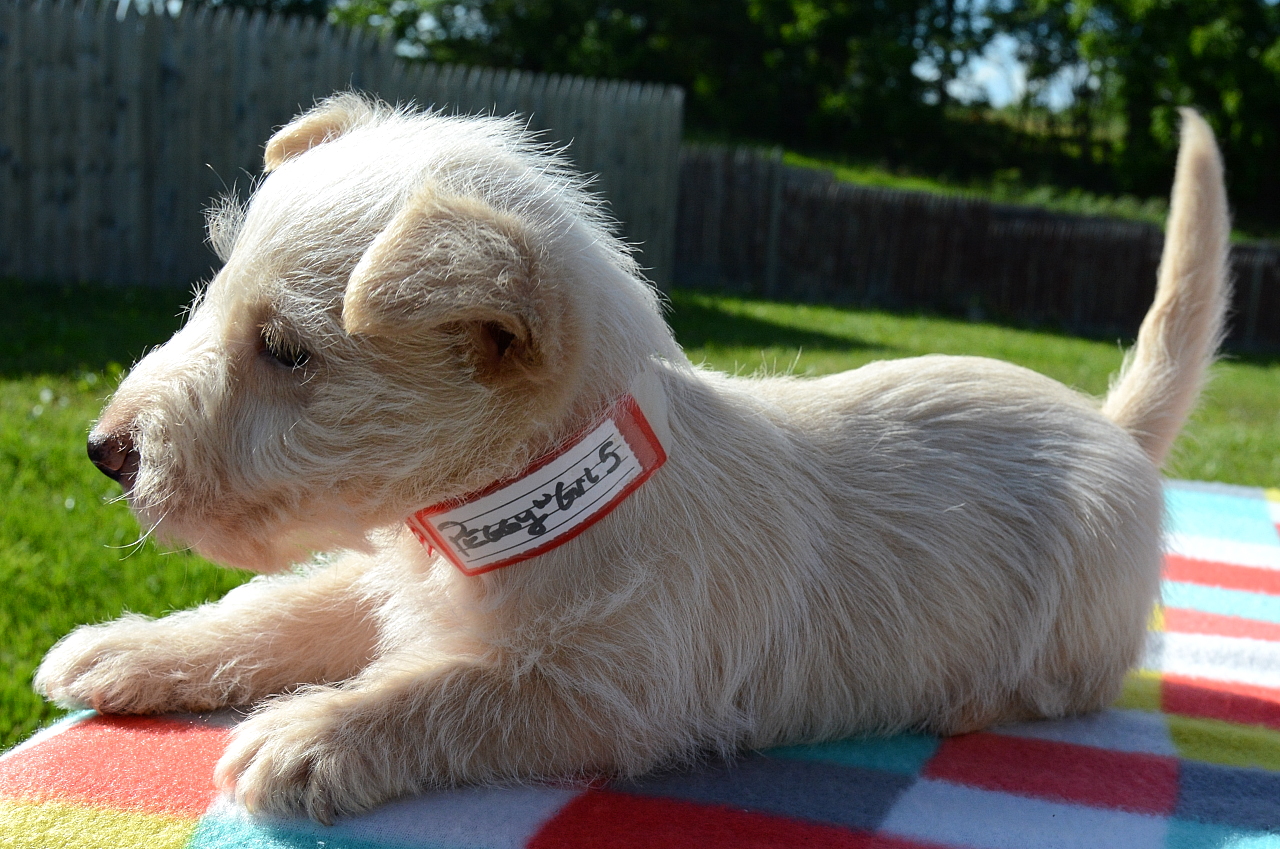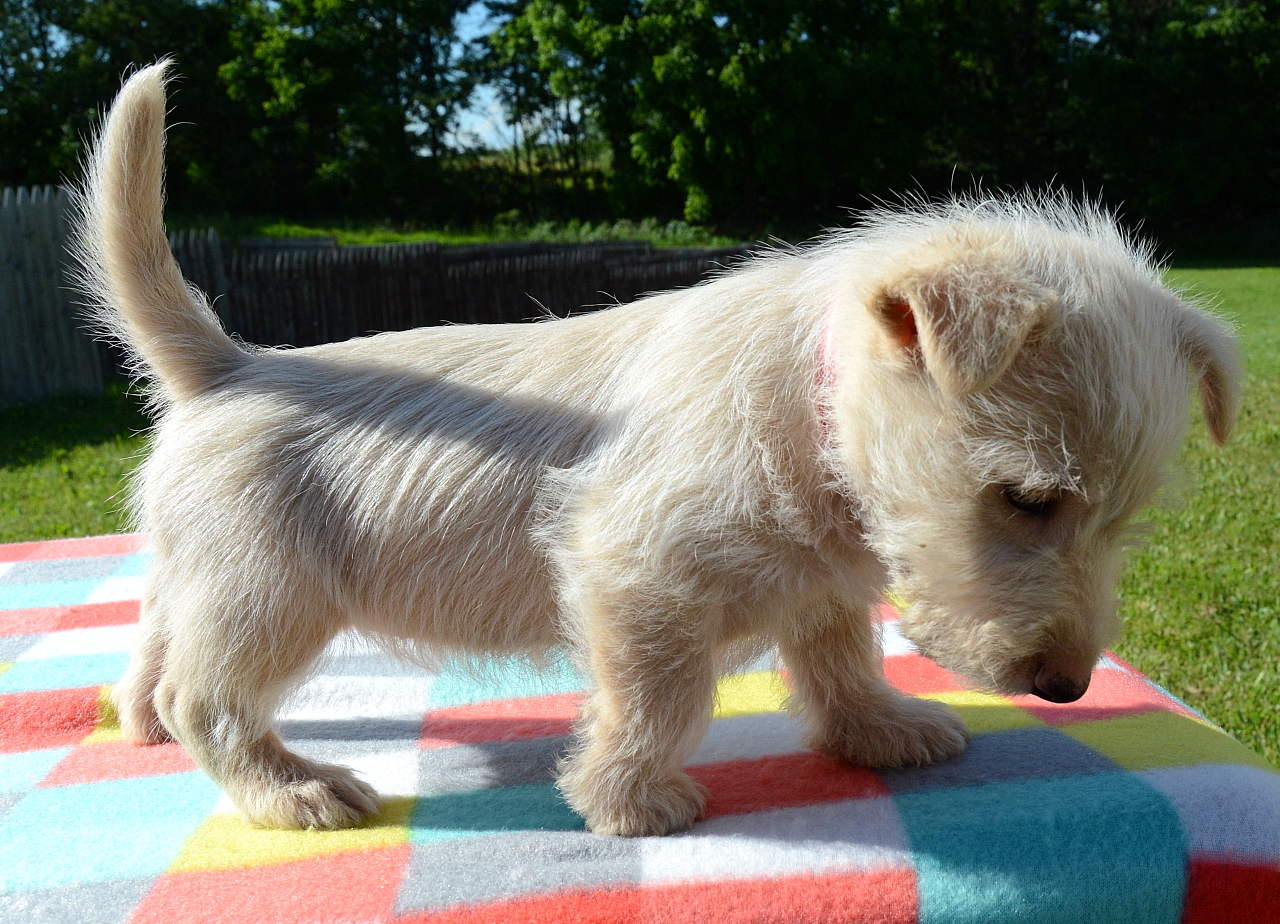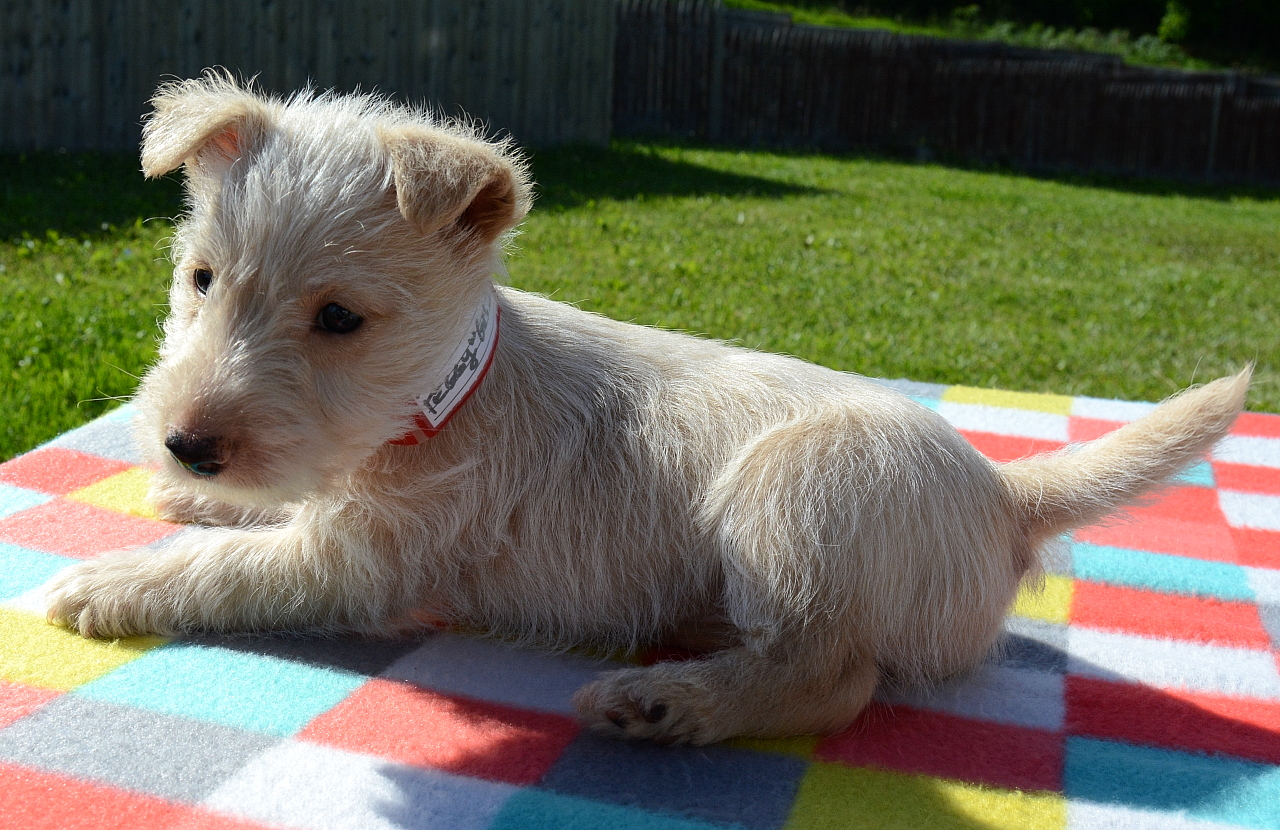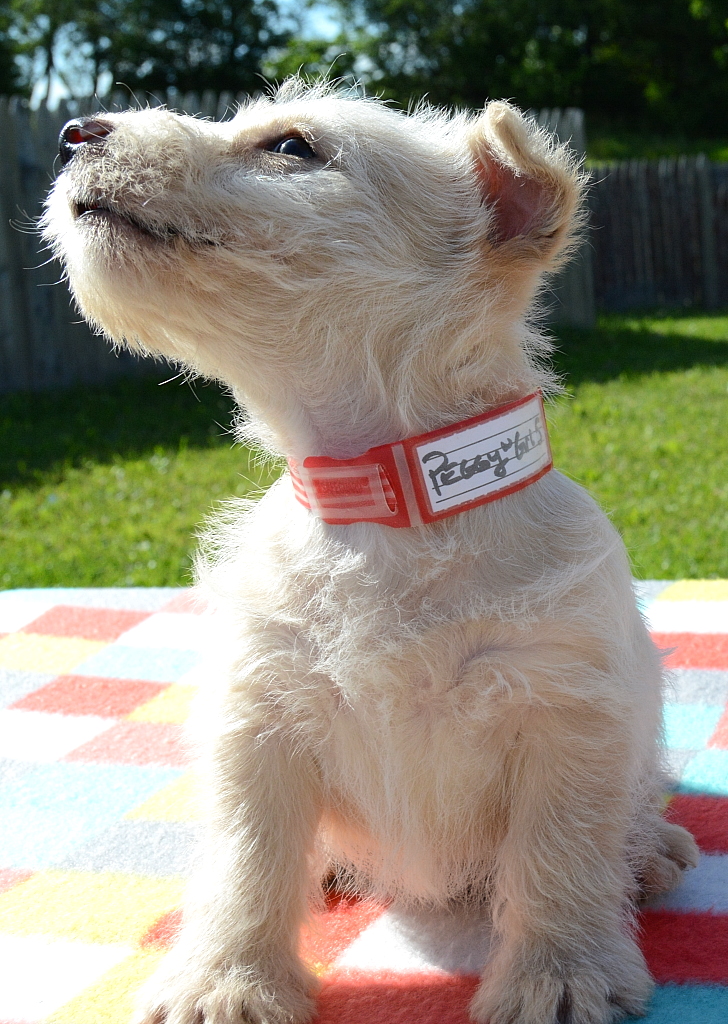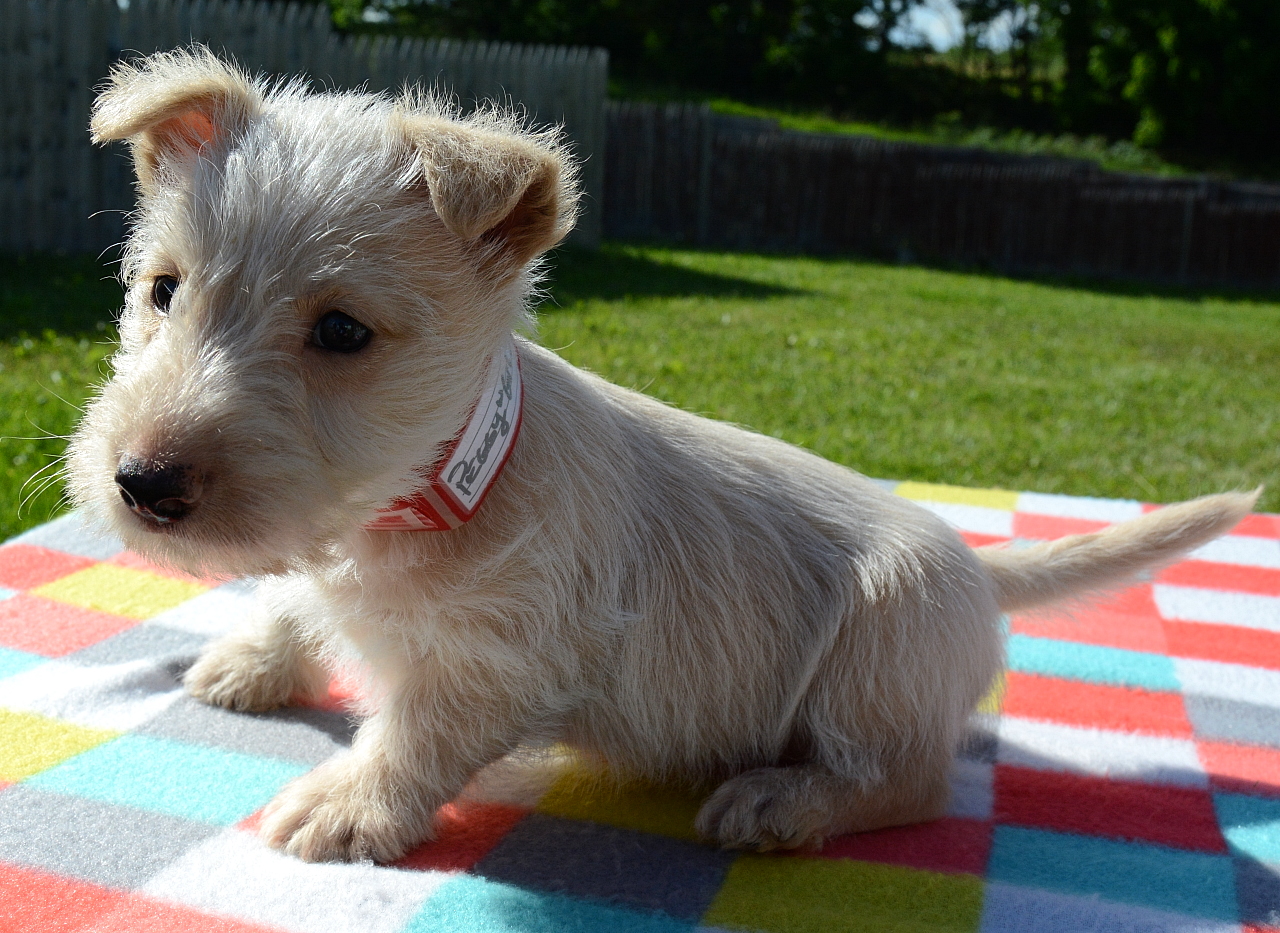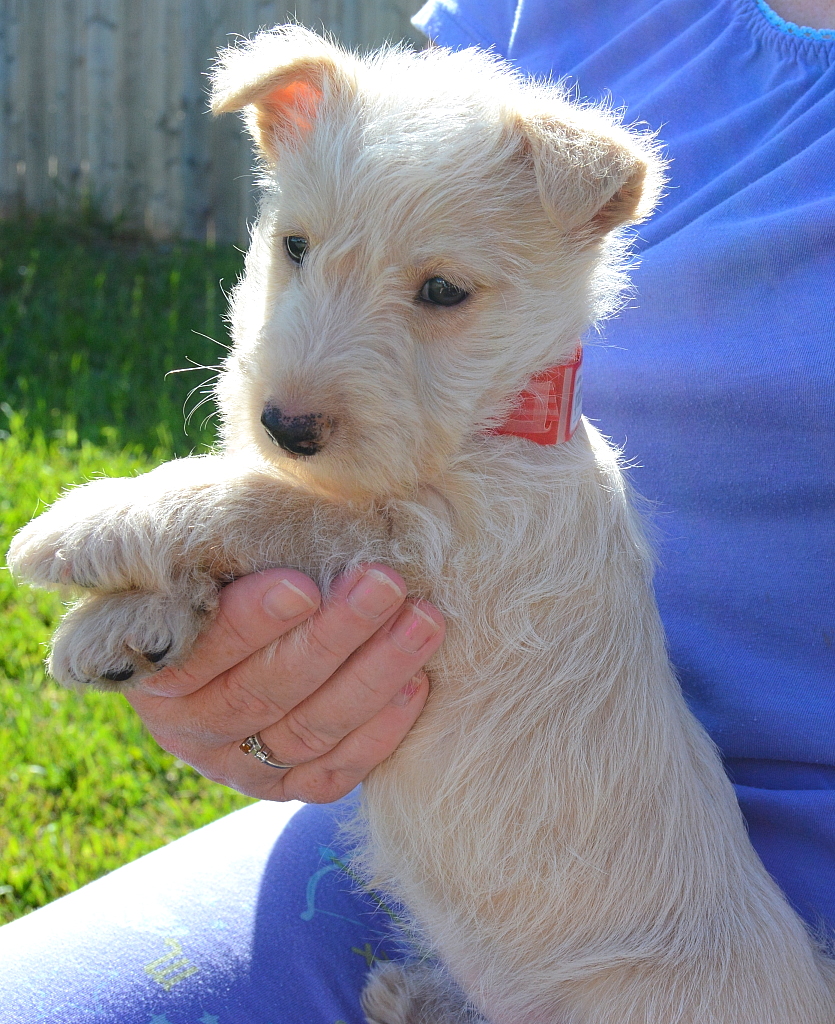 Girl #6
Happy go lucky. She will leap before she looks.
No fear with lots of curiosity here.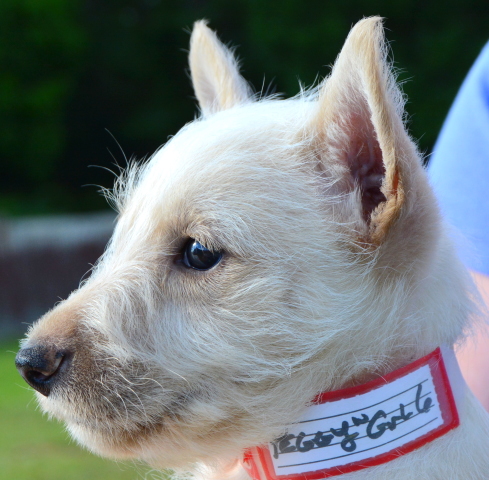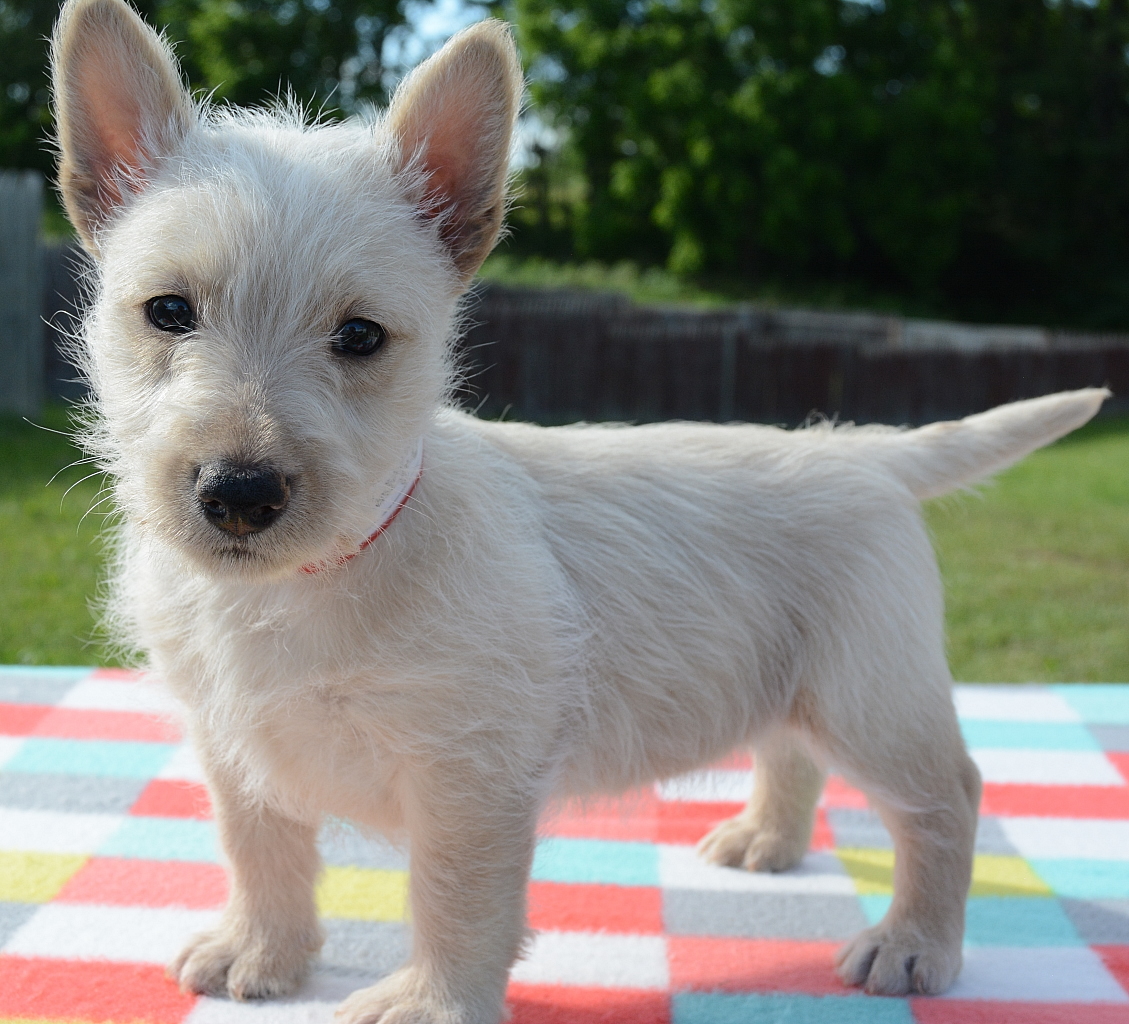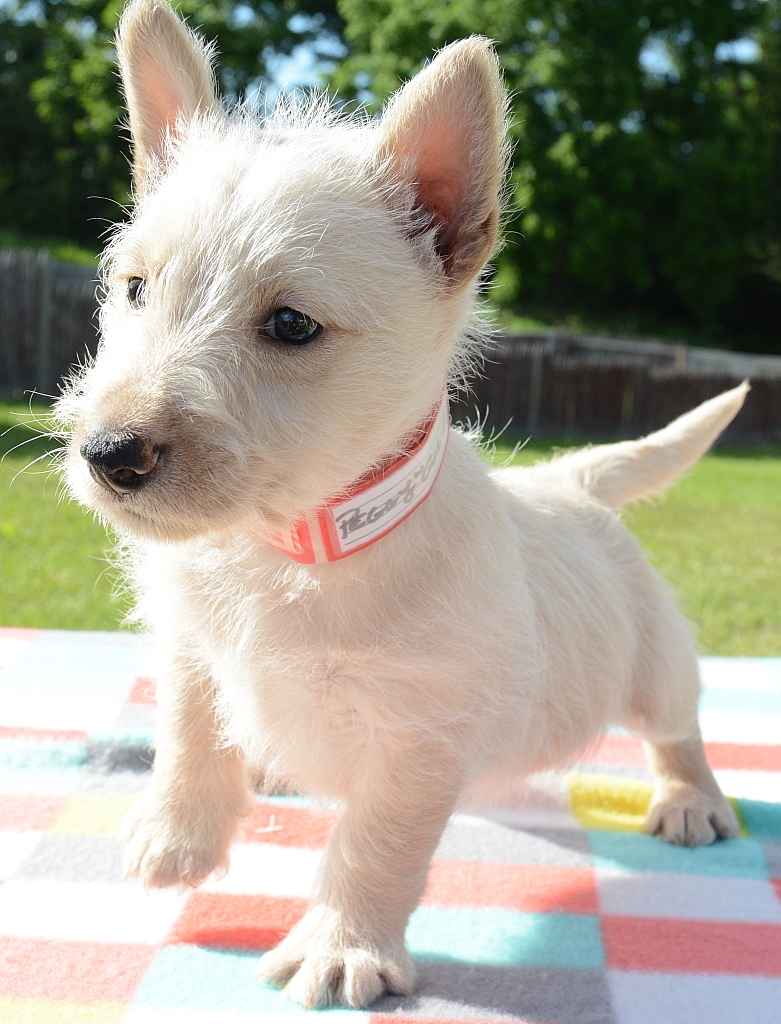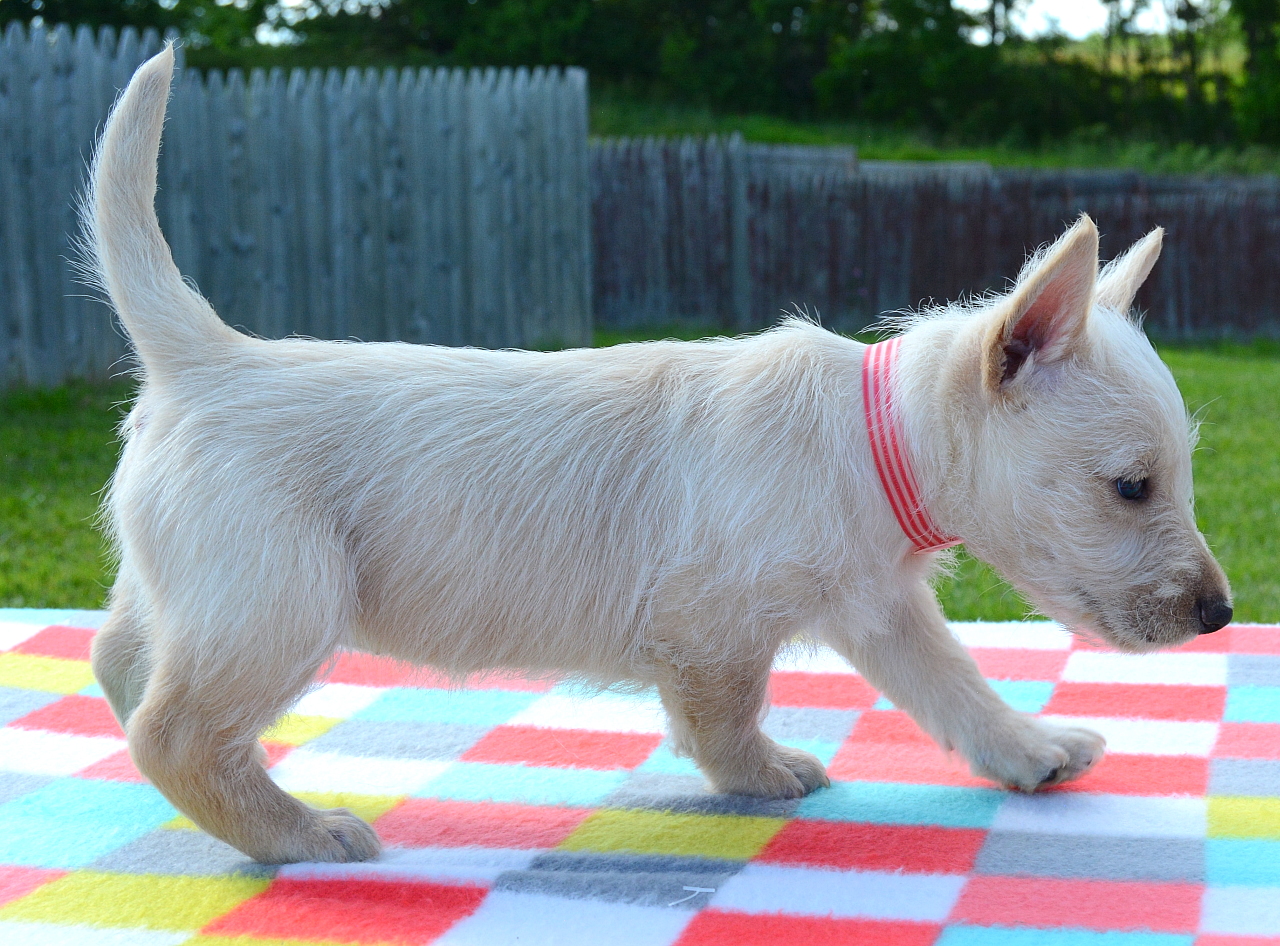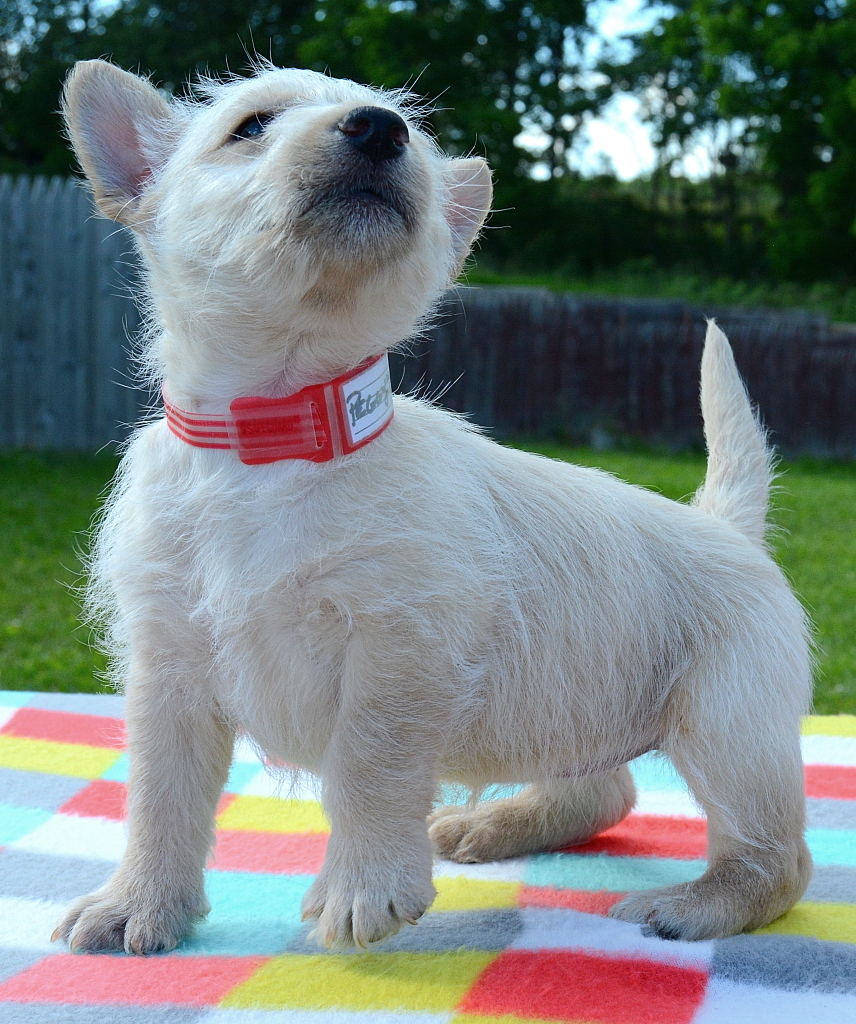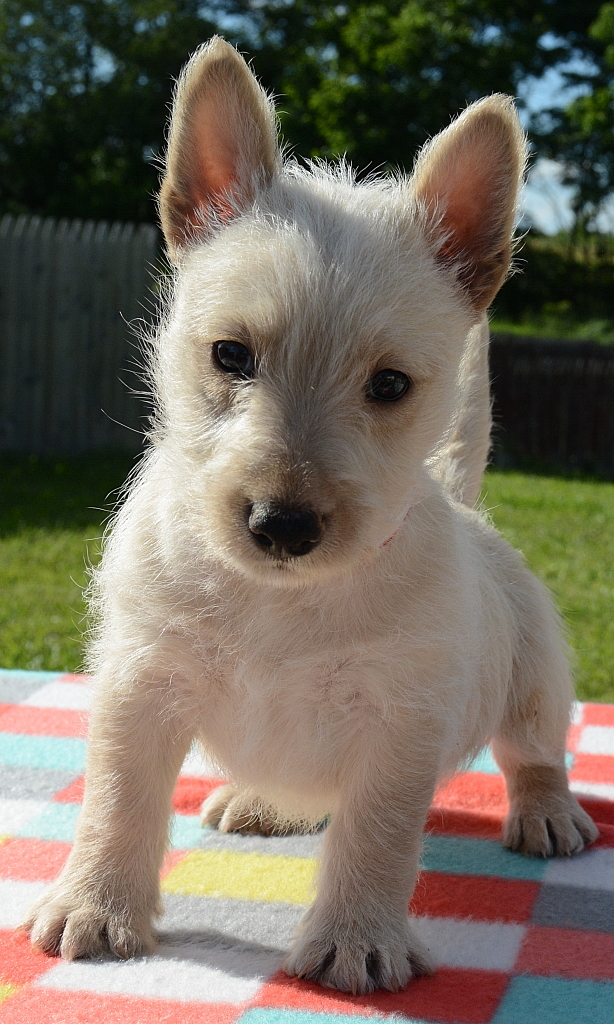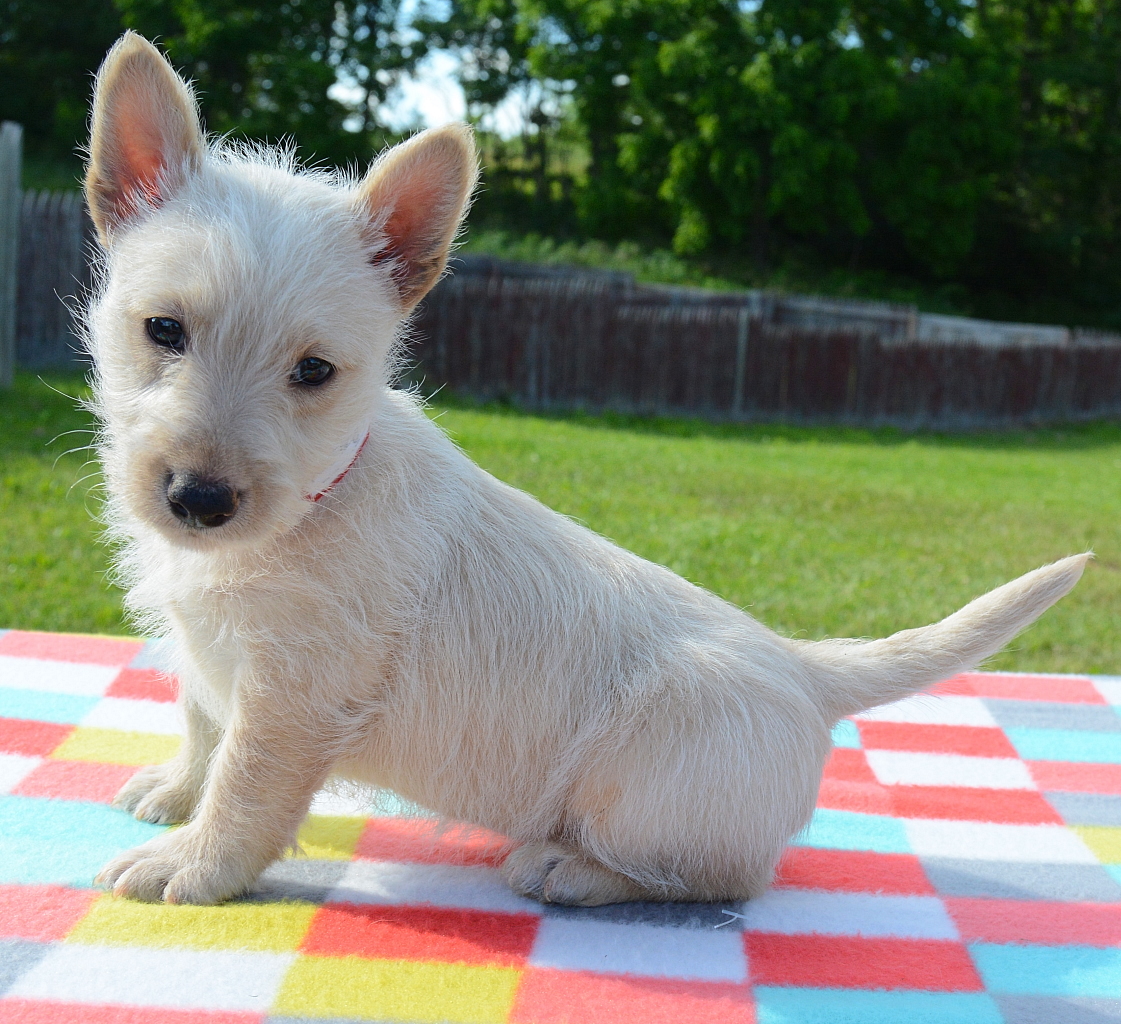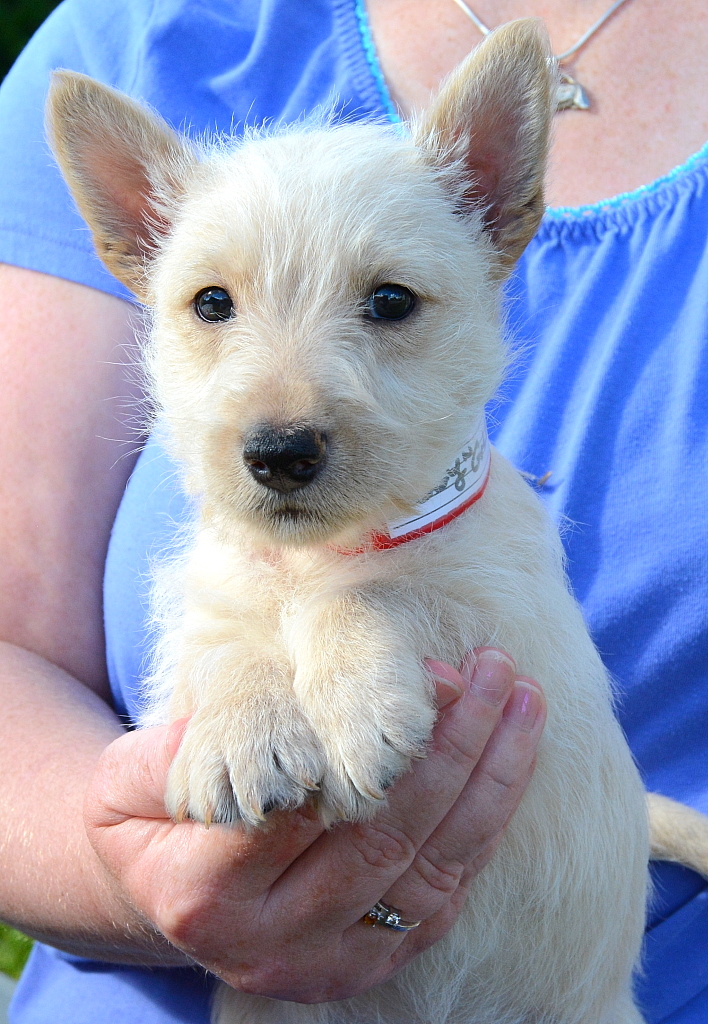 The Black-Brindle Girl
She's a happy girl and is always one of the 1st to greet me but she is not a fan of my camera.
She isn't as sad as she looks here.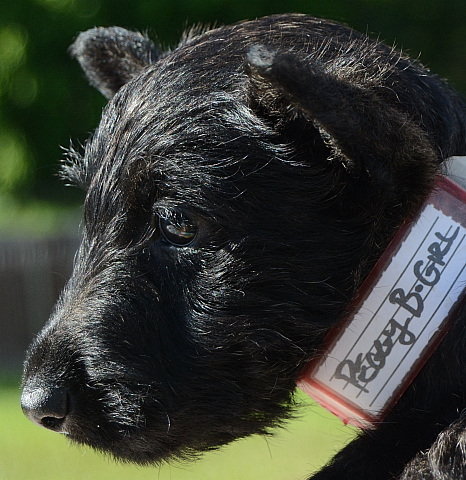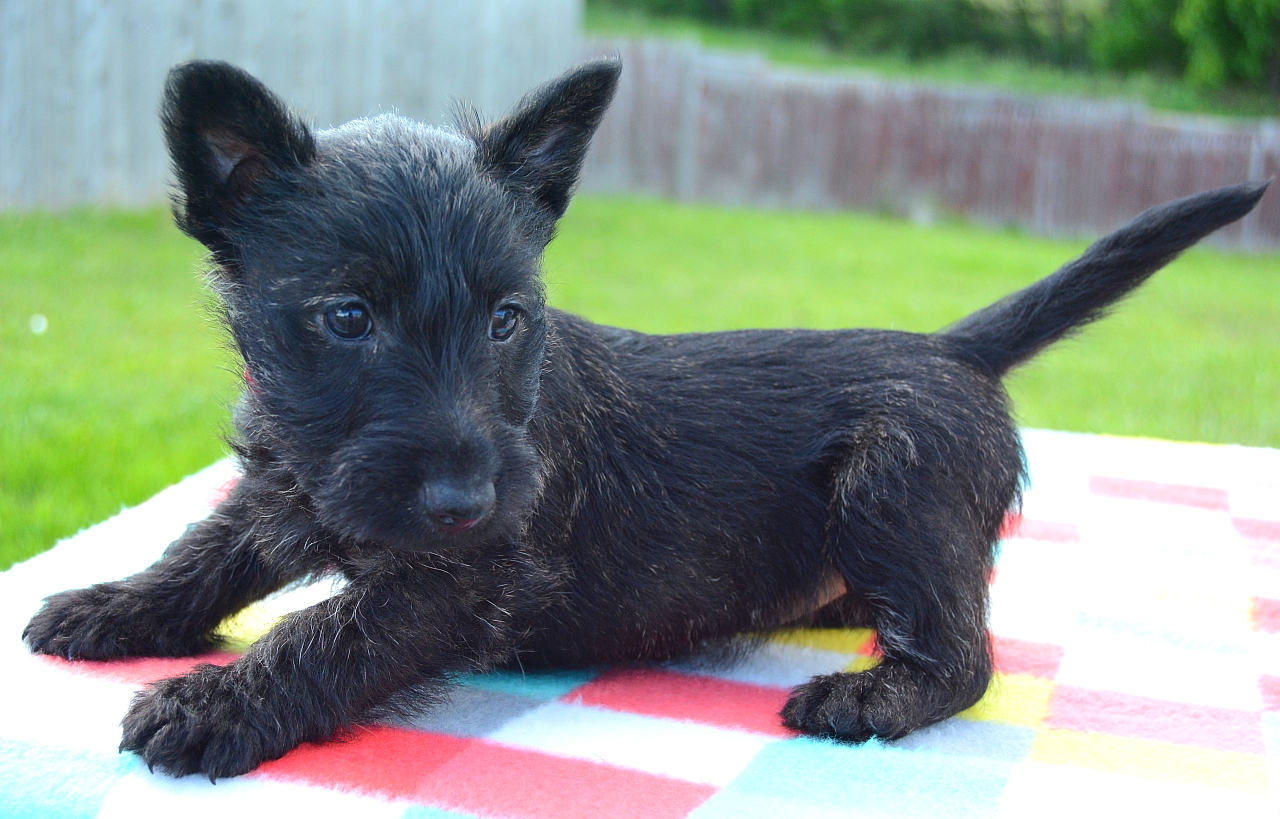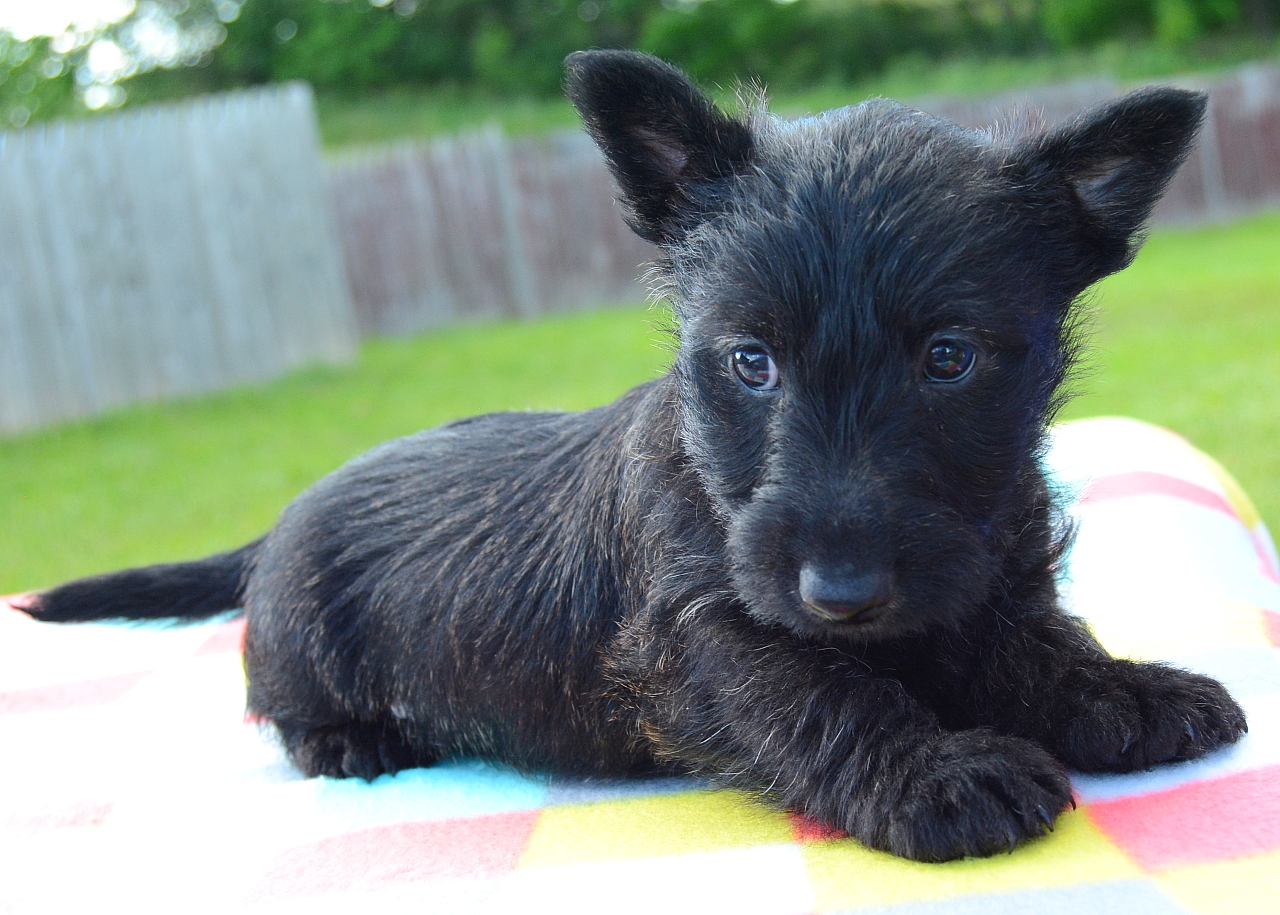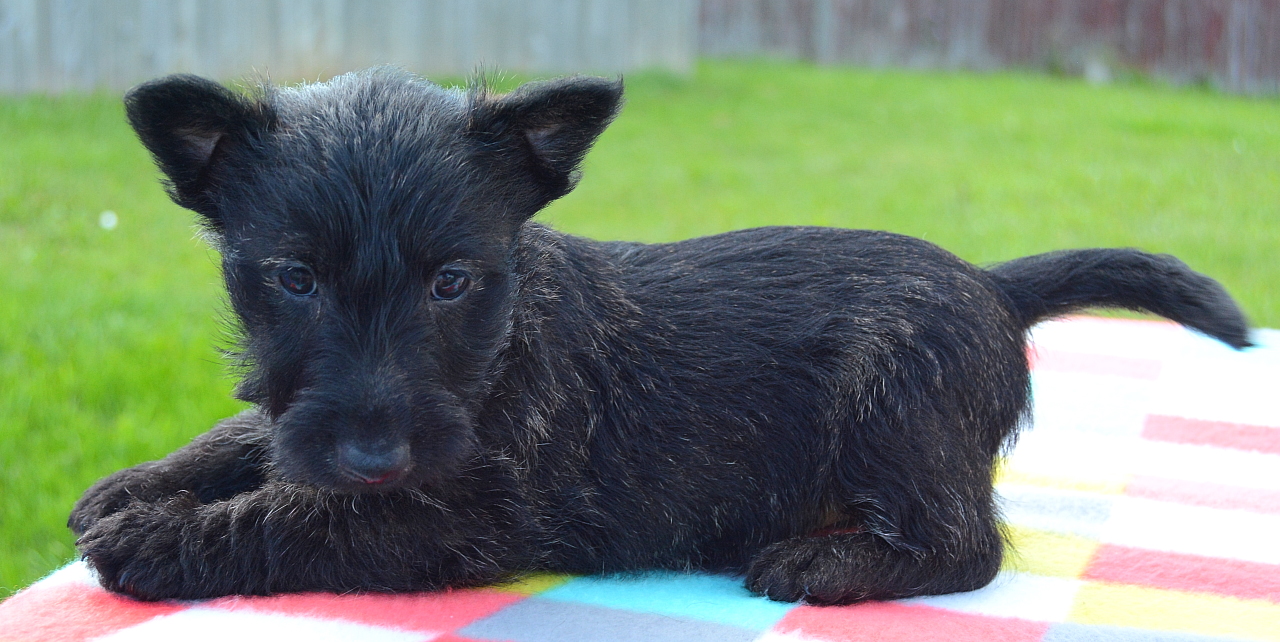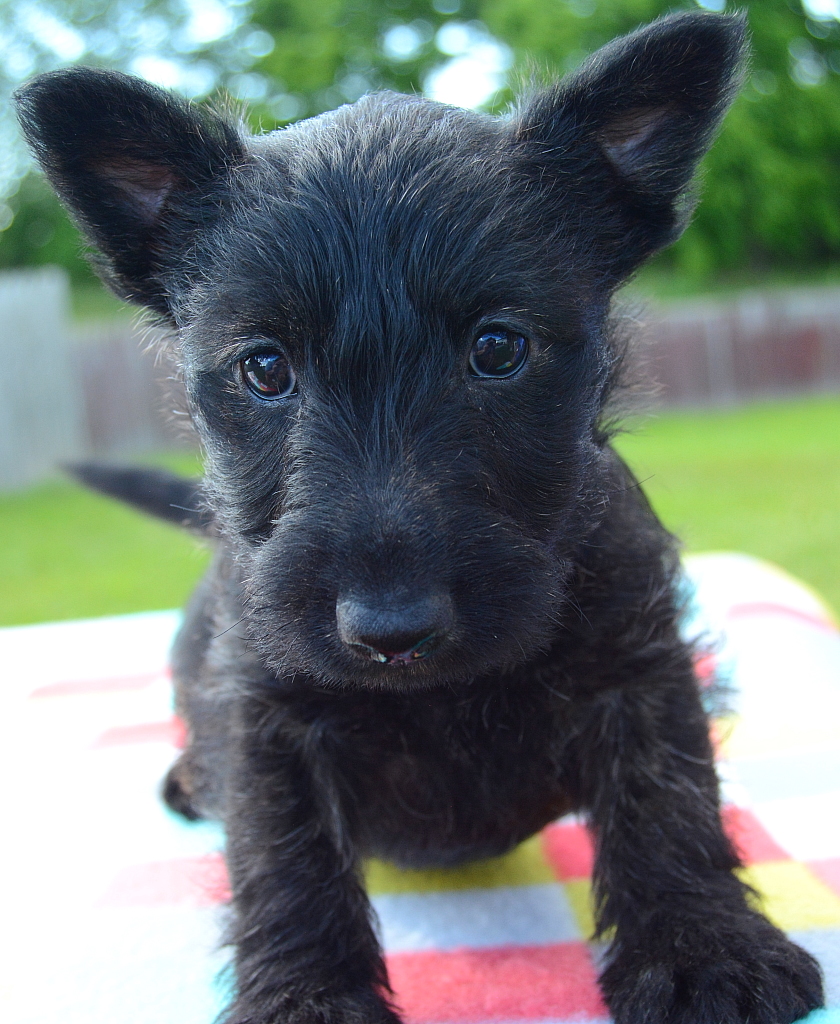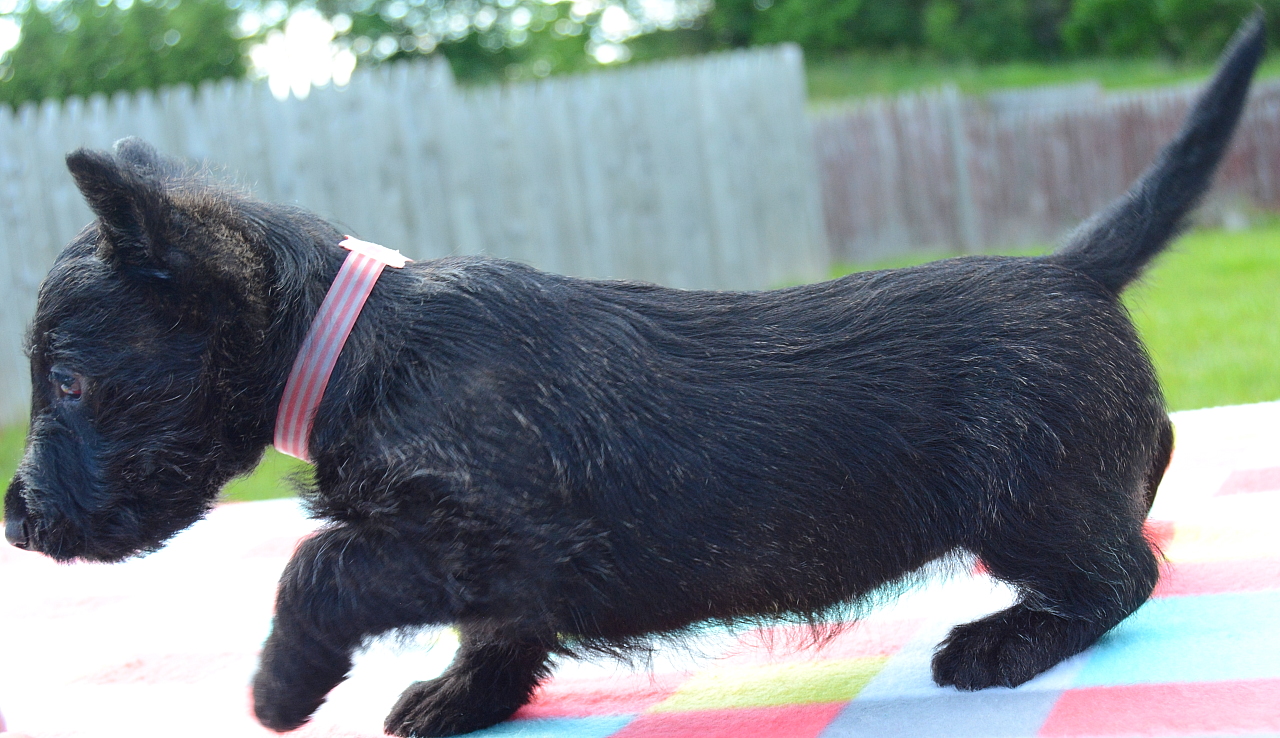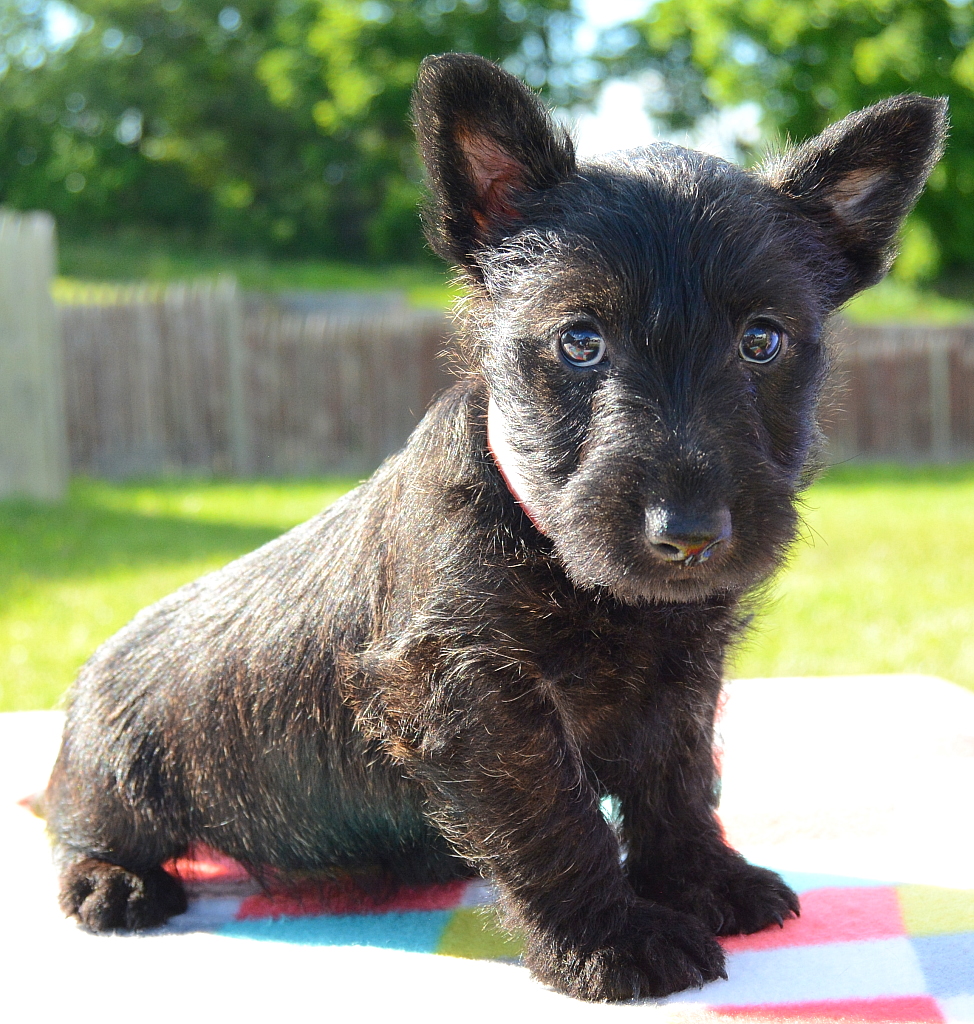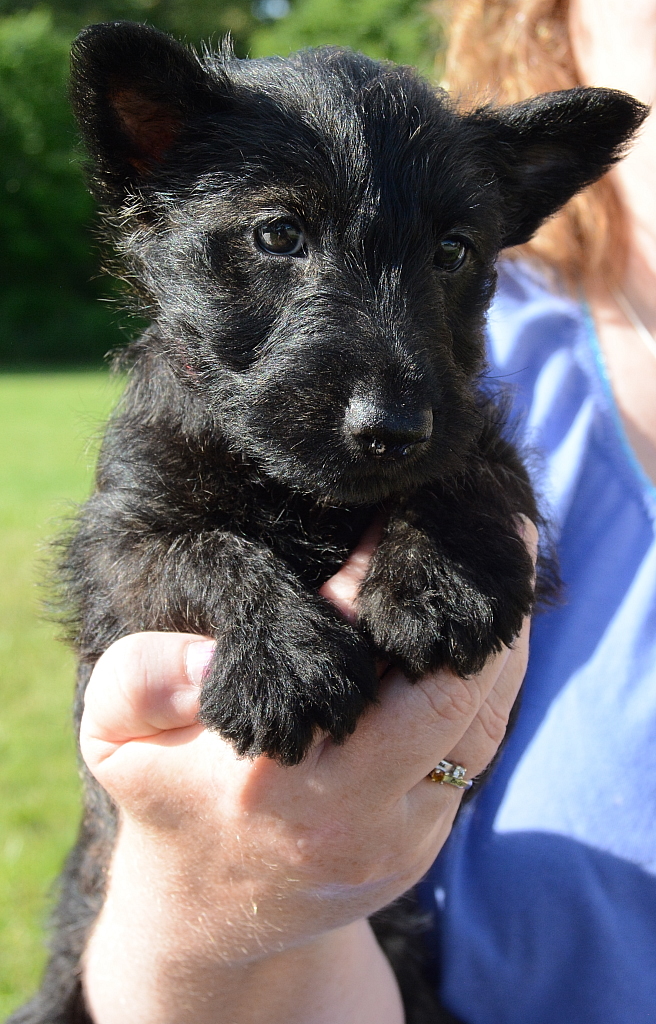 Please check us out on Facebook for some BONUS pictures of these puppies!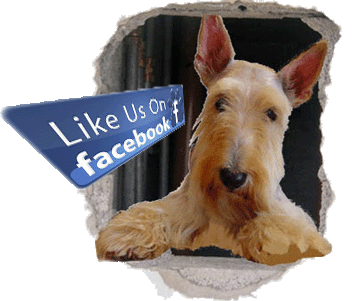 Please check back in a few weeks for a final update.