Molly and Dewey's November 30th 2017 litter
Newest pictures are at the top of the page, the further down you look, the younger the pups.
--------------------------------------------------------------
02-09-2017
This litter is now ready to go home. Here are the final pictures.
First I will introduce each puppy by name and let you know where he or she will go to live,
Below that you will find a couple of group pictures and some blooper shots.
Enjoy!
The Lads
Wheaten Boy #1
Benny is his new name.
He will travel to Powell, Ohio to live with Jeff and family.
Wheaten Boy #2
Meet Fergus.
Fergus is going to go live with Kim in Westerville, Ohio.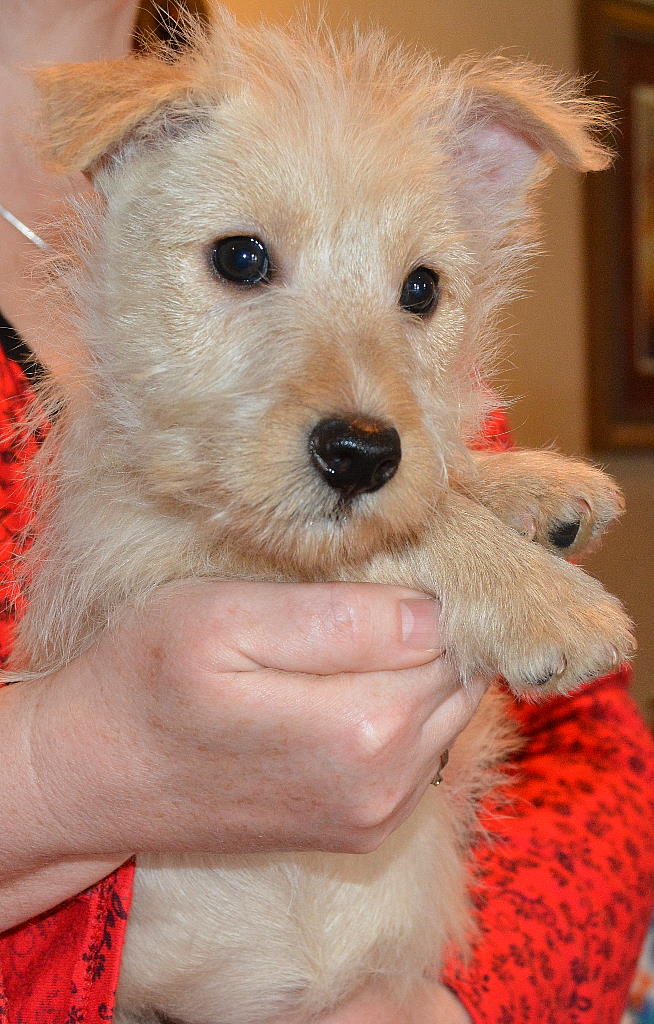 Wheaten Boy #3
Meet DaKoda.
DaKoda traveled to Beecher, Illinois to live with Tim and Jennifer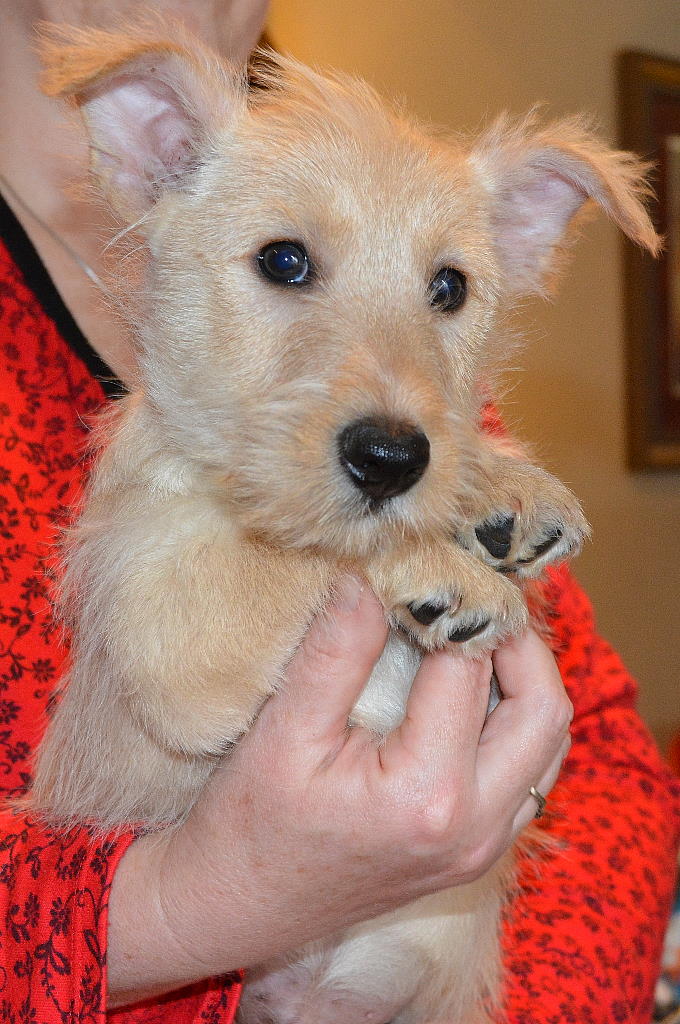 Black Boy #1
Say hello to Angus.
Angus will travel to Cincinnati, Ohio to live with Cindy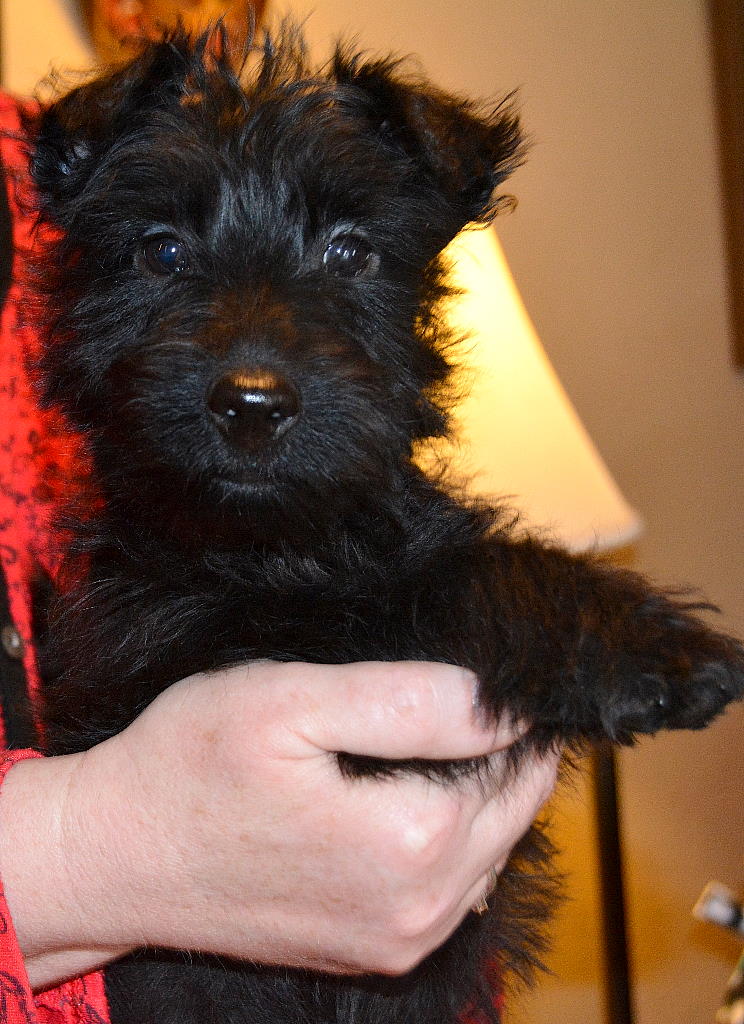 Black Boy #2
His new name is Duke
He will go to live with Wendy and Brian in Madison, Ohio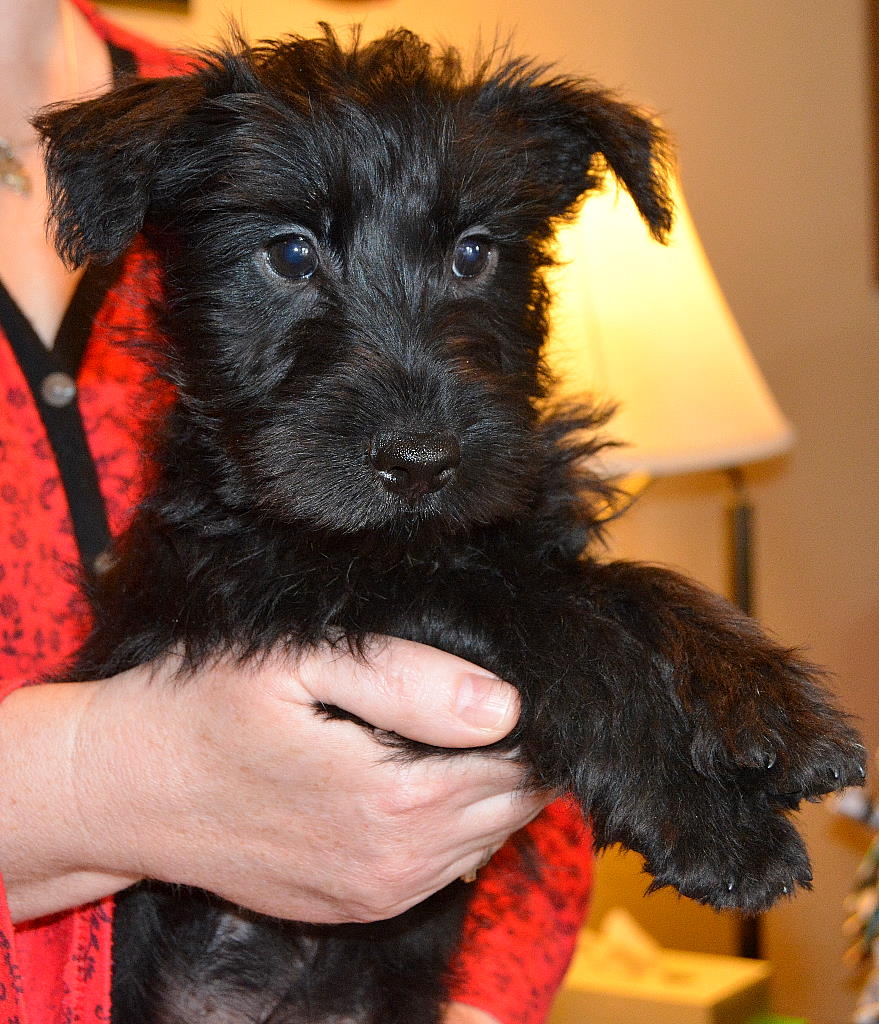 The Lasses
The wheaten girl
Meet Norma
Norma is traveling to Grove City, Ohio to live with Nene
Black girl #1
Here new name is Isobel or "Izzy" for short
Izzy is going to live with Janel in Napoleon, Ohio
Black girl #2
Last but not least, say hello to Maisie.
She will go to live in Rockford, Michigan with Teresa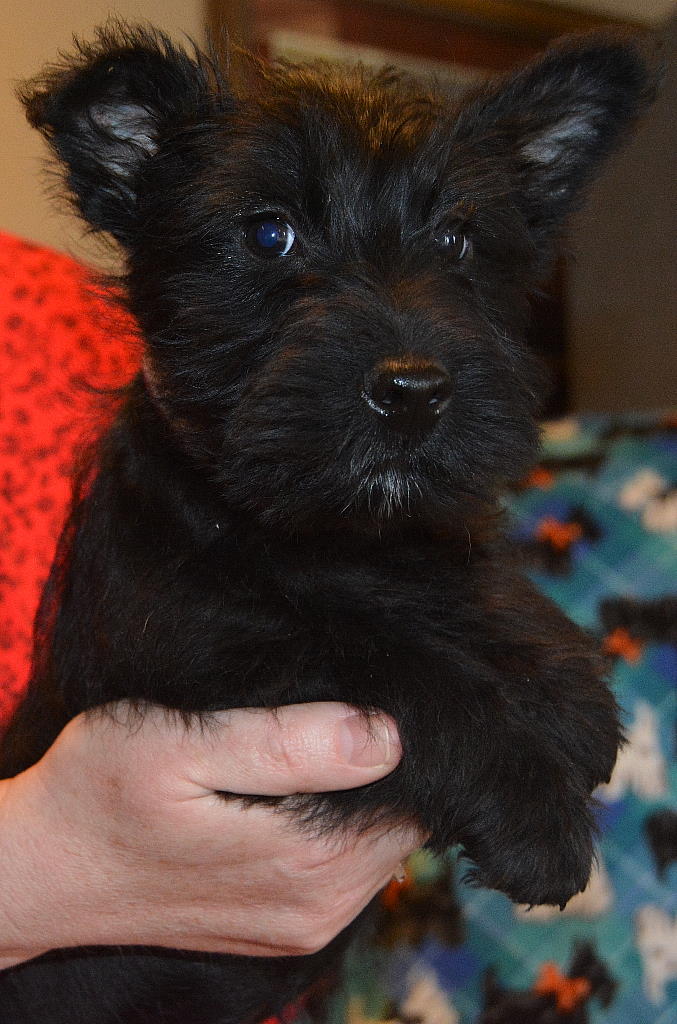 The Girls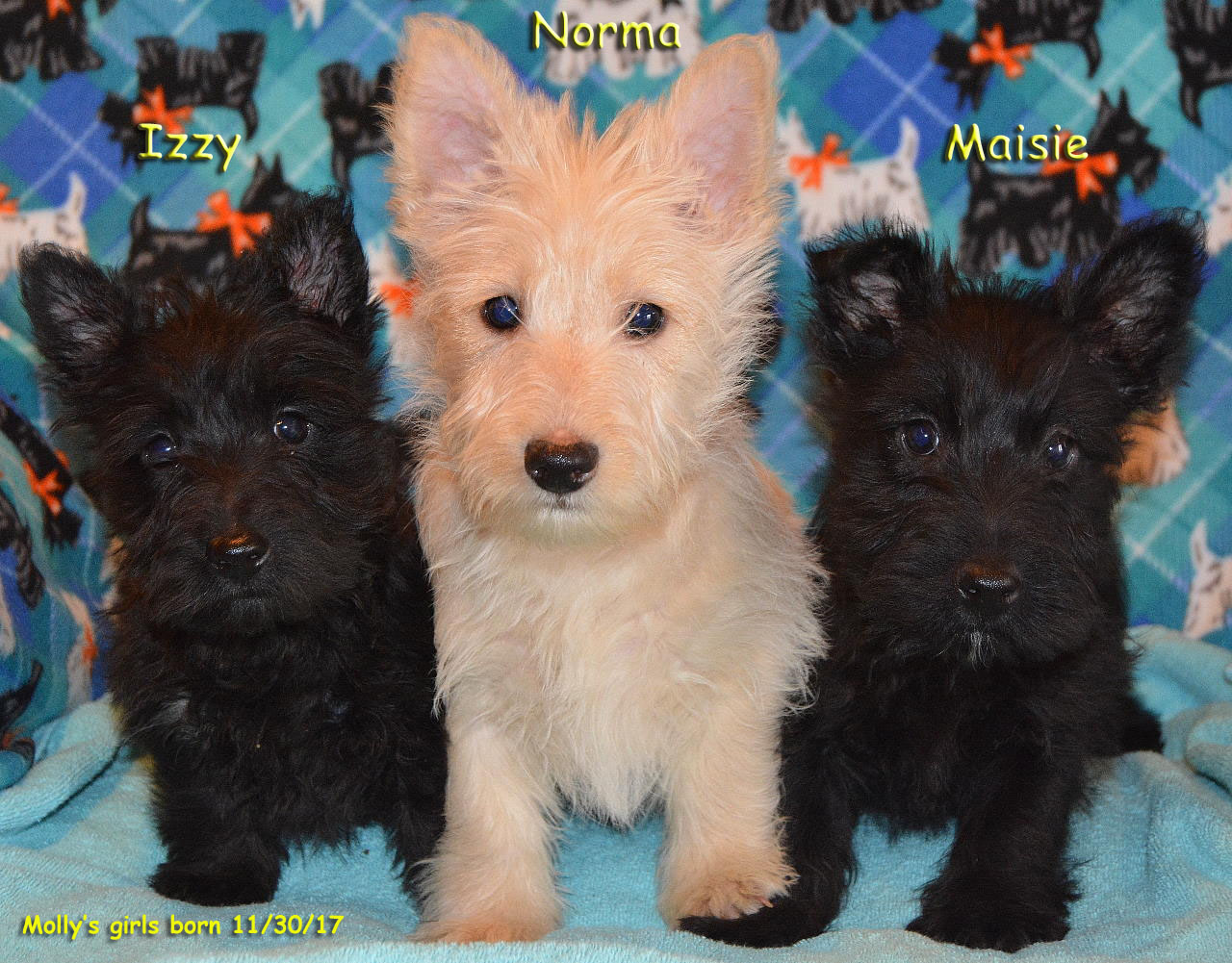 same picture without text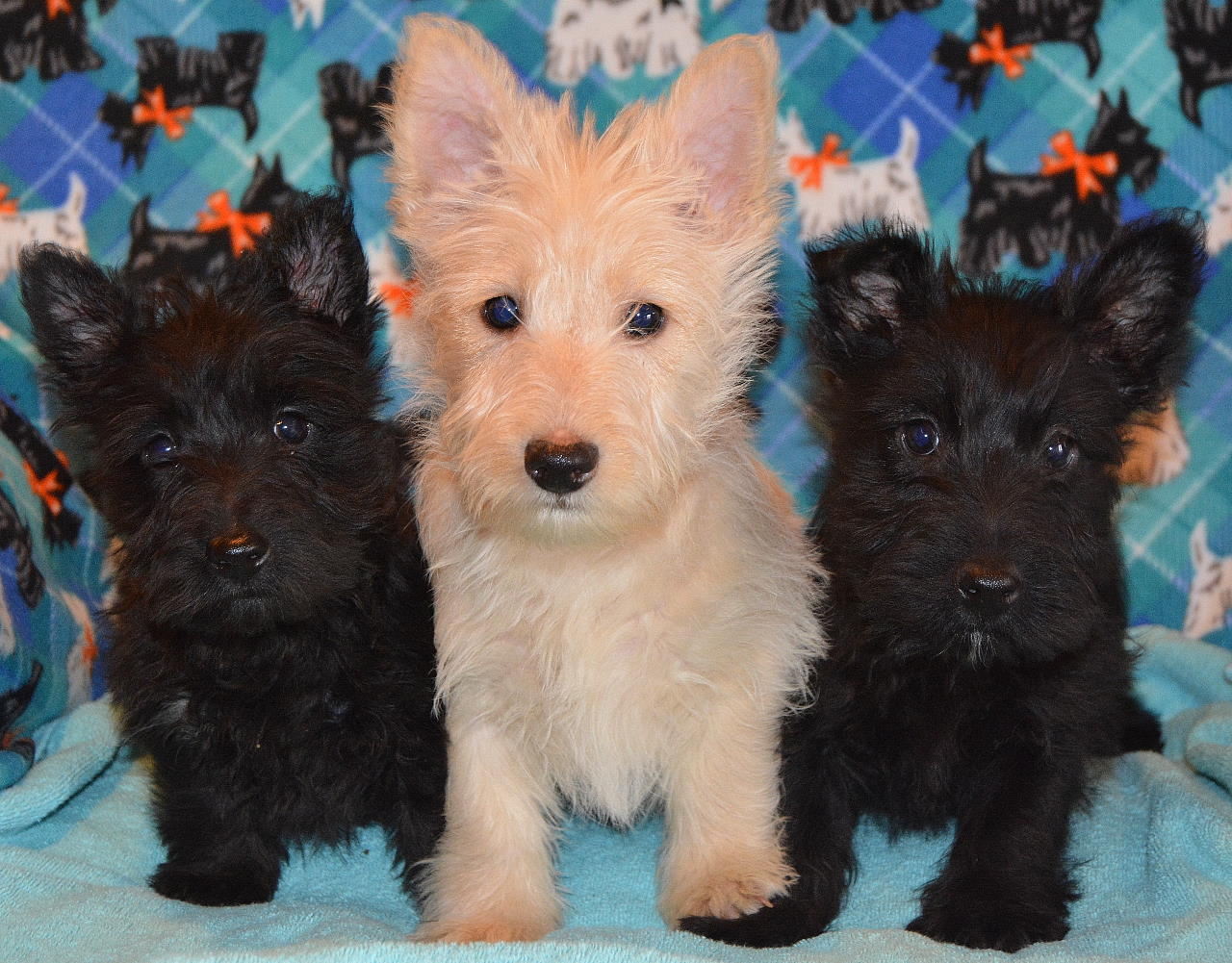 The Boys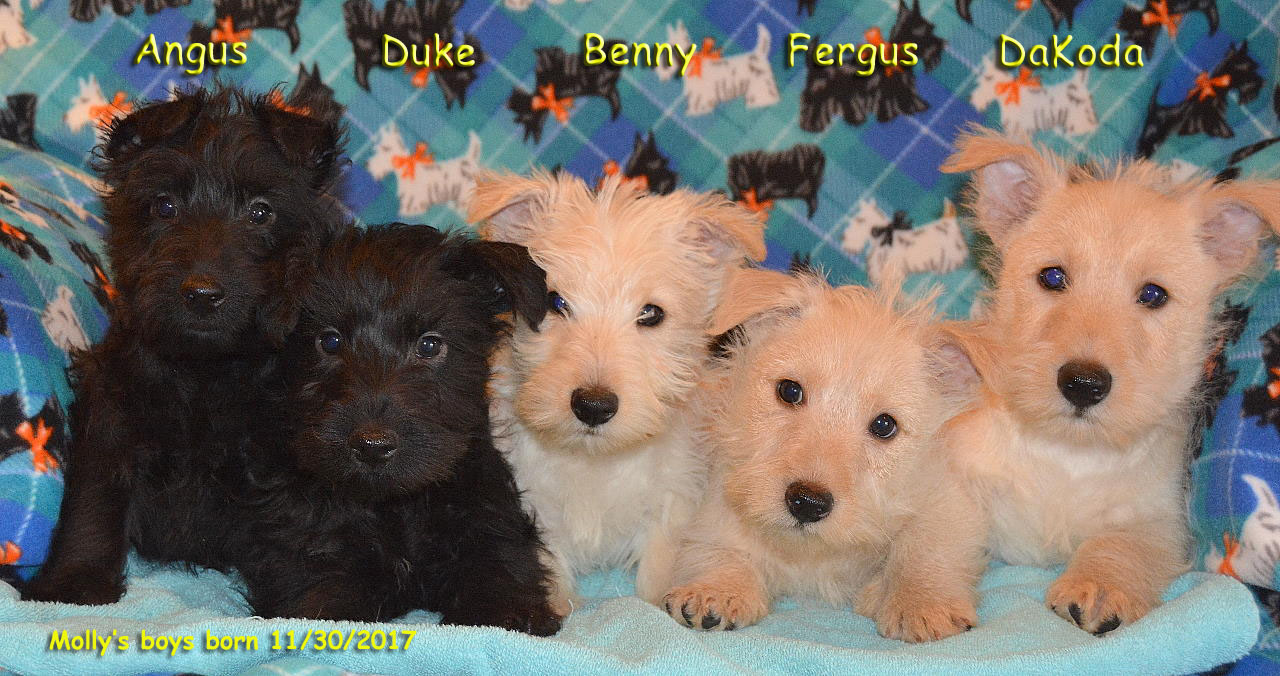 same picture without text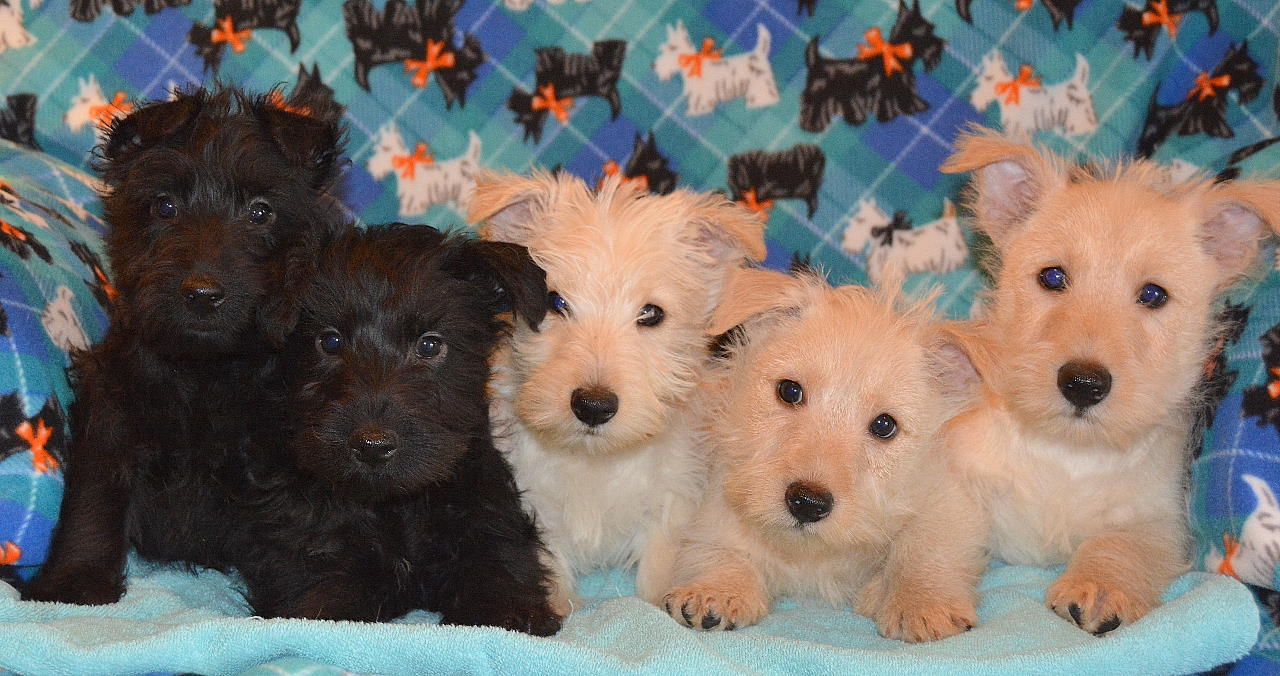 A couple bloopers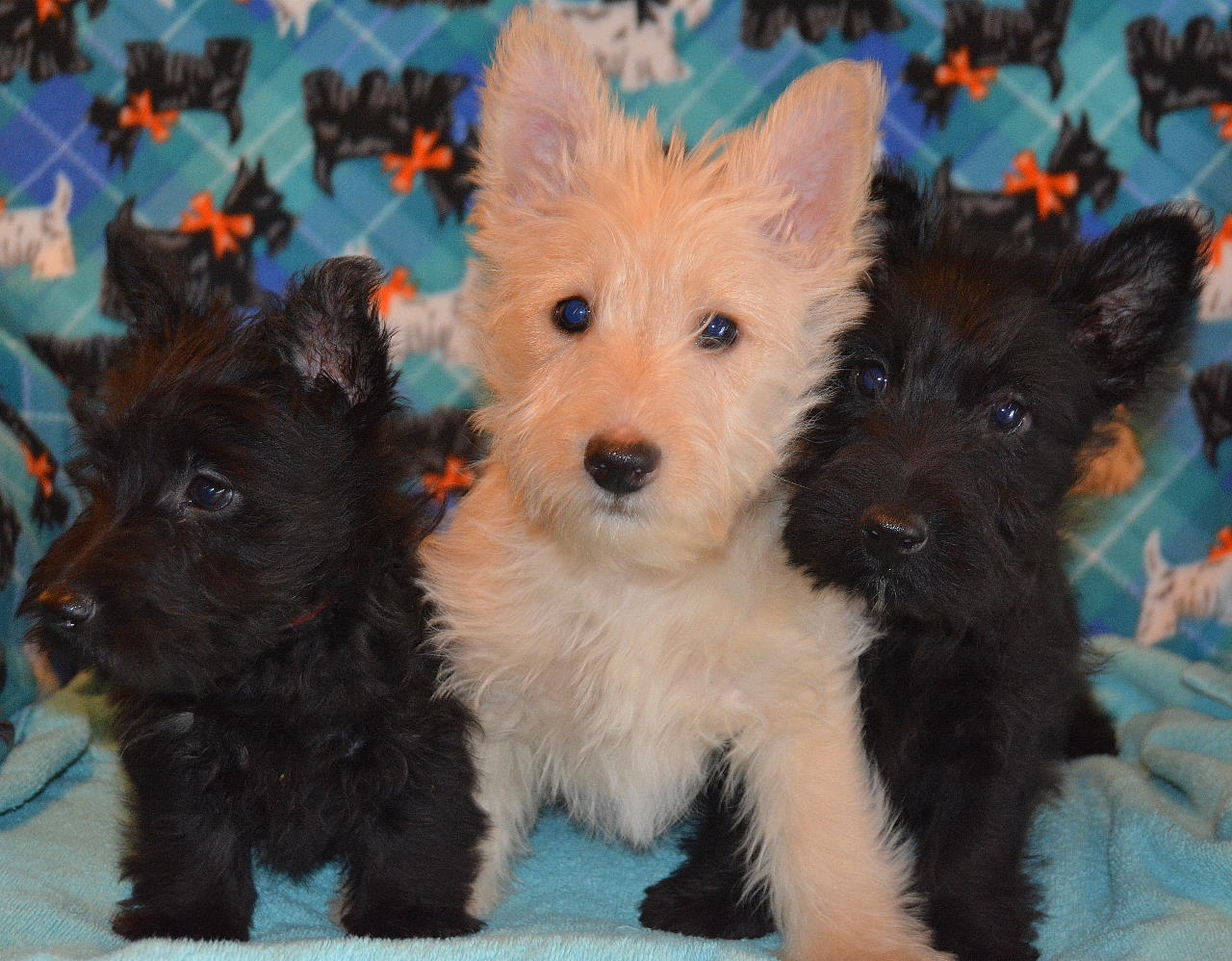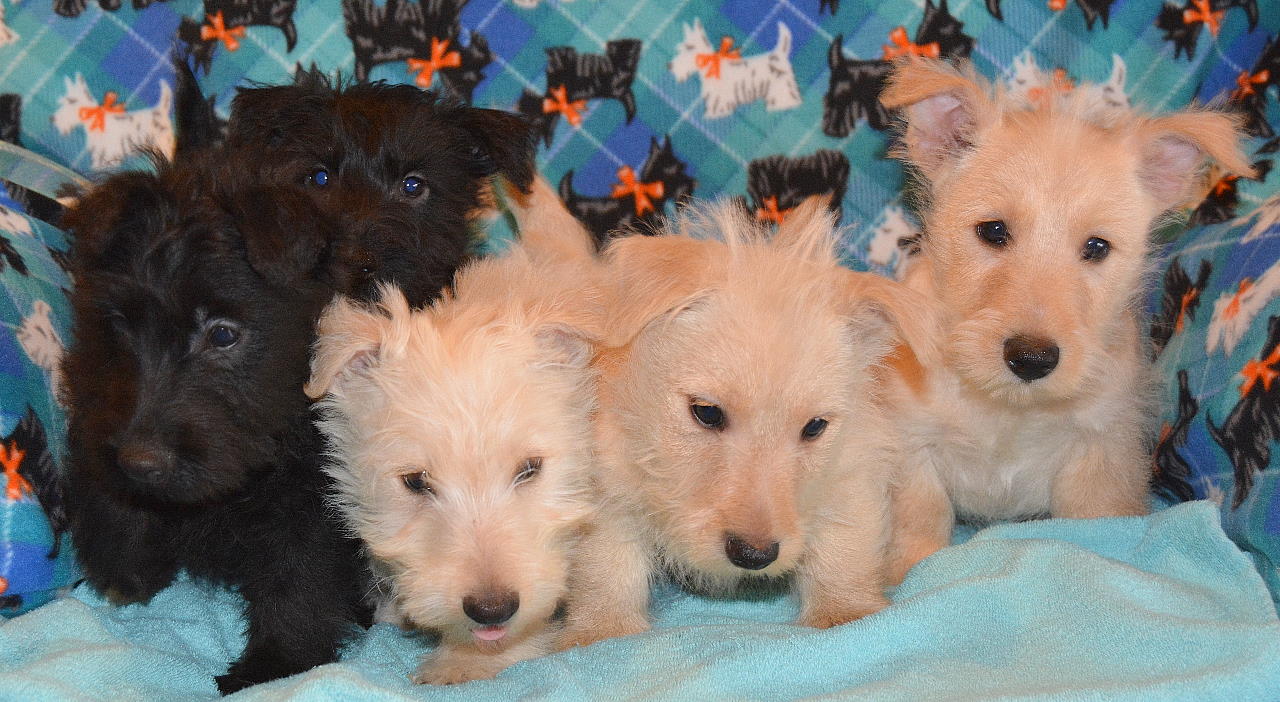 Thank you everyone!
The End.
01-15-2018
WARNING, HUGE UPDATE, PLEASE LET ALL PICTURES LOAD!
Introducing Molly and Dewey's November 30th 2017 litter of 8.
In this litter we have 2 black boys, 2 black girls, 1 wheaten girl and 3 wheaten boys.
I am placing these pups to folks on my waiting list.
If you would like to be added to my waiting list (no obligation) Please Click HERE
Prices, terms, email address and phone number are located here.
This litter can go home on SATURDAY FEBRUARY 10th.
They are 45 days old in these pictures.
1st inoculations and vet check happen later this week, pups have been wormed and everyone is 100% weaned away from Mama.
Each puppy has a new ID collar.
This collar will stay with your puppy until the day you come to take him or her home.
FOR THIS LITTER: The GIRLS are in RED, the BOYS are in GREEN.
The wee lasses.
The Wheaten Girl
She's the life of the party. Very happy go lucky.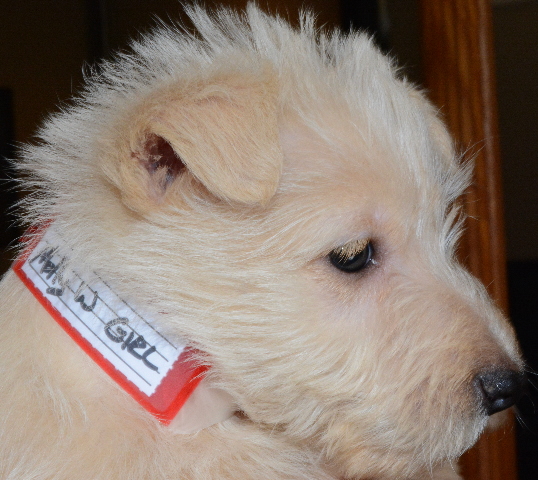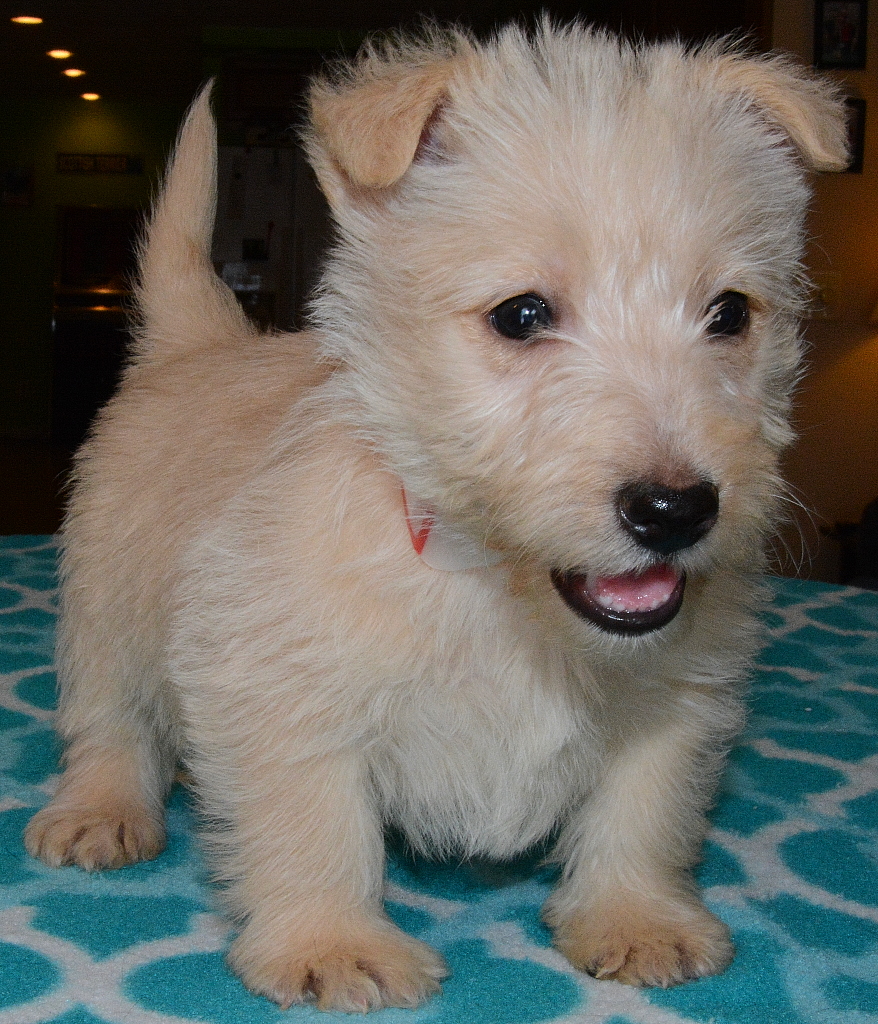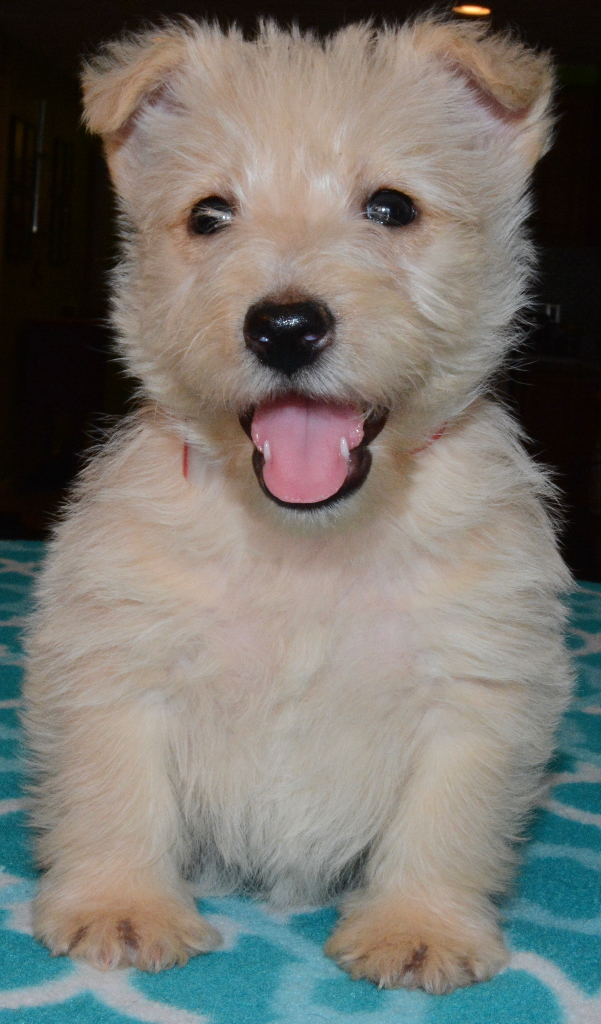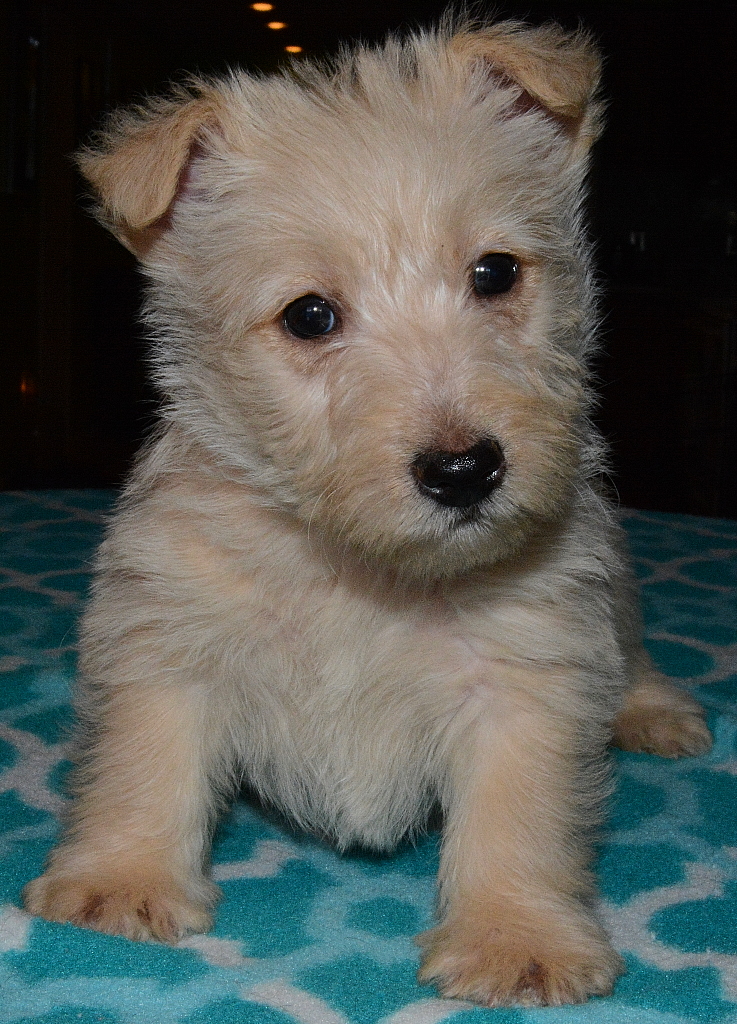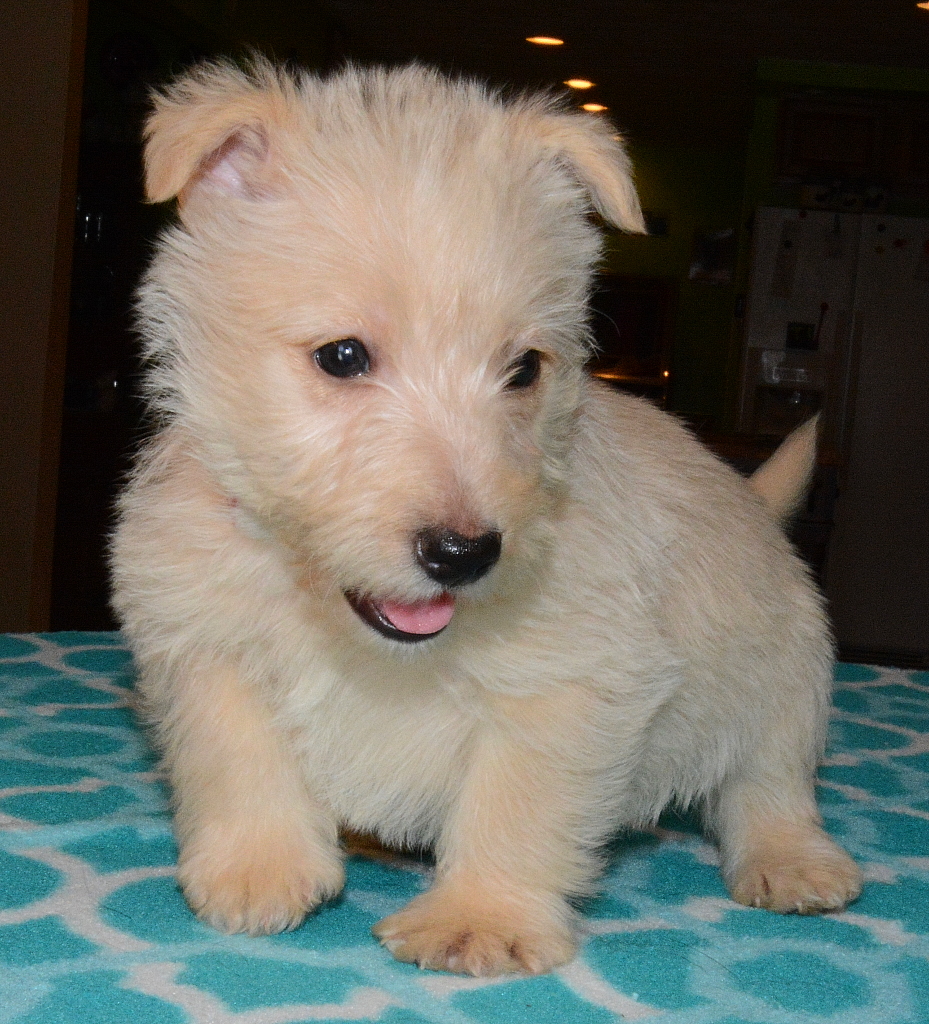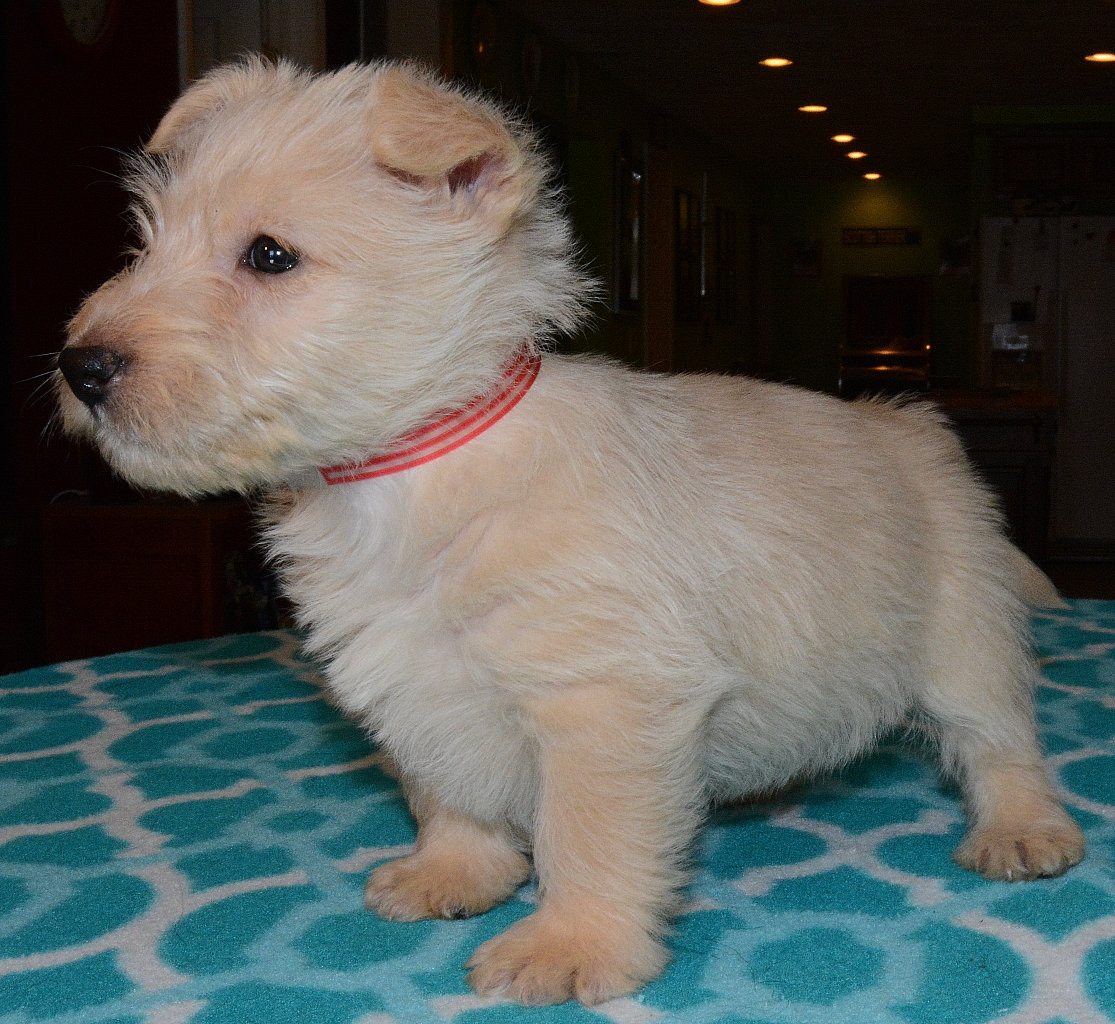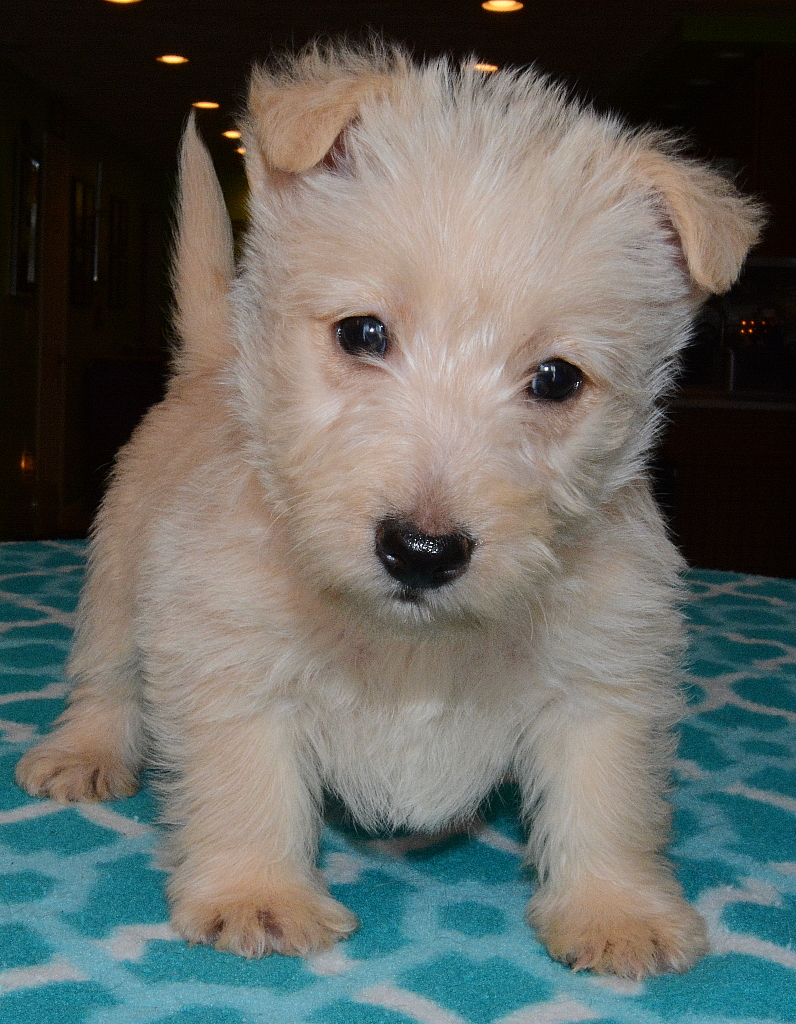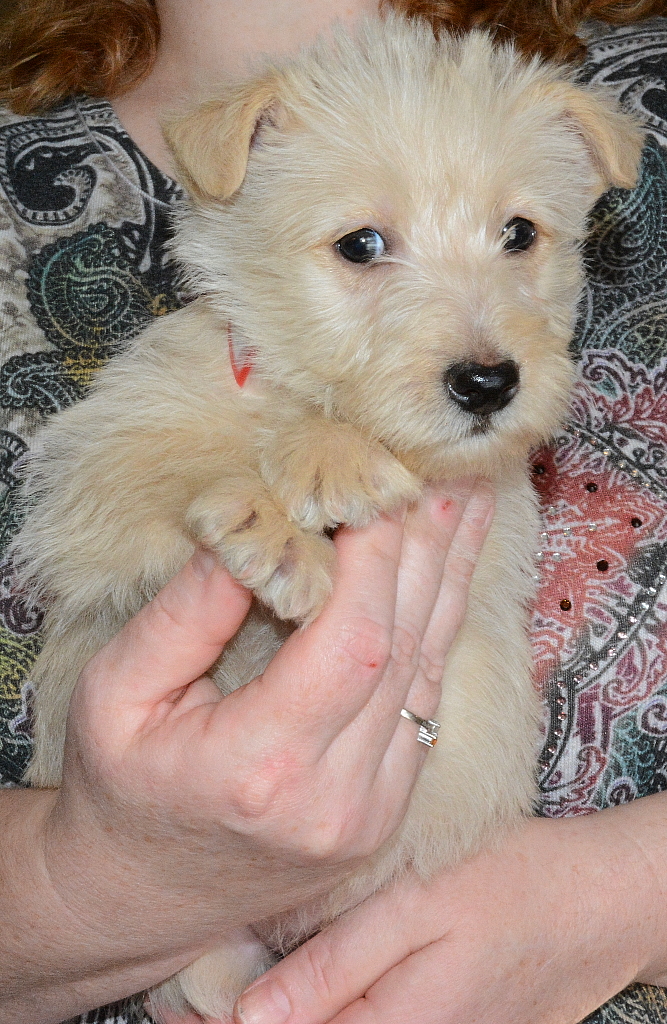 Black Girl #1
She's the runt of the litter but don't tell her that because she's always the 1st to the food bowl.
She's a bit unsure at 1st but quickly jumps to action when she is sure the coast is clear.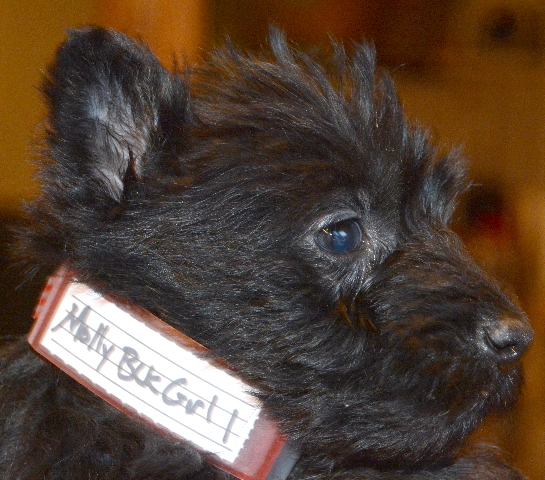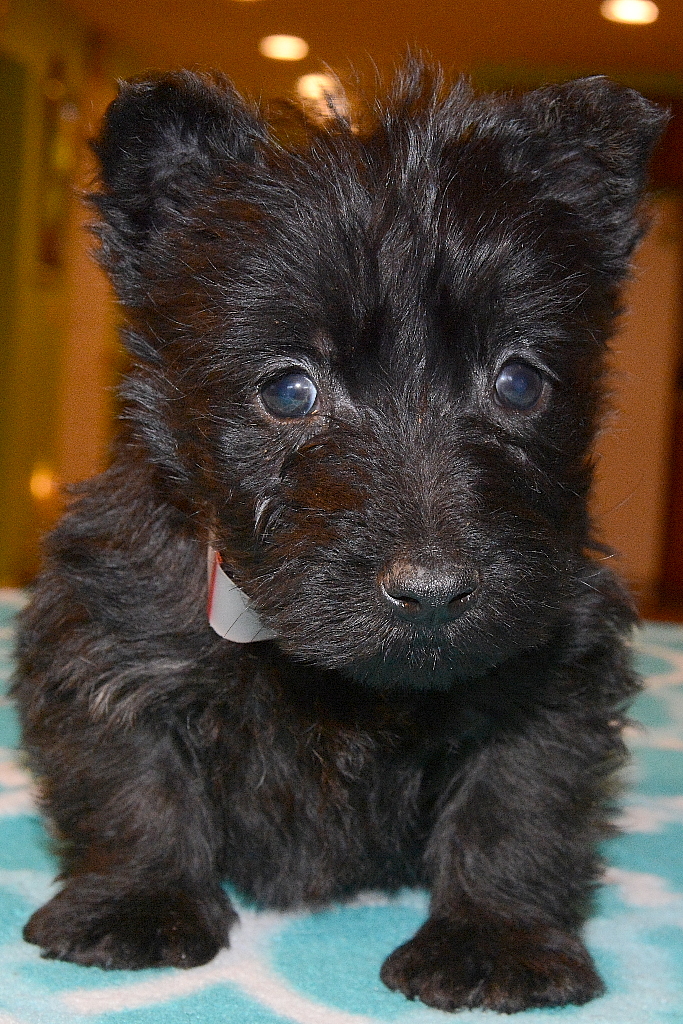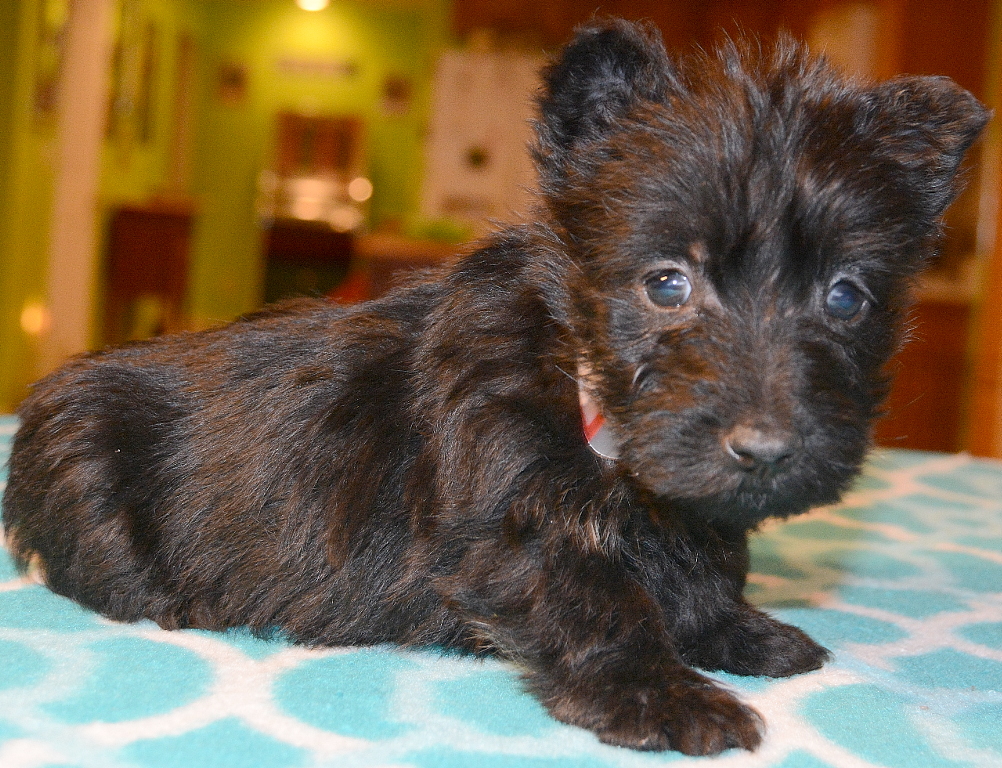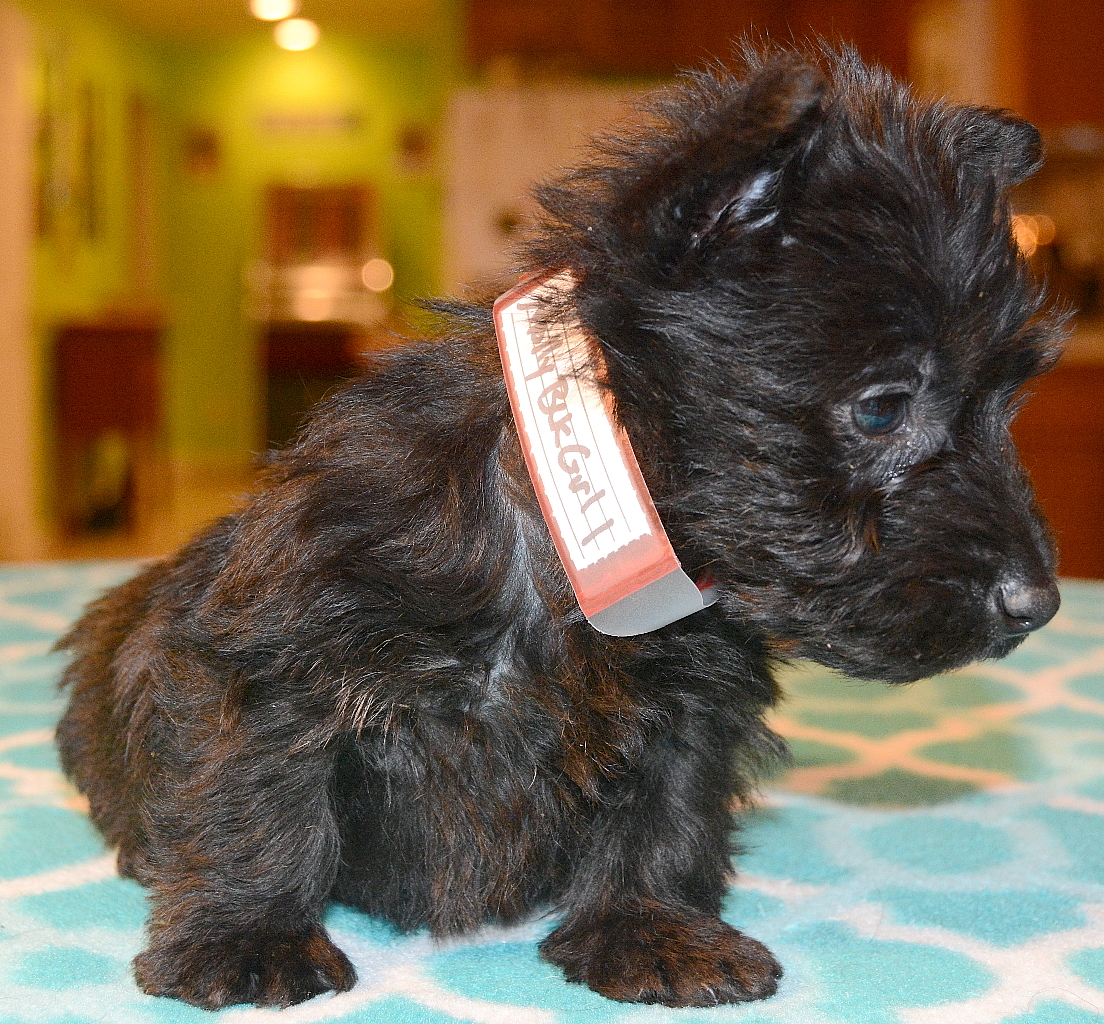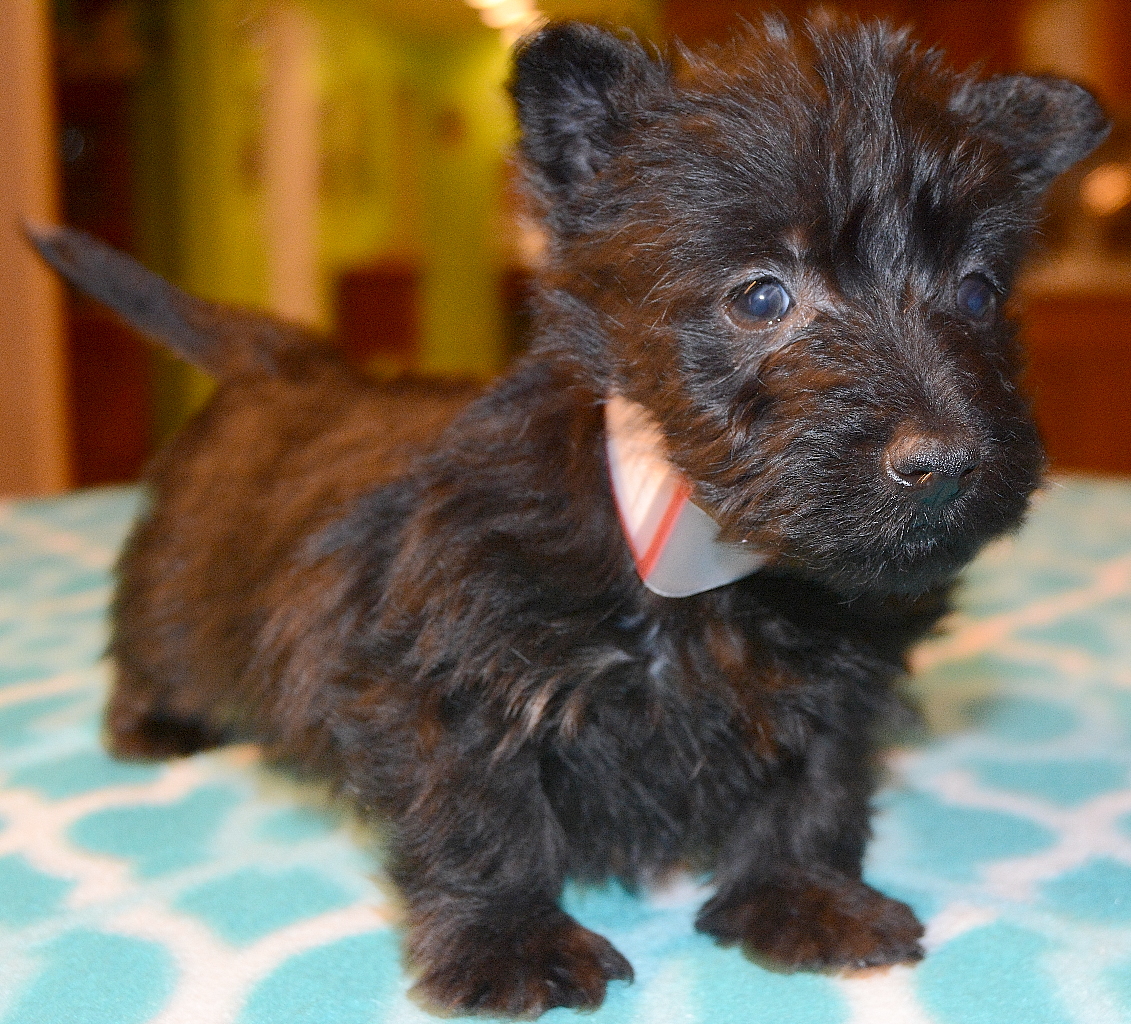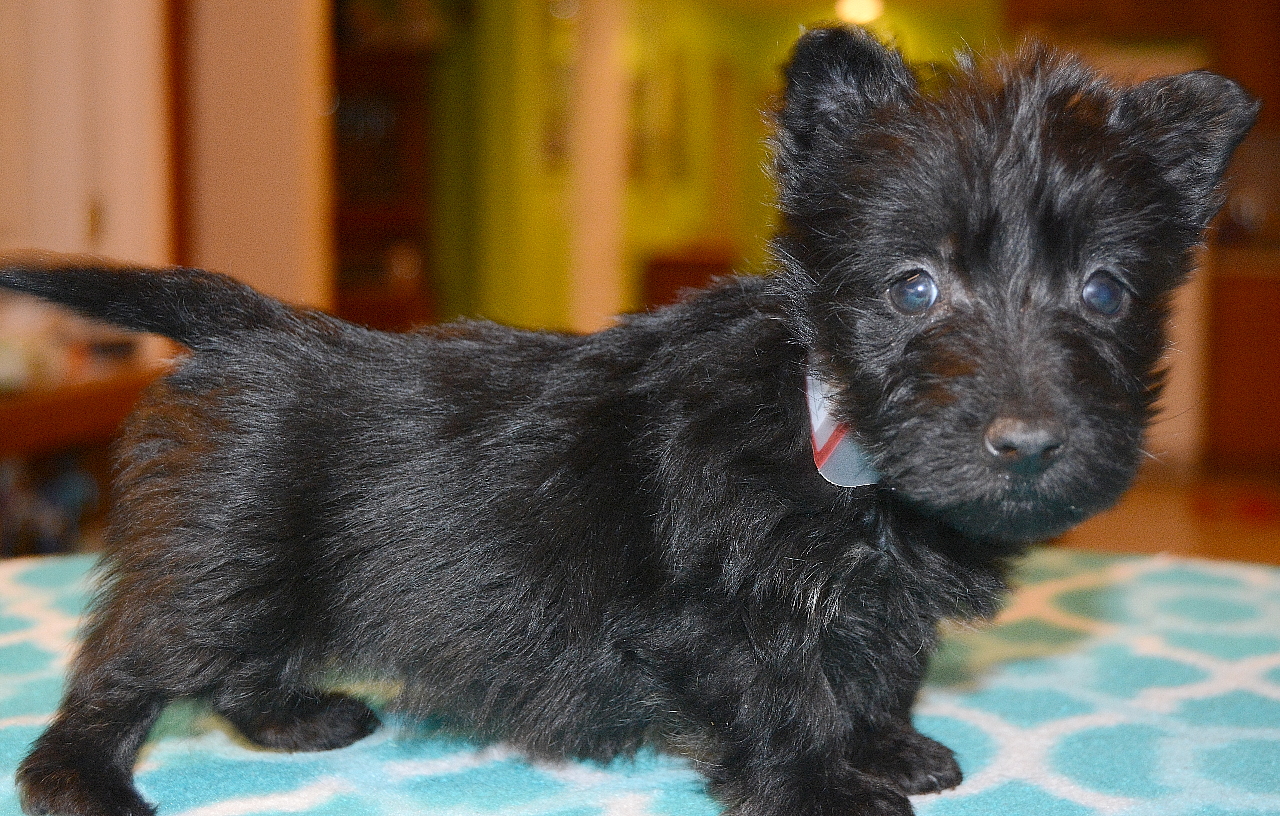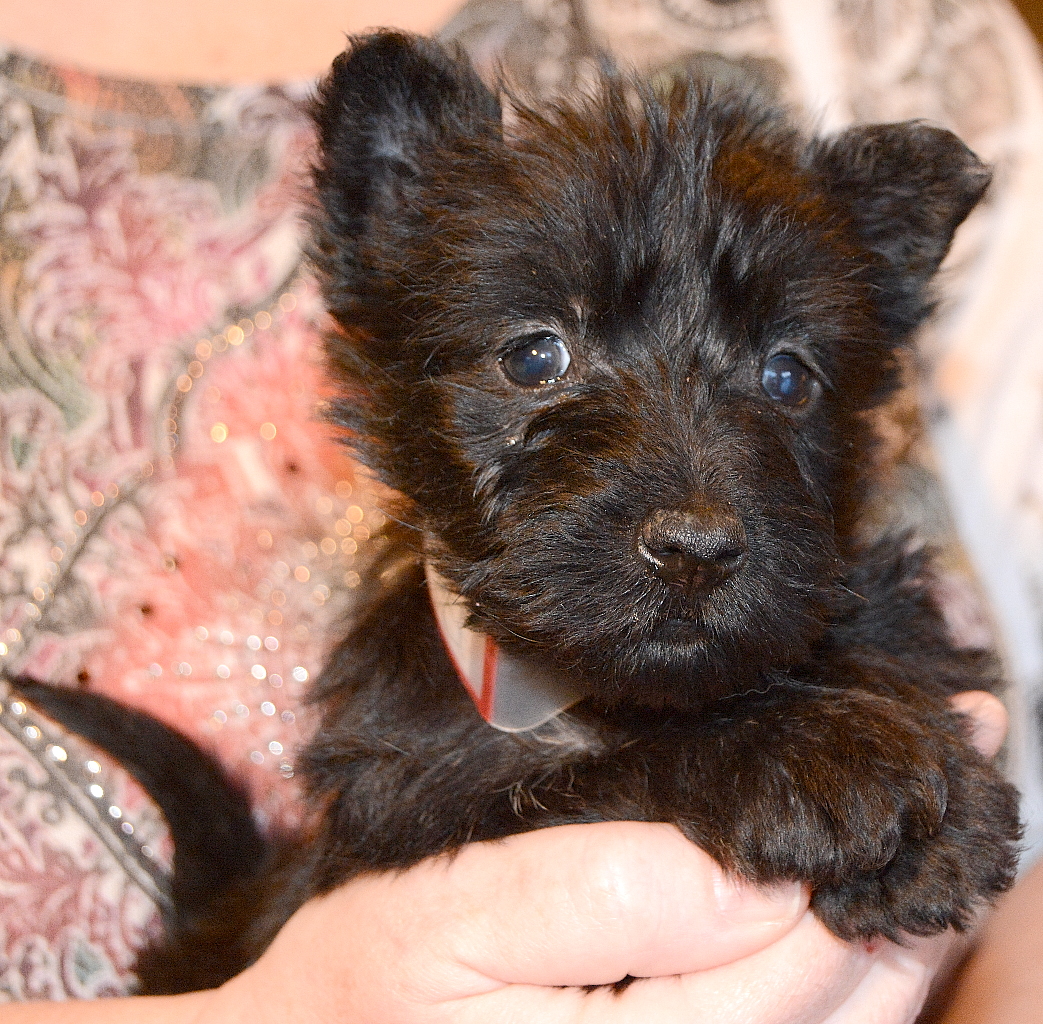 Black Girl #2
She's very calm and a bit reserved.
A snuggler.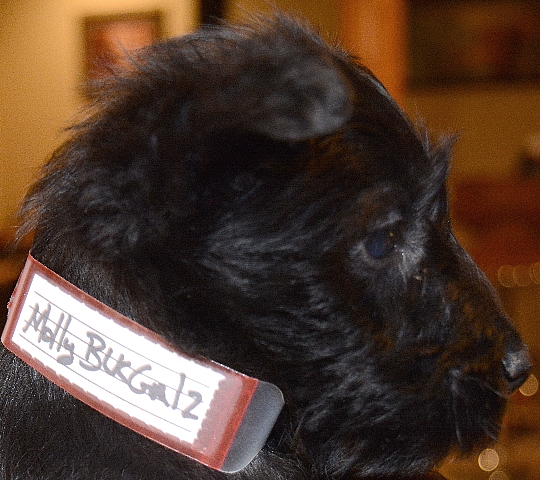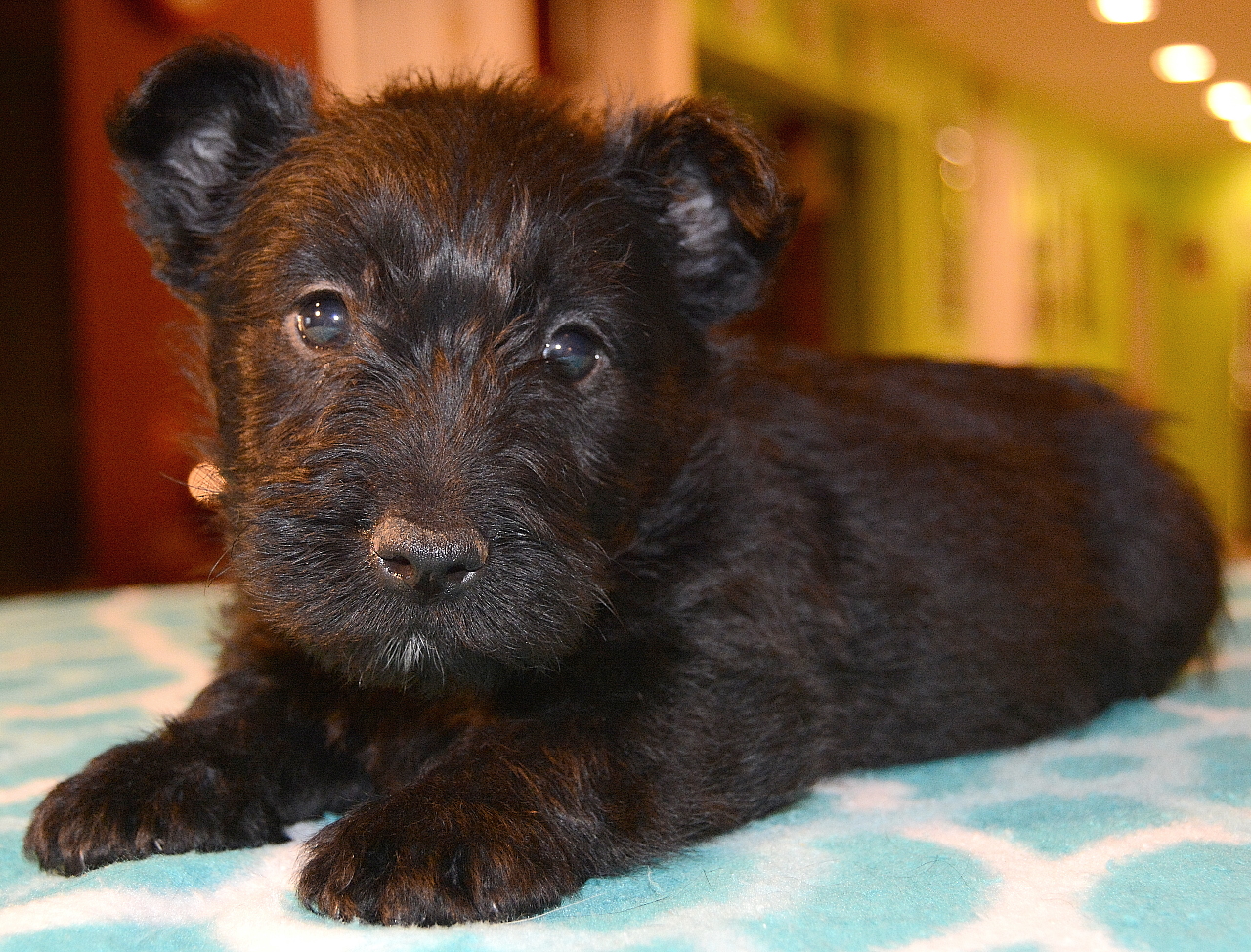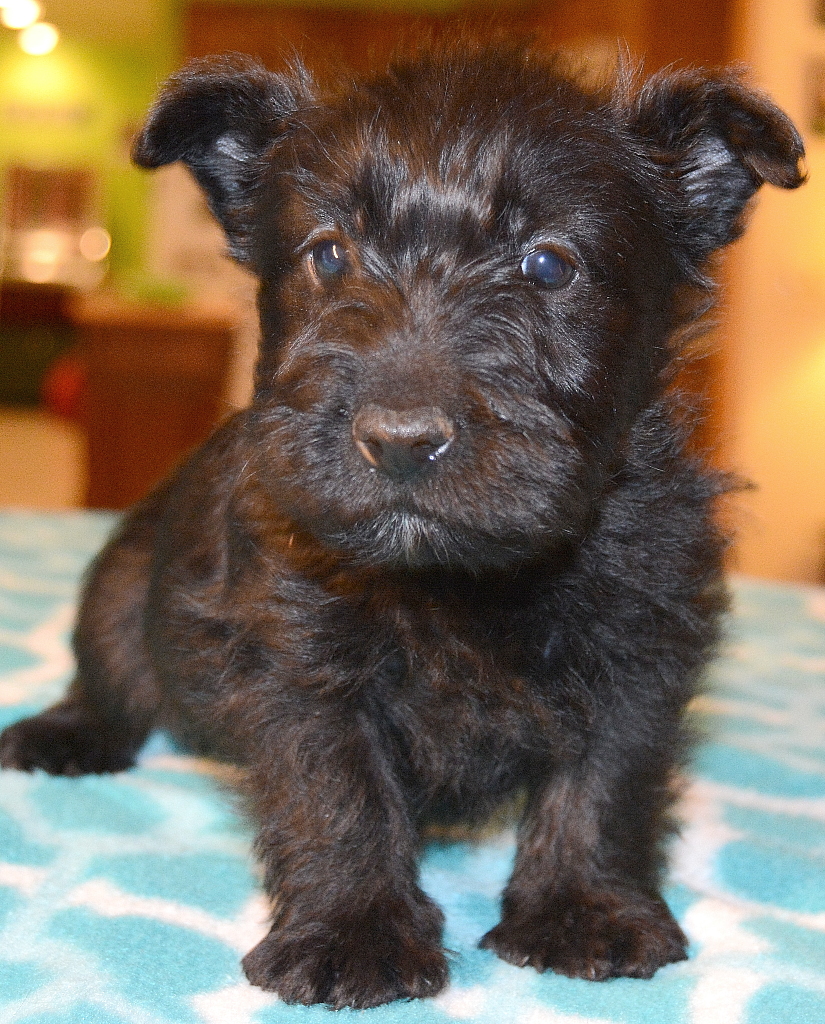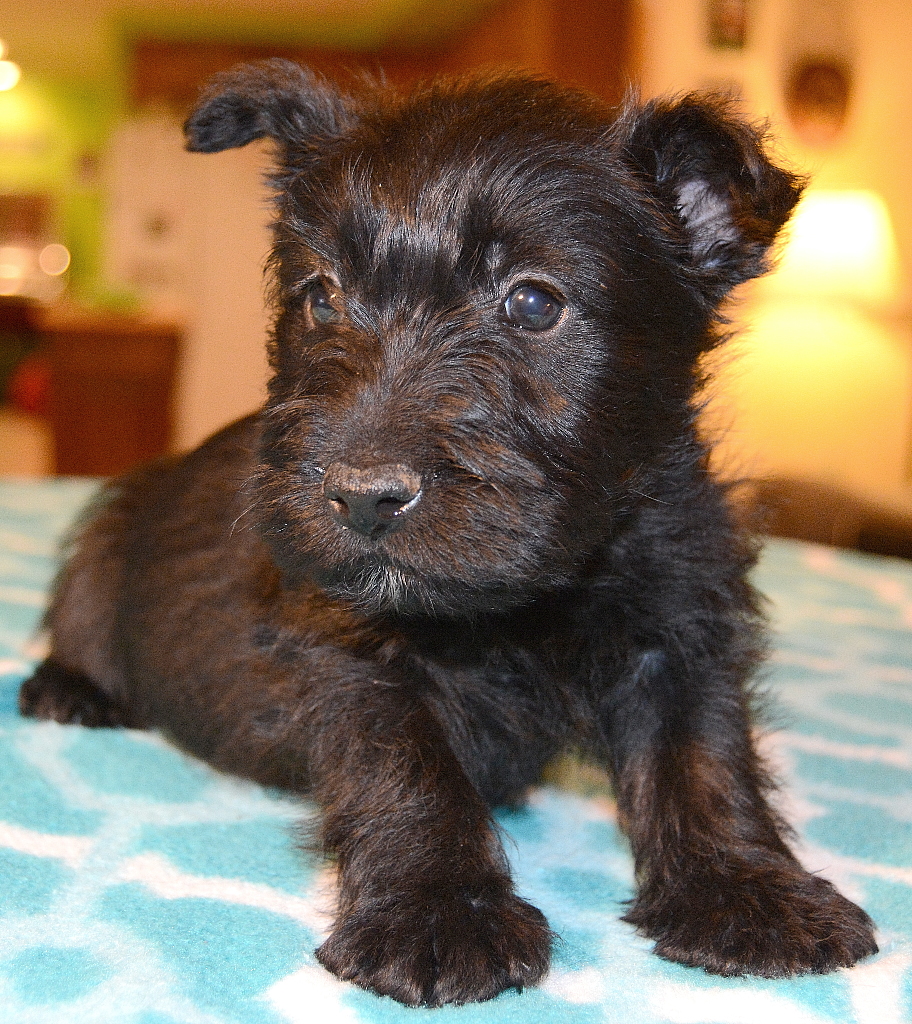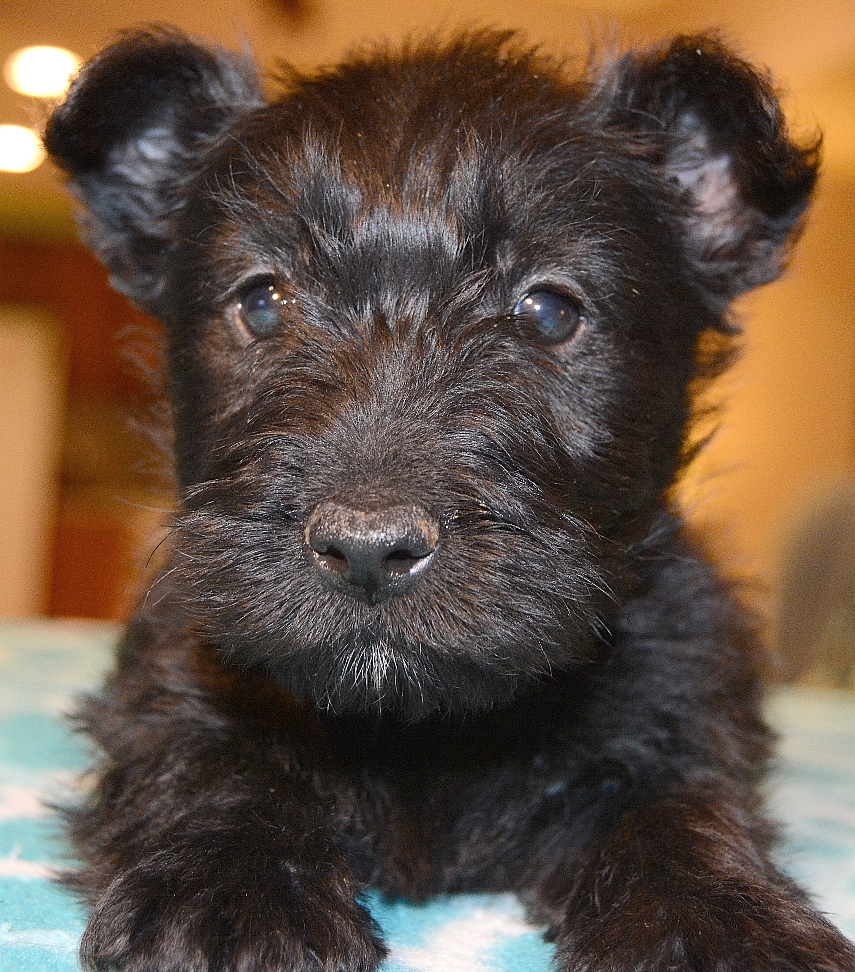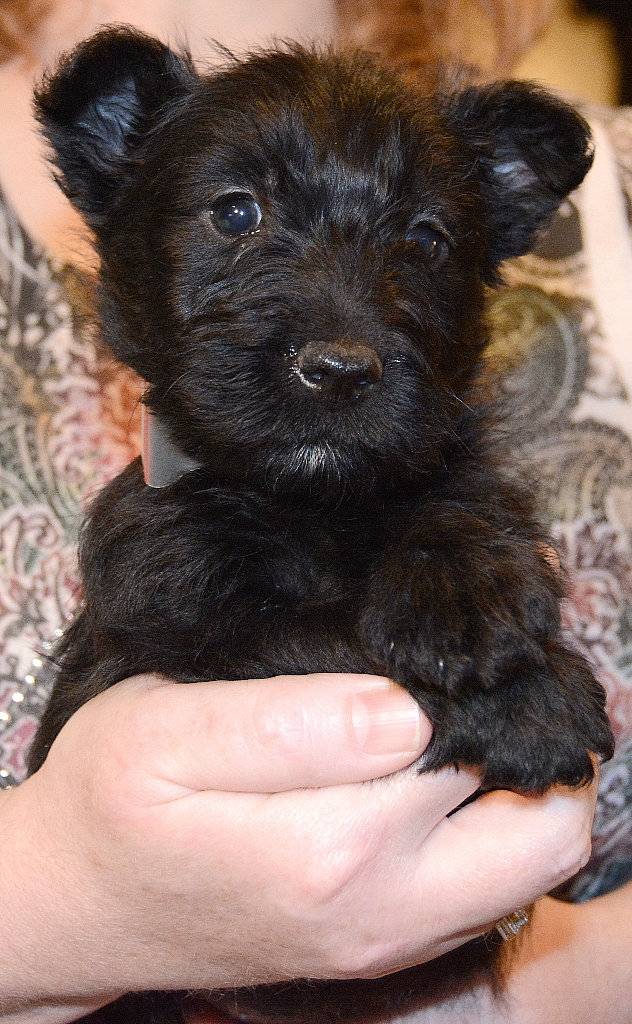 The ladds.
The Wheaten Boys
Wheaten Boy #1
Very jolly and curious about everything.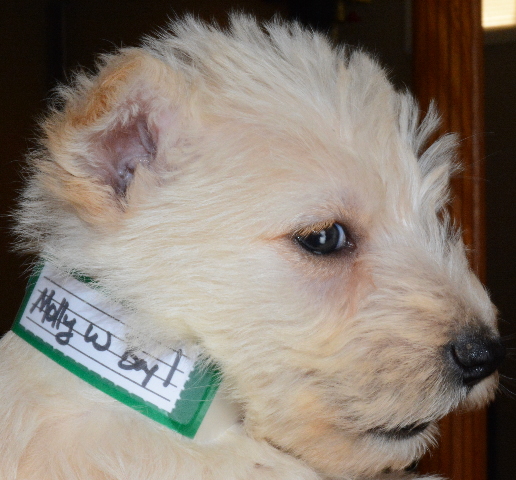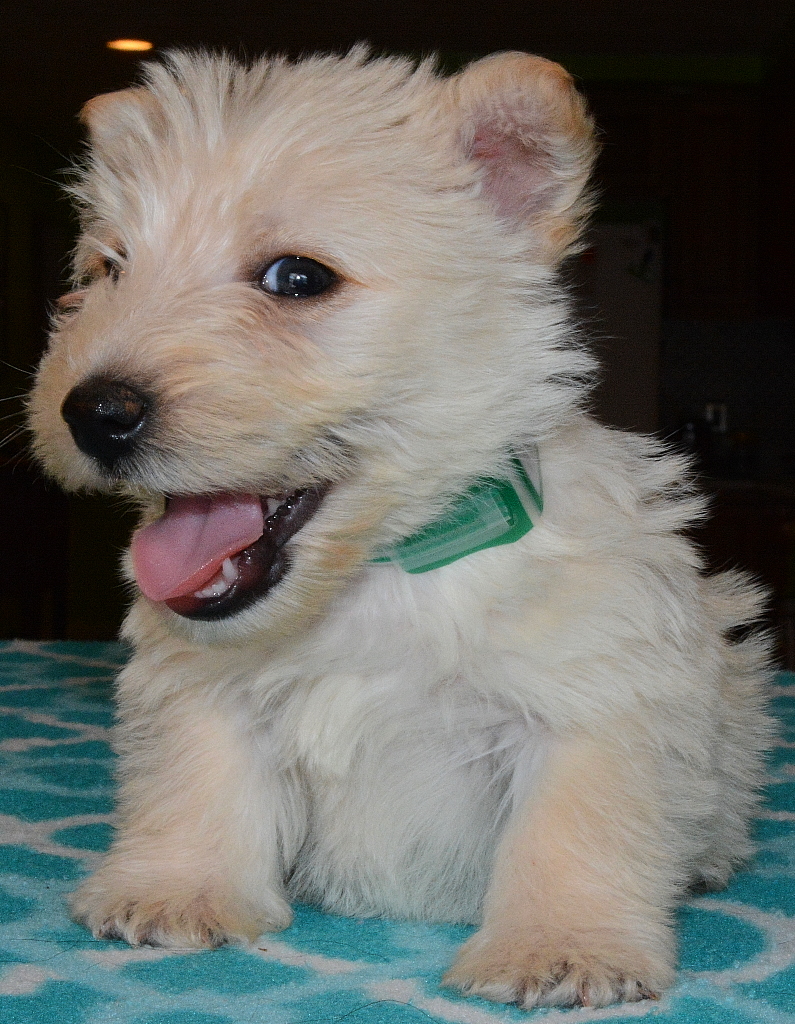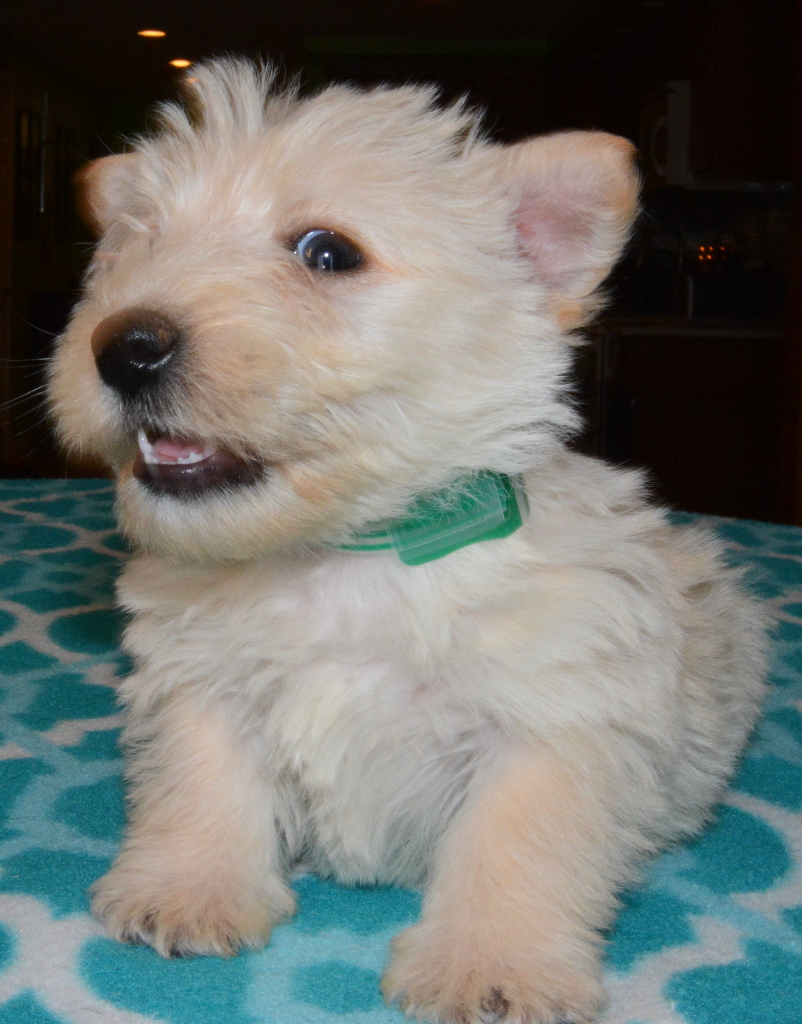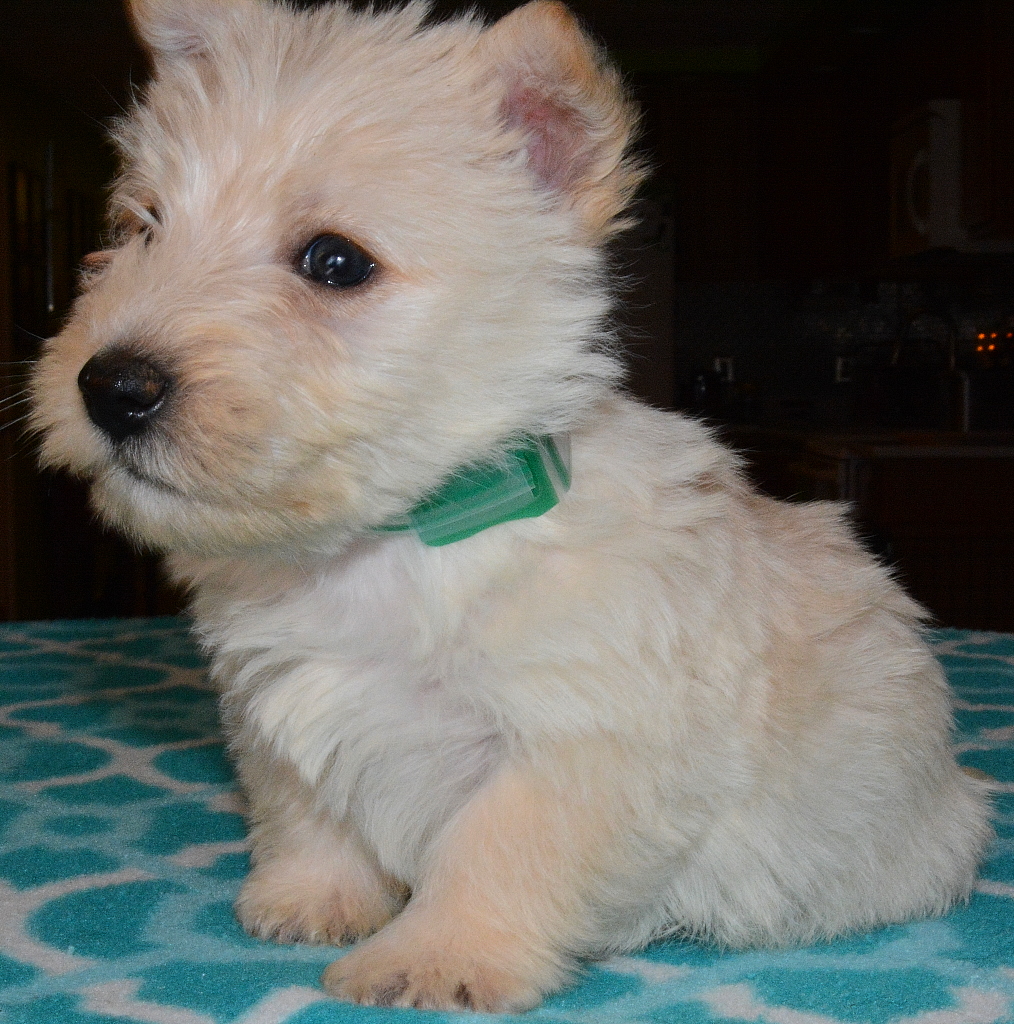 Wheaten Boy #2
He's another very happy boy and he's very speedy too!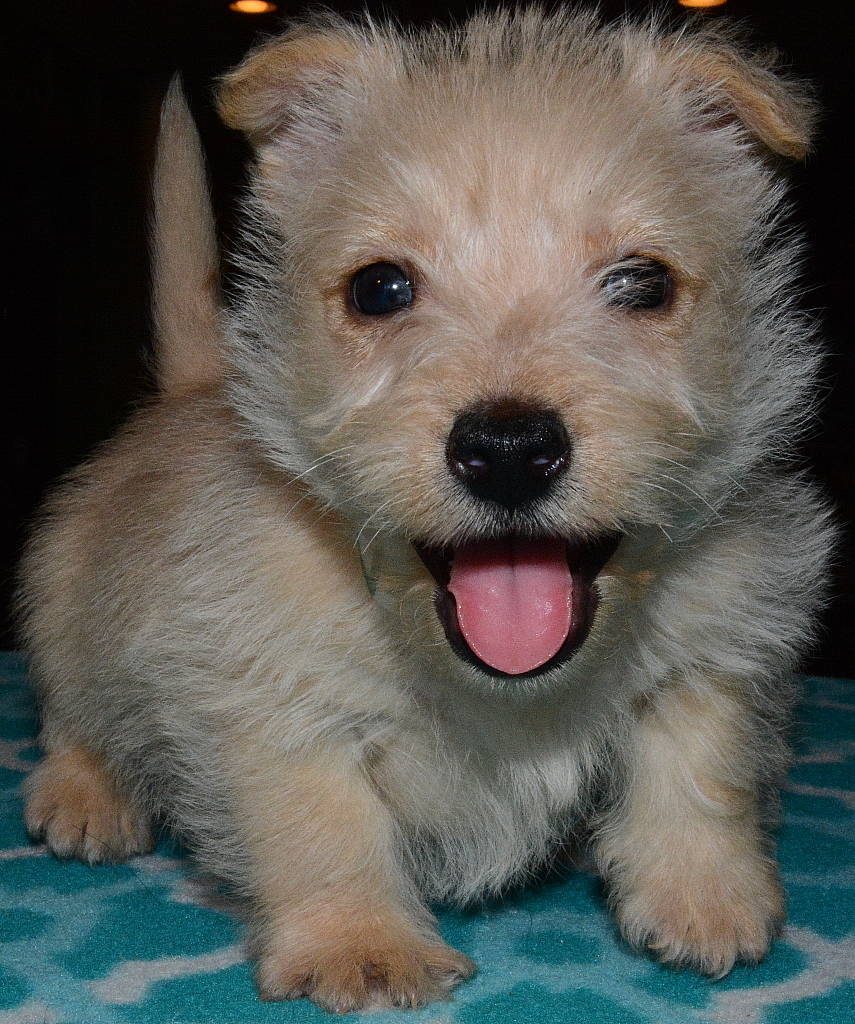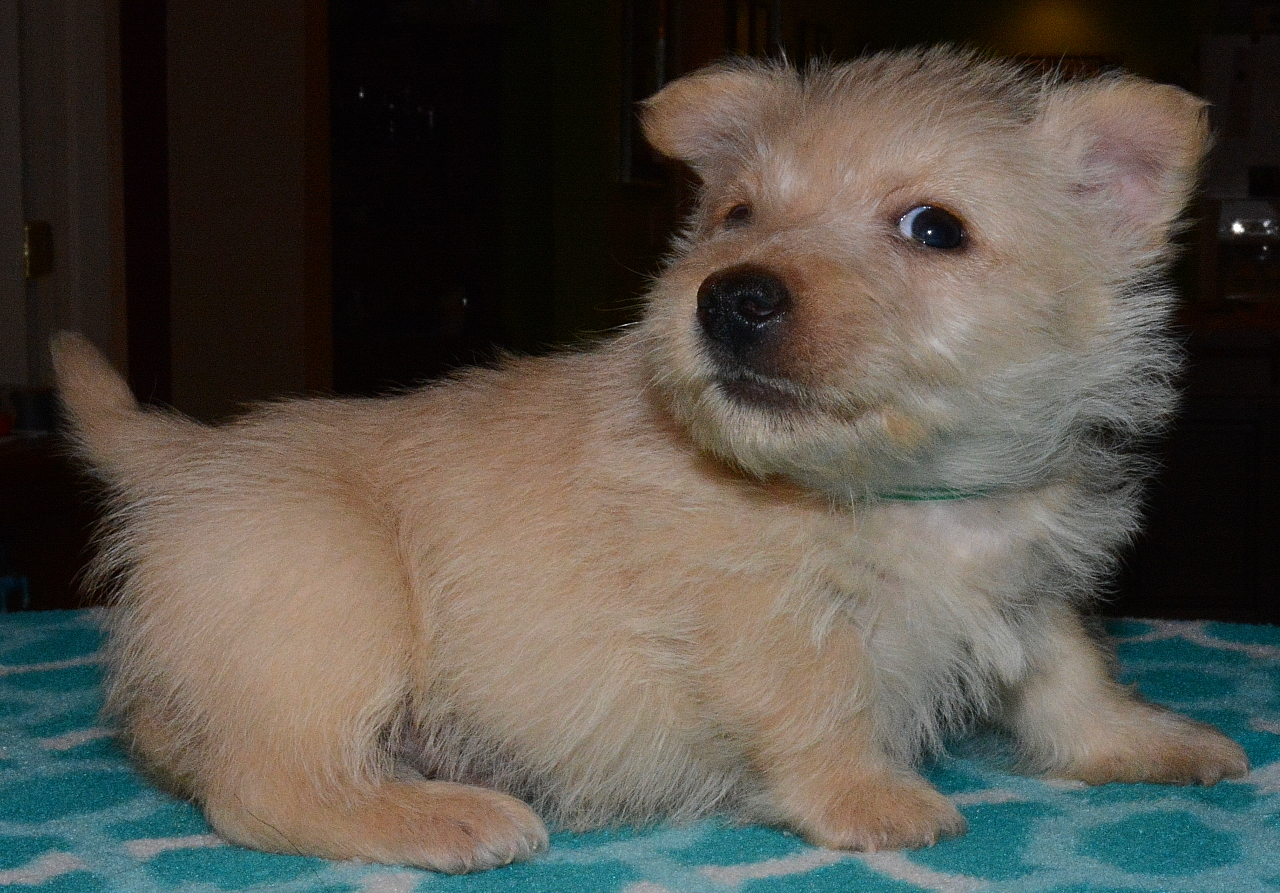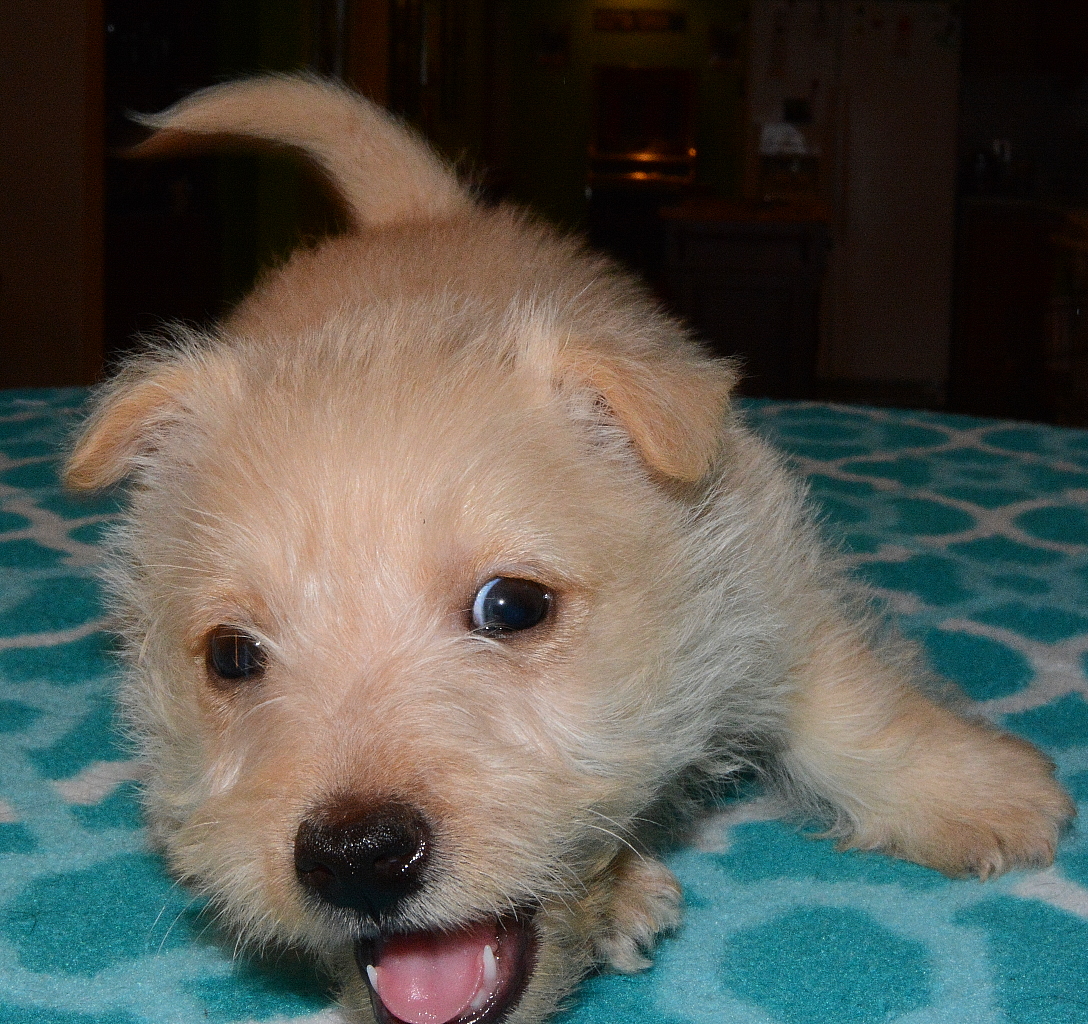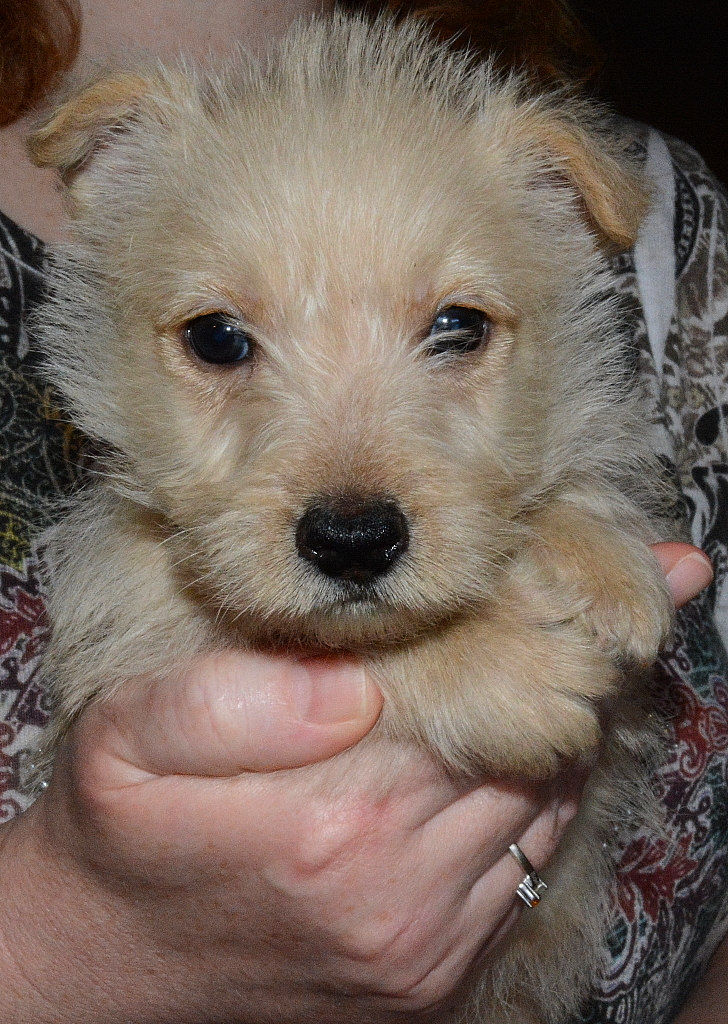 Wheaten Boy #3
He's the reddest boy, he's not as ornery as his wheaten brothers.
He's more of an explorer.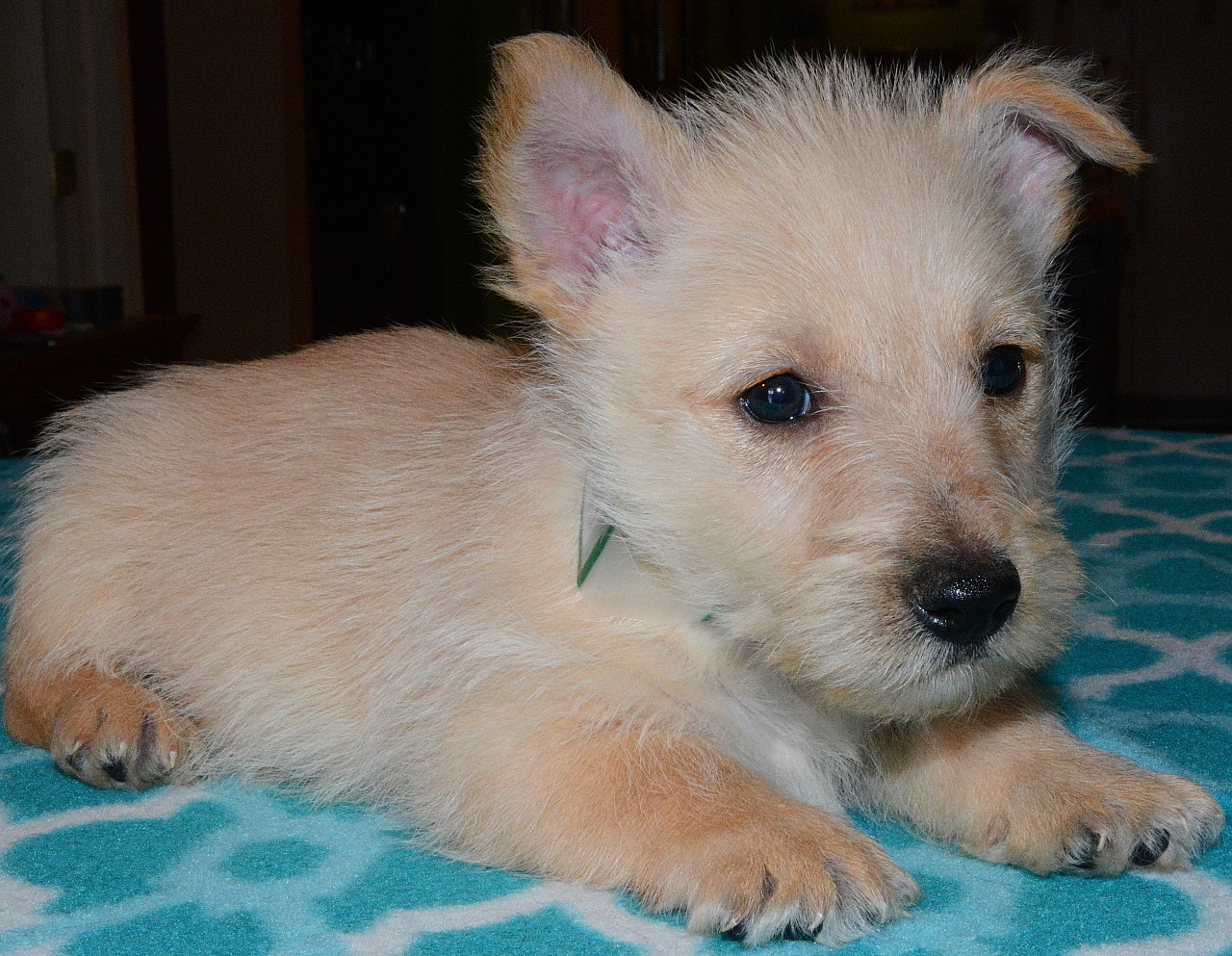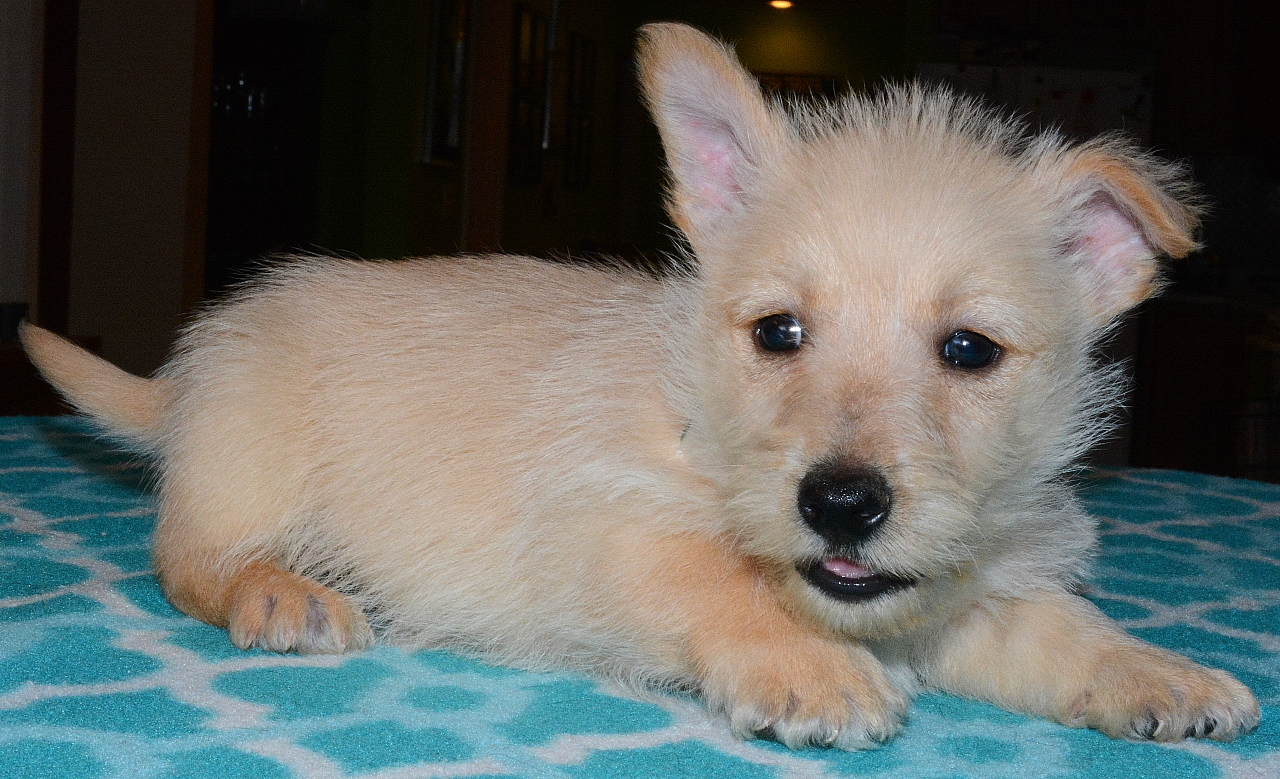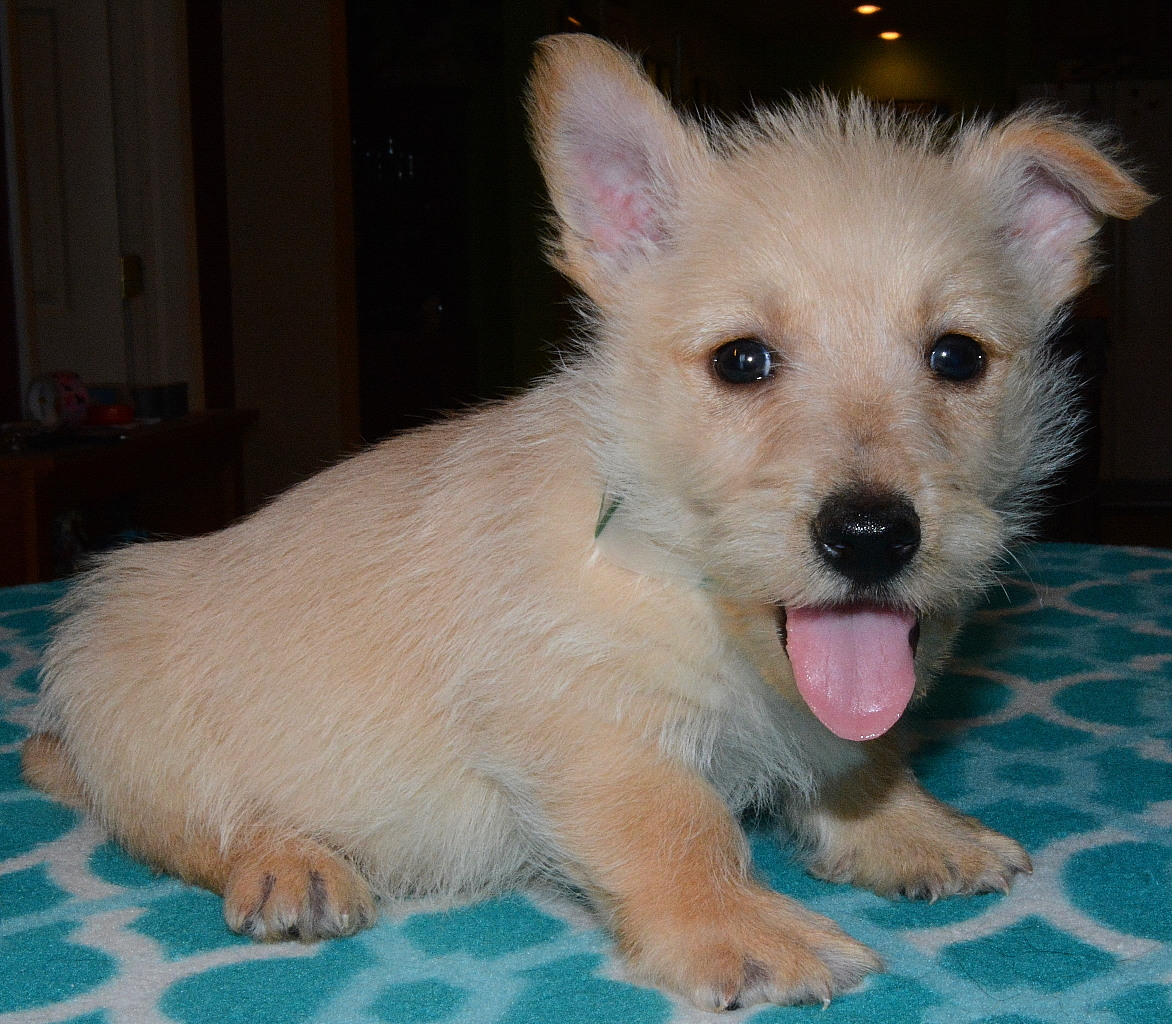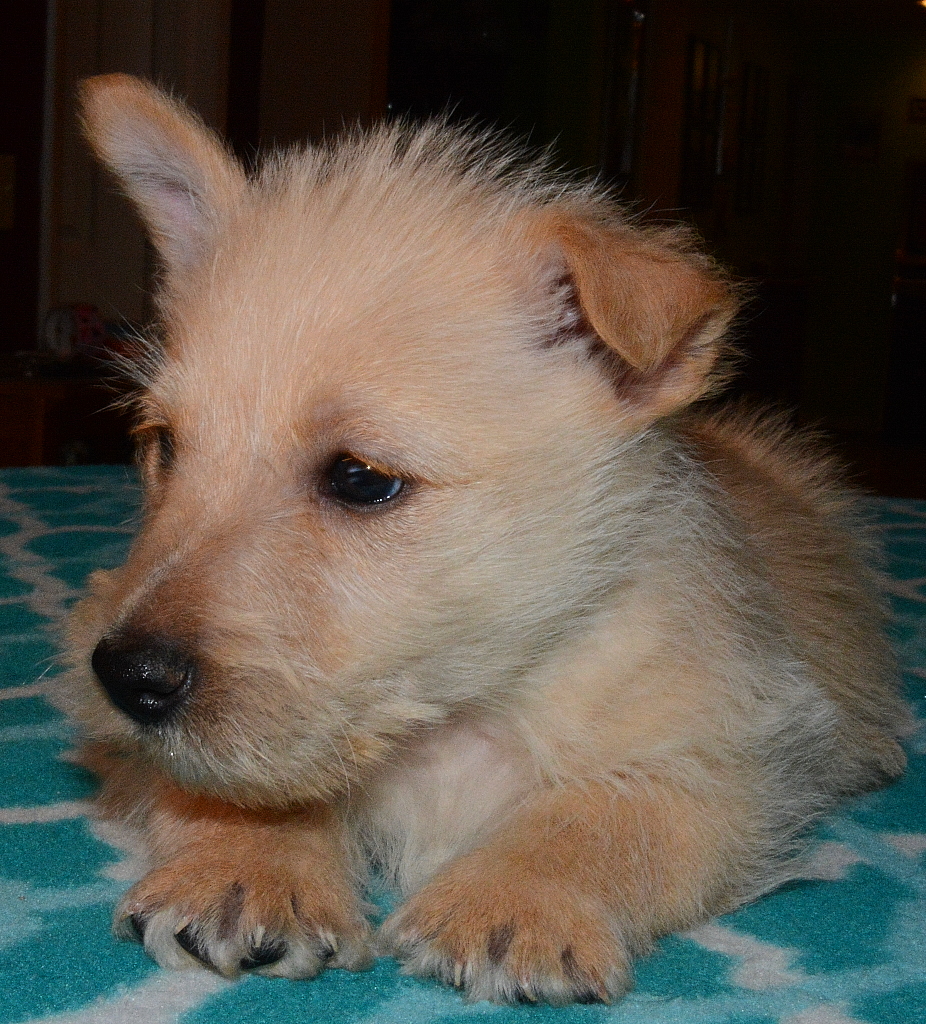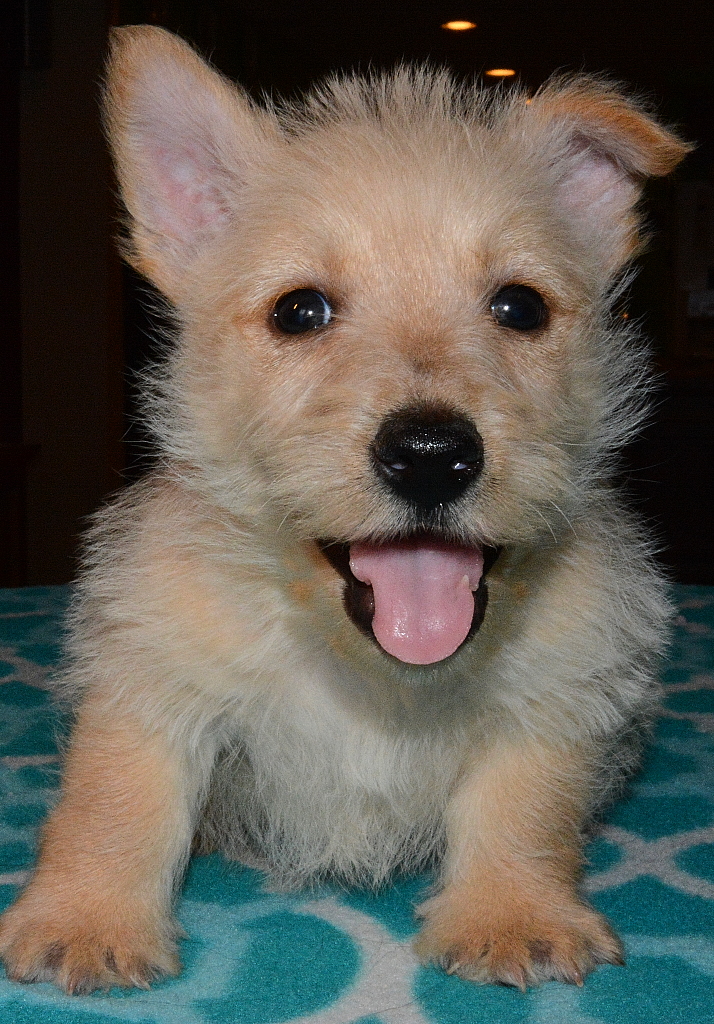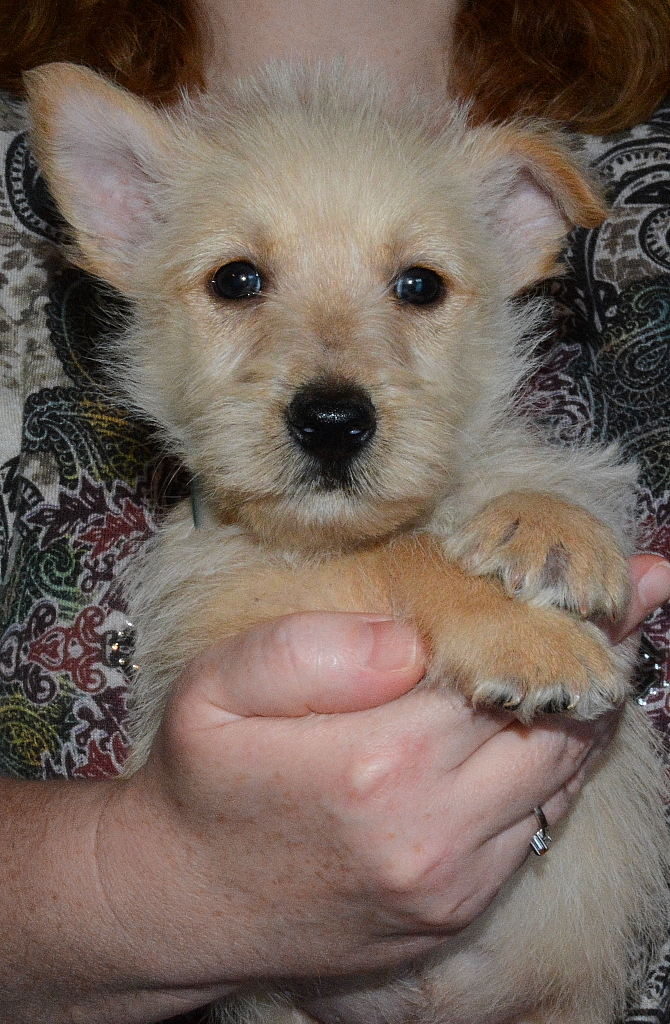 The Black Boys
Black Boy #1
A bit reserved and more of a snuggler than a wild child.
The highlights you see are not brindle, it's the reflection of the light. He's black.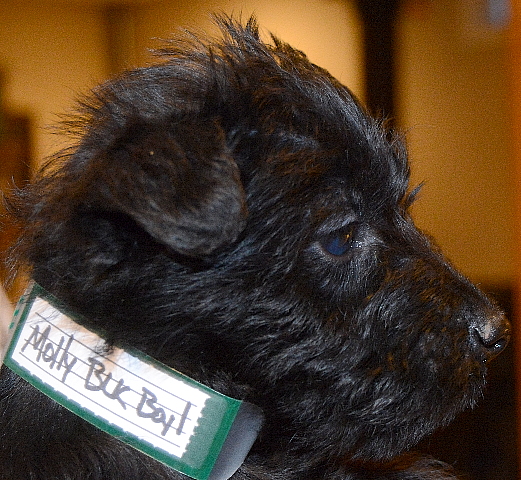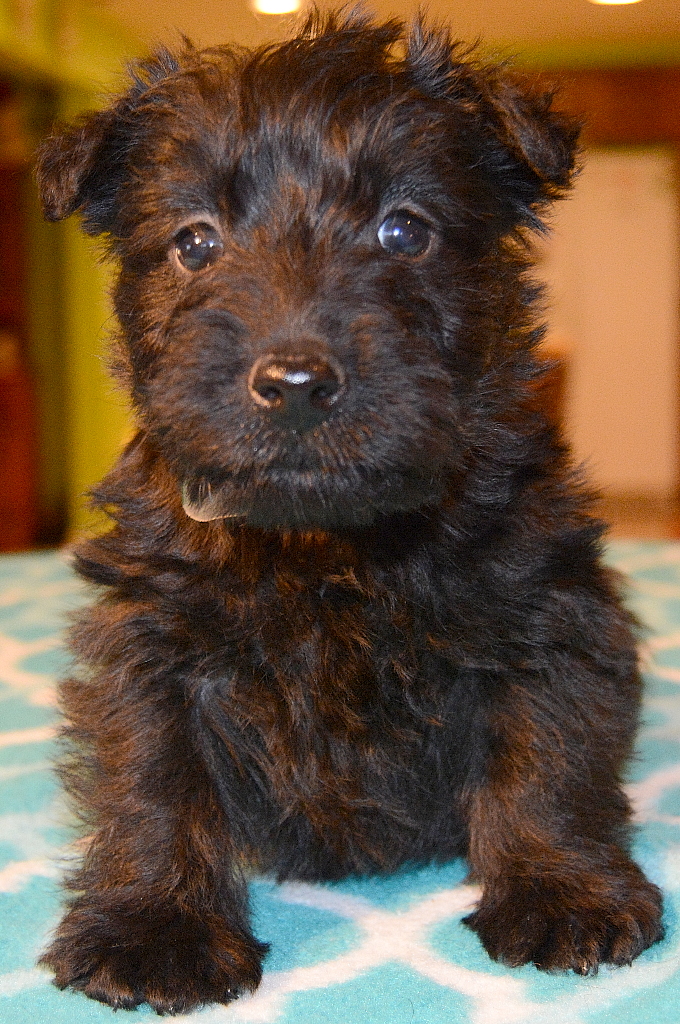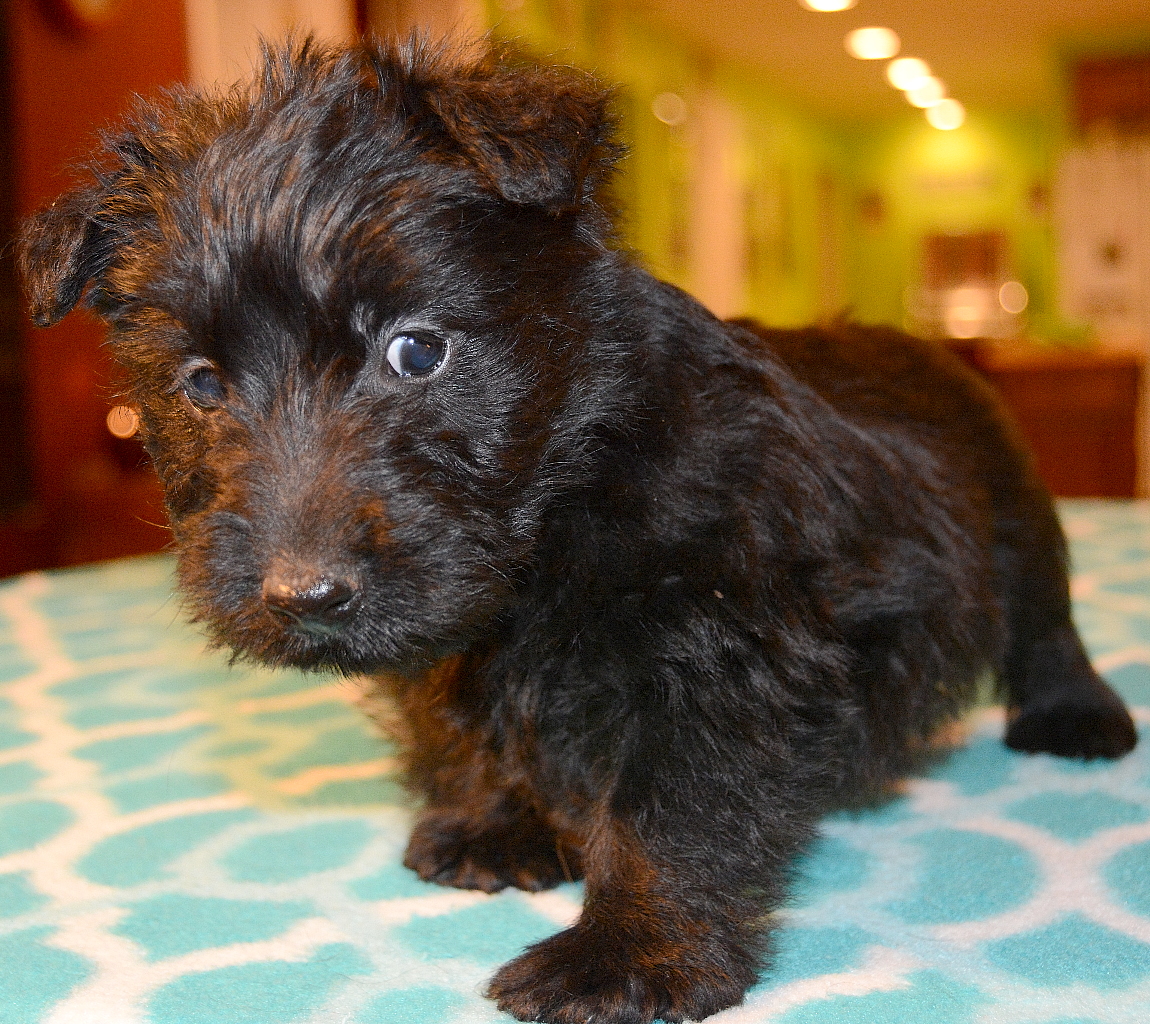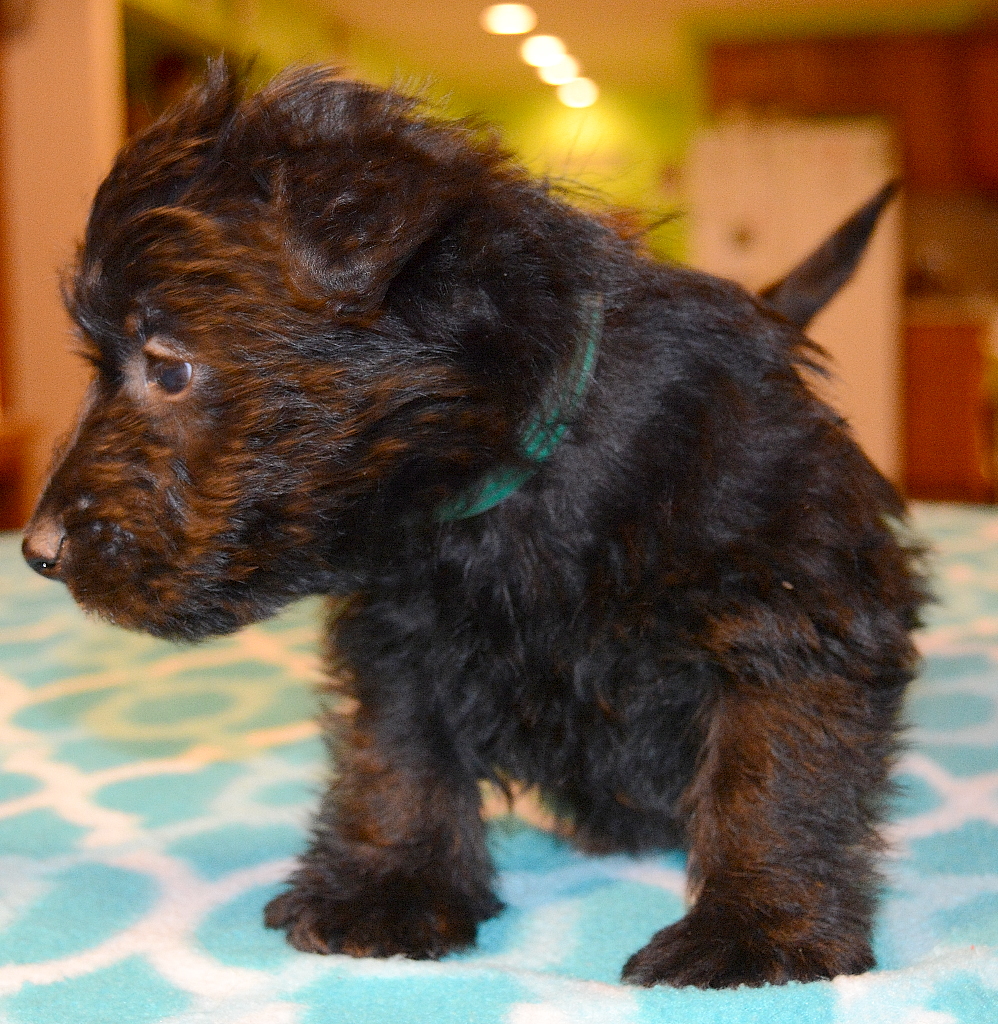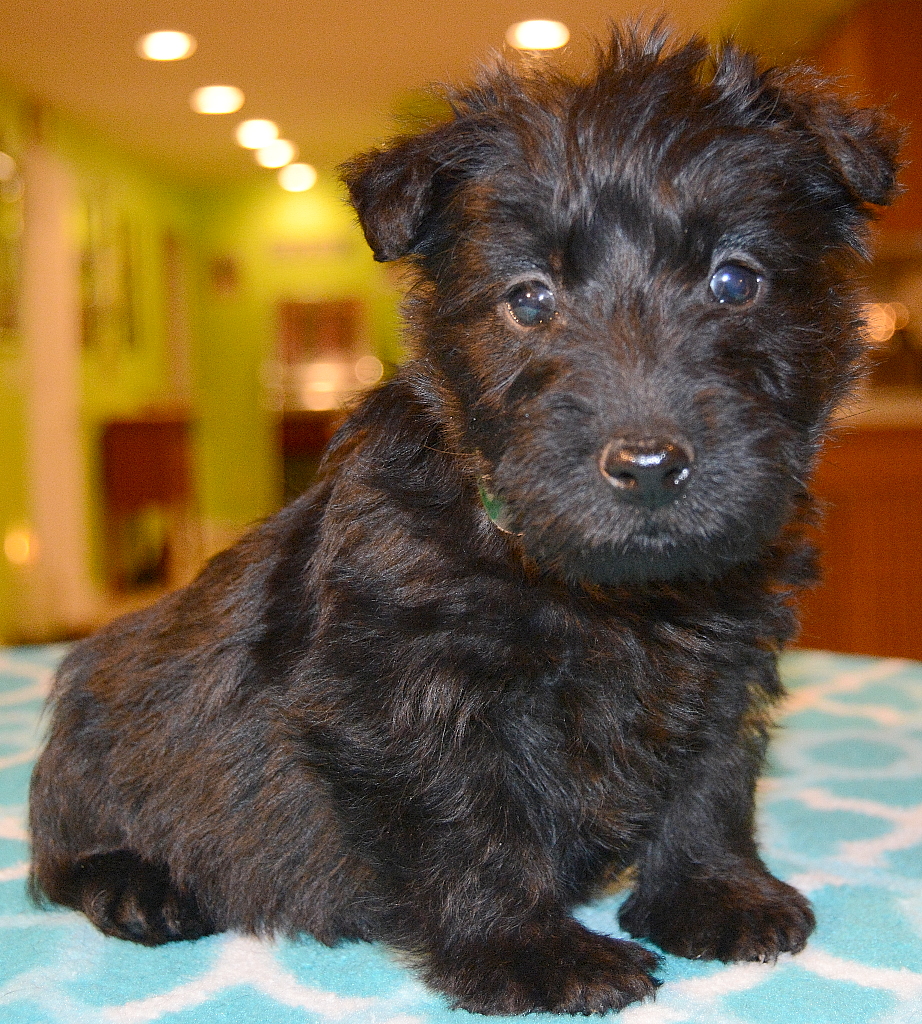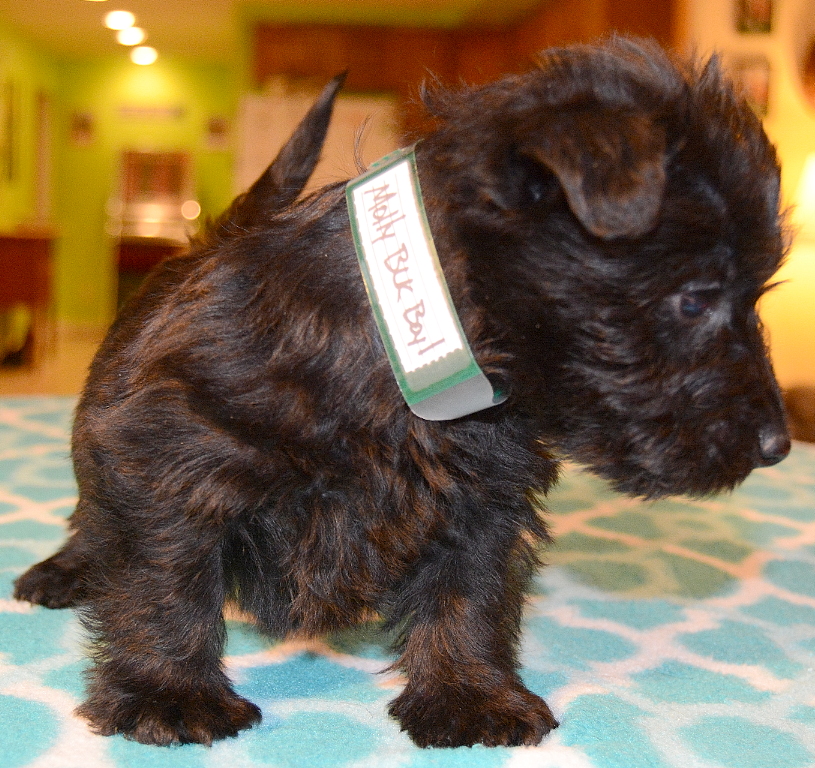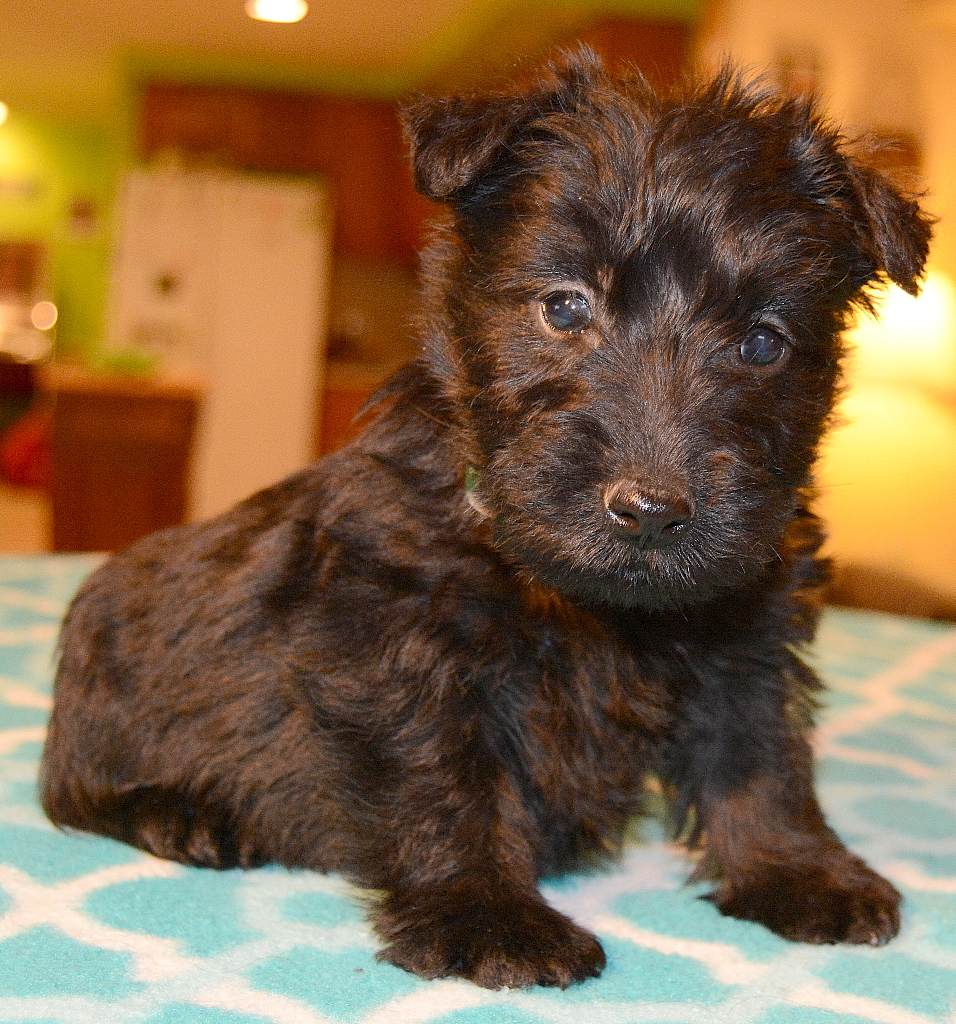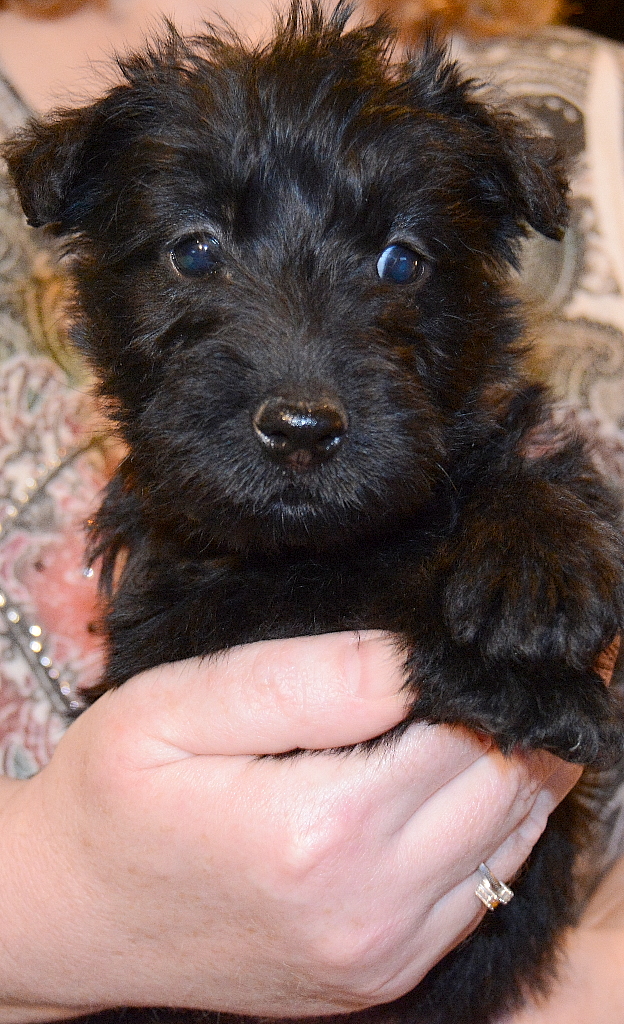 Black Boy #2
Very similar in personality to his brother above.
He is black with a small tuft of maybe 6 white hairs on his chest, this will probably disappear when he grows up.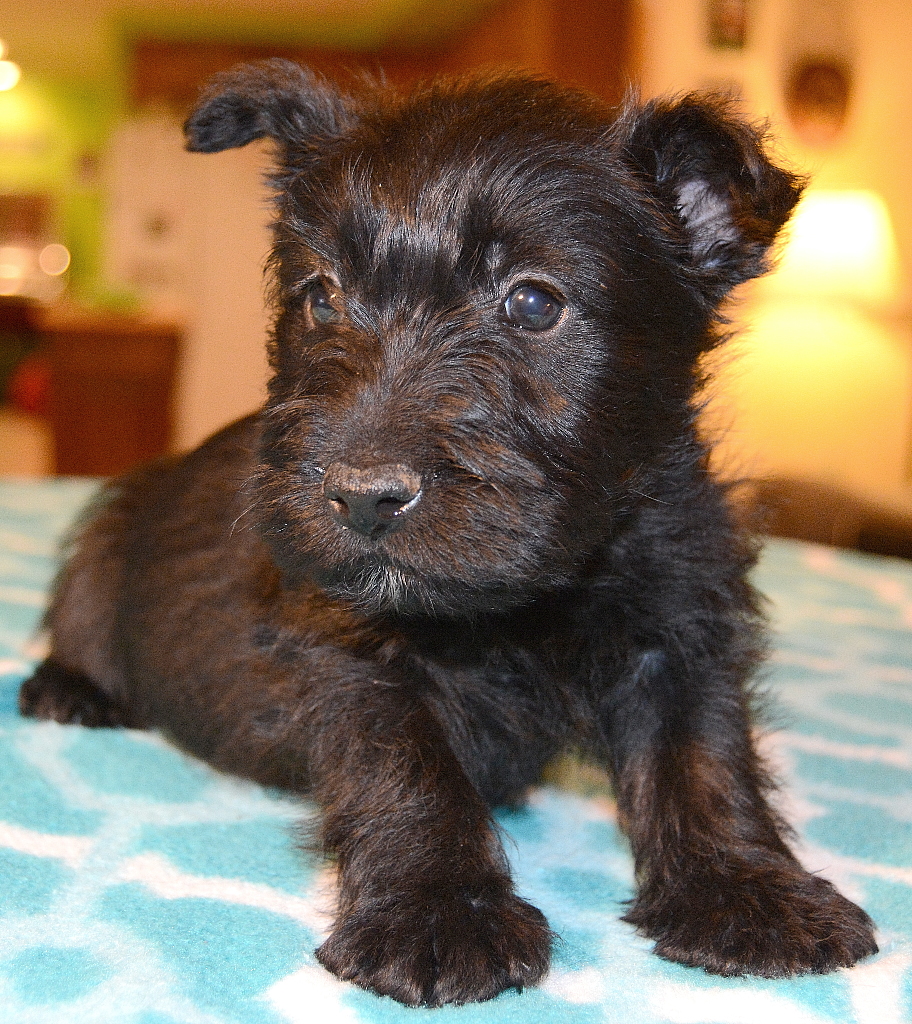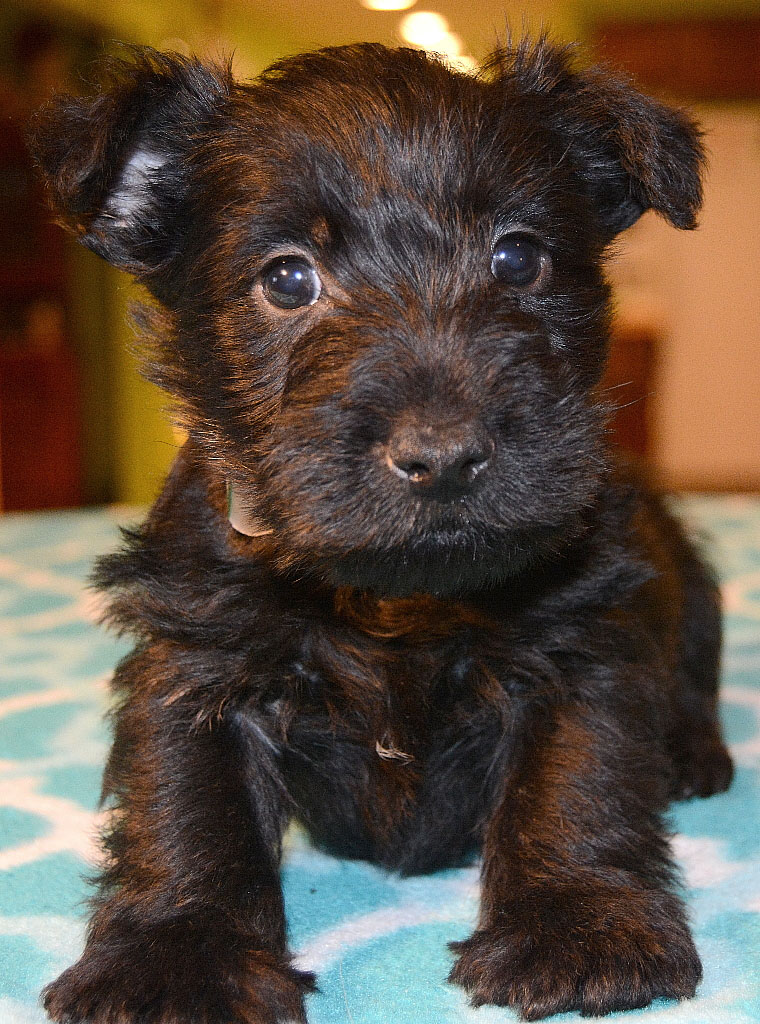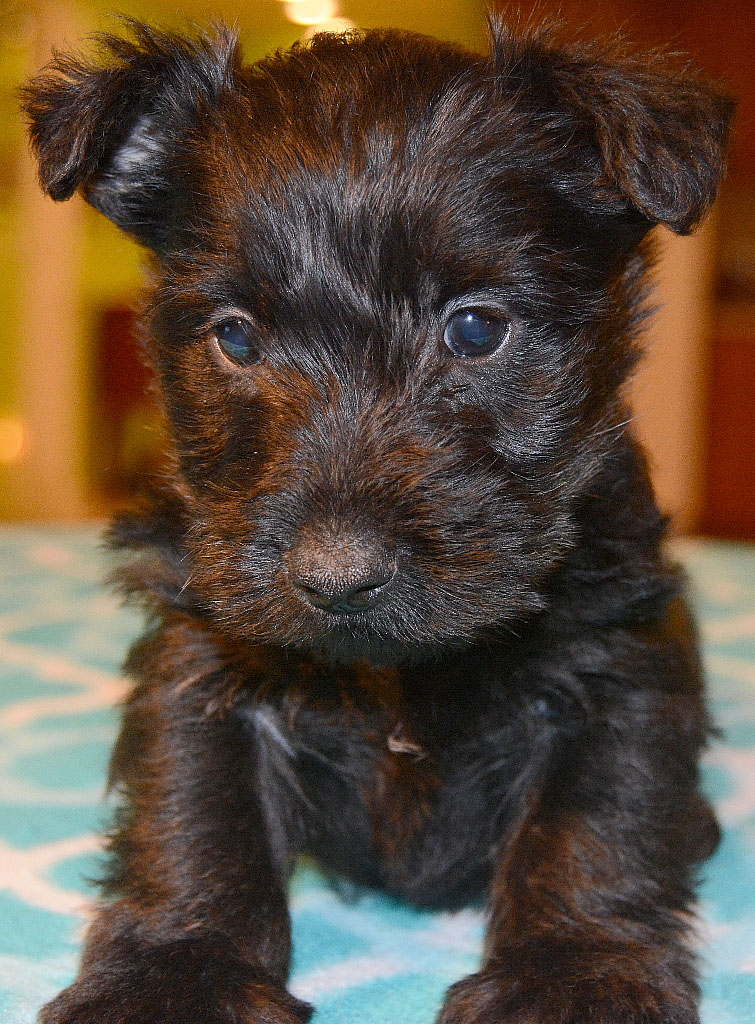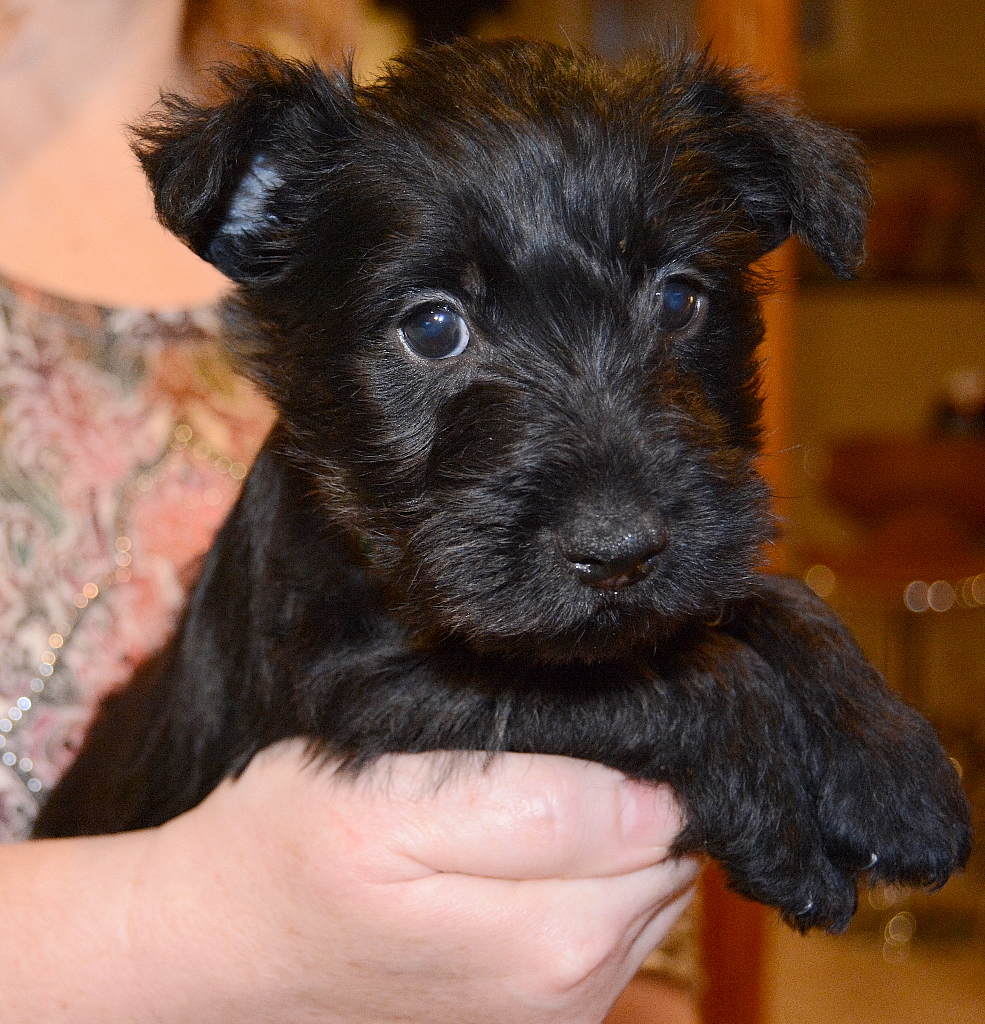 Please check us out on Facebook for some BONUS pictures of these puppies!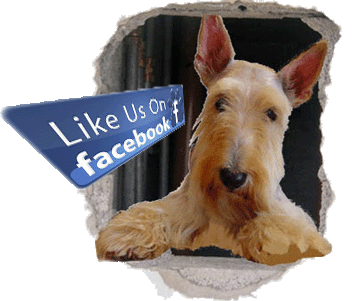 Please check back in about 3 weeks for a final update.