Annie and Ringo's December 15th 2021 litter
Newest pictures are at the top of the page, the further down you look, the younger the pups.
--------------------------------------------------------------
02-07-2022
WARNING BIG UPDATE, PLEASE LET ALL PICTURES LOAD.
These pups have had their 1st vet check and inoculations.
They are now 100% weaned.
Here are the new pictures.
Everyone has a new ID collar, this will remain with them until they go home.
The boys are in blue, the girls are wearing yellow.
The Boys
The Wheaten boys
Boy #1
He's an observant guy. He's careful and always looks before he leaps.
Not too alpha and not too shy, he's just right.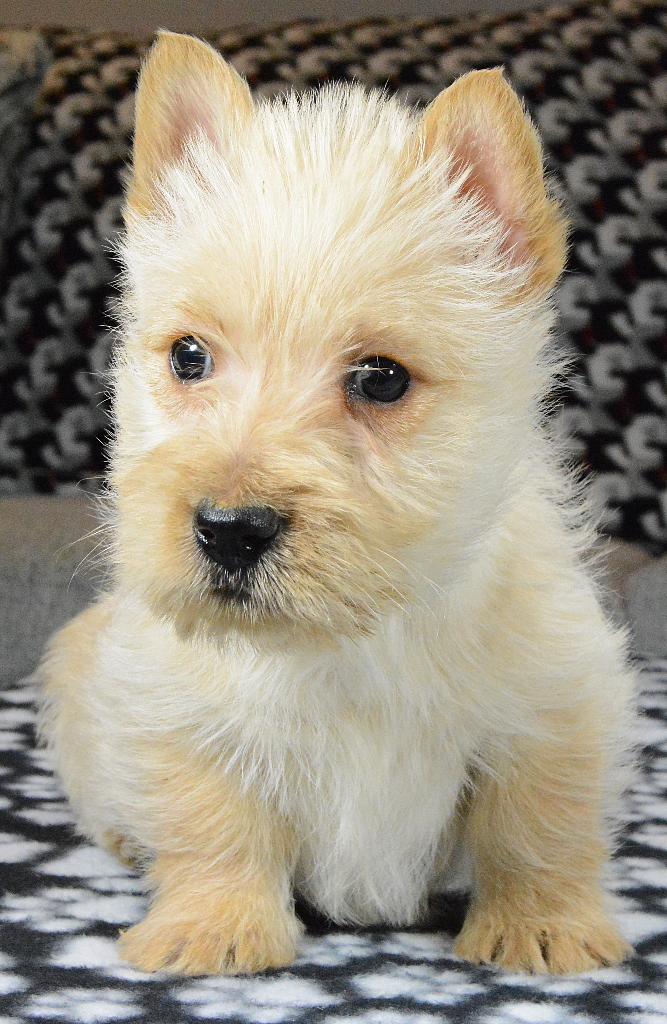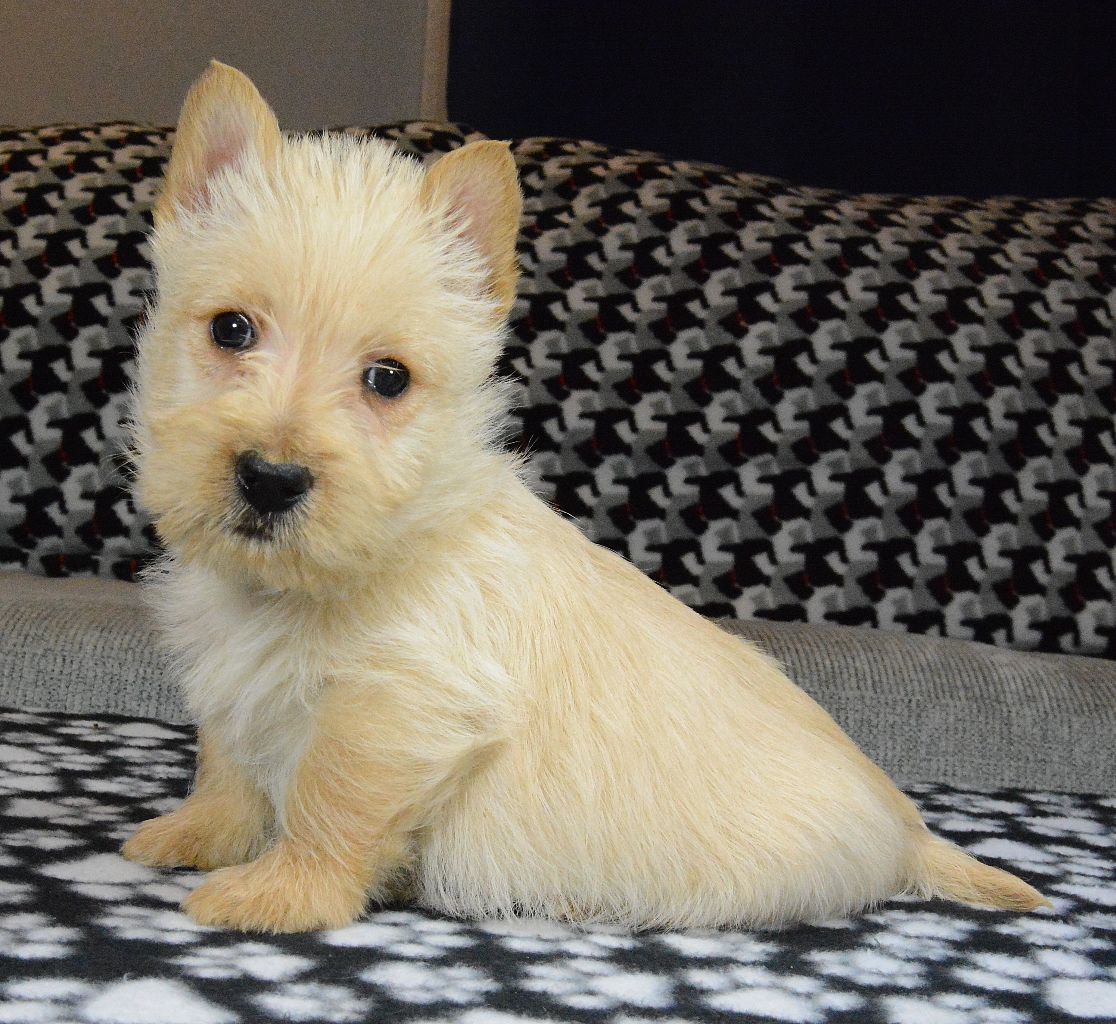 Boy #2
He's more of a leap first, ask questions later kinda guy.
Not too much fear here, maybe the most outgoing of all the pups in this litter.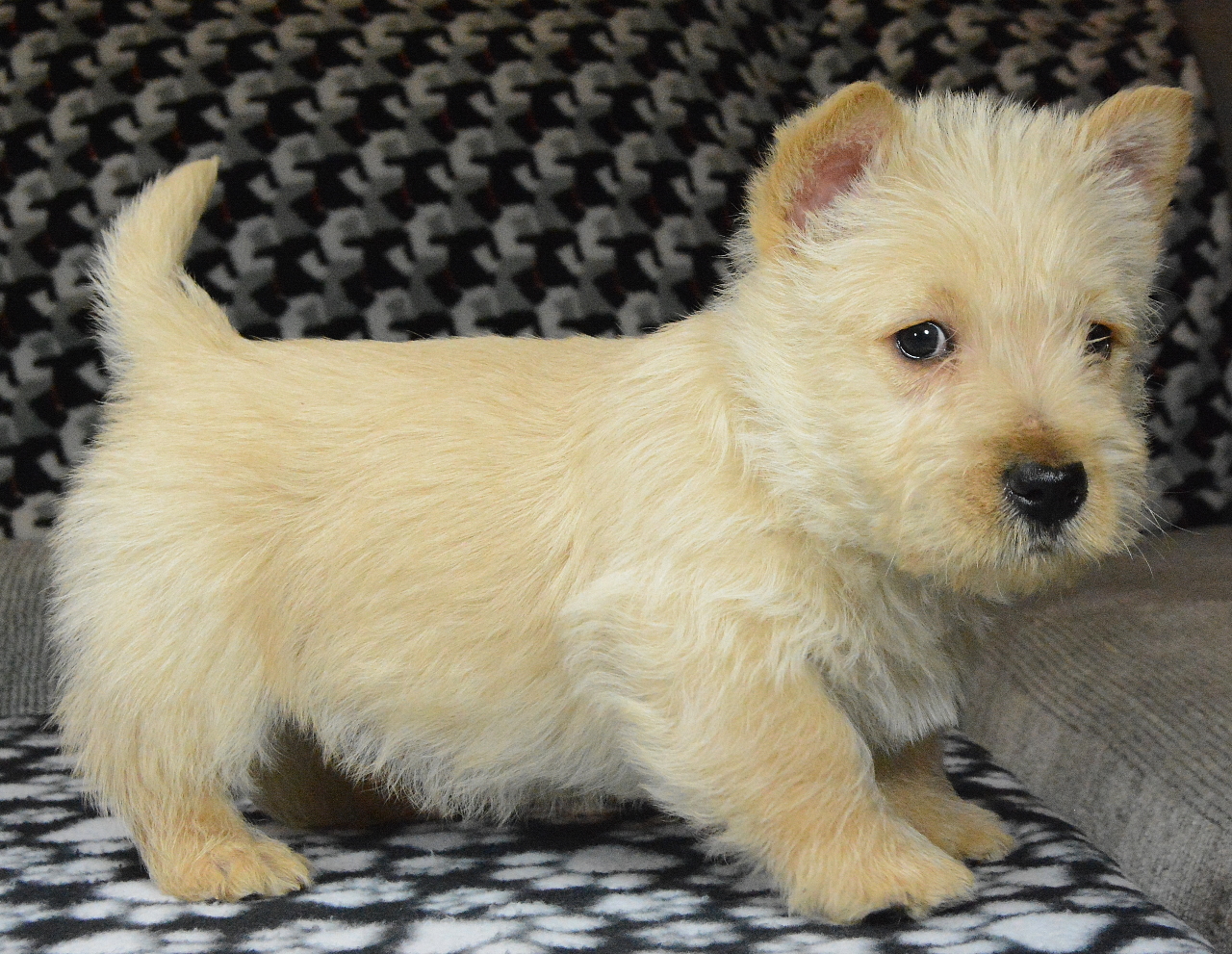 The Black or Black-Brindle boys
Boy #1
He's the only boy I will call black but if you inspect him closely enough you might find a few brindle hairs, especially on his feet.
He also has a little tuft of wheaten under his neck and on his chest.
He is the smallest pup in the litter but he can hold his own.
He's playful and downright jolly as you can see from the pictures.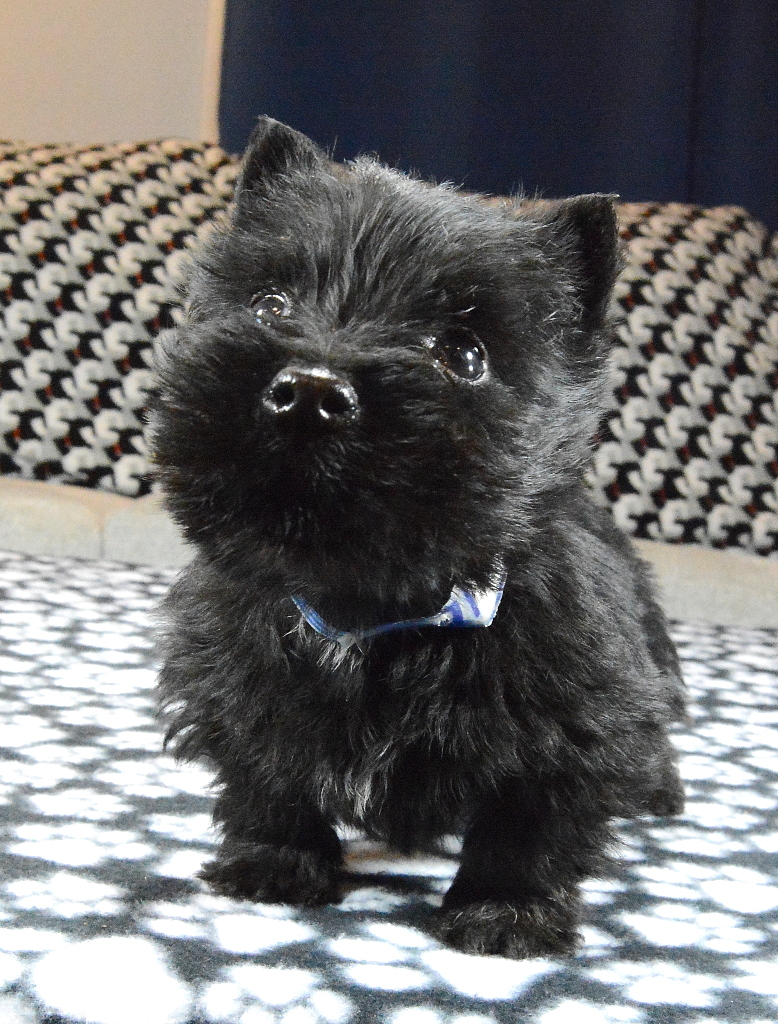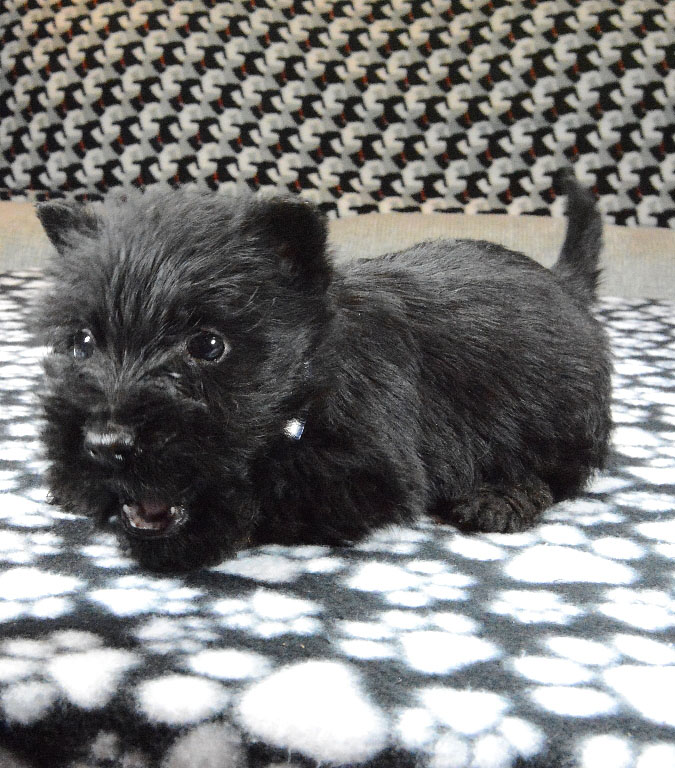 Boy #2
He is Black-Brindle. His body is black but he has brindle on his feet and sideburns and under his tail.
He has the most brindle of all the boys in this litter.
He's a little more on the cautious side but once he feels safe he is happy to play and explore.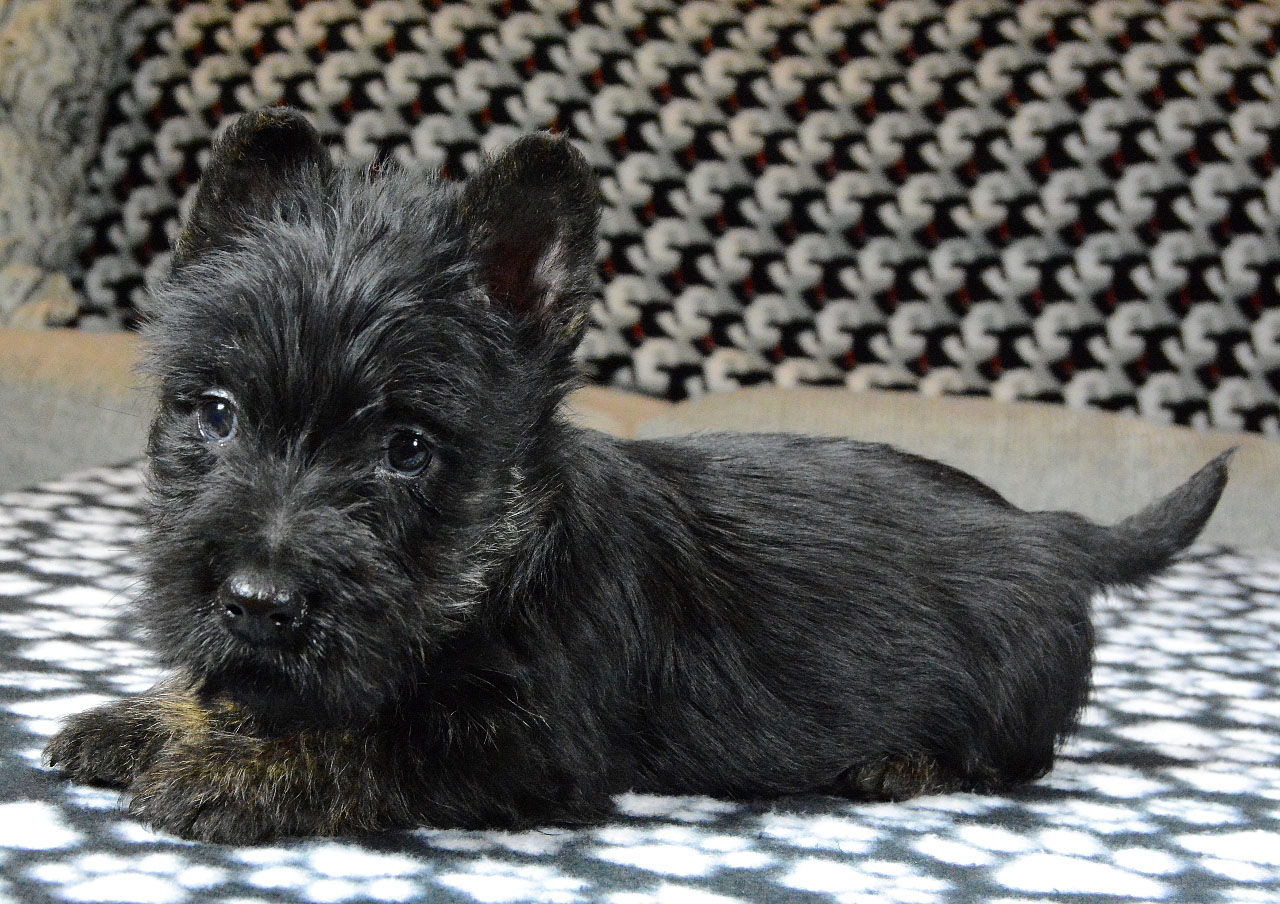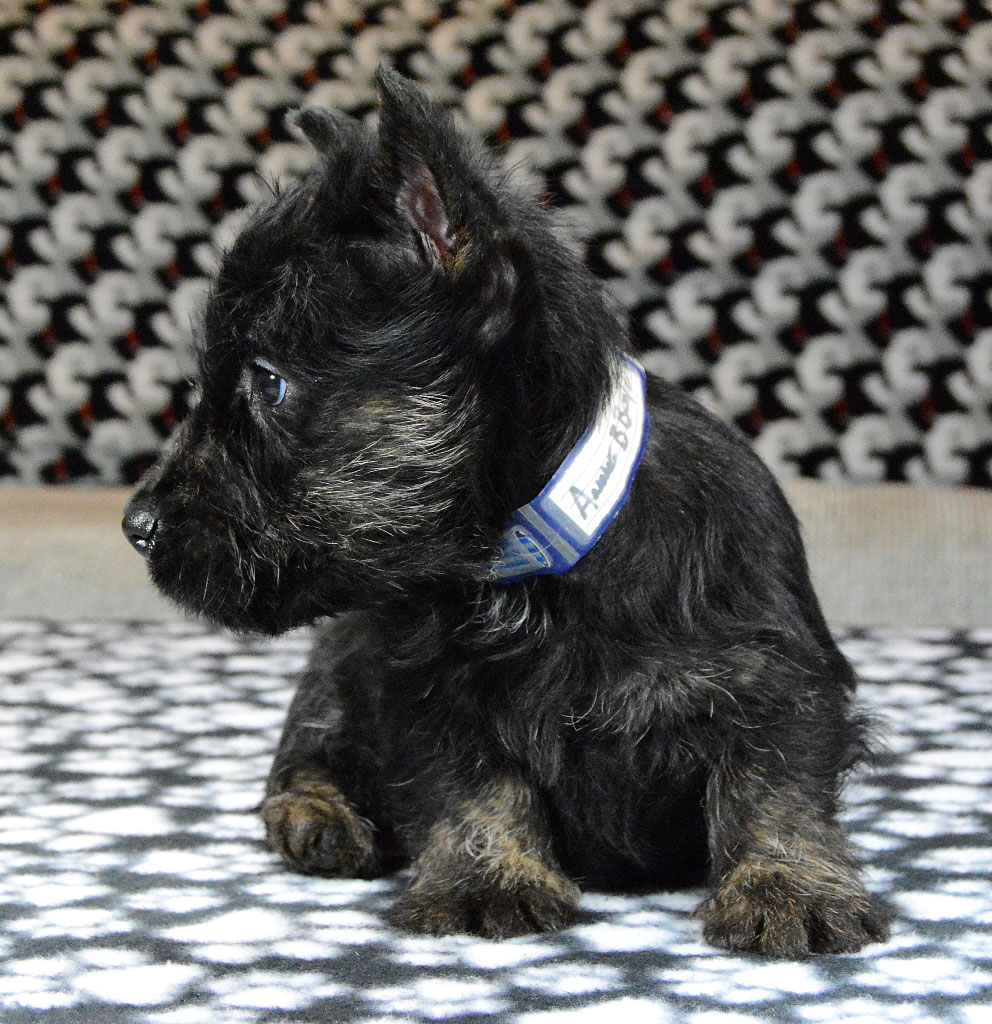 Boy #3
This guy is Black-Brindle but just barely.
He has just enough brindle on his feet and a little on his sideburns that I can't deem his as black...so black-brindle it is.
He is a lot like his brother above in personality, careful then playful, he's also a bit of an explorer.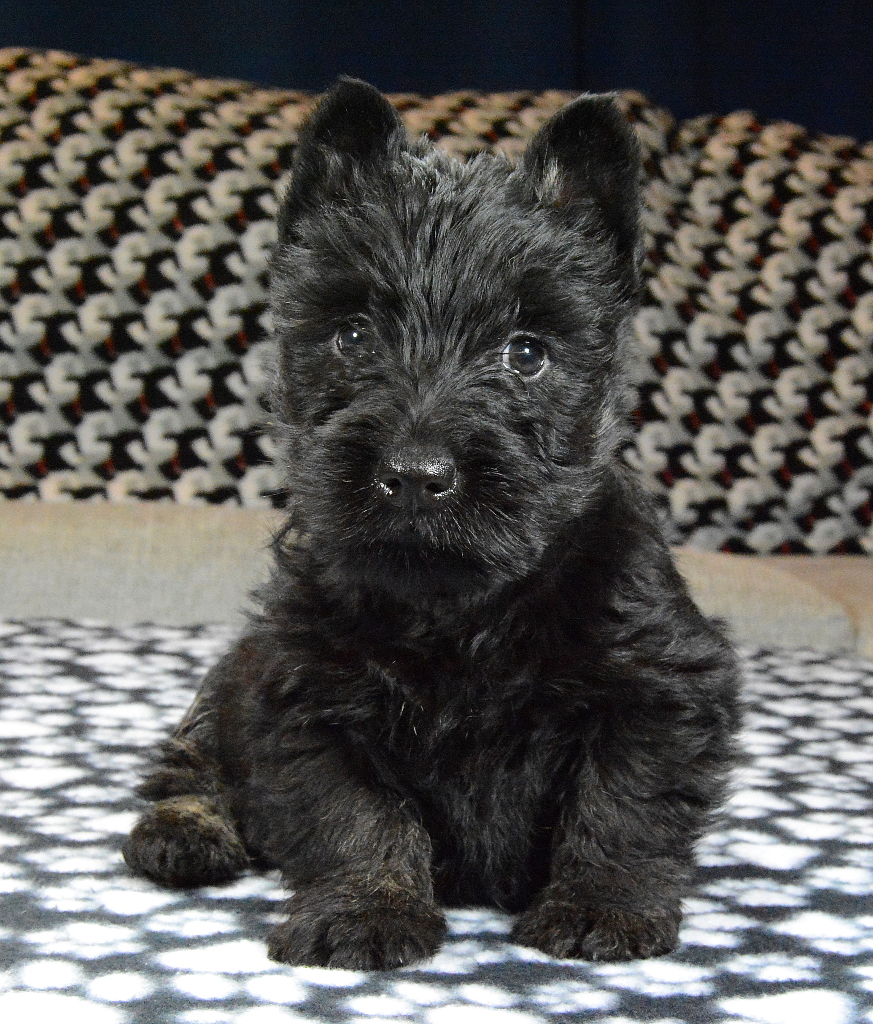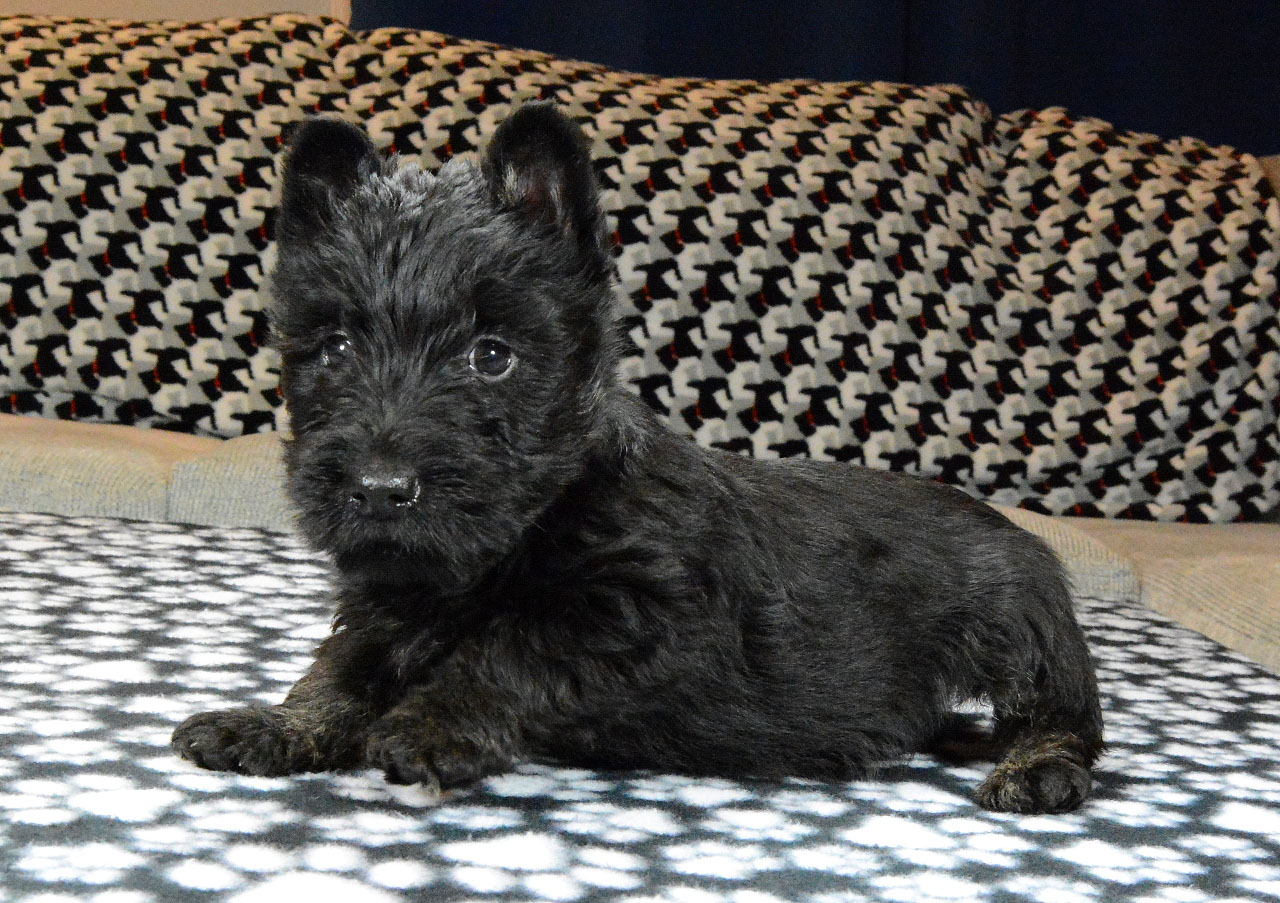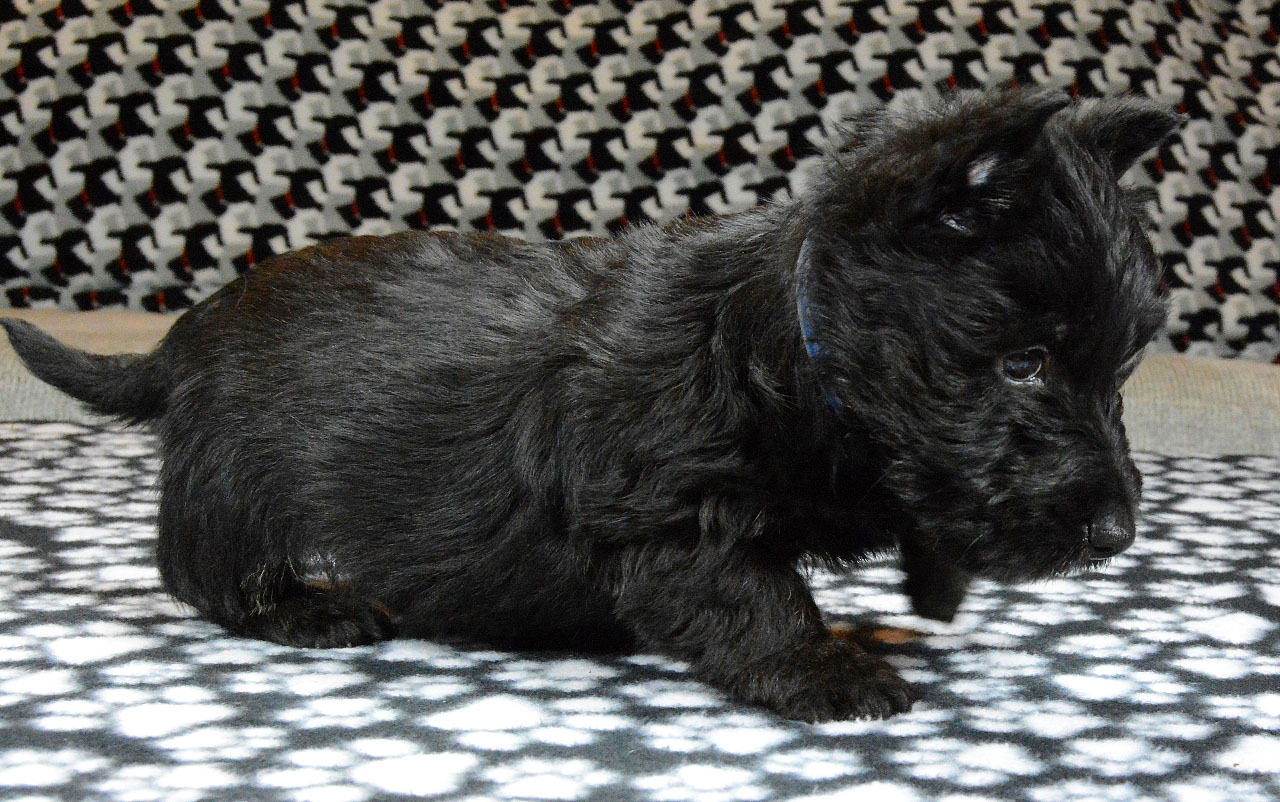 The Girls
The Wheaten Girl
She is a lighter colored wheaten but she still has her red highlights.
She is a sweetie....talk baby talk to her and that tail just goes and goes.
She likes to burrow into you if she can, a total lover.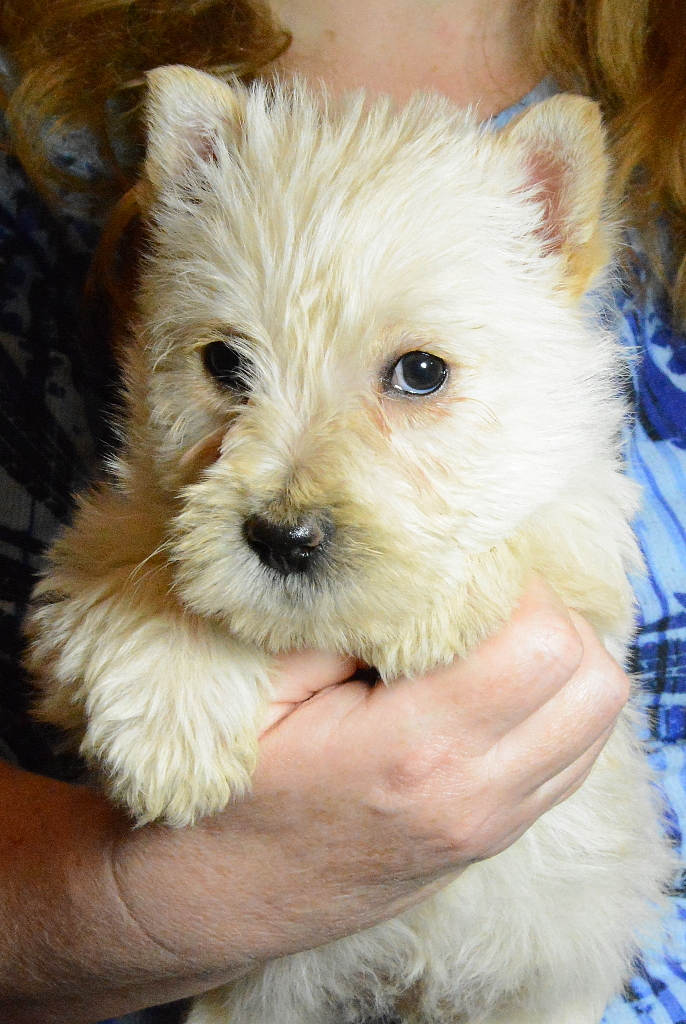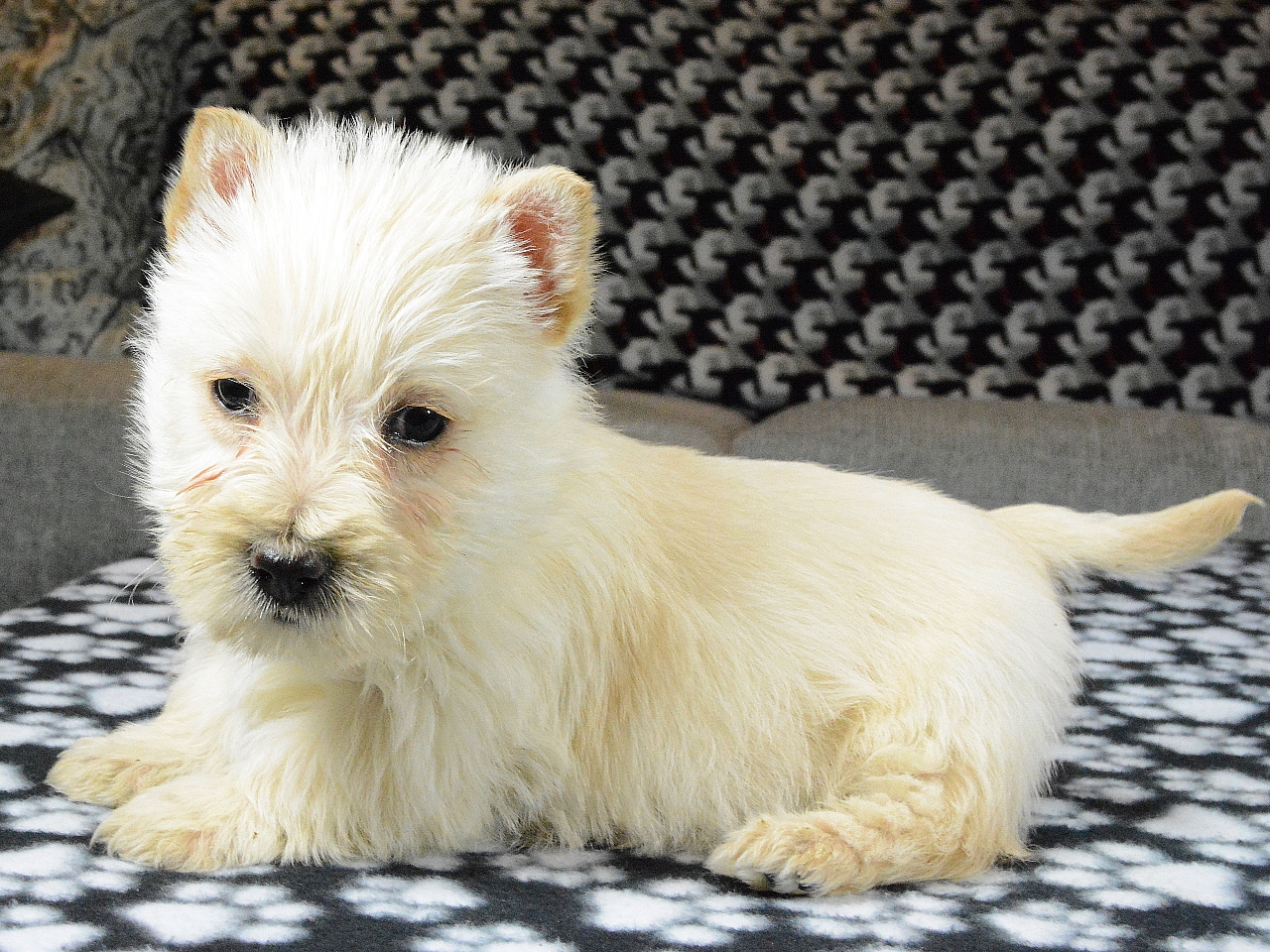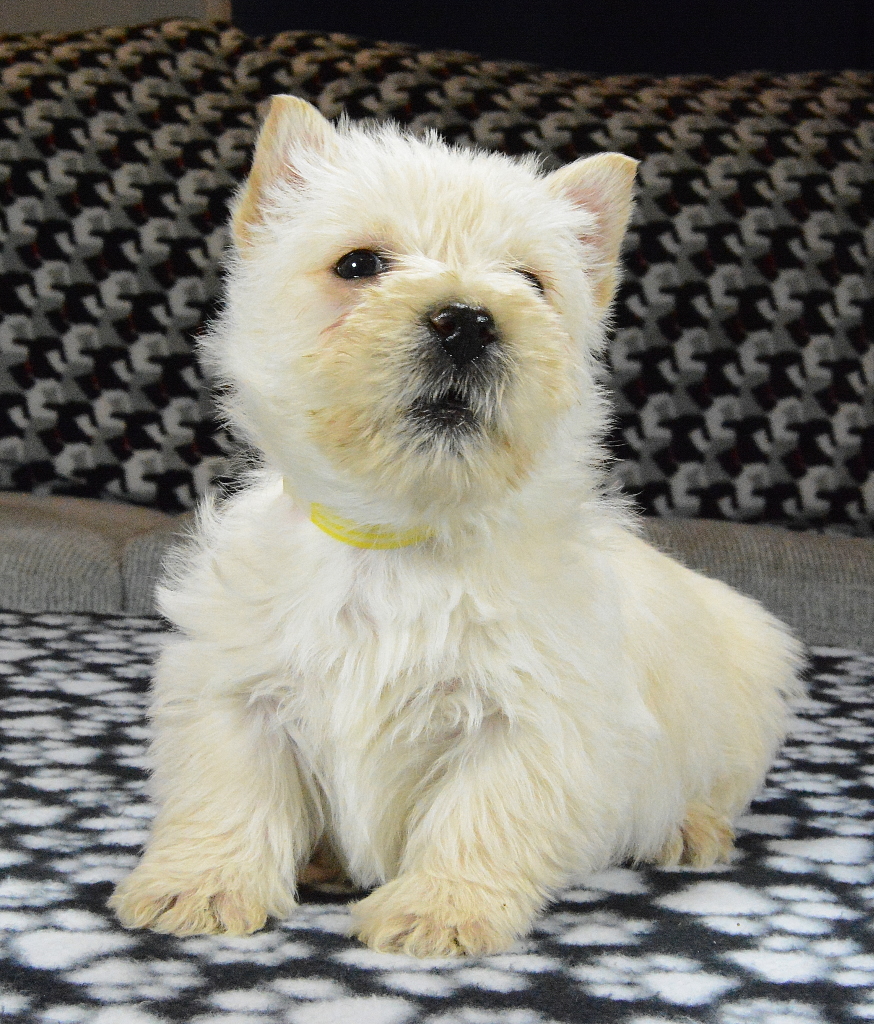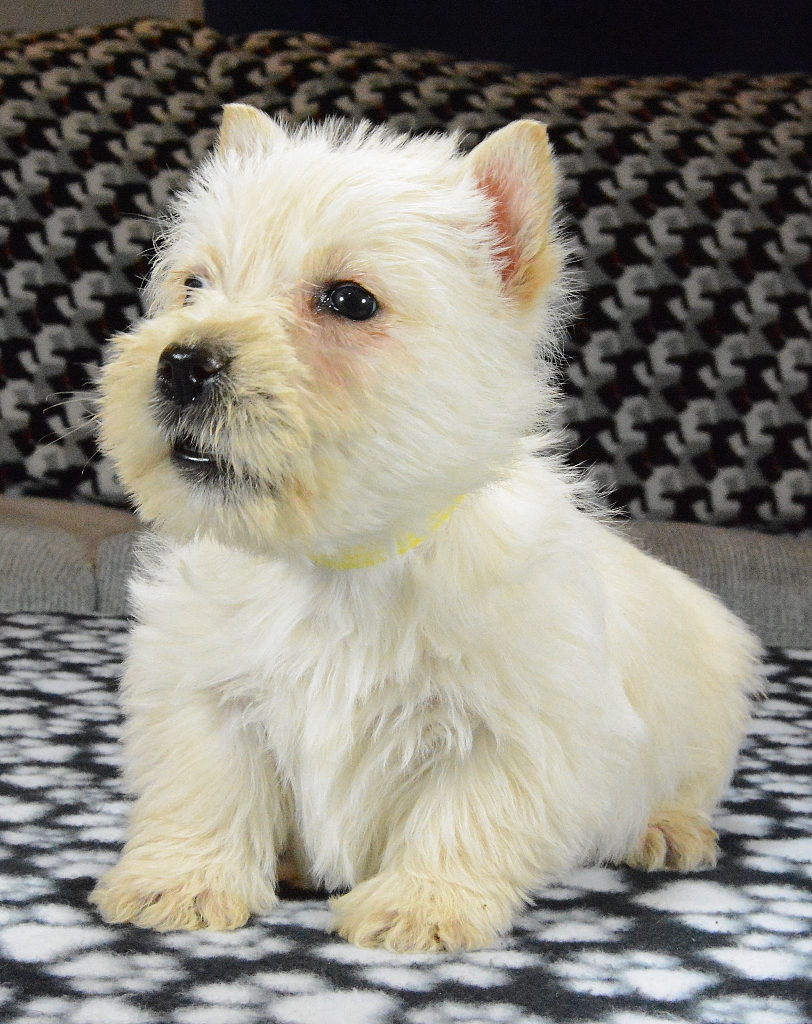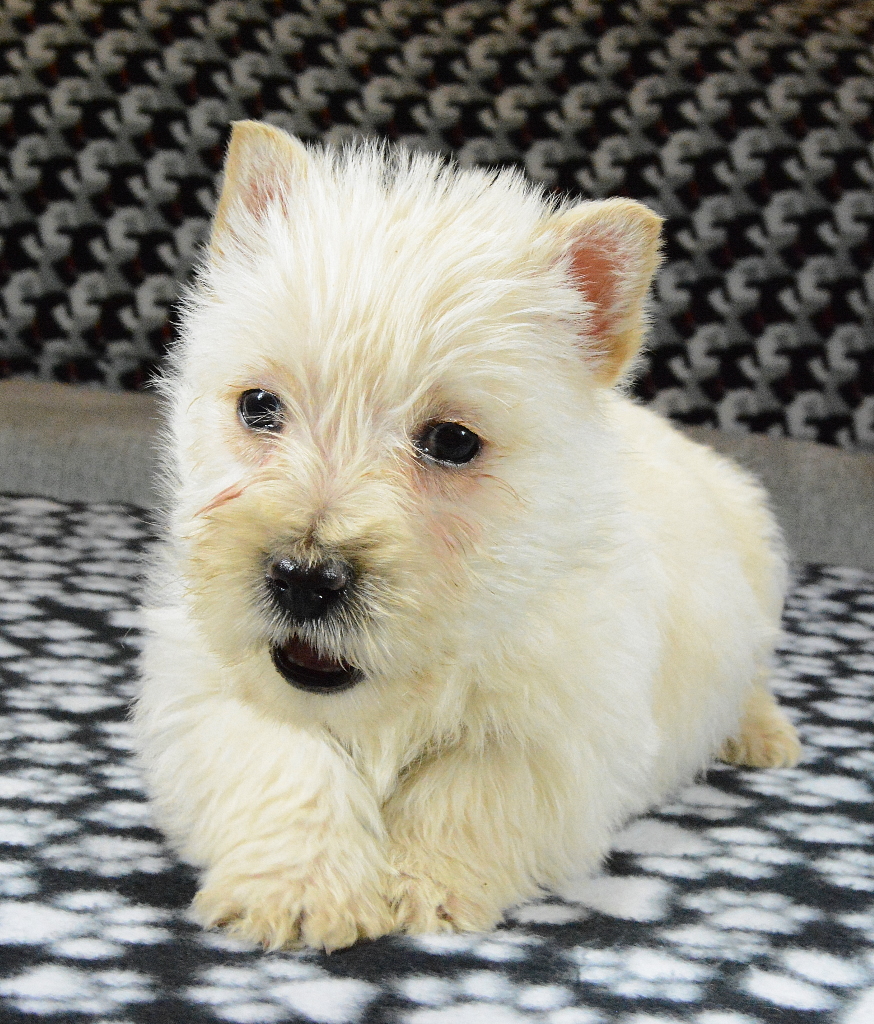 The Black-Brindle Girl
She has just enough brindle that I can't call her black and not enough to call her brindle so she is Black-Brindle.
She's a bit more adventurous than her black brothers but not too much.
She will make sure the coast is clear before leaping to action.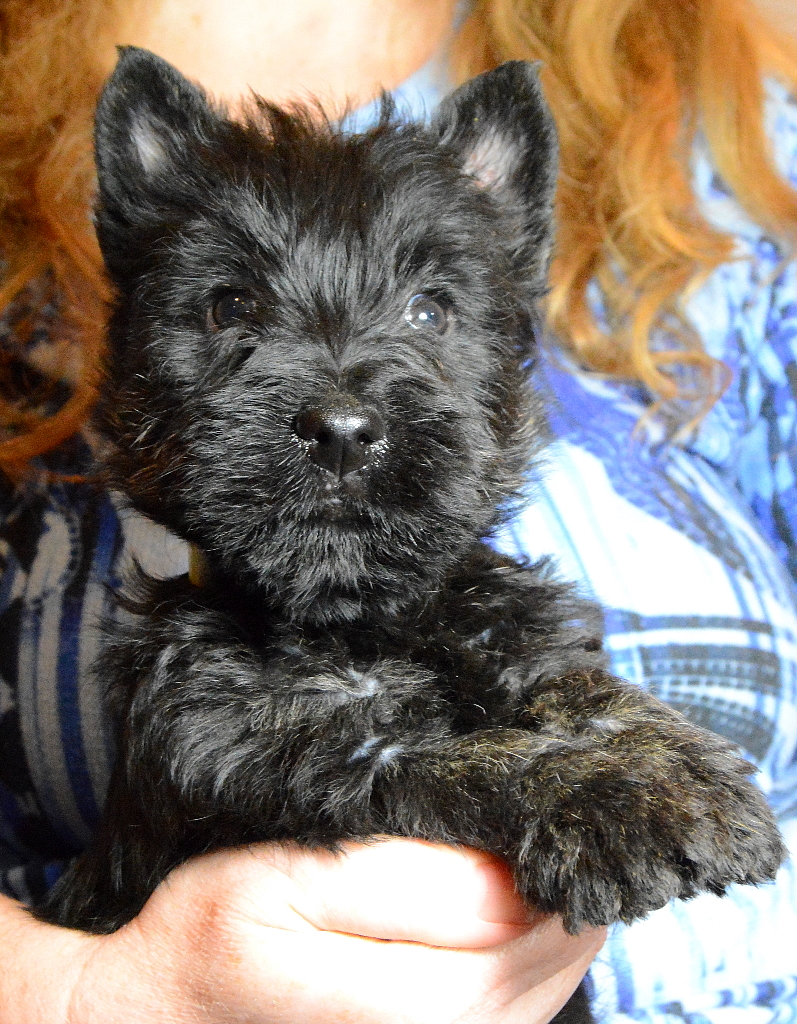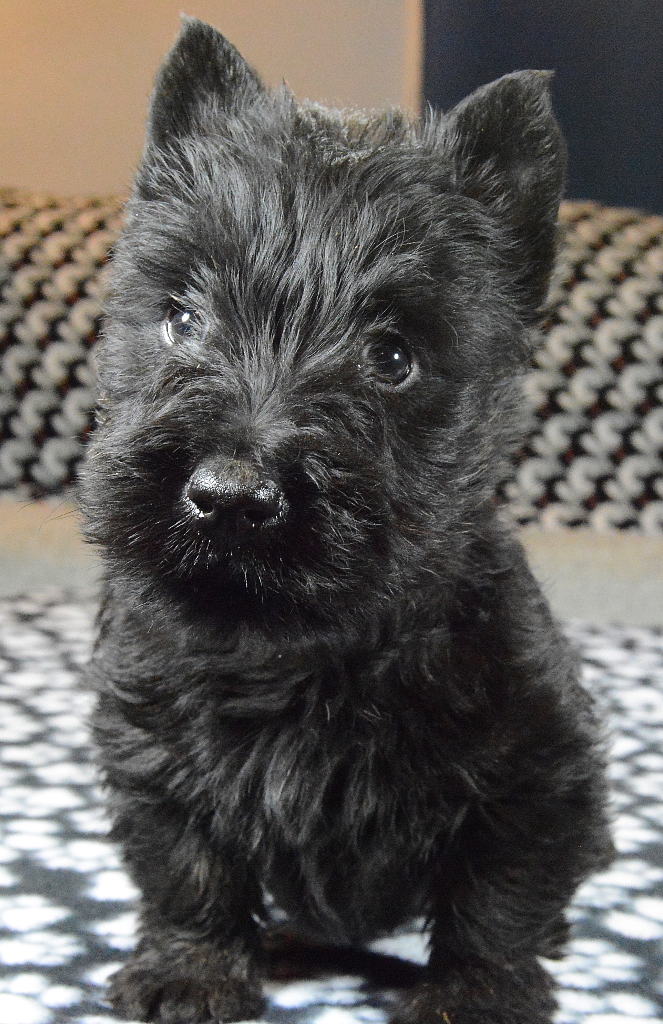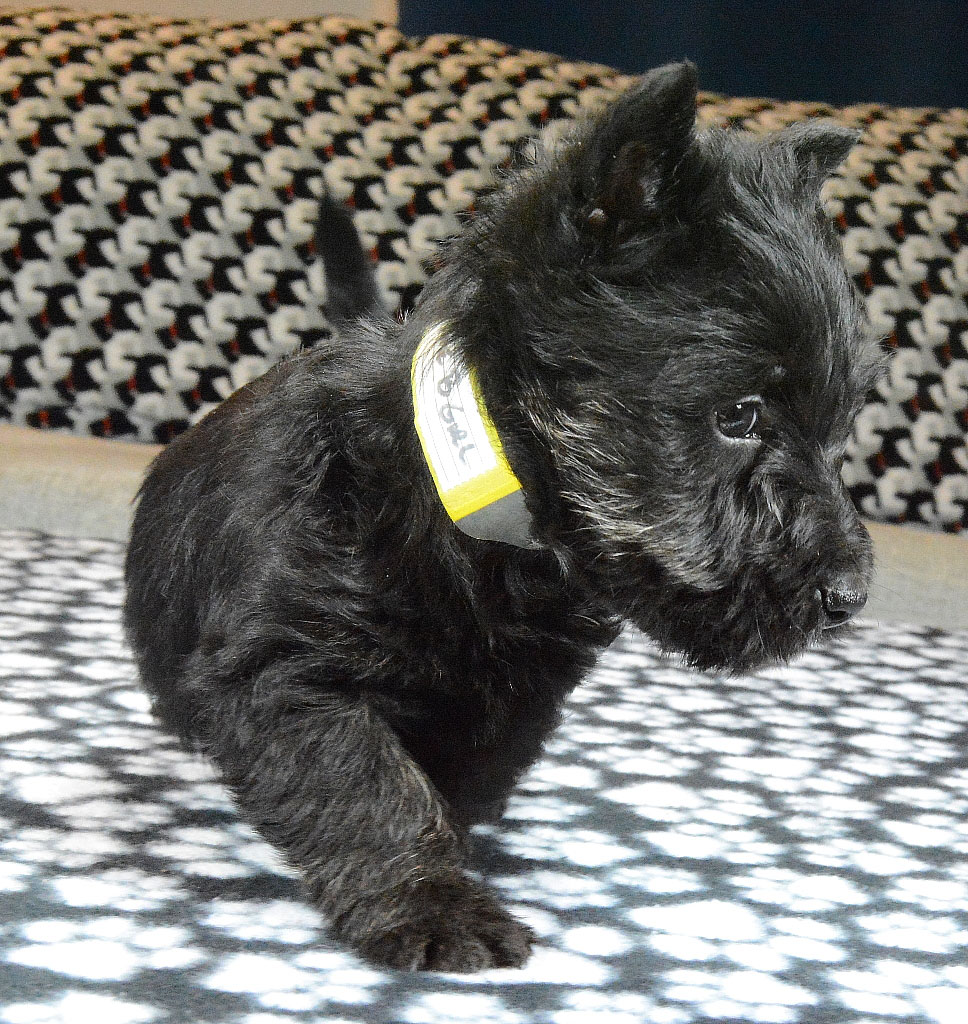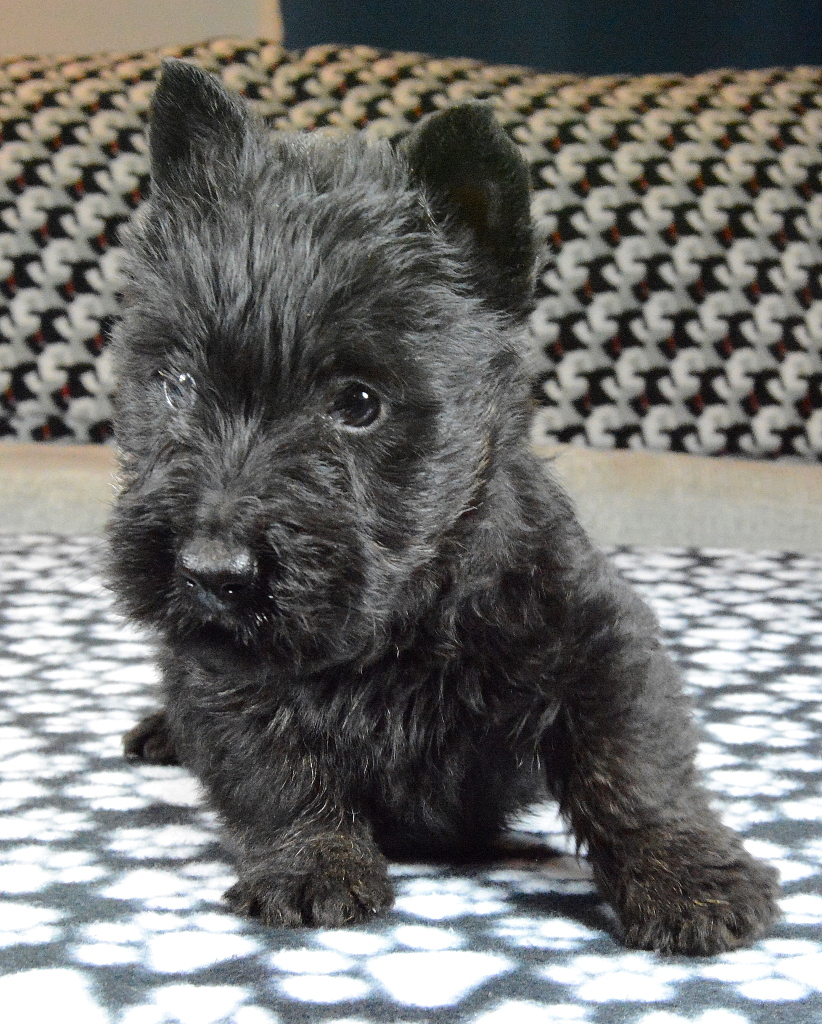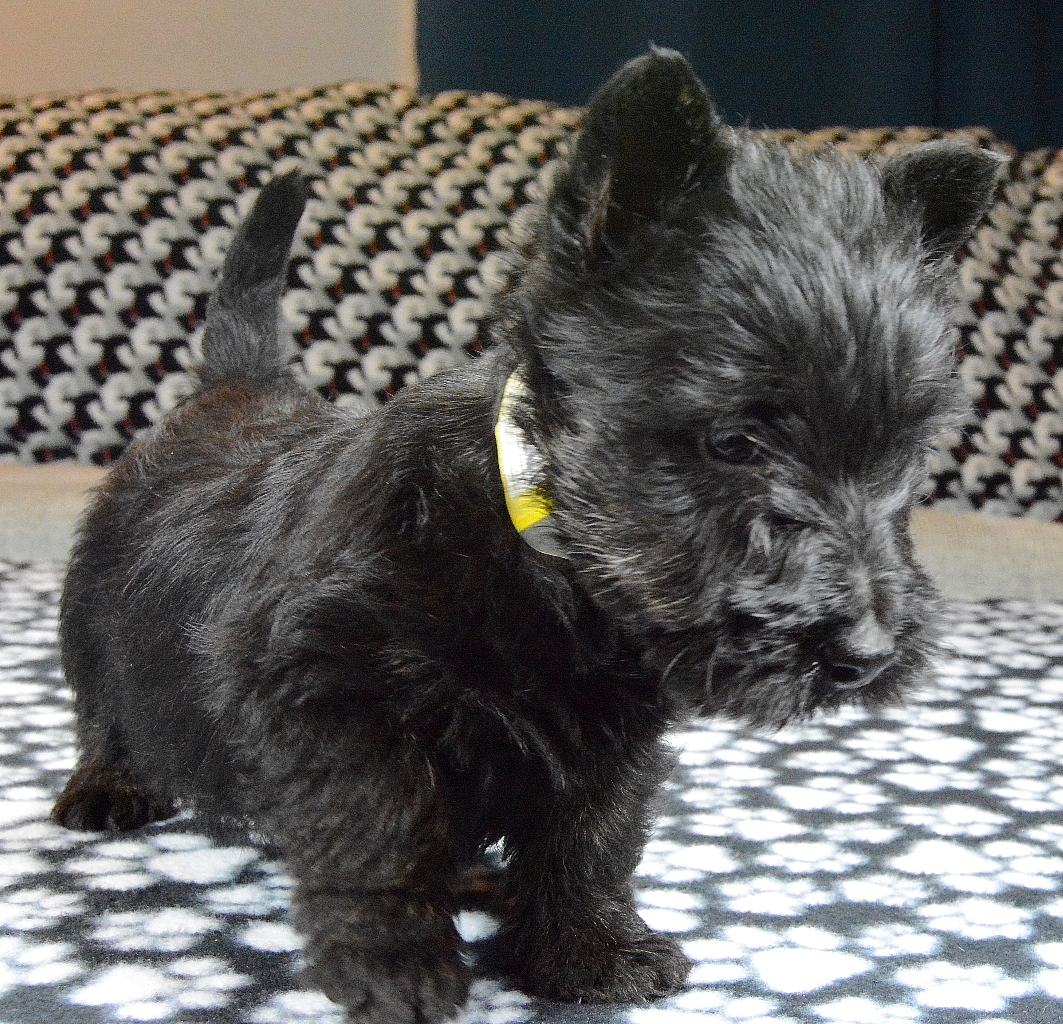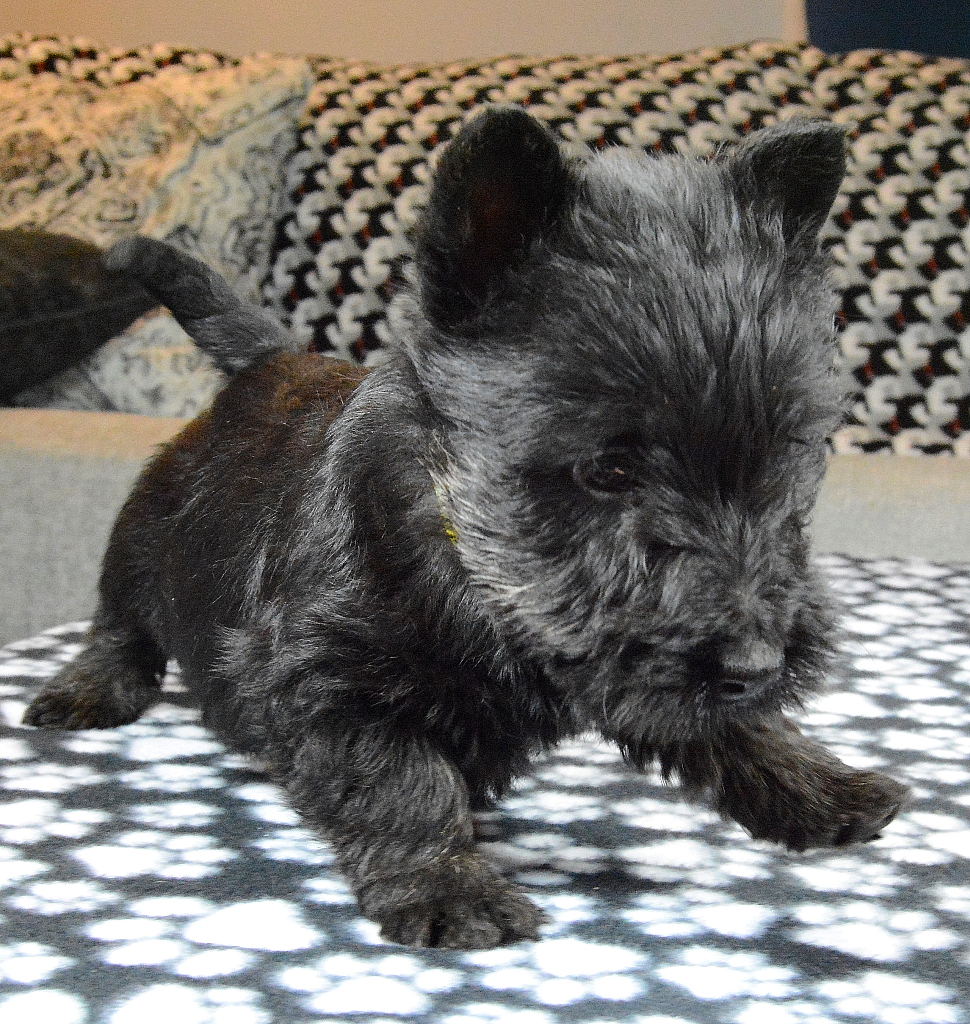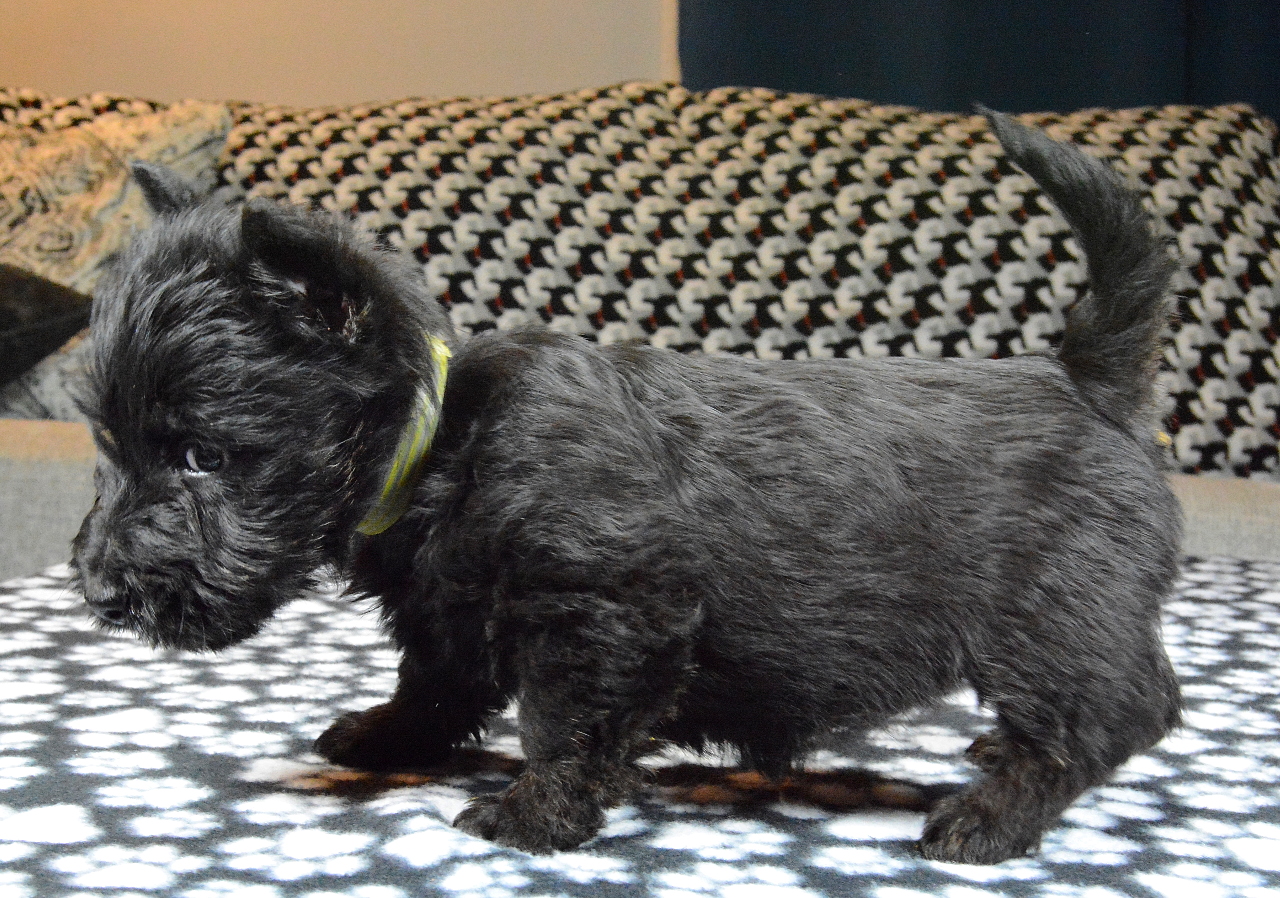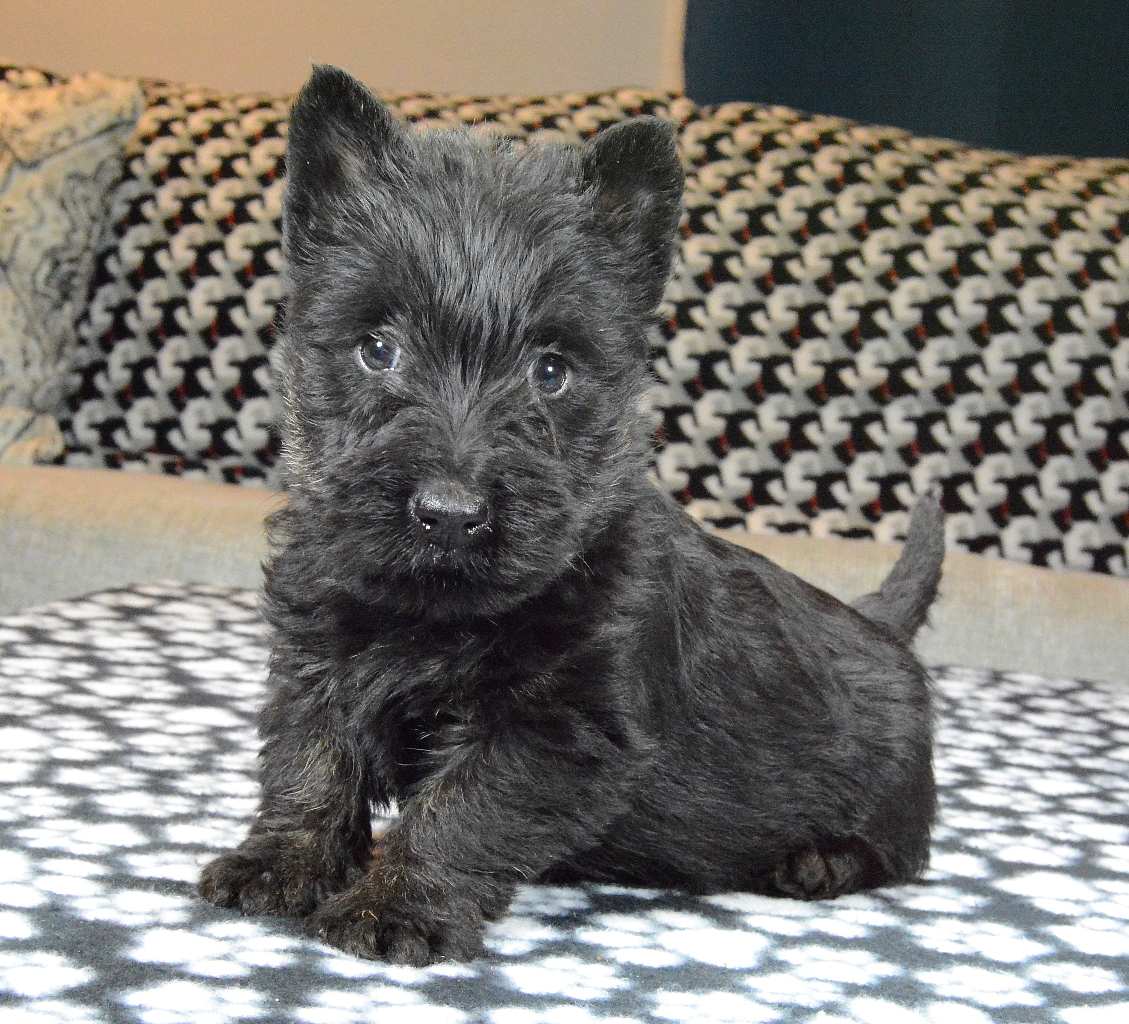 The End.
Please check us out on facebook for some BONUS pictures of this litter.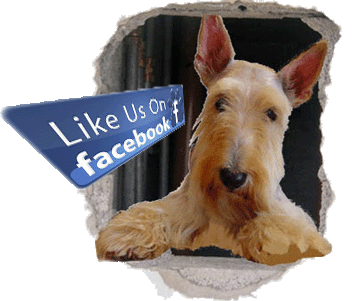 01-24-2022
On December 15th 2021, Our Annie along with Ringo had beautiful litter of 7.
5 boys and 2 girls.
2 boys are wheaten, 1 boy is black, 2 boys are black-brindle.
1 girl is black-brindle, 1 girl is wheaten.
Mama Annie is Wheaten.
Daddy Ringo is a silver-brindle but predominantly black.
I am placing these pups to folks on my waiting list.
If you would like to be added to my waiting list (no obligation) Please Click HERE
Prices, terms, email address and phone number are located here.
These pups will be ready to go home on Saturday, February 19th 2022.
These are 1st pictures, the pups are just 5 weeks old here.
They are just now 100% weaned away from Mom.
They will have their vet check and 1st shots next week
The Pups
Here are their 1st pictures.
All 7
Left to right:
Black-Brindle Girl * Black Boy * TWO Black-Brindle Boys * TWO Wheaten Boys * Wheaten Girl.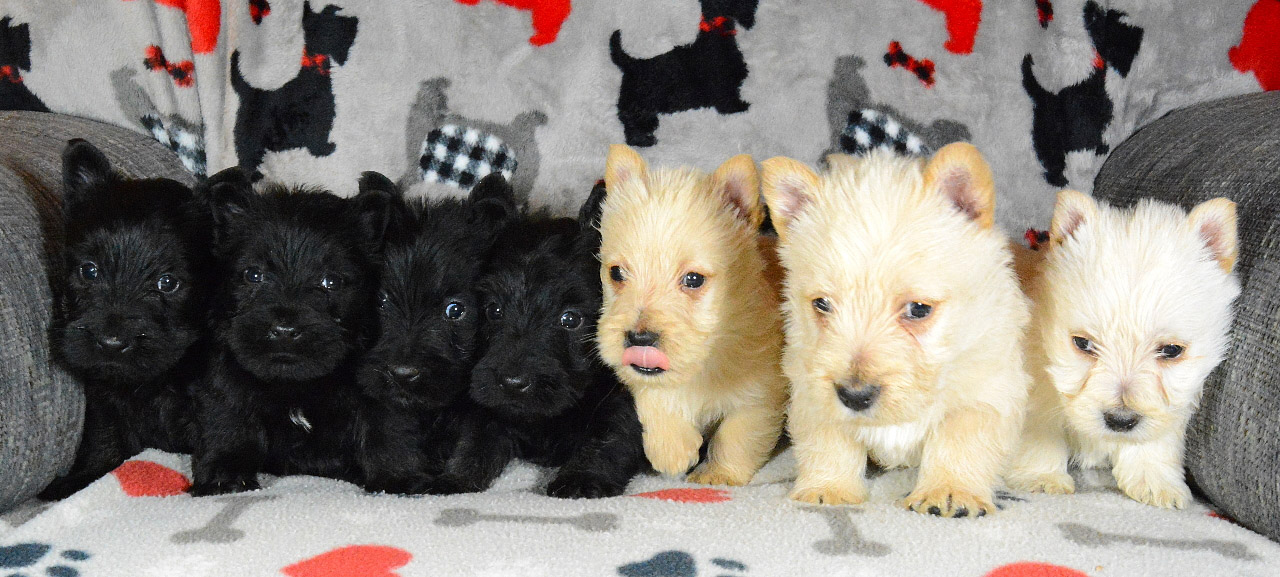 Just the black and black-brindle pups
GIRL LEFT * 3 BOYS RIGHT
The 2nd pup from the left is the smallest boy and the only boy I will call BLACK but he does have a white tuft on his chest and some very light brindle on a couple of his feet.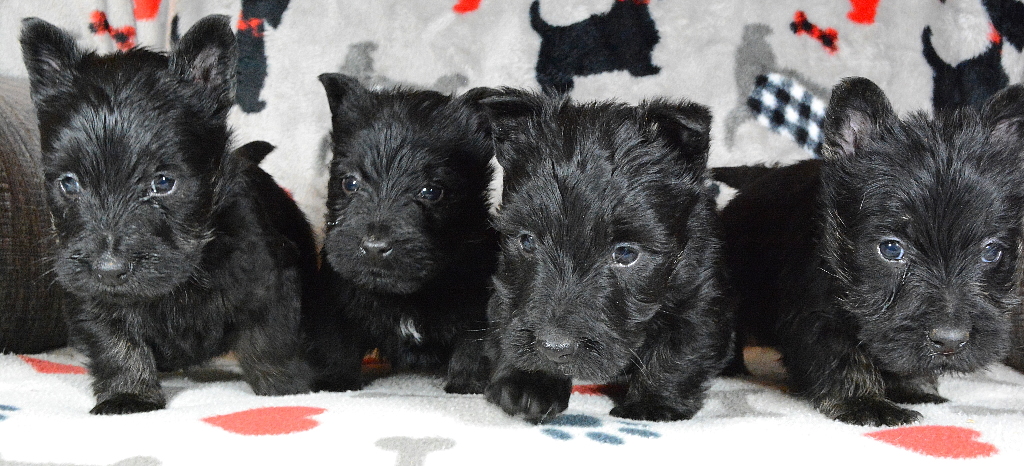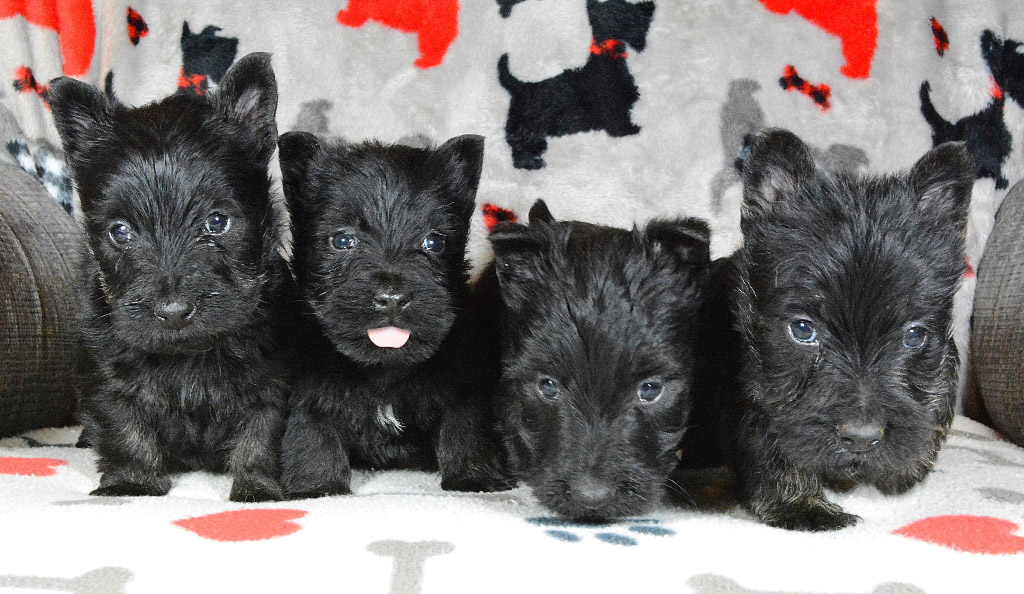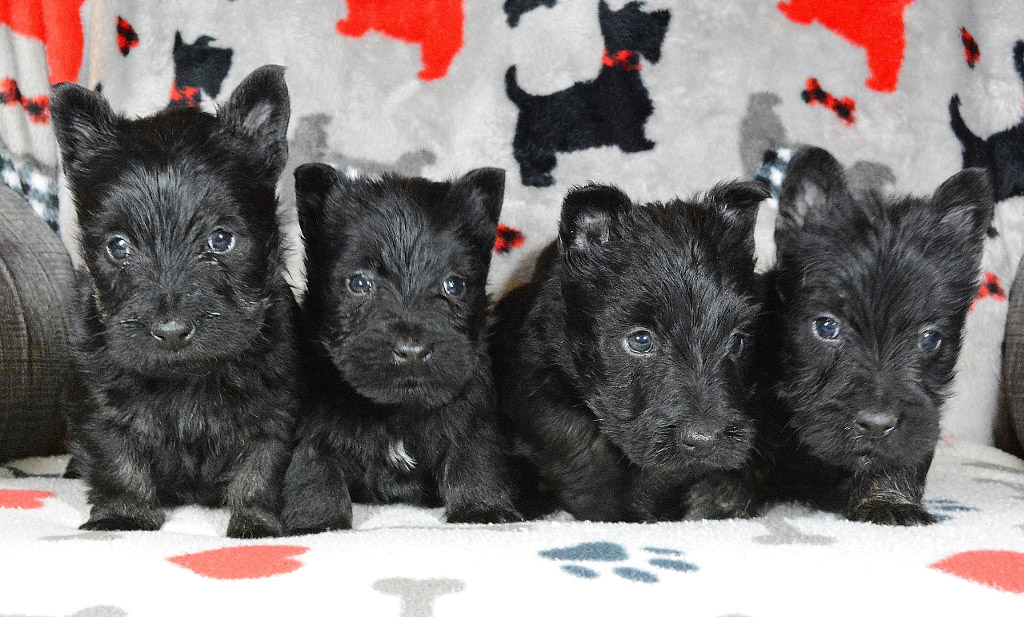 Just the wheatys
The smallest and lightest shaded pup is the female.
Female on the left here...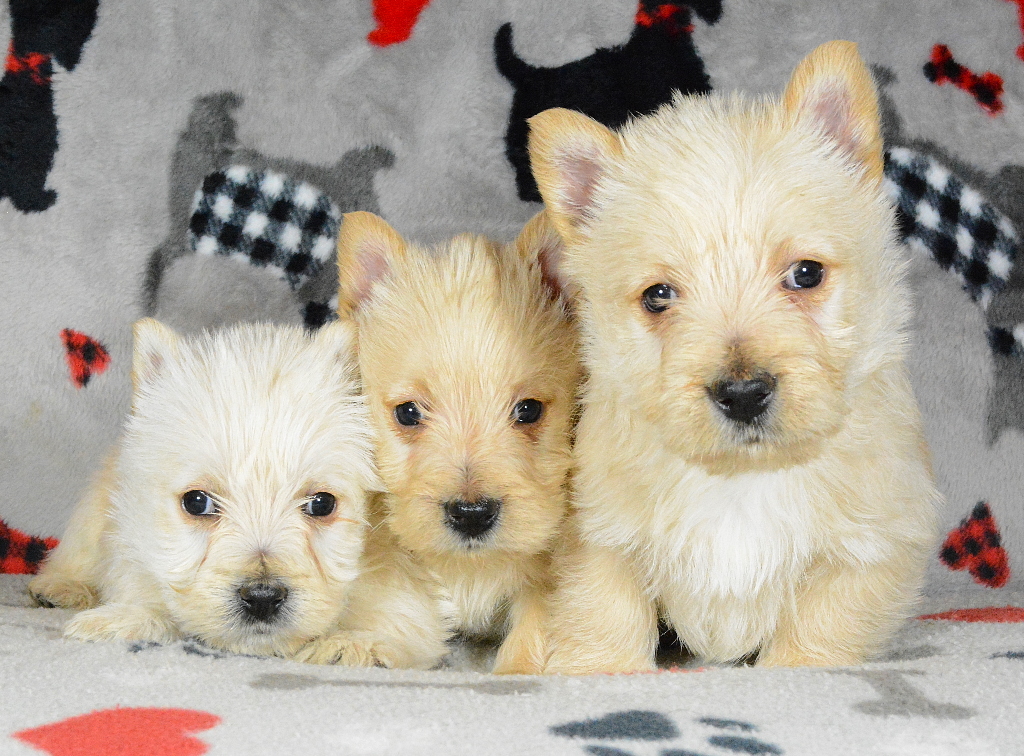 Female in the middle here...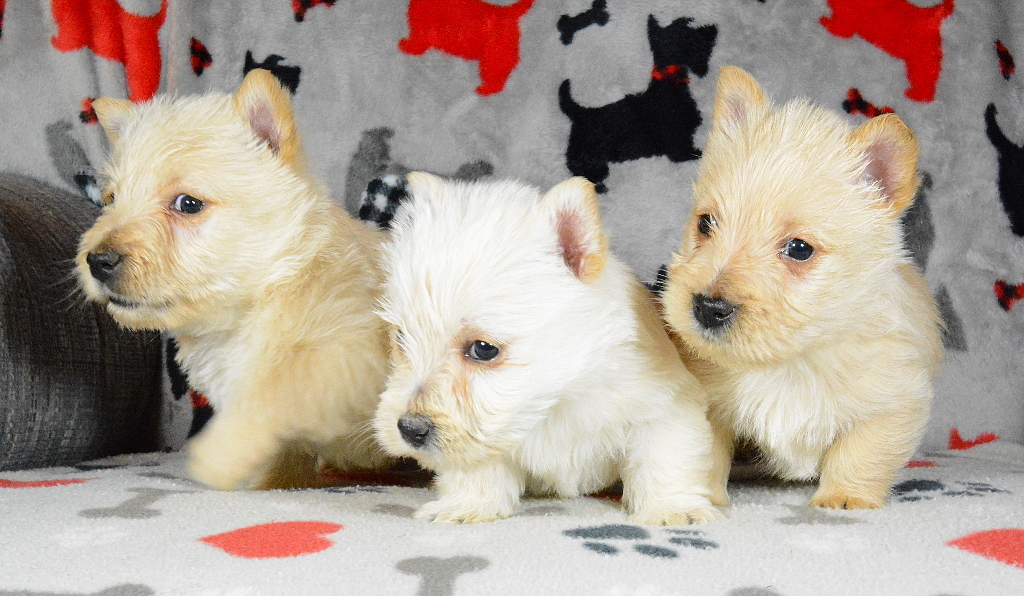 Female on the right here.